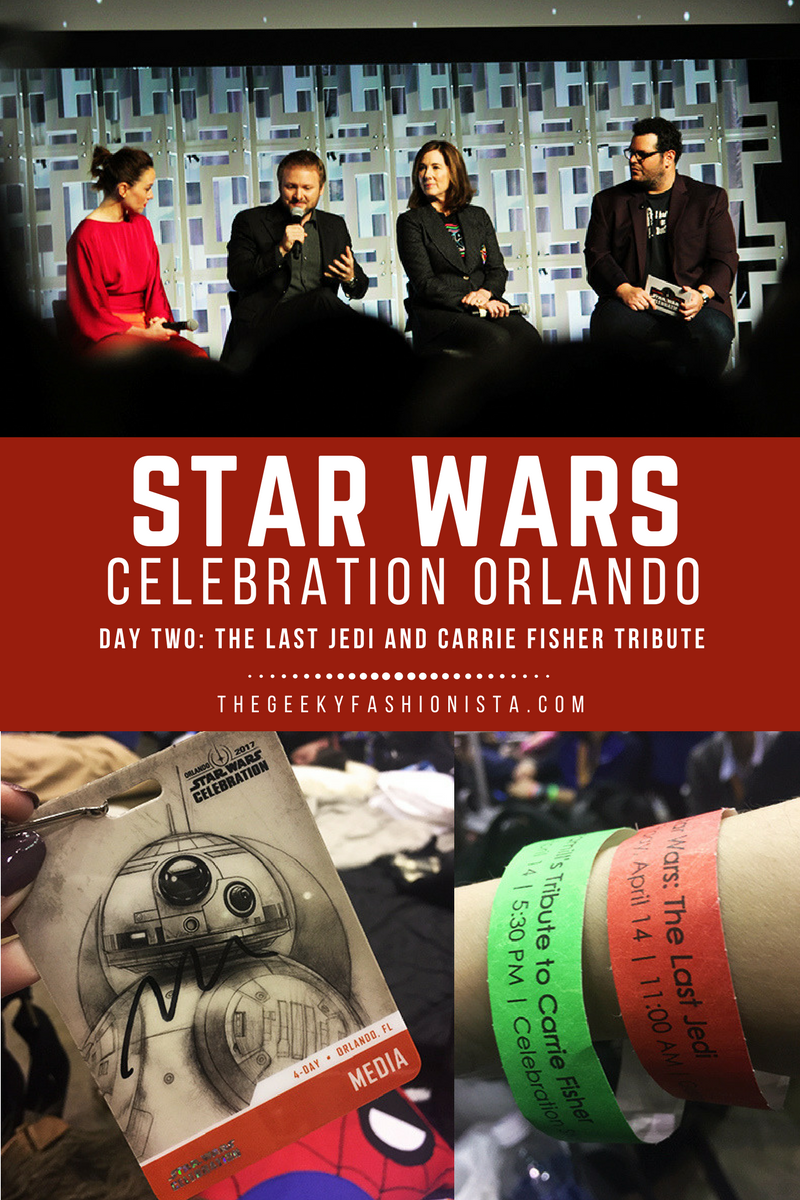 In my last post, I recapped my first day of Star Wars Celebration Orlando. Today, I'll be continuing on with my second day recap! While yesterday was somewhat of a disappointment due to not making it into the 40th Anniversary Celebration panel, that wasn't the issue today. Learning our lesson, we easily made it into The Last Jedi panel.
Keep reading for all the day's highlights (and one unfortunate low) and don't forget to catch up on my Day One post!
Picking up where we left off yesterday, waiting in line went fairly smoothly (for us at least). I heard there was a huge fight that erupted around 8pm when a bunch of people showed up at the time they though lining up would begin only to already see thousands waiting in line. I understand this feeling as this is what happened to us the night before but to resort to violence was completely unnecessary. Simply learn like we did, get in the back of the line, and enjoy what you can.
Be Respectful, Don't Be These Guys
Minor vent alert: I know line cutting happens all the time but I was shocked by how shamelessly two guys went about it. As the line was doing a large move, they cut in behind me separating me from my group. I thought perhaps they were from up ahead and had floated back before one of my friends pointed out what they had done. When we politely said they couldn't just cut hundreds of people, they played dumb and defended themselves by saying a staff member had specifically pointed at our group and said that was the line (despite the hundreds of people lined up behind and in front of us) and so they decided to join exactly there. What the?? He couldn't figure out that the staff member was just pointing at the line as a whole?? I know he was playing dumb (nobody is that clueless), but come on…
When we insisted what they did wasn't respectful to the people who had been waiting for hours, they continued to be defensive and eventually said "fine," they would move behind us. Sigh. When we pointed out that wasn't respectful to the people behind us, they just ignored us and started relentlessly asking the people behind us questions, expressing how they were afraid if they went to the back of the line, they wouldn't make it into the panel and they didn't want to waste their time then (eyeroll). The people behind us seemed to get exasperated with them and just gave up so the guys just planted themselves awkwardly with them until they made it into the building then immediately booked it to further cut more people. Sorry for the big rant, but really?? I get we're all super fans here, just be respectful.
With that all off my chest, I'm ready to move on to happier things!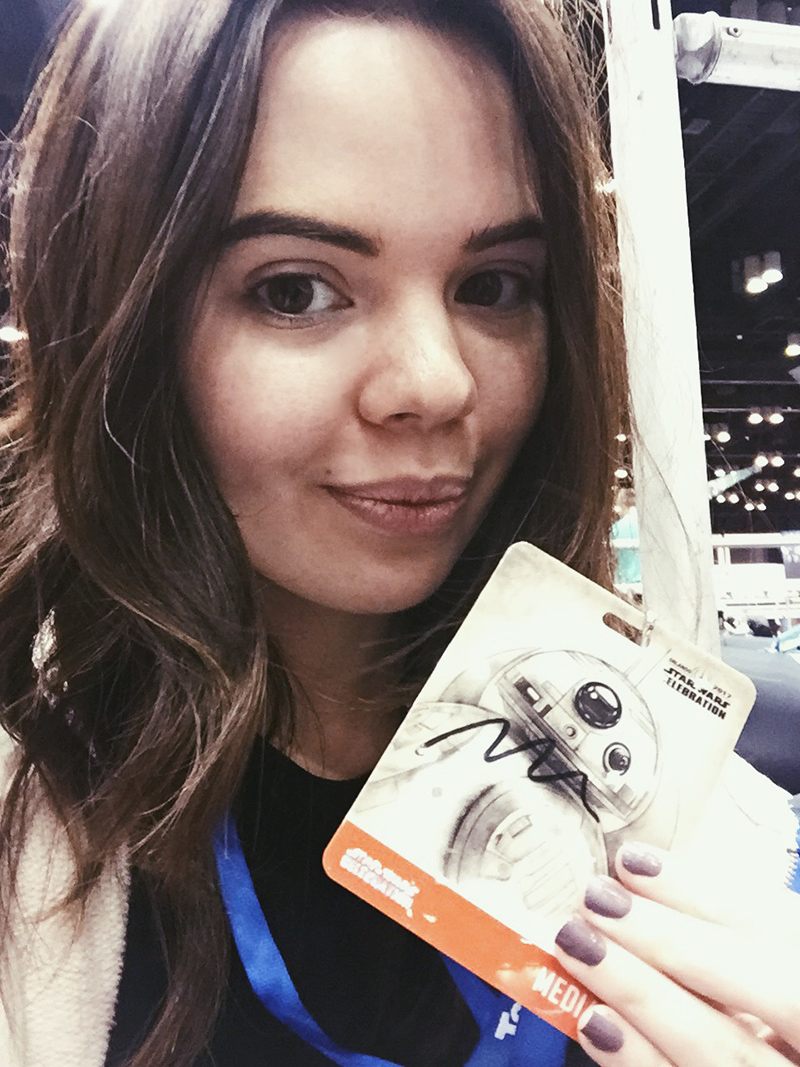 Meeting Rian Johnson
Once inside the queue hall, we all settled down for another long night. There was something different about the room this night though. For some reason, the room was very, very chilly. Our guy friends had sleeping bags to keep themselves warm, but my sister and I only had a blanket that we used to lay on the hard concrete floor. It looks like I had forgotten our second blanket in the car and there was no way to go back for it. Luckily, I had brought an extra jacket and I had a change of clothes so we ended up just piling clothes on top of us for warmth like a pile of laundry. It wasn't much, but it was better than nothing.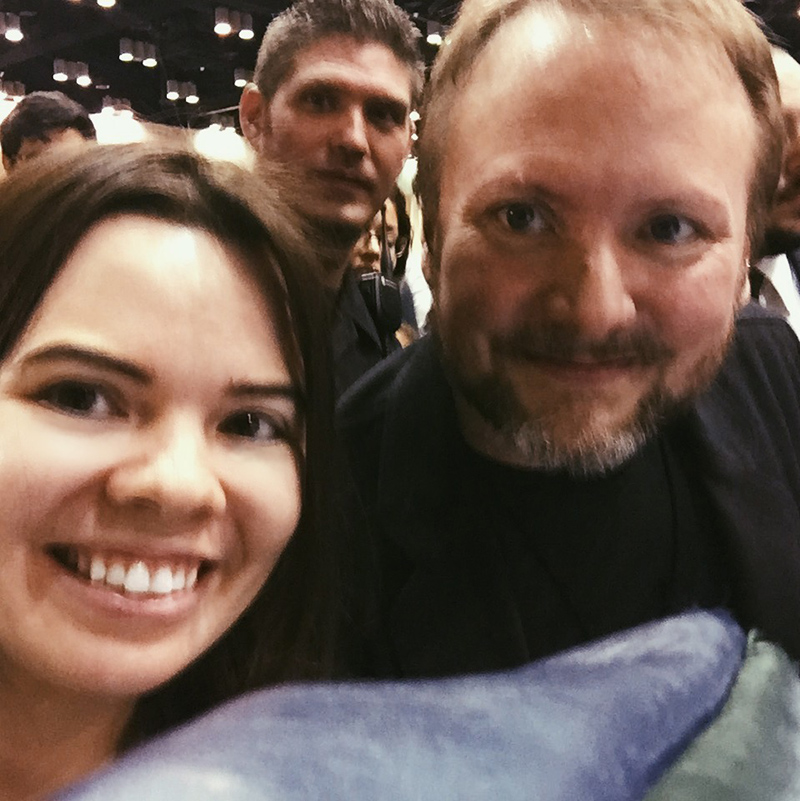 While there was no 1am dance party, the night wasn't without its surprises. Rian Johnson, the director of The Last Jedi, showed up and announced that he would make his way around the room to meet everyone who was camping out in line. He literally stayed in the room for about 4 hours to make sure he got to sign and take photos with everyone in the room (or at least everyone who was willing to wait as he came around – some people still preferred to get sleep lol).
I was so surprised to see how civil everyone was as they waited for him to come around. There was a bit of a mob in the beginning when he came out but once everyone realized they'd get the opportunity to see him, they waited calmly and patiently.
He signed my pass and took a selfie with me. My photo is pretty terrible as I was also holding my makeup bag (that thing in the bottom corner) while trying to snap the photo, and I do regret not asking someone to take the photo for me as one of my friends who has a much nicer photo did. I don't know much about him or his work (I just know he directed Looper and Brick), but he seemed like such a genuine and nice guy. The fact that he took so much time to go meet and hang out with fans really gives him some points in my book and make me just that more excited to the see what he'll do in the new film!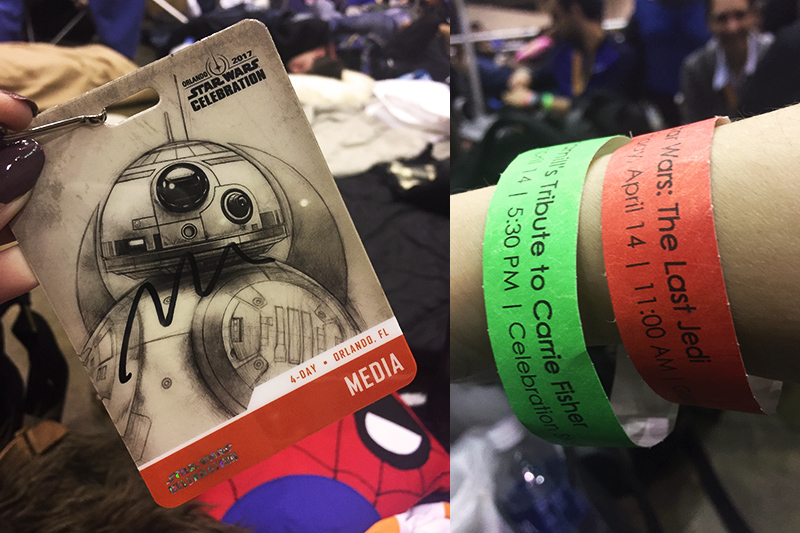 Come 6am and wristband distribution began, we had no uncertainty about being guaranteed a spot in the main room. Our waiting had paid off this time! I also managed to get a wristband into probably the second most sought after event of the day, Mark Hamill's Carrie Fisher tribute panel.
Once we had our wristbands, we got right back in another line. This one to actually enter the main room for the panel that would begin at 11am.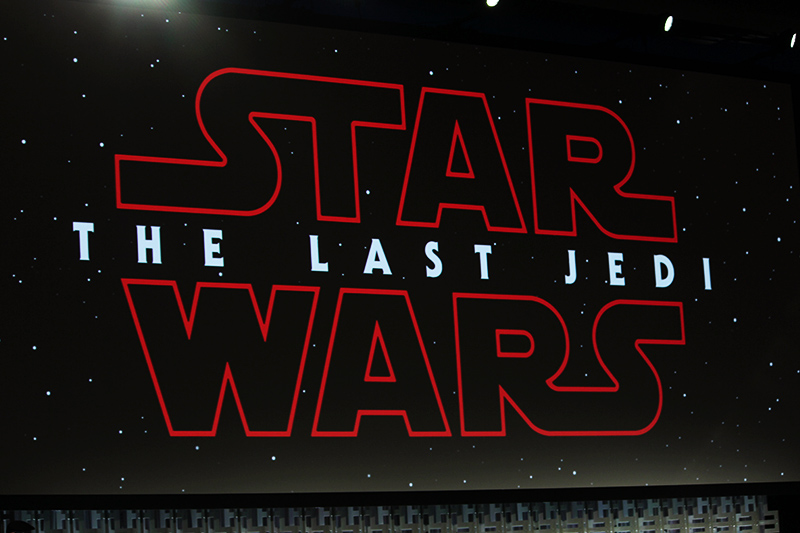 The Last Jedi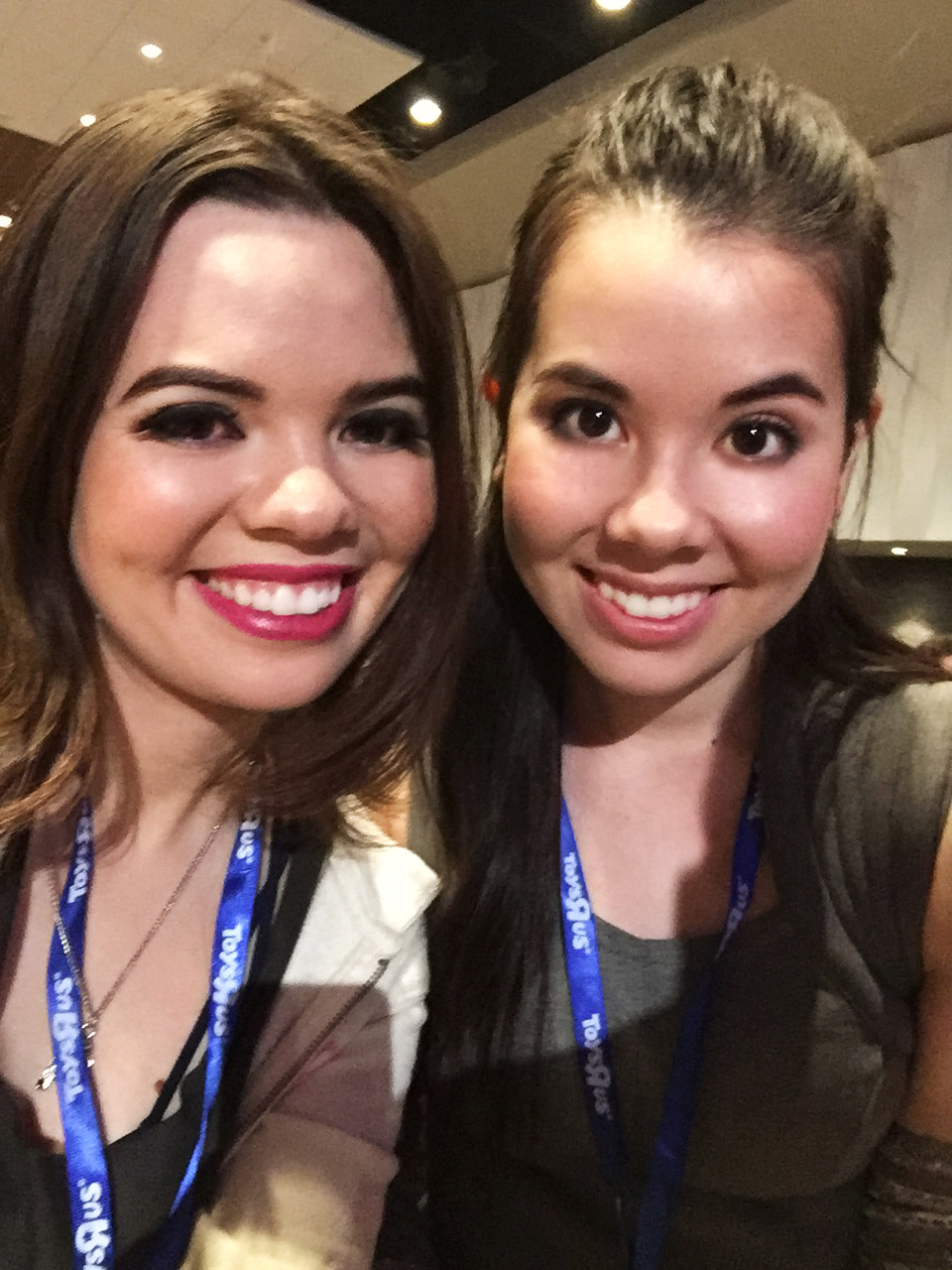 My sister and I, so very excited for The Last Jedi panel!
If you're a Star Wars fan, you've no doubt now seen the trailer and heard any of the juicy news from the panel. Therefore, I won't give you a play by play of everything that was discussed in the panel, just a few tid bits.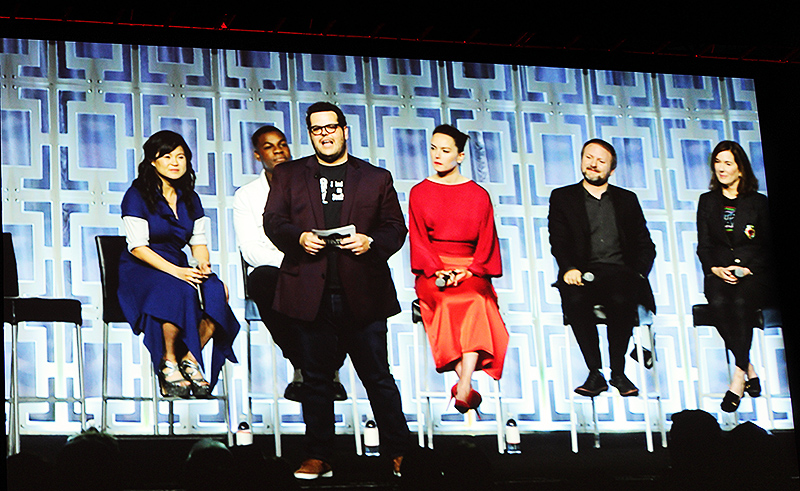 The panel's host was Daisy Ridley's Murder On the Orient Express co-star, Josh Gad.
Rian Johnson thanked all the fans that camped out and says, "This is the best fan family in the world."
He gives an update on the film saying they are in post production and currently editing. He also said the Rey and Luke scenes we see were filmed in Ireland.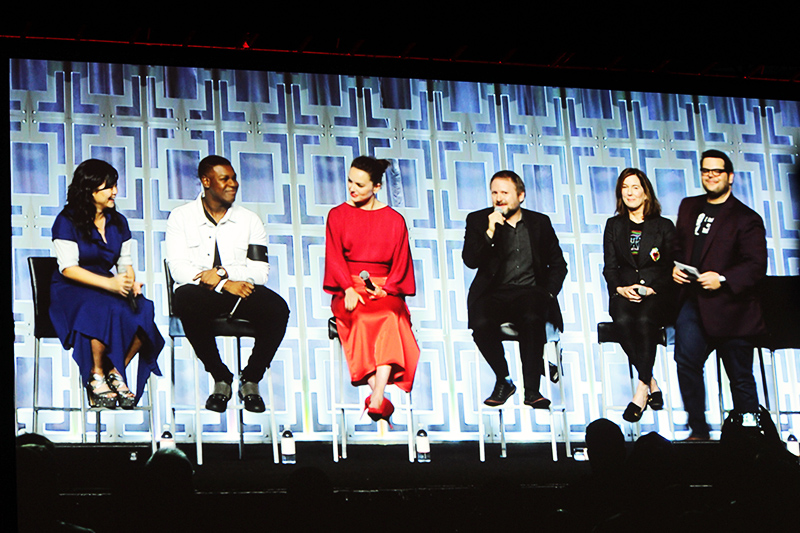 Rian was one of the few people who could take photos on set of the super secret movie and several of his black and white behind the scenes photos were shown. The audience cheered seeing one of Rey with her lightsaber.
Speaking about Carrie Fisher, Rian said he "connected with her first and foremost as a writer."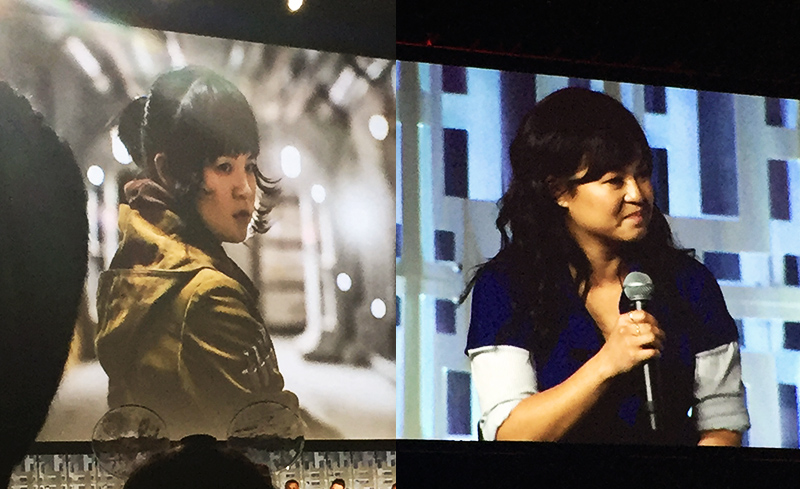 Kelly Marie Tran joins the cast as a new character, Rose, who is a maintenance worker for the Resistance who "gets pulled into a very big adventure with Finn." He also likened her an unlikely hero similar to Luke and Rey.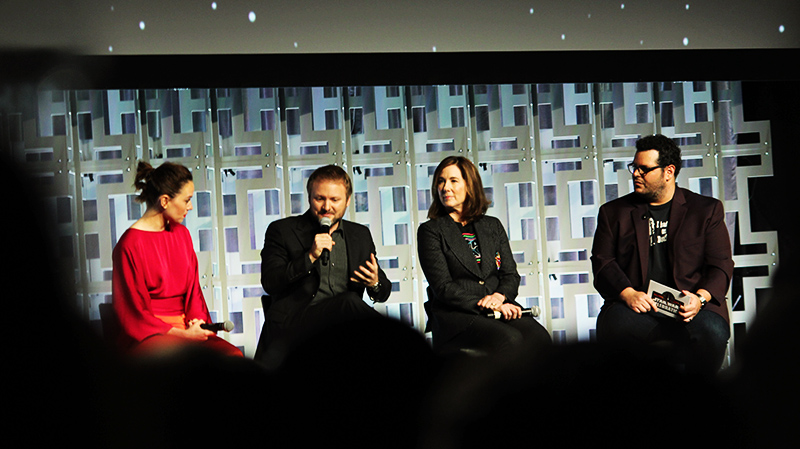 Daisy didn't share much info on Rey, but she did offer this interesting tidbit:
"We go deeper into Rey's story. And Rey has a certain expectation of what she might get from Luke, and what that might entail. And as a lot of people know, it's difficult when you meet your heroes because it might not be what you expect."
Intersting. Hmm…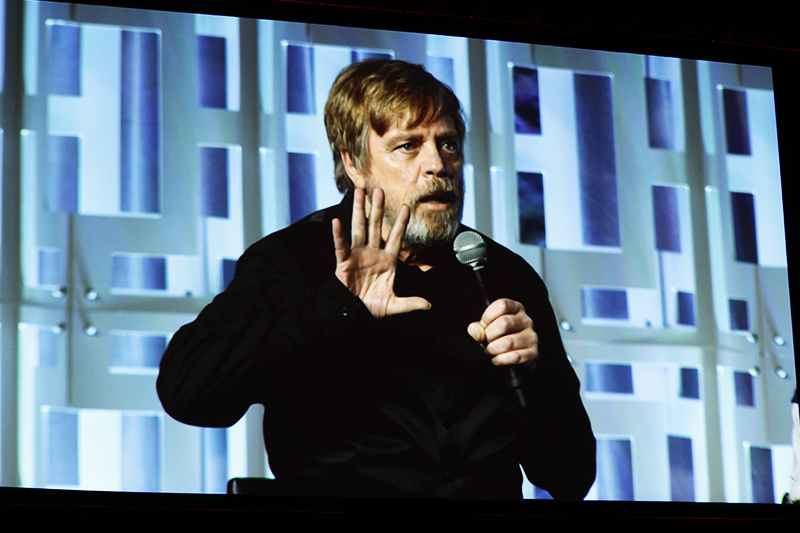 Hamill remained pretty vague regarding Luke and stated, "It's not Luke's story anymore, but he's important to the arc of the saga."
The teaser poster is revealed and it's amazing. Love the throwback feel to it! And of course, we all got a poster at the end of the panel (barely!). Each time we went to collect our posters, the box would run out – apparently people were snagging more than one for themselves. My sister and I only managed to get one because a staff member just happened to have 2 extra and only gave them to us when she learned we hadn't received one.
Thoughts On the Trailer
At the end of the panel, they show the trailer – twice! While the reaction to The Force Awakens trailer in 2015 was pure joy and elation, there was something else in the crowd this time around. As many of us wiped tears from our eyes (because let's be honest, I think I'm going to cry over every new Star Wars trailer now), you couldn't help but speculate about where the movie was going as the new saga took a darker turn much like the original did with Empire. Just hearing Luke's final line, "I know only one truth: It's time for the Jedi to end," gave me chills. Here I was hoping Luke would train Rey in the ways of the Jedi and now he's saying they need to end?
I have my own theories, but really I'm trying not to think about it too much so I can just let myself be surprised come December. Visually, it looks incredible, and I hope Rian Johnson is as good a director/writer as he is a nice guy!
Shortly after leaving The Last Jedi panel, I started to feel very sick and get sharp pains throughout my body. If you've followed my blog, you might know that I've struggled with chronic pain and health issues the past year. I'm definitely doing much better but apparently the relentless con life of little sleep, barely eating, and not regularly taking my meds for the last 3 days had finally caught up to me. I found a nice carpeted spot in one of the empty halls and contemplated if I should cut my day short and head home early and rest.

Mark Hamill's Carrie Fisher Tribute
Despite feeling super weak, my sister managed to convince me to stay until the Carrie Fisher tribute. Even though I was really looking forward to the panel, being at 5:30, it was one of the last panels of the day and I worried my body wouldn't make it till then.
I'm so glad I sucked it up and went though. It was such an incredibly moving panel.
In the hour long tribute, Mark stated that he was still mourning the loss of "his beloved space twin." It was very clear he and Carrie were very close friends. He shared some sweet and funny stories and also read a letter he had written shortly after her death. His voice cracked while reading it, obviously very emotional, and once again, I couldn't help but tear up.
When speaking about her legacy, Mark stated, "When I think of her, she's looking down from the celestial stratosphere with those big brown eyes, that sly smile on her face, as she lovingly extends me the middle finger. And that's how I want you to think of her. That was Carrie."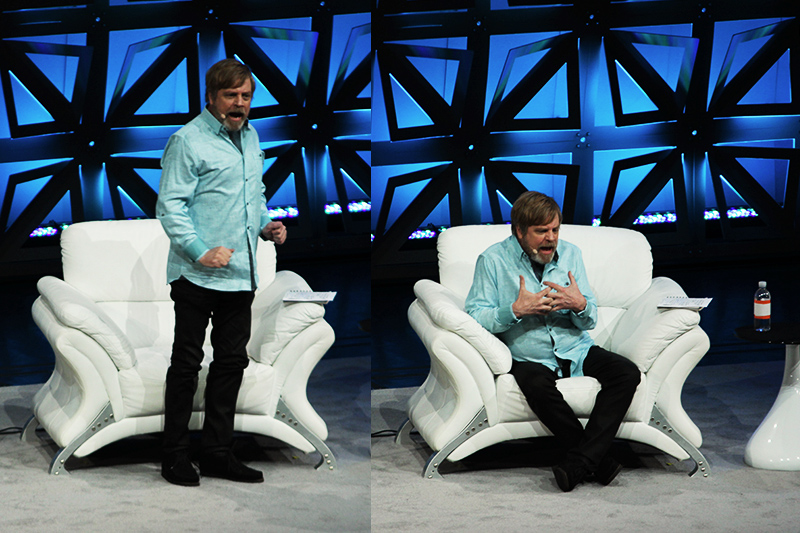 Sorry this day was cut a little short and not quite as exciting as my second day back at Star Wars Celebration Anaheim in 2015.
Immediately upon arriving at my dad's house, I passed out and slept for over 12 hours. My body was exhausted. I also had to miss out on the entire next day as I tried to rest and get my strength back. My sister did get to go back though and show off her beautiful Padme Picnic dress con-bound!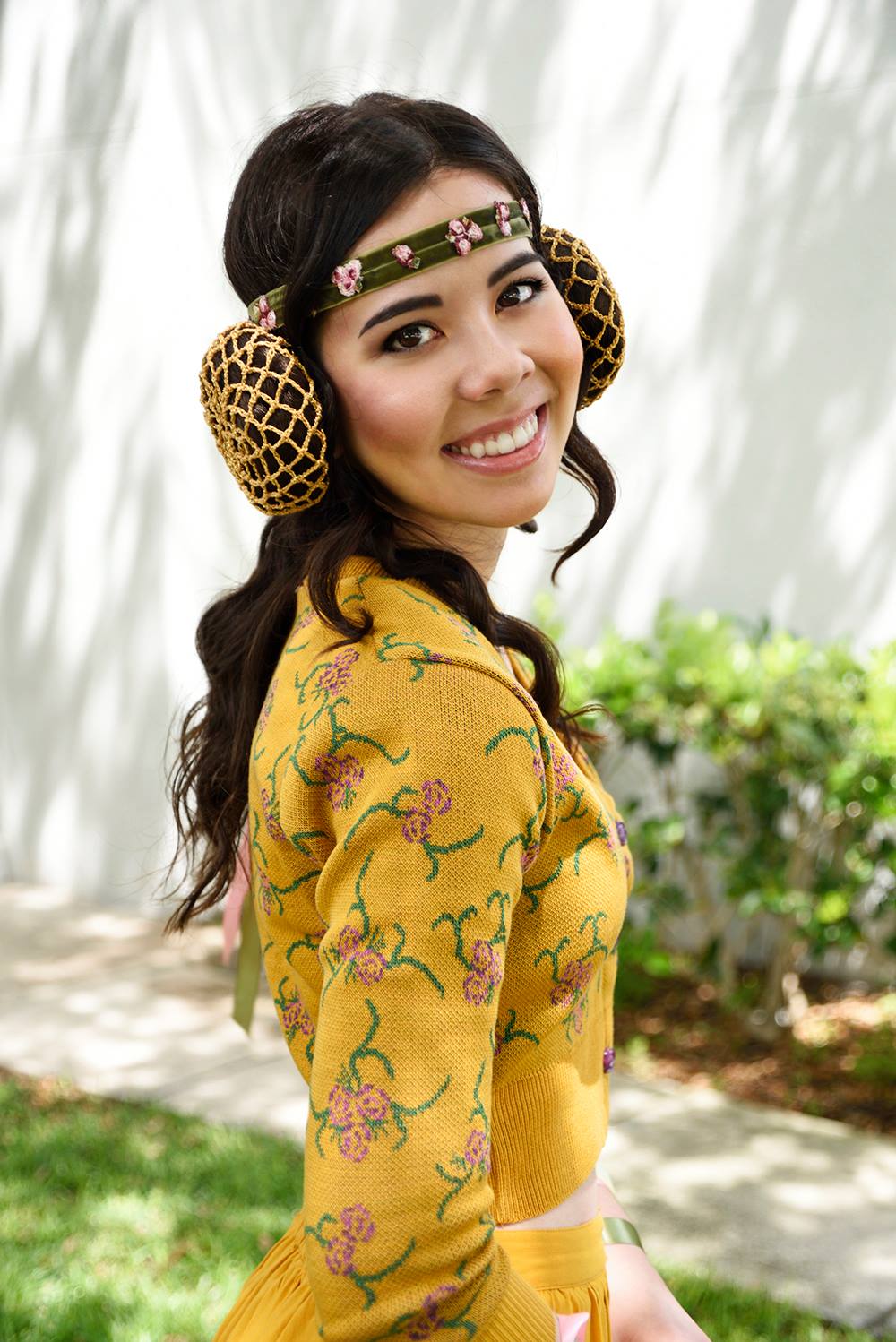 It was such a bummer having to miss Saturday and not be able to say goodbye to my LA friends who flew back that night, but I'm so glad I took the day to let my body rest instead of pushing it too hard and perhaps ending up in the ER. Come Sunday, I was back on my feet and ready to take on the last day of Celebration (and do a little of my own cosplay)! Look out for my last Star Wars Celebration Orlando recap post coming soon!
What did you think of The Last Jedi trailer?