Star Wars Celebration started off with quite a bang with The Force Awakens panel and you might think it'd be hard to top such an awesome start, but Celebration was just beginning.
For Day Two, we planned to kick things off with the 10am Battlefront panel, but by the time we arrived at the convention center, it was already completely filled up so we instead went to the Ralph McQuarrie: Star Wars Art panel where we were able to walk right in and get great seats. The panel consisted of Lucasfilm executive editor J.W. Rinzler, Abrams senior editor Eric Klopfer and authors Brandon Alinger, David Mandel and Wade Lageose. They discussed the visionary artist and the upcoming book on his work. Consisting of 1600-1800 of McQuarrie's Star Wars drawings, sketches, and paintings, it is set to be the most comprehensive volume of his work ever assembled. The book is set to be released in April 2016.
Since 2010, the team has been rescanning photos, sketches, and other art pieces from the Lucasfilm archives for the best possible quality for the book. They showed photos comparing their new scans with the old previous ones and the difference in tremendous. 
I know this will hurt my cred as a Star Wars fan, but I honestly didn't know much about McQuarrie before this panel – I really just went because of my boyfriend who greatly admires his work – definitely glad I went though! I learned a lot and now can say I am definitely an admirer and fan as well.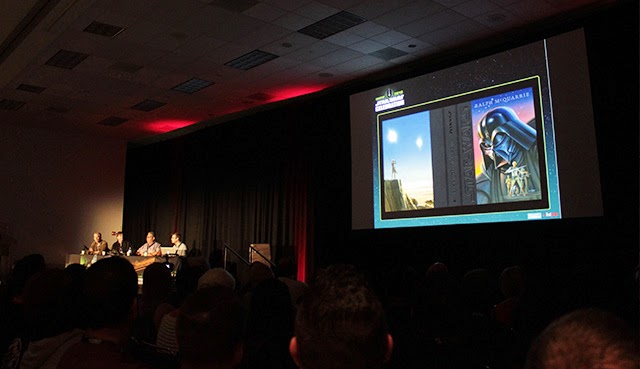 The revealed cover for the new comprehensive Ralph McQuarrie book coming Spring 2016.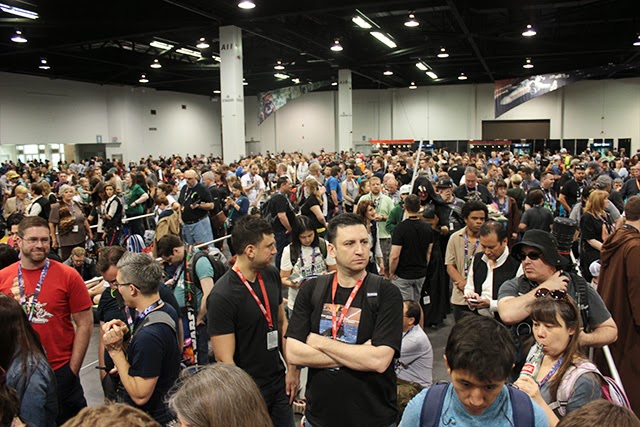 The line for Carrie Fisher's panel.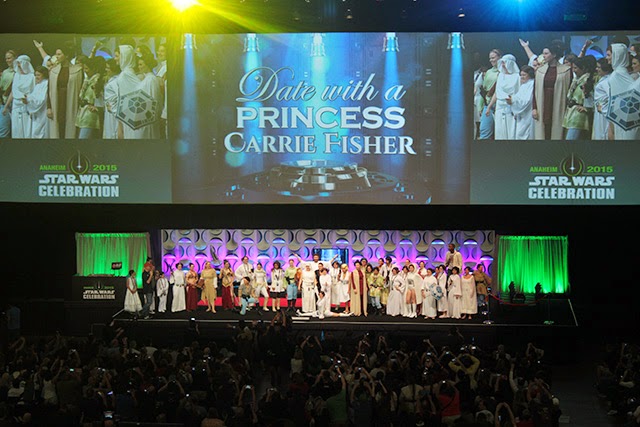 There was a Princess Leia fashion show before the panel.
Once the McQuarrie panel finished, my group got into the quickly-growing, already-very-large line for Carrie Fisher's "A Date With the Princess" panel. After a "fashion show" consisting of female audience members (and some guys too!) dressed in various Princess Leia costumes, James Arnold Taylor came out and introduced the princess herself Carrie Fisher.
After walking in with her adorable dog, Gary, Carrie proceeded to do her thing, no filter style. While she didn't talk much about The Force Awakens (she said they keep her away from that stuff because they know she "inadvertently has a big mouth"), she kept the audience laughing and very entertained with racy jokes and euphemisms, funny Star Wars memories, and even one long passionate kiss with a fan from the audience! JAT did his best, but there's just no moderating what will come out of Carrie's mouth or what she will do next. Perhaps this is why the panel seemed to be cut off a little short – after allowing two onstage photos and that kiss, the con probably feared what audience members might ask for (and what Carrie will indulge them) next! Oh well, the panel was definitely a lot of fun and very memorable! It was great to see Carrie enjoying herself and interacting with fans. You can tell she truly appreciates them and that was wonderful to see.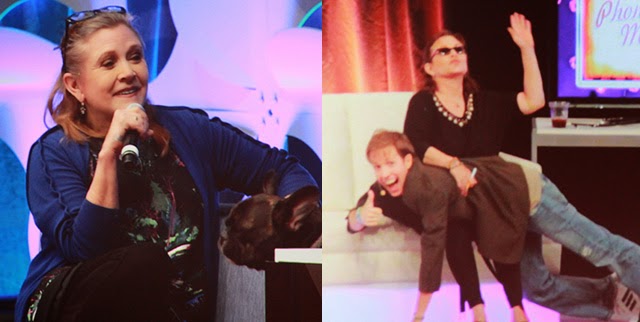 Carrie Fisher on stage with her dog, Gary // With moderator James Arnold Taylor at last year's SWC
I started not feeling so great so I got some gelato (because cold yummy food always make you feel better.. or is that just me?) and headed to the nurse's office for some painkillers. On the way, we passed a huge crowd surrounding the fountain in front of the convention center. I initially thought it was a cosplay photo op, but then realized there were few costumes. Took a few photos anyway and I now think it was an #AhsokaLives fan gathering – reasonable assumption given the shirts many are wearing. Once I reassured my boyfriend I was fine on my own, I went off to watch the Cosplay Contest while the rest of the male members of my party went to an ILM panel.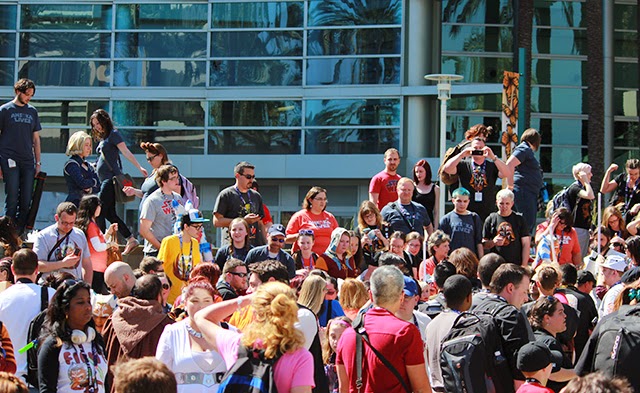 What I believe was the #AhsokaLives fan gathering
The cosplay contest was awesome! Costumes were divided up into five categories: Jedi & Rebels; Empire & Sith; Princesses & Droids; Armored Troopers; and Aliens, Creatures, and Outer Rim. James Arnold Taylor once again moderated sharing the hosting duties with judge Dee Bradley Baker. One of my favorite moments was Dee mispronouncing the word "crochet" as "crotch-et" while reading a costume description. Her Universe creator and voice of Ahsoka Tano Ashley Eckstein also served as a judge.
I was really impressed with the creativity and quality of the costumes! Honestly, I cannot choose a favorite, but I loved the various styles of Boba Fett: Wolverine, Spartacus, being eaten by the Sarlacc…very creative and fun! I'm also a sucker for Gonk so I loved seeing the "Steampunk Gonk" costume. The winning costume was a much deserved, very accurate and complex costume of Jedi Master Tera Sinube.
Warning: Photo Overload Ahead! I did my best to cut back, but there were just too many cool costumes!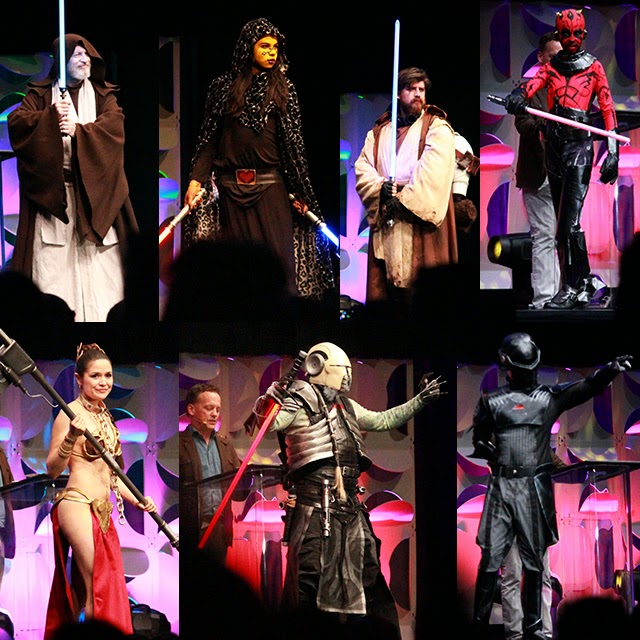 Loved the variety of cosplay characters!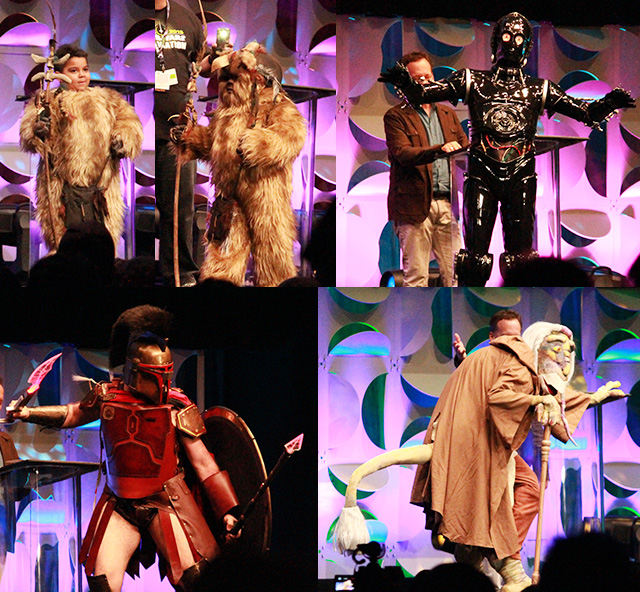 How cute is the Ewok? He missed the contest deadline due to illness (I believe) but was given a special award – awww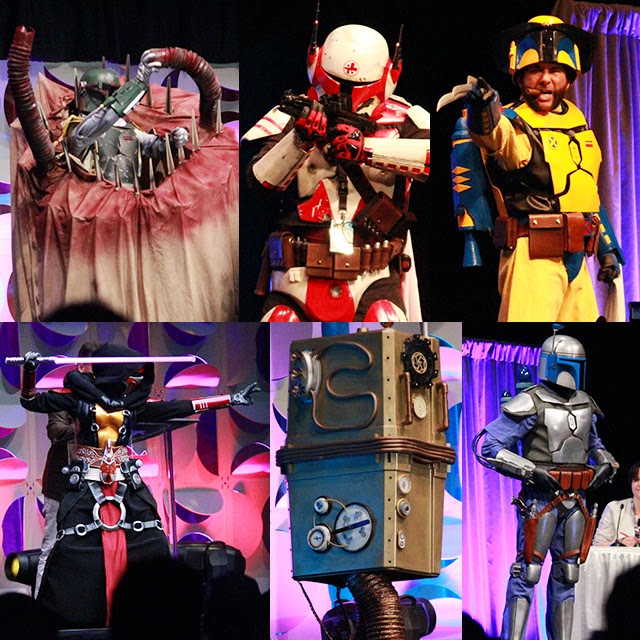 How great are these? Loved the creativity!
Jedi & Rebels category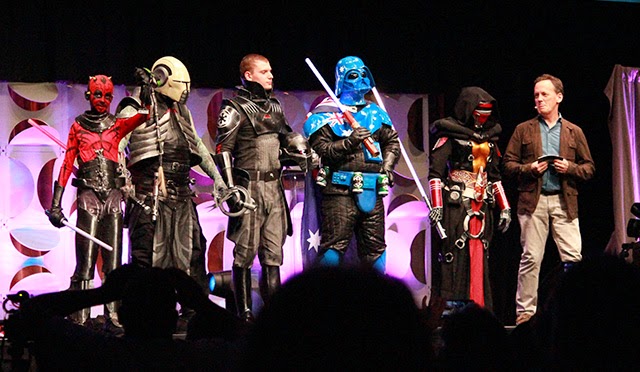 Sith & Empire category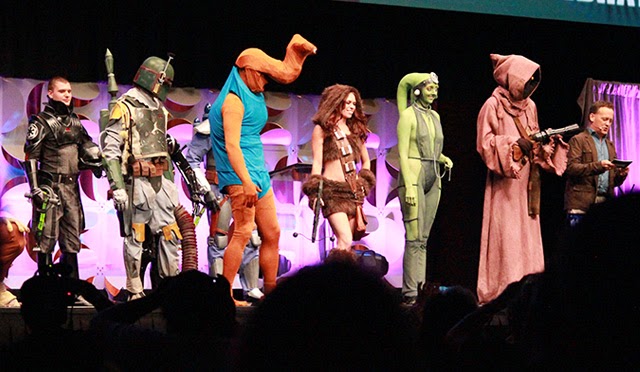 Aliens, Creatures, and Outer Rim category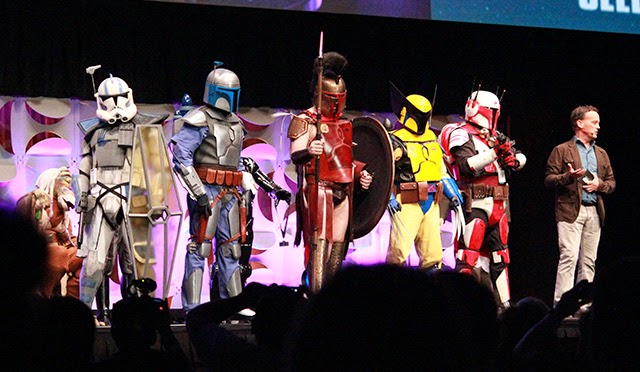 Armored Troopers category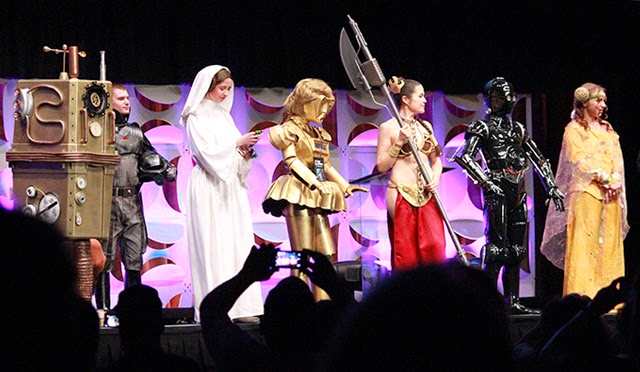 Princesses & Droids category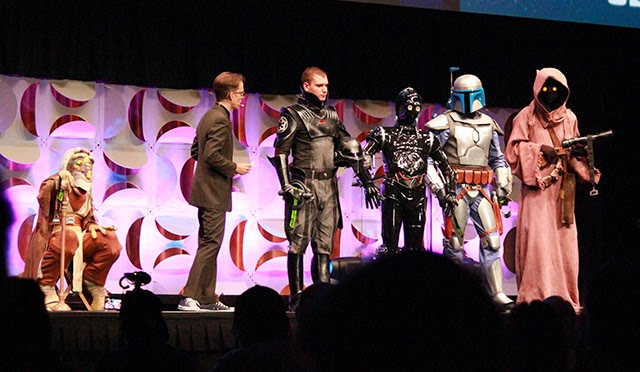 Best in Category winners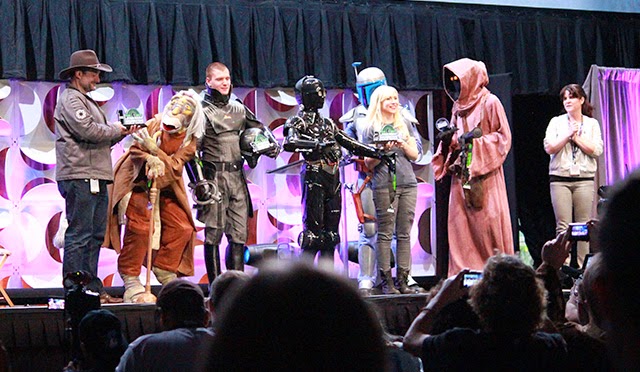 The Best in Show winner is announced!
After the contest, I met up with my party on the main floor. They were in a HUGE line for the
Star Wars: Battlefront
floor exhibit. We waited and waited. We knew we'd be cutting it close to the Anthony Daniels panel which we all wanted to see, but after waiting so long in line, we didn't want to leave it. The main floor was closing when the Battlefront exhibitors announced that our group would be the very last of the day – we had made it! Inside was a circular room that resembled the Rebel briefing room seen in
Return of the Jedi.
With everyone standing up, they played the game trailer that was revealed earlier that morning at the 10am panel we had missed as well as an exclusive private demo of the game. The multiplayer session took place on Endor and included AT-STs, AT-ATs, speeder bikes and concluded with you and your Rebel forces entering the bunker… you're not there very long, however, before Darth Vader himself makes an appearance killing your character and cutting the screen to black.
The trailer and demo definitely has me pumped about the game! There's just something so neat about being able to interact in these environments that we are all so familiar with from the movies whether it's riding a speeder bike, taking down an AT-AT, exploring an Endor bunker, or running into Darth Vader.
We were informed that the game would be released November 17, one month before The Force Awakens is released. A free tie-in DLC featuring a prominent battle in the movie, The Battle of Jakku, will be available for free on December 8 (December 1st for those who pre-order the game). As if I needed another reason to get a PS4!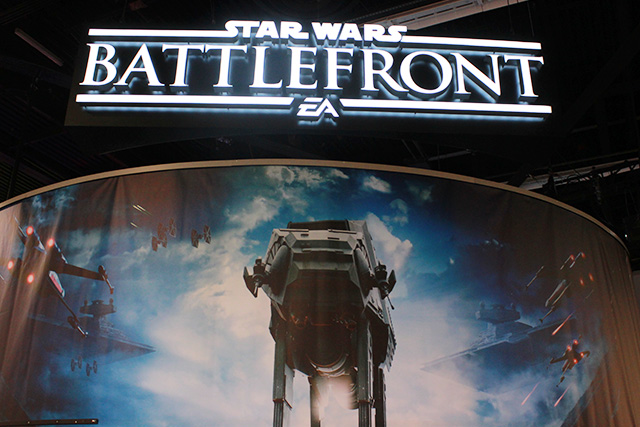 The Star Wars Battlefront floor exhibit
As awesome as it was to make it into that last group, we sadly ended up missing the Anthony Daniels panel. At that point, all there was left to do were the screenings of Revenge of the Sith in 3D (world premiere!) and A New Hope. I was a bit skeptical that we'd be able to make it into RotS, but Luke and I miraculously somehow managed – our friends, on the other hand, had to wait till it was over and joined for ANH (although their wait was compensated with sweet SWC-exclusive collectible buttons).
I was very excited to see
A New Hope
on the big screen for the first time with a room full of diehard Star Wars fans and was surprised to see so many people leave after RotS – maybe they were tired? Didn't bother me though, just meant that we were able to move up and get awesome seats with our friends nearby. The movie was, of course, amazing and never gets old to me no matter how many times I've seen it.
That concludes Day Two of my Star Wars Celebration experience. Definitely a full and eventful day, I would say it was even better than Day One!
What was your favorite cosplay contest costume?