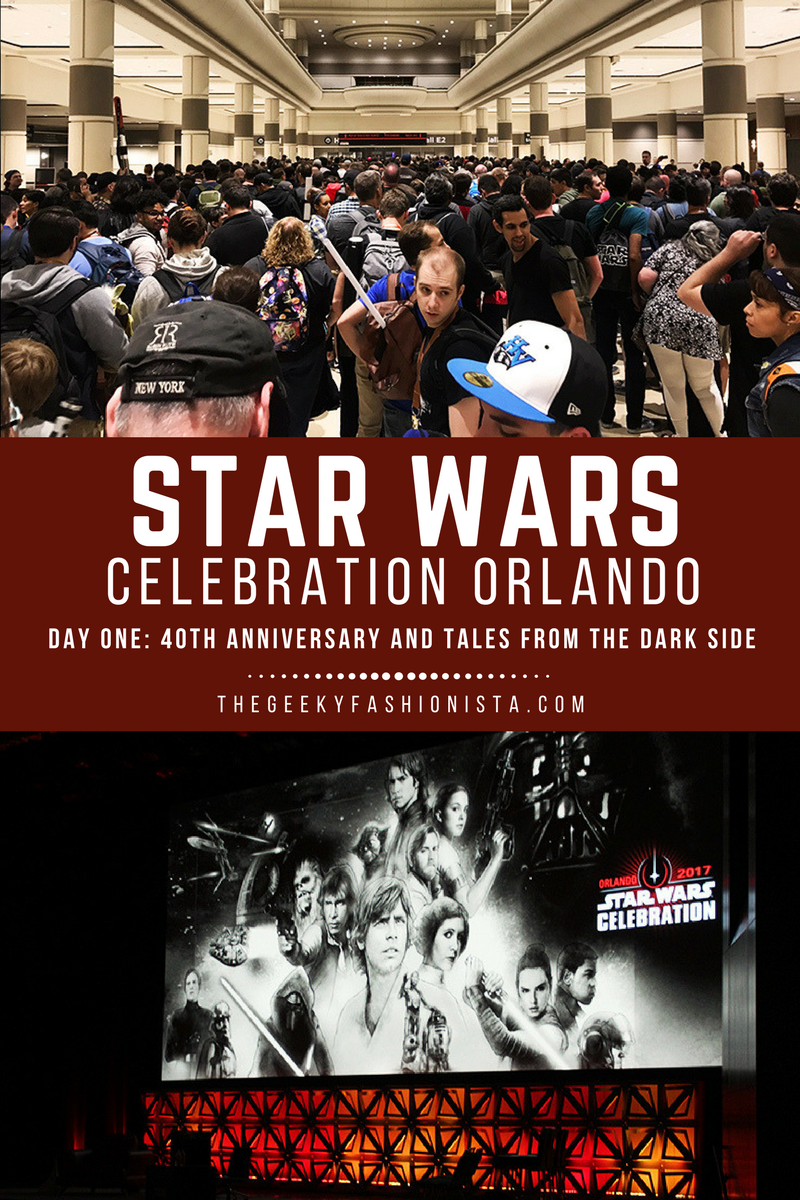 I was planning to do just one Star Wars Celebration Orlando recap post but because of the sheer number of photos I took, especially on Sunday, I decided to split it up into three posts, one for each day I was there. This post will recap my first day of the convention which I spent pretty much doing one of two things: in panels or waiting in lines to get into those panels (or waiting in line to get a wristband to wait in the line for that panel…yes, that was a thing). 
Despite all the line waiting though, the panels were amazing and well worth the wait for any Star Wars fan! Keep reading for my experience recap and be sure to check out my cosplay post from the event as well!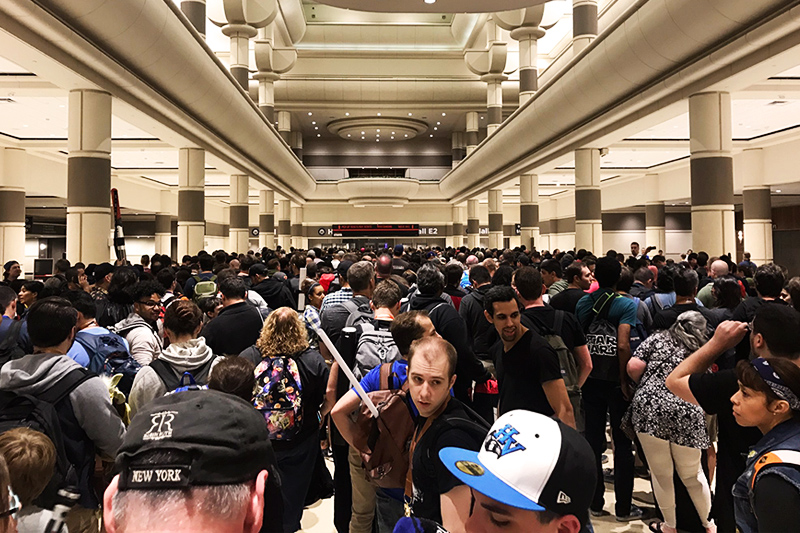 My sister, Melissa, and I arrived at the Orange County Convention Center around 9pm Wednesday night to line up for the next day's 11am Star Wars 40th Anniversary Celebration panel. Yes, we were planning on lining up and camping out in the convention hall 14 hours before the start of the panel. The event website listed 8pm as the time linE up would begin so we figured things would be fine if we got there an hour after it started.
We were wrong.
The photo above is the sight we encountered upon entering the convention hall. This was the security line to get into the queuing room where you could then camp in line. It took probably around 45 minutes to get through. It was sheer madness and very unorganized.
Sigh. The things I do for Star Wars.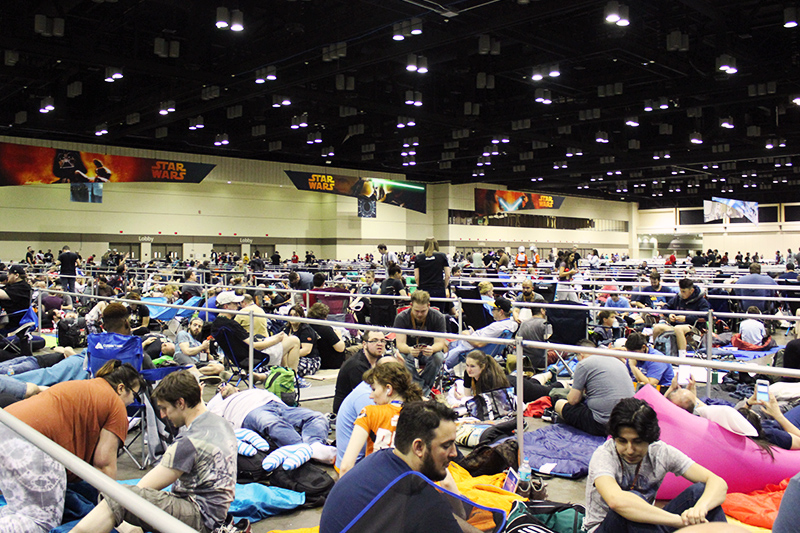 Once inside the queuing room, things were a lot calmer, but we got some disappointing news. We were told that while there was a possibility we might make it into the main panel room, it wasn't a guarantee (since many people in front of us could have more people joining them later on). Seeing as how the main room holds over 3400 people, it was just insane to me that that many people had already lined up ahead of us and were planning on spending the night.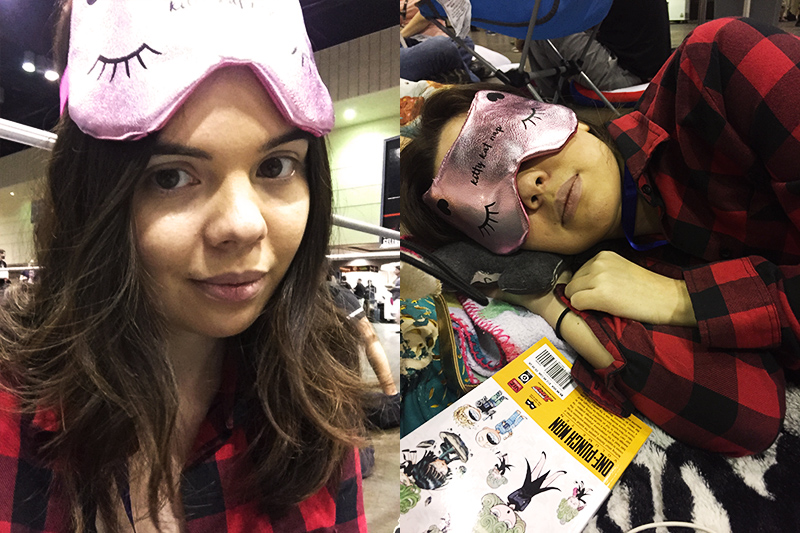 I stayed optimistic and prepared for a long night on the cold hard concrete floor. My sister and I don't have compact sleeping bags or air mattress pads so we made due with what we could carry (it's a long walk to the hall from parking) which were some blankets and a plushie that I used as my pillow.
With the help of my kitty cat nap sleeping mask from my friend Courtney, I was actually able to get some sleep… or at least I was until they brought in a DJ at 1am and tried to start up a dance party. Now I'm all about random dance parties, I do them all the time in the privacy of my apartment – but 1am was not a good time to do this. Maybe 5am – sometime a little closer to when wristband distribution and line moving would begin to get people hyped up…but at 1am, people are tired and just want to sleep.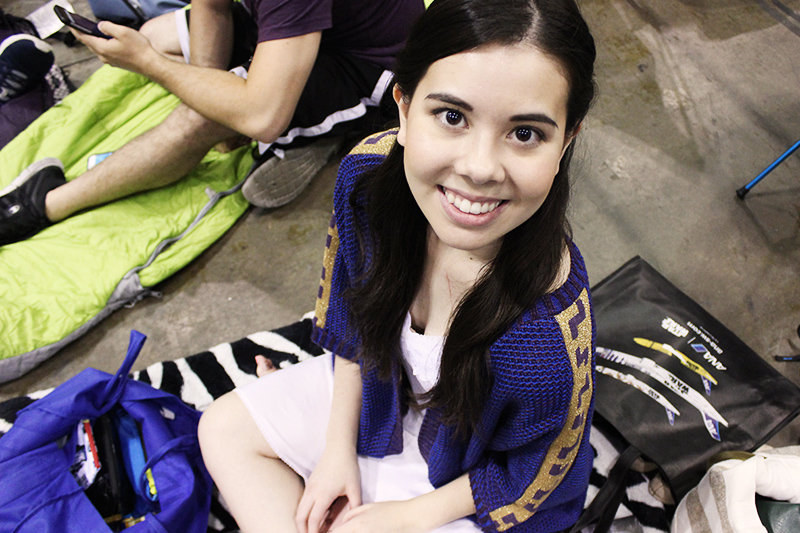 How cute is my sister in her Padme Nightgown con bound?
Come 6am, wristbands were distributed and, unfortunately, we were about 100 people or so too late to receive one for the main stage. We could've enjoyed a nice night at home sleeping in our own beds…something our friend Kyle wisely did who later got in line around 6am when they opened the doors back up and got the same live stream wristbands as all of us who camped out. Womp womp.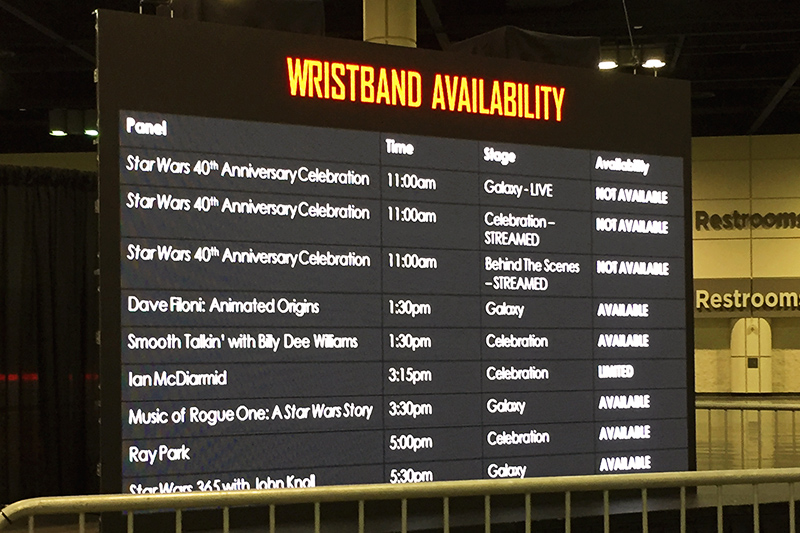 Wristbands for the 40th Anniversary Celebration (including the live streams) ran out super quickly.
After we were all wristbanded up, we tried to find a Bag Check as we didn't want to have to carry all of our gear with us all day. With no luck (because nobody seemed to really know what was going on or where things were), we decided to make the long trek back to our car in the parking lot. Our first panel didn't start till 11am so we had a few hours to kill before it began… or so we thought.
We were wrong again.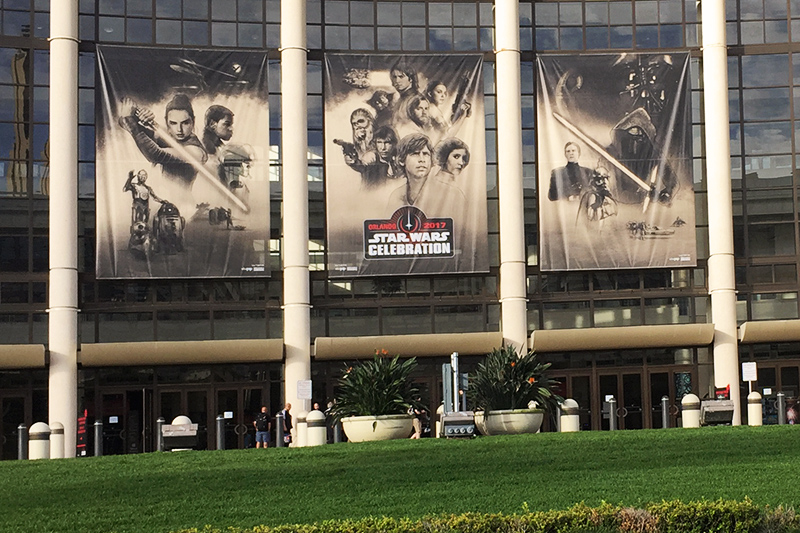 Apparently, the con still hadn't yet worked out all the kinks in their line system so even if you had a wristband and had already gone through security and had your badges…if you left the building for whatever reason, you had to get back in line to re-enter. Normally, I wouldn't mind too much…but this line was over a mile long!! I saw someone post on Twitter somewhere that it was 1.7 MILES – that's CRAZY!! Definitely something I never thought I would see outside of San Diego Comic Con.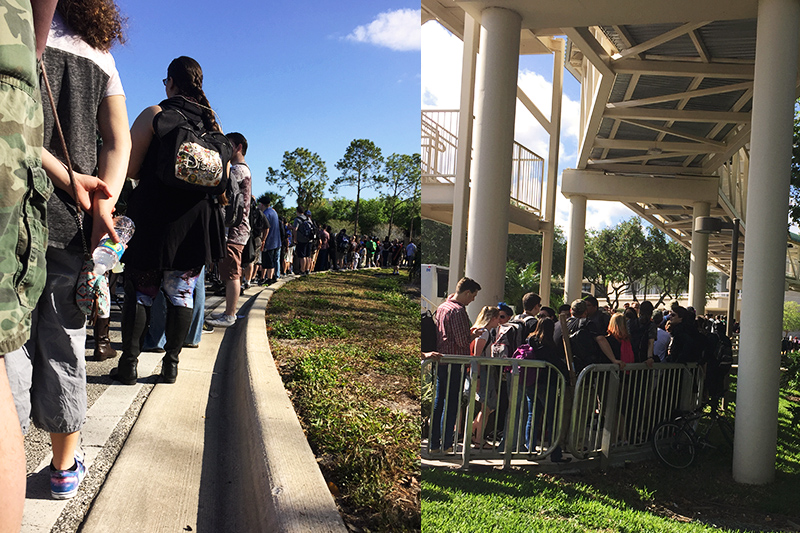 The line was constantly growing and seemed never ending.
As the hours went by in line, we all started to fear we might not make it back in time for our panel. We eventually made it into the building but with only minutes till the panel began. I had a Media badge and was able to bypass some waiting and ran on ahead to secure some seats for my friends. I never thought I'd be so happy to just make it into a room to see a live stream.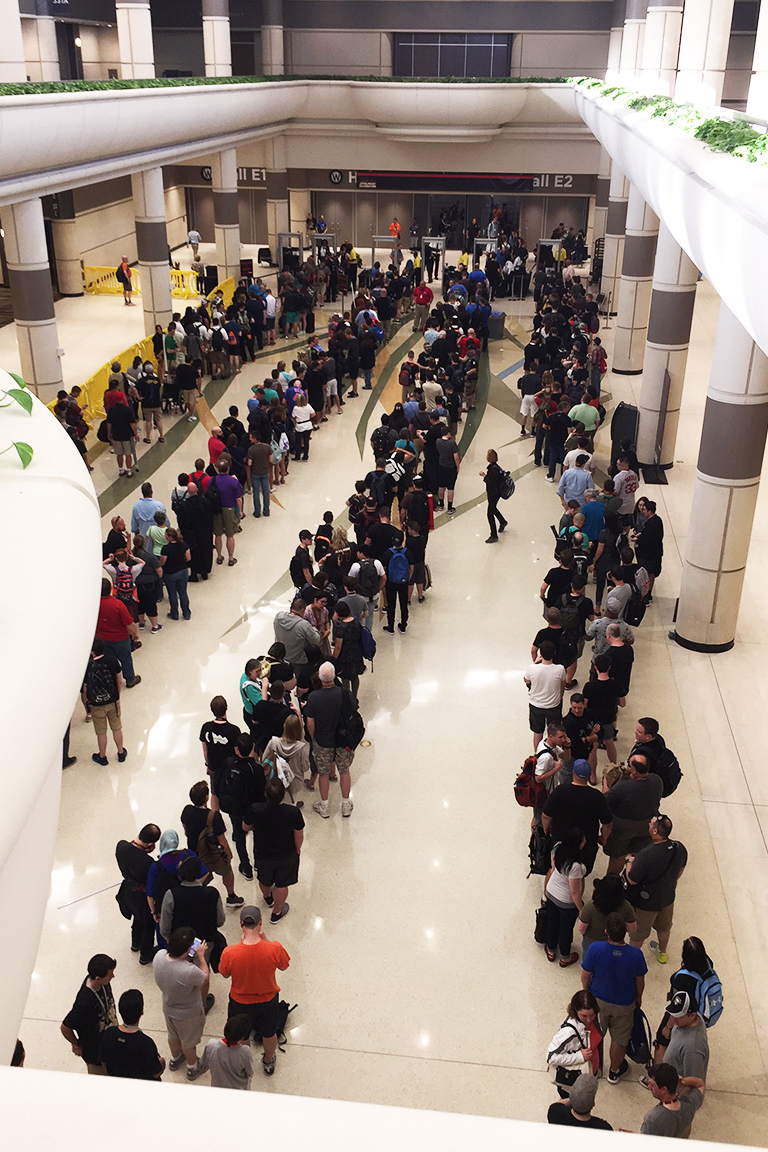 Here is the security line looking a lot more organized than initially. Still, there were not nearly enough security checkpoints for a convention of this size. This issue was later addressed that night and changes were made, but I feel terrible for the Thursday only pass holders who only got to experience half of the day in the actual convention because they spent the first half waiting in a huge line just to get in.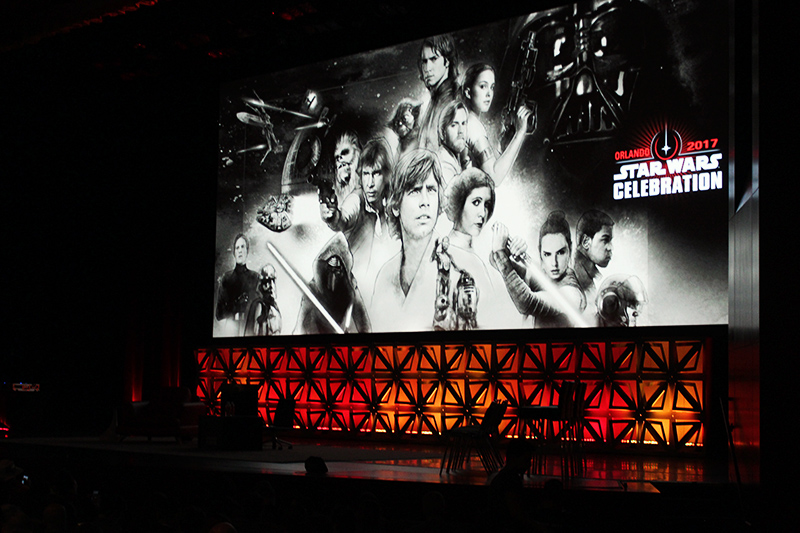 Star Wars: 40th Anniversary Celebration
Even though we couldn't be in the same room with all the amazing guests, it was still an incredible experience to be in such a huge room with so many Star Wars fans, clapping and laughing along to all the stories and memories shared on stage by the many Star Wars icons that showed up.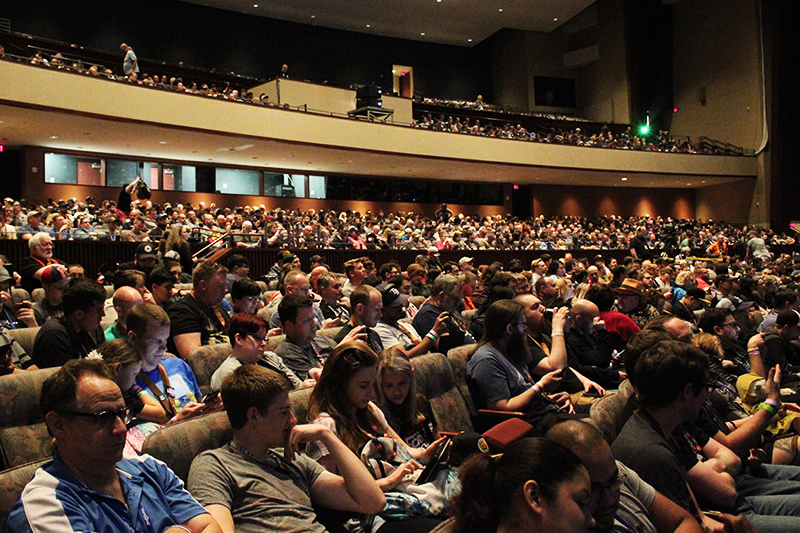 The panel started off with a video that showed footage from 40 years ago when Star Wars was first released and the many fans who lined up to see it. It ended in present day showing little kids attending Star Wars Celebration dressed up as Star Wars characters with their parents. It definitely made me think about how one day I'll be dressing up and bringing my own kids to Star Wars conventions.
Next, Kathleen Kennedy, president of Lucasfilm, introduced the man who started it all, George Lucas to an incredibly enthusiastic crowd. Tributes were then paid to the two Star Wars icons who had recently passed away: Carrie Fisher and Kenny Baker (R2-D2).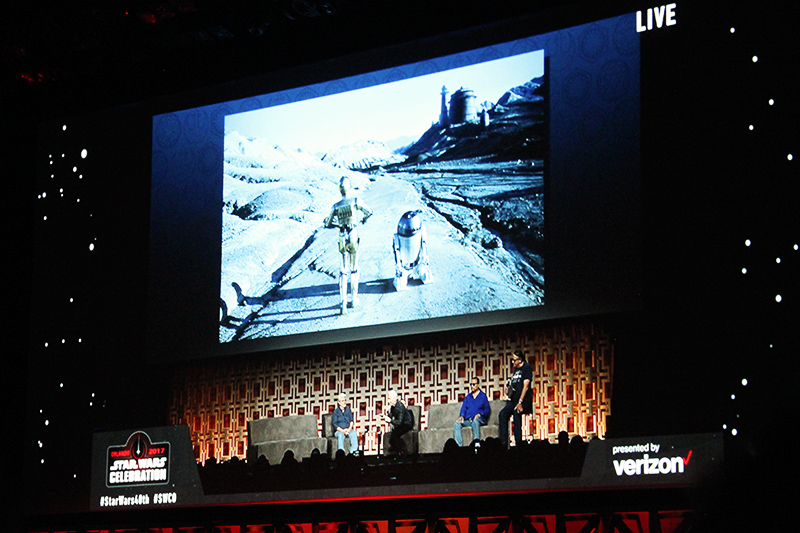 Lucas spent some time talking with host Warwick Davis (who played the Ewok Wicket from Return of the Jedi when he was just 11 years old) about his first film American Grafitti and the struggles of pitching the original Star Wars film which he revealed was "a film for 12 year olds" to teach them about certain values about wrong vs right, the importance of friendship, etc. as they entered adulthood.
I'm sorry I didn't capture many photos during this time, but I'll quickly try to go through what I remember during this packed panel…Warwick read a letter he wrote right after filming Jedi that was very cute. Dave Filoni, executive producer of The Clone Wars and Rebels came out and spoke on stage. There was a short video message from Liam Neeson (Qui-Gon Jinn). In it, he joked about currently being on set for an unofficial movie where Jar Jar Binks did indeed go to the Dark Side.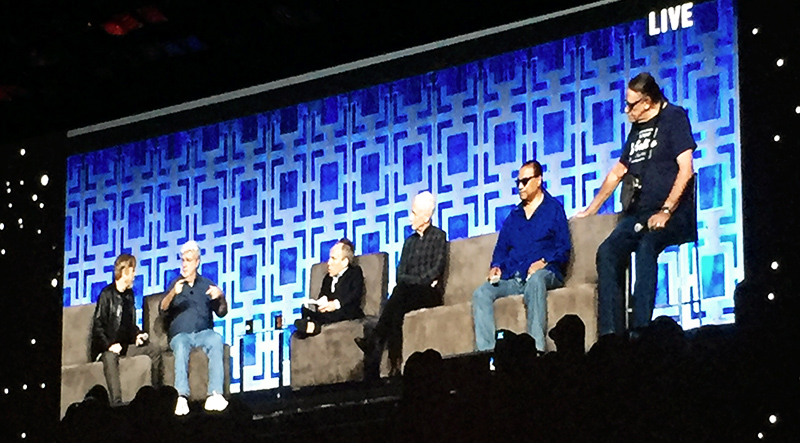 Next up (and once again, sorry for the lack of photos), were Hayden Christensen who played Darth Vader before he was Darth Vader and Ian McDiarmid, the man who seduced him to the Dark Side. They both stated that their favorite acting scene was the opera scene in which the Emperor convinces Anakin to turn against the Jedi.
Samuel L. Jackson made a comedic video appearance where he made a case for Mace Windu to return stating, "We know Jedi can fall from incredible heights and survive. I am not dead!" Good point.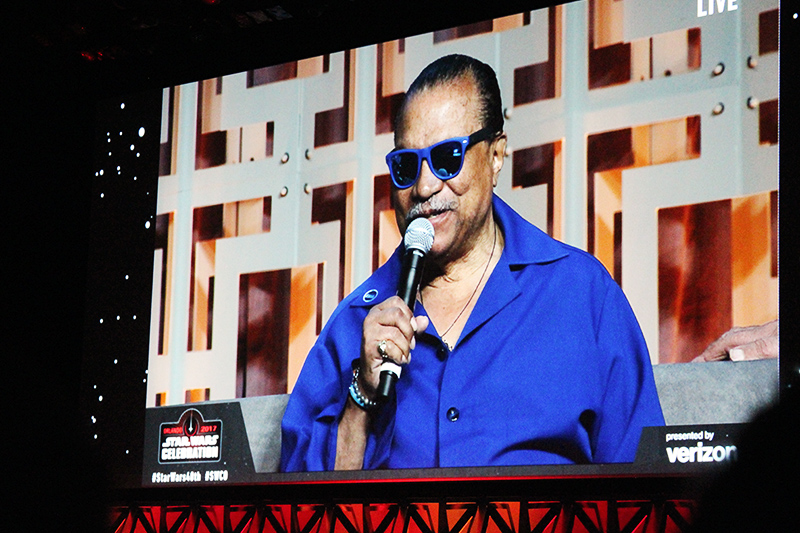 Then some original trilogy favorites came on stage: Anthony Daniels (C-3PO), Billy Dee Williams (Lando Calrissian), and Peter Mayhew (Chewbacca). Lucas shared how his large dog riding in the front seat of his car was the inspiration for Chewbacca.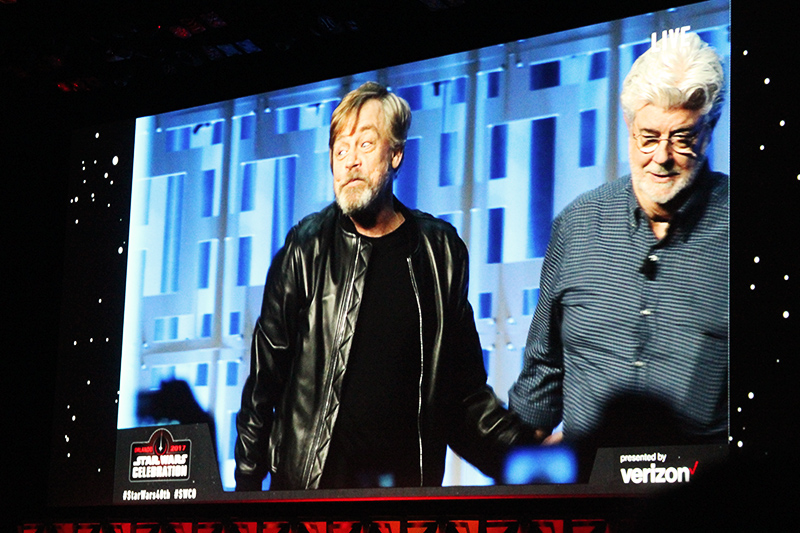 They are joined by Luke Skywalker himself, Mark Hamill (haha, his face here xD). Lucas explained the year-long auditioning process it took before they ended up with the main trio. They then played a clip of Hamill's original audition which included a doozy of a technical line that was later cut from the script.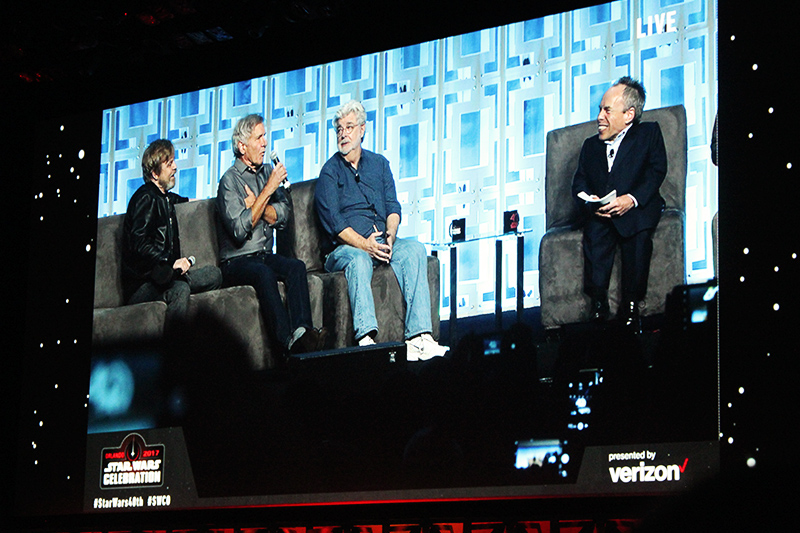 But we're not done yet! Harrison Ford aka Han Solo was there as well!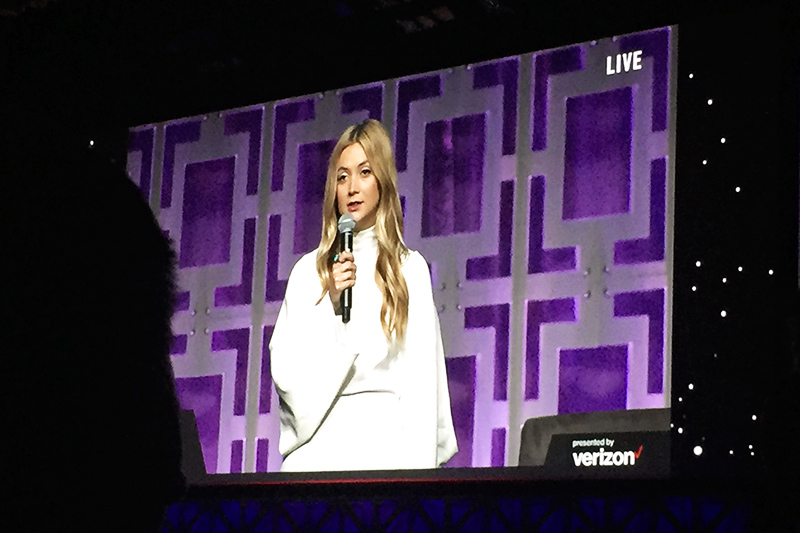 After the actors left the stage, Lucas and Kennedy remained and had some moving words about the sorely missed Carrie Fisher. Lucas had many lovely things to say about Carrie including that she was "very smart, very funny, very bold, very tough," and "one in a billion." 
Carrie's daughter, Billie Lourd, came on stage wearing a Leia-inspired dress and made a touching statement ending with reciting Leia's full "Help me, Obi-Wan Kenobi. You're my only hope." monologue from the original movie.
A tribute video then played with some of Carrie and Leia's greatest moments. Just a note, if you watch, you might want to have some tissues nearby. The feels in the audience were heavy.
Still, the panel was not quite done. With so much emotion hanging in the air, a curtain rose and legendary composer John Williams and an orchestra were revealed. After quieting the ecstatic audience, Williams led the orchestra in the bittersweet "Princess Leia's Theme." If you weren't crying before, you probably were now. 
Ending the 40th Anniversary Celebration panel on more of a celebratory note, Williams closed out with the Star Wars theme that we all know oh so well.
Wow, what a great start to this Star Wars Celebration Weekend!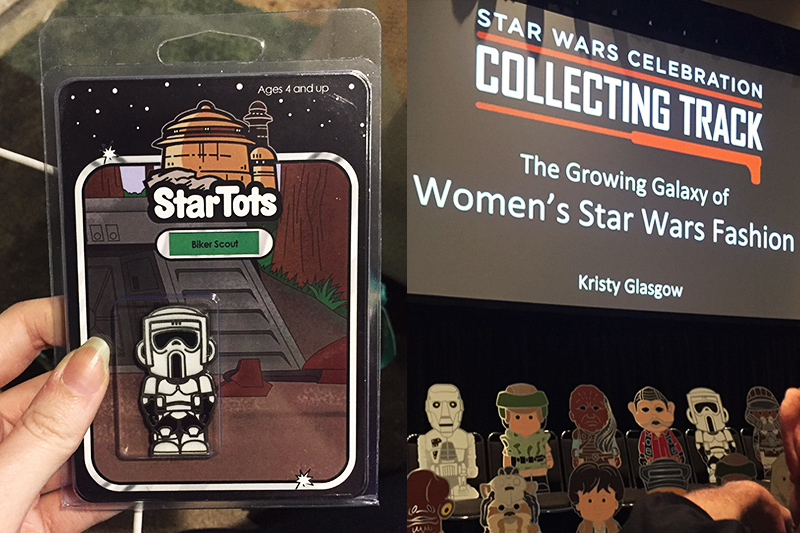 The Growing Galaxy of Women's Star Wars Fashion
There wasn't a lot of time before my next panel with Ian McDiarmid but it was just enough to grab a bagel and slip into "The Growing Galaxy of Women's Star Wars Fashion" panel led by Kristy Glasgow from one of my favorite sites, The Kessel Runway.
I TOTALLY agreed with her disappointment over the lack of Padme items and wishing retailers would embrace the prequels in their fashion lines. The prequels weren't perfect, but c'mon, Padme had so many GORGEOUS outfits to use for inspiration. As much as I love repping Leia in my fashion, I wouldn't mind showing her mom some love too.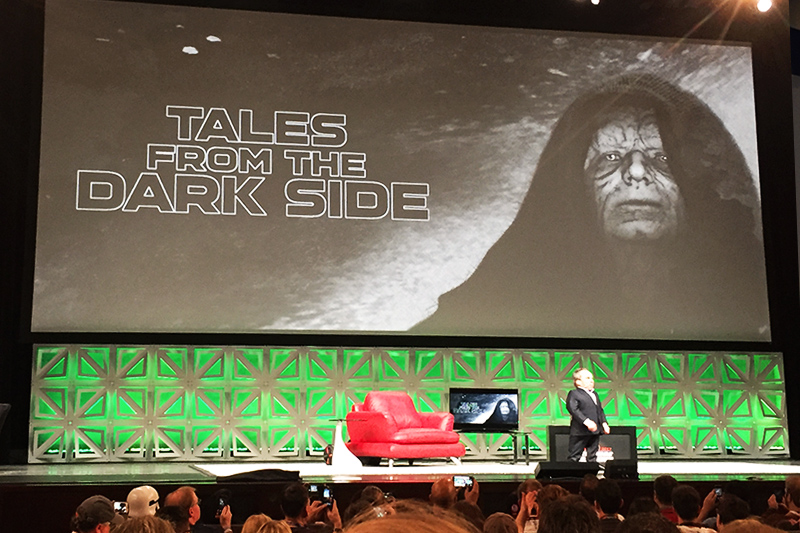 Tales From the Dark Side
When one panel ends, another begins… I made it over to Ian McDiarmid's "Tales From the Dark Side" panel and got some pretty decent seats. Warwick Davis once again did an excellent job as host and Ian was once again a great guest. He was super at ease and very charming as he shared various stories such as his "audition" to play the Emperor in the prequels. Apparently, Lucas called him in and asked if he'd like to play the role. Ian said he was interested and that was the end of it haha.
Something I found pretty interesting was how he revealed in his early development of the character, he saw the Emperor as almost reptilian with his yellow eyes and wrinkled skin and that's how he came up with the now iconic sinister voice. I love how he said he produced the voice using his diaphragm more so than throat as he wanted the evil to literally come from within.
He also discussed the aforementioned opera scene and how it took 20 takes even though he and Hayden never did a rehearsal. He also mentions how he tried to ask Lucas to delay filming the scene because he had a very hoarse voice but Lucas actually liked how it kind of connected Palpatine's politician and Sith Lord personas and they used the takes. They played the scene in full and Ian's performance is simply magnetic.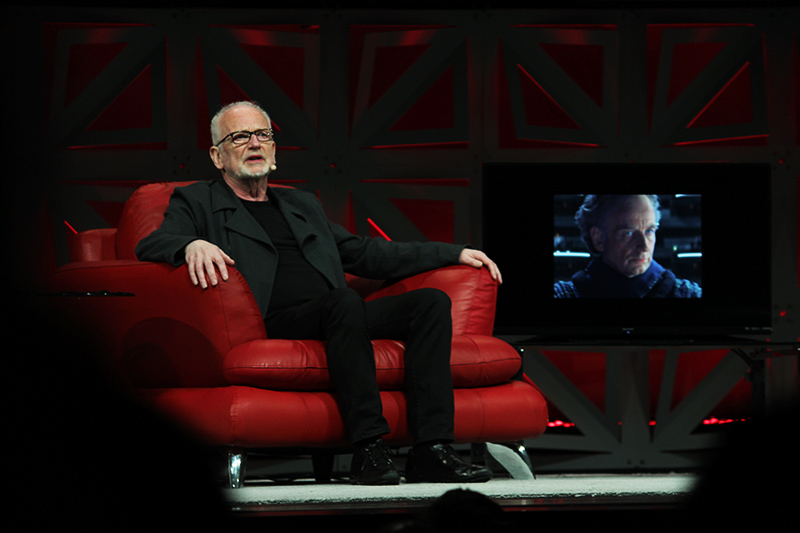 When that panel ended, I took a short break in the Media Lounge to figure out where the unofficial line for the next day's The Last Jedi panel would be. Apparently, even at 5pm, a line was already well under way. Seriously, Star Wars fans do not mess around.
And neither do I.
I made my mistakes and learned from them. I was going to get in that panel and, spoiler alert, I did! Stay tuned for my next post where I recap The Last Jedi and Mark Hamill's touching Carrie Fisher tribute panels!
When did you first watch Star Wars?