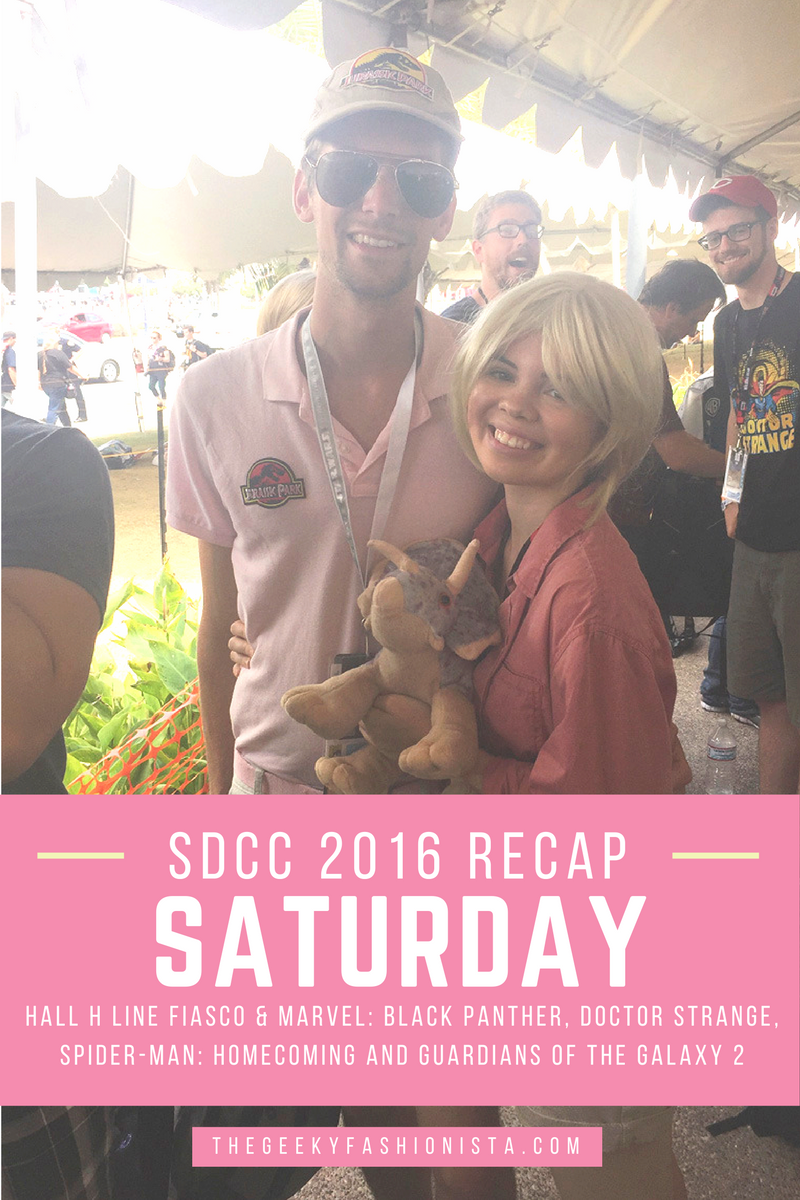 Saturday
I'm almost done with all my San Diego Comic Con 2016 recaps – yay!! This one I've been sort of putting off a bit because I'm still a little sore about it. Day Three aka Saturday was a bittersweet day for my group and I. It was the one day we would all be together, and we all went into the day super excited for a long day of exciting panels within Hall H. However, due to a dire mistake made my line management, our dreams were crushed, and we endured the longest wait of our lives and vowed never to wait for Hall H ever again…okay, that's a little dramatic, but it was kind of a dramatic day.
Read on to find out what went down (don't worry, there's still a happy ending).
Before we start, if you haven't yet read my Preview Night, Thursday, and Friday recaps, be sure to check those out first before jumping into this insane mess of a day. All caught up? Good. Okay, let's get started.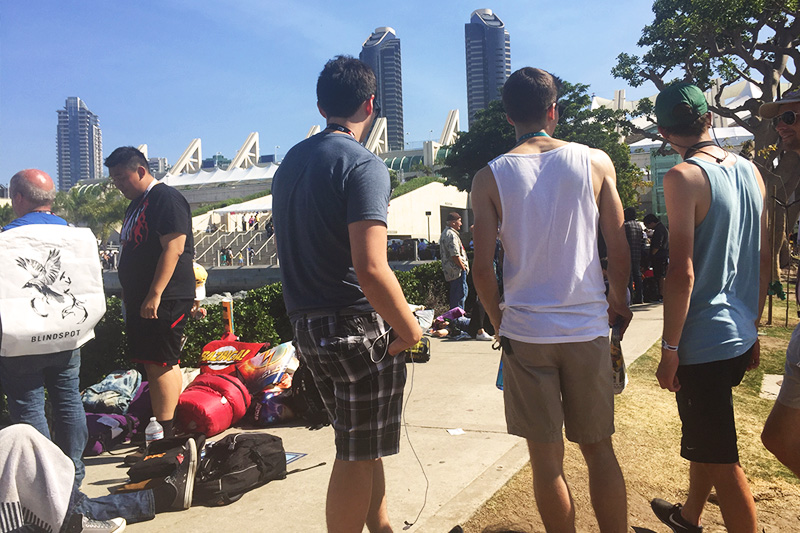 As I stated at the end of my Friday recap, my group and I did not end up getting wristbands that would secure us guaranteed entry into Hall H the next day. Disappointed but not ready to give up, most of the group decided to camp out overnight in the line to be among the first in the non-wristband group come morning.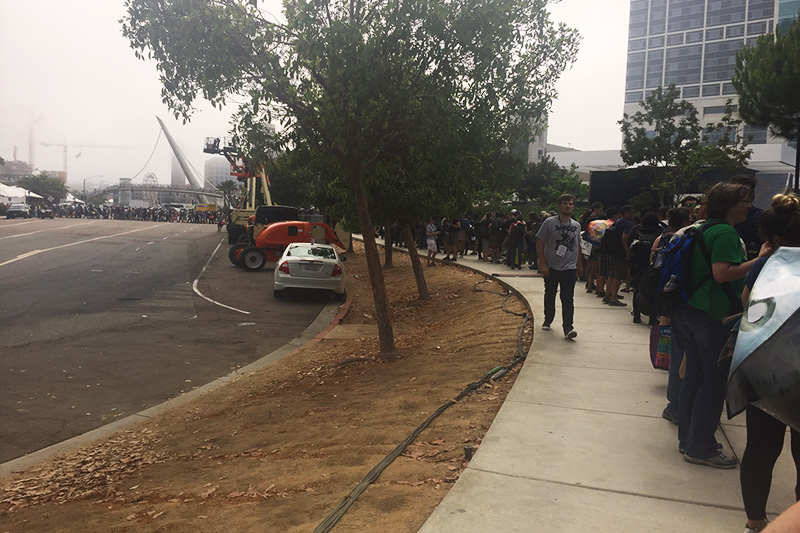 The hundreds of people in line behind us – surely we'd get in
The next morning, our spirits were optimistic as we waited. Sure, we were far back in the line as those with wristbands lined up in front of us, but we still had a good feeling of getting in. I've given up in previous years after all the wristbands had been given out only to learn that hundreds of non-wristbanders were able to make it in. There were definitely hundreds of people behind us and more and more coming every minute so we felt pretty confident that all of our time spent in the blistering heat would be worth it.
A strip of shade! Like the opposite of cats finding sunny spots… @HallHLine #limitedshade #basketballcourtcampers pic.twitter.com/T7G4PzcGjJ

— Chrissy (@TeachingTizzy) July 23, 2016

As the time for the first panel to begin got closer and closer, we kept moving and moving. Things were going great! We even got some free energy drinks along the way to wake us up!
Before we knew it, we were under the white tents then being filed into the chutes, signaling that we would soon be entering the grand Hall H and all our waiting would be worthwhile. Then something happened… our chute was supposed to go in next, but we didn't…then we were skipped over again. At the time, there was so much going on and we were so excited, we thought something was strange but so many lines and people were moving, we didn't speak up and continued to wait our turn.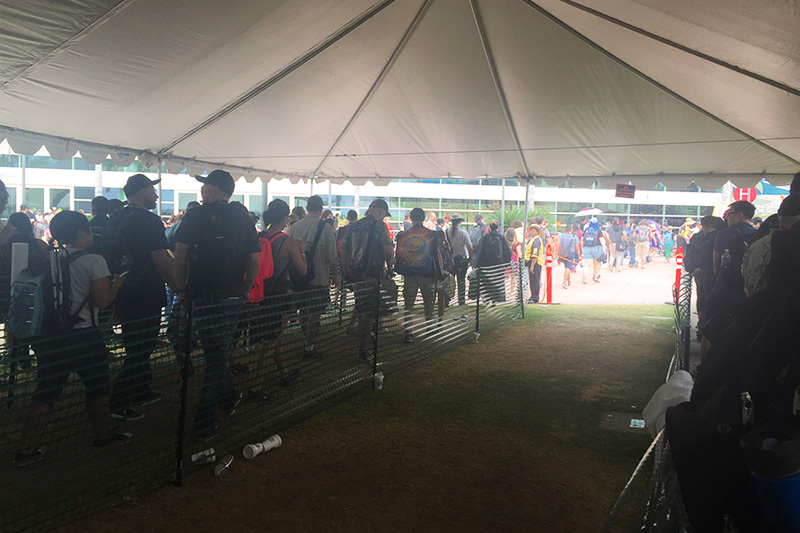 Something's not right here…
Eventually, everyone stopped moving and the Hall H doors were closed. My group was very confused. What happened? Why wasn't our chute let in? We definitely should have made it in.
We waited, hoping they would let a few more people in. We were just 20 people behind the front of our chute.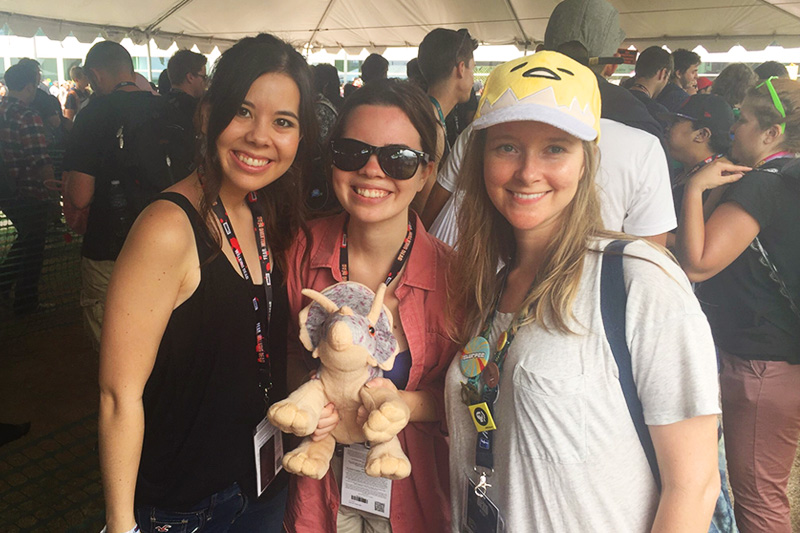 Staying optimistic in line with my girls
Then it was announced nobody else would be let in to the Warner Brothers panel. We were super disappointed to hear this but still remained optimistic that we'd make it in after the panel.
Then the panel ended. People left. But they didn't let anyone else in. What was going on?
I jumped on Twitter and discovered what had happened and I was NOT happy.
Hall H Line Nightmare
Apparently, line management had SERIOUSLY messed up and let two other chutes in before us so people who had literally lined up TWELVE hours after us got in but my group and about a hundred others who had camped out overnight did not. THEN apparently after the panel ended and you're supposed to let more people in since people leave, the line workers decided to take a break (why they didn't do this during the panel when there are no moving lines to manage is beyond me) so no one was able to make it into the next panel. I was not a happy camper.
But what can you do? What done was done. There's always the next panel which was for the new Aliens movie then the Star Trek 50th Anniversary panel. So we waited. And waited. And waited some more. Panel after panel went by with them not allowing a single person inside despite the fact that people were leaving. The only way it seemed to get inside was to have some kind soul who was leaving give you their bathroom pass so you could take their place inside (but who thinks to do that? If you're leaving, you just leave, you don't grab a bathroom pass), otherwise they weren't letting any of the HUNDREDS of people waiting outside inside.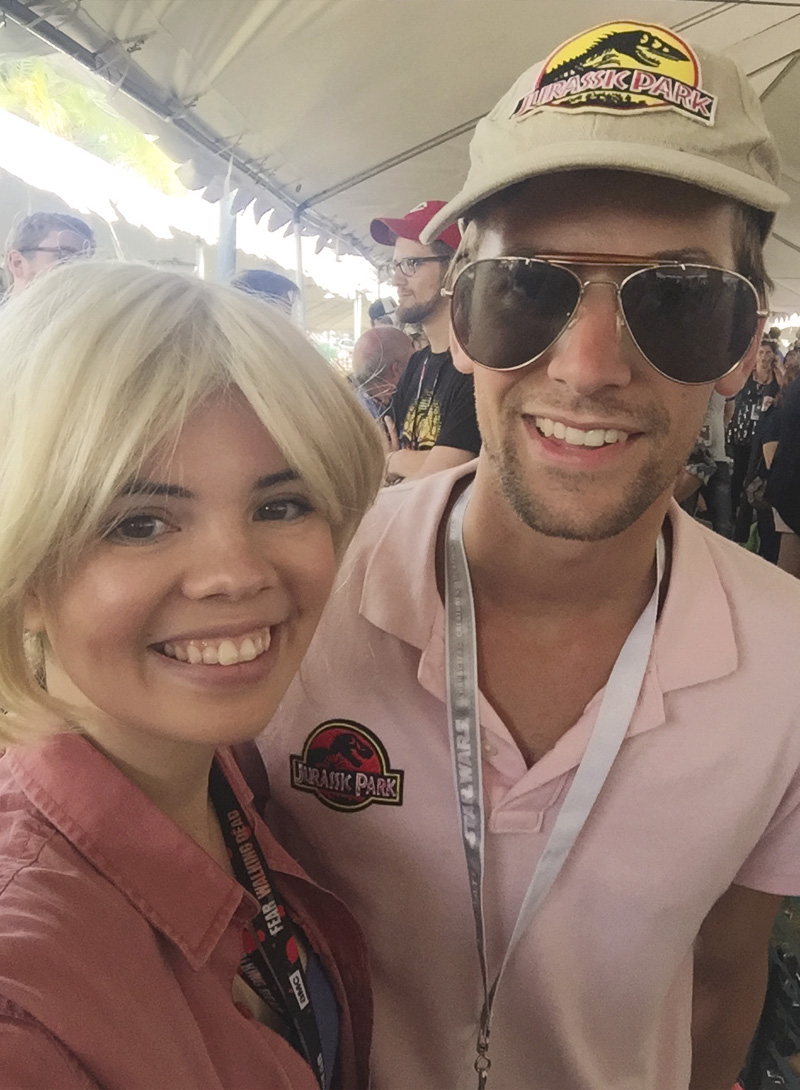 Quick break from the Hall H nightmare for a cute pic of Luke and I cosplaying Dr. Sattler and a driver from Jurassic Park
We started to lose hope quickly. Many of us in line felt totally forgotten. Line management rarely had any answers or explanations and absolutely no apologies. You had no idea whether or not they might let you in at any moment so many people didn't use the restroom in fear they might miss out on their chance to go in if they started letting people in.
VENT ALERT: At one point, one of my friends went to seek some answers from the line crew. He returned saying the woman he spoke to had not been very friendly, he couldn't get any answers, and that she made him return to the line by having to go all the way around the chute back to us even though we were near the front which was odd.
A few minutes later, this woman he had spoken to came up to our side of the chute looking super angry, pointed him out in front of everyone around us, and started threatening him saying she had the power to throw him out of the line. I was genuinely dumbfounded. My friend is one of the nicest guys you will ever meet. He's not a troublemaker or rebellious type that would ever purposely defy or be disrespectful to someone so I had no idea what she was so upset about. I was so upset for my friend. I could tell he was hurt and embarrassed by the scene that had occurred in front of tons of strangers. It was so uncalled for.
I learned later that what had ticked her off apparently was because she wanted him to go through the line from the back of the chute not around it to return to our group. THAT is why she threatened and humiliated a person who had already been wronged and not complained one bit or caused any trouble?? I would've done the same thing!
Line management had made mistake after mistake, took inconvenient breaks, basically did their job horribly – but they'll flip out if you walk the wrong way back in line. Are you kidding me?? THAT'S when they decide to take their job seriously?? I'm an EXTREMELY patient and understanding person. All day I was optimistic and understanding. Even if I were upset internally, I didn't let it show and smiled for my friends. I constantly give people the benefit of the doubt, but they were really testing me. VENT OVER.
Anyway, they got an okay from the fire marshal and let in exactly 20 people. Yay!! It's something!! But really – only 20 people?? Way more than that have left over the day. Still, they were the first people they'd let in since the morning so there was a glimmer of hope. They stopped literally right in front of my group.
We were at the very front of the line waiting once again. Hoping to just make it in for Marvel. Also shoutout to the sweet older gentleman who insisted that someone from my group go ahead of him inside (of course, we all politely declined and insisted he go ahead).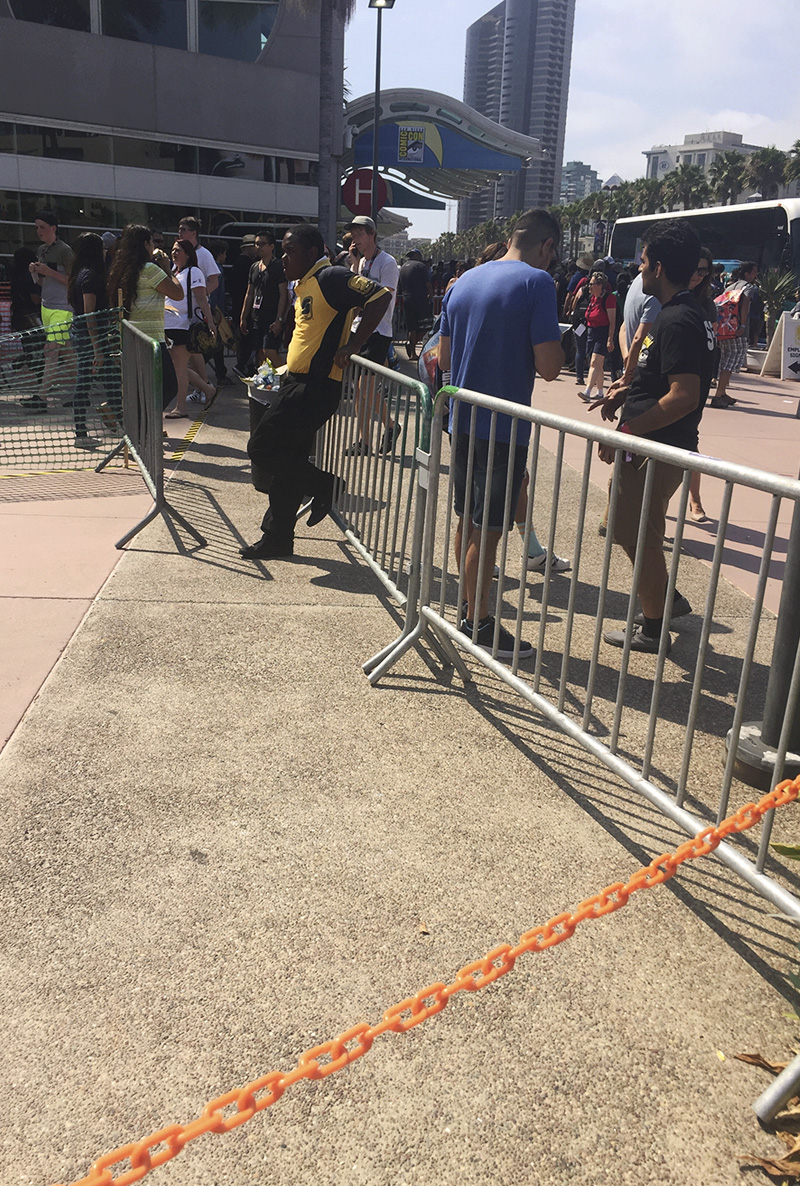 At the very front of the Hall H line…the end is near.
The people that made it inside tweeted back to those still in line their shock at all the empty seats available. Line management wasn't believing people who said there were available seats so people started taking pictures of the seats and posting them on Twitter. Still, we were told that the fire marshall wasn't allowing anyone inside despite all that because there were too many people inside walking around. If that's the problem, why not just tell people inside to sit down for a minute so they could let more people in? Or at least let the poor chute in that got skipped over by HUNDREDS.
We Make It In!
After another hour or so of more waiting, they FINALLY let my group in and maybe another 10-15 behind us. We were overjoyed! We came in the middle of the Women Who Kick Butt panel that was right before Marvel.
As soon as we entered, volunteers quickly found seats for my group of 10 splitting us up into pairs. There were indeed PLENTY of seats. When the lights went up at the end of the panel, I started asking around about various seats to confirm they were empty and not just someone left to use the restroom or get food and Tweeted out some pictures. Despite this, it didn't look like they were letting anymore people in. There were still lots of people in that chute stuck out there while there were a good number of available seats inside. My heart went out to those outside, but there was nothing else I could do.
At least the next panel would be Marvel, the panel we all had been waiting for. It would take our minds off the insanity of what had transpired that day.
Before I go into my Marvel panel reaction, I will just end my terrible line experience saying we all understand mistakes happen. If someone from line management would have just acknowledged the mistake and offered some kind of apology or some kind of compensation to those that had been skipped over in the chute (or at least give us some water or pizza since none of us planned to be out in line all day after camping out all night) or tried to show some kind of indication that they were making an effort to get those people inside instead of just lounging around on their phones or putting all their attention on the line for the NEXT day, things could have been so different. The fact that their way of dealing with their mistake was just to ignore us and make us feel forgotten was NOT how they should have handled it. In the grand scheme of Comic Con, we were only a couple hundred or so people but still, what terrible customer service.
I've gone to Comic Con for the last 10 years and tons of other conventions. In all my years, I have never seen such terrible customer service nor been treated so poorly. Let's hope something like this doesn't happen again. Get it together, Hall H Line! On the busiest day of the convention, don't assign the new guys who don't know what they're doing or clueless volunteers – bring out the pros, the big guns who know what they're doing!
Ugh. Okay. I'm done about the line. Onto some happy stuff.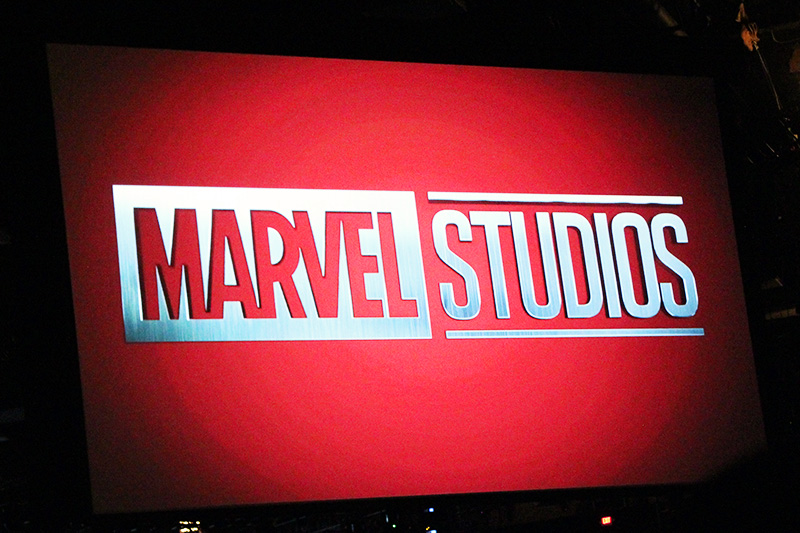 Marvel
My sister, Melissa, did an EXCELLENT job recapping each segment of the Marvel panel. Definitely check out her post to see breakdowns of all the exclusive footage we were shown because there was TONS of stuff shown, and she does a much better job summarizing everything than I ever could do plus there are countless articles you can google that describe in depth what was shown for each movie.
Instead, I'll just give you a brief summary. Hope that's okay.
Moderating the panel was the Nerdist himself, Chris Hardwick, who did a great job as usual. Joining him on stage was president of Marvel Studios, Kevin Feige.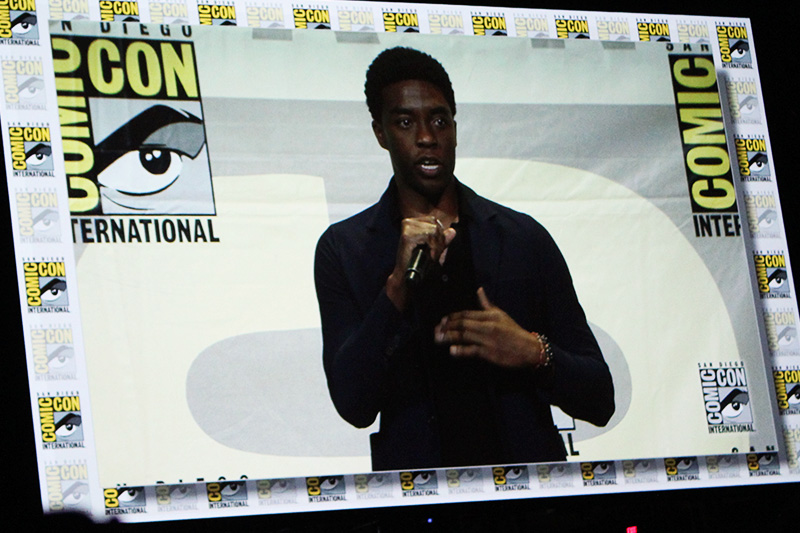 Black Panther
Up first was Black Panther, a movie not released until summer 2018, so it was a pleasant surprise to see the entire cast present even if there wasn't any footage to show since they hadn't started filming yet. Who was there? Director Ryan Cooler along with star Chadwick Boseman, Lupita Nyong'o, Michael B. Jordan, and Danai Gurira.
Thor: Ragnorok
Next up was Thor: Ragnorok. The cast wasn't there as they were on the other side of the world having just started filming, but they didn't leave us empty-handed. We got a HILARIOUS mockumentary-styled short explaining where Thor and Bruce Banner were during the events of Civil War. Good stuff. I can't wait till it's released online so I can watch it again.
Afterwards, they showed some beautiful concept art and early CGI test footage which gave us a glimpse of Planet Hulk which had the crowd cheering. I've never been all that interested in the Thor movies even with one of my favorite actresses in them (I still have yet to see the second Thor movie), but I'm actually pretty intrigued by this one and looking forward to seeing it next fall.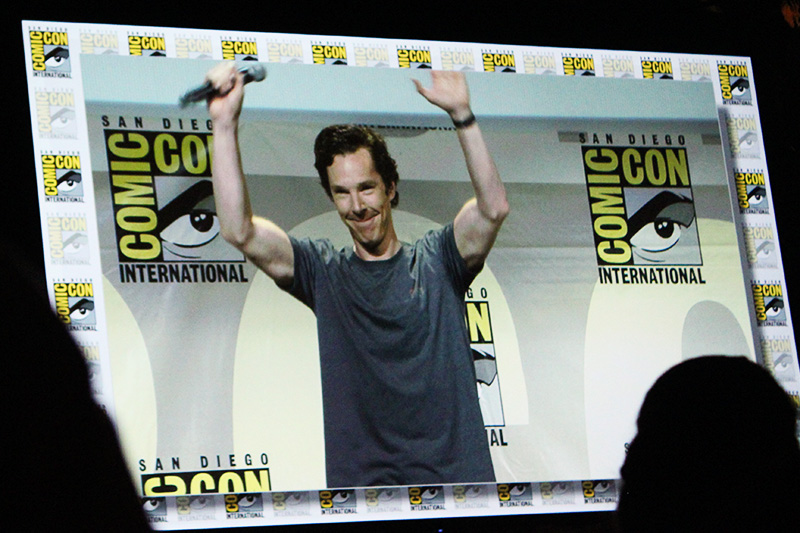 Doctor Strange
Doctor Strange was up next. The panel started with this amazing spectacle where these huge screens came down to give it an all-surround feeling, smoke came out everywhere, crazy lights, an awesome score by Michael Giacchino – I was sitting in a seat that wasn't quite ideal for seeing what was on the screen up front but it was quite a "magic" show and a great way to set the mood for a Doctor Strange panel.
As the smoke cleared, there was Sherlock, I mean Doctor Strange, himself on stage. The crowd went wild for Benedict Cumberbatch who was joined on stage by director Scott Derrickson and the rest of the cast: Tilda Swinton, Chiwetel Ejiofor, Rachel McAdams, Benedict Wong, and Mads Mikkelsen.
With the release only a couple months away, they were able to show us an entire scene where Strange first meets the Ancient One followed by a brand new trailer. Both got me super pumped to see the movie in November.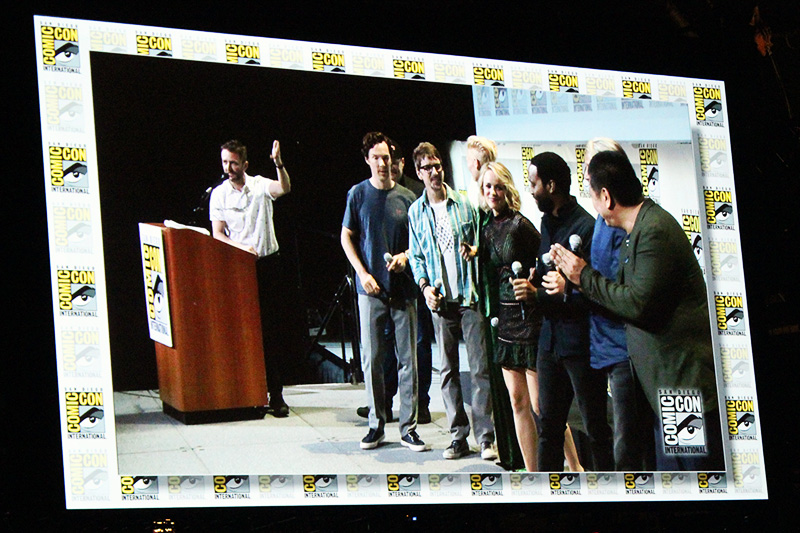 Spider-Man: Homecoming
The biggest surprise of the Marvel panel (at least for me) was Spider-Man: Homecoming. Director Jon Watts and new Spidey Tom Holland told us filming had only been going on for 10 days but they had flown in from Atlanta just for Comic Con (and were flying right back after the panel) AND with footage of some of the high school scenes to show us! Say what?? I totally was not expecting that.
Watts explained they were making a "straight up high school movie" and the footage they showed definitely gave off a John Hughes vibe. There was lots of comedy, teens being teens, oh and an awesome bonus ending shot of the Vulture confirming him as the movie's villain.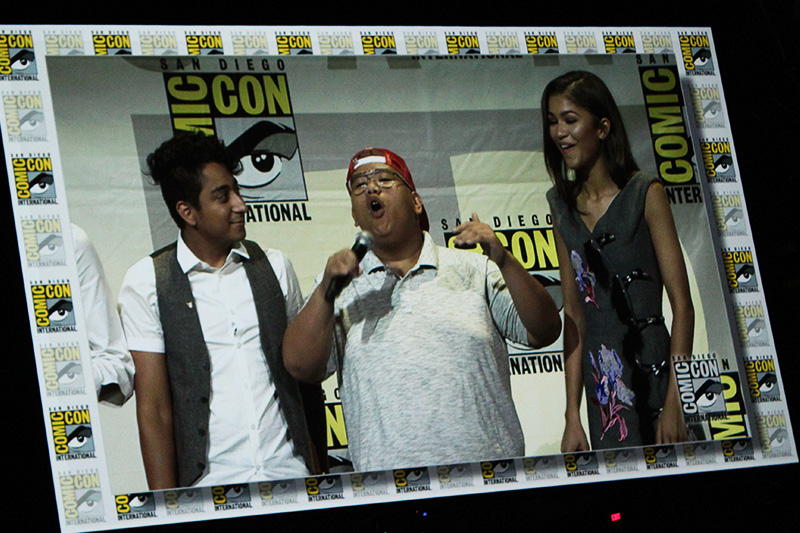 A few more cast members came out on stage: Zendaya ("Michelle" but who we all now know is actually Mary Jane Watson, and I'm totally on board with it), Laura Harrier (Liz Allan), Tony Revolori (Flash Thompson), and Jacob Batalon (Ned Leeds). It was great to see the young cast looking just as excited about the film and footage as the crowd.
My sister and I are both big Spider-Man fans (although her love is on another level since he's her favorite superhero ever), and we both were thrilled to see him back in the Marvel family. I loved the Tobey Maguire films and while not a huge fan of the Andrew Garfield ones, I do think he and Emma Stone did the best they could with the material. Tom Holland seems like a terrific choice to carry the torch in these new films, and I am so excited to see more of him as Peter Parker! July 2017 can't come soon enough!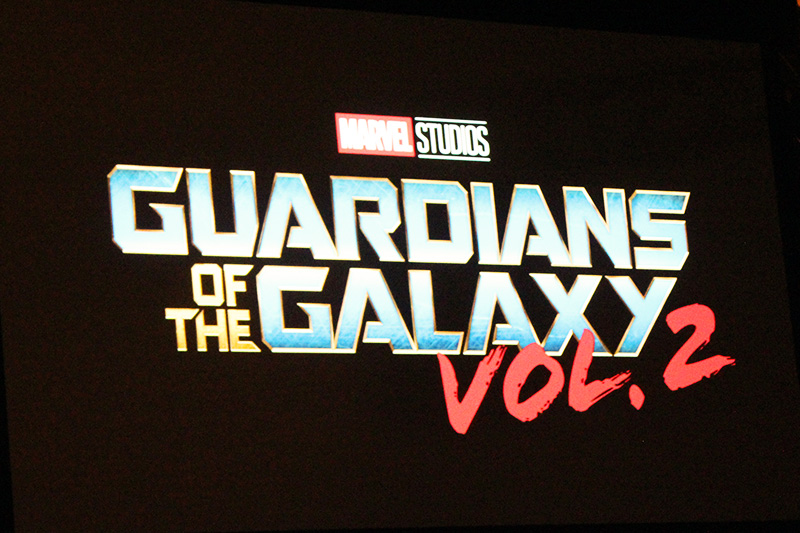 Guardians of the Galaxy: Vol. 2
Director James Gunn and cast members Chris Pratt, Zoe Saldana, Dave Bautista, Karen Gillan, Pom Klementieff, Elizabeth Debicki, and Kurt Russell all came out for Guardians of the Galaxy: Vol 2 but were shortly interrupted by a group of Ravagers. This led to showing an awesome clip from the film that showed the Ravagers getting their due from Baby Groot (adorable, but don't mess with him), Rocket the Raccoon, and Yandu. It was hilarious and had some great gags definitely in line with what we saw in the first film. After the clip, Michael Rooker joined the cast on stage in full Yondu costume.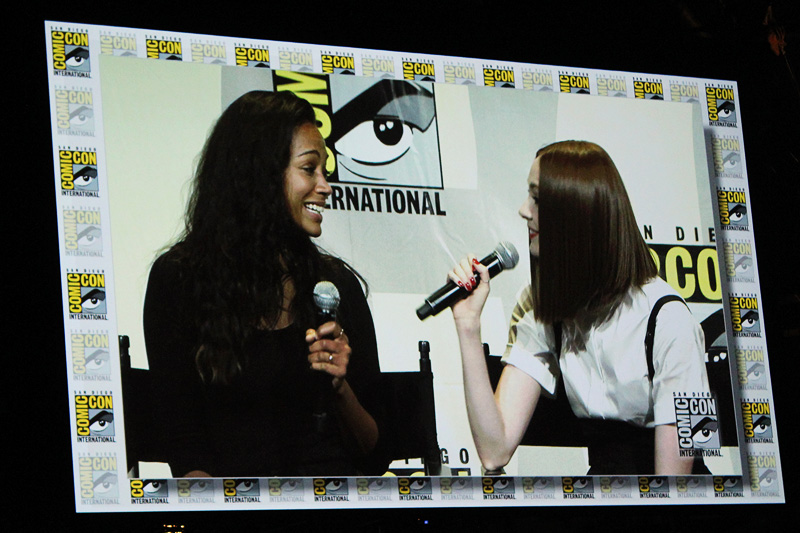 An announcement was made that a new ride/attraction called Guardians of the Galaxy: Mission Breakout would be coming to Disney California Adventure theme park replacing the classic Tower of Terror ride. Despite the fact that the ride does look pretty cool and features Benecio del Toro reprising his role as the Collector, the news was, of course, met with a good amount of boos – people don't like it when you mess with those beloved classic rides (me included! but I'll give this a chance). We were shown some behind the scenes, pre-VFX footage and concept art and told that the ride would open around the time of the movie in summer 2017.
The last of the Guardians goodies came in the form of a sizzle reel which showed lots of funny scenes of the guardians including one where Quill cracks up after calling Rocket a "trash panda" and one with Kurt Russell in his pivotal role as Ego the Living Planet.
The first movie was pretty amazing somehow taking these obscure Marvel characters and turning it into one of the biggest hits of the summer with its humor, heart, and killer soundtrack. You can definitely expect Vol. 2 to once again deliver the awesome come May 2017.
To end the Marvel panel, Chris Hardwick suggested they take one epic Marvel family photo. The casts from Black Panther, Doctor Strange, Spider-Man: Homecoming, and Guardians of the Galaxy: Vol 2 all came on stage together…plus, they had one more announcement. The newest member of the Marvel family would be *drumroll please although we all know now….* Brie Larson as Captain Marvel!! The movie doesn't come out until 2019, but with such a supremely talent and girl boss lead (who was definitely crowd-approved by the amount of applause), I'm definitely looking forward to it despite knowing very little about the character.
Phew! Did you make it down this far? Wow, you're awesome. This is probably the LONGEST post I've ever written. I really tried to scale it back, but it's just hard when a day holds both terrible lows and incredible highs such as this.
Overall, the panel was AMAZING and most of our group seemed to think the wait was worth it for all the exclusive footage. Amazingly, none of it leaked online (as far as I know) so it's pretty cool to think we are still the only ones to have seen much of the stuff that was shown.
I don't think I will ever wait in the Hall H Line without a wristband ever again. I know you can get lucky, but I just don't want to chance it again and miss out on a whole day of activities. If it's walk-in like like it was on Thursday then absolutely, but it might be a while before I attempt to make another Marvel panel as amazing they are – at least not without working out some kind of working in shifts line deal for wristbands like most people do. We'll see.
Oh, also on our way out they gave us some sweet Marvel Studios hats. Brie Larsen posted a picture of her rocking one on Twitter. Apparently these hats are going for around $40 on Ebay but after what I went through that day, I am definitely keeping mine as a souvenir from the day that Hall H almost broke me.
As I wrap up this post I am in a bit of a daze from all the writing and recounting so while I'm sure I did something after the panel (I think…I honestly may have just passed out in bed), I'm going call it day.
Whoo!! Only one day of Comic Con left!!
What Marvel movie are you most excited to see?