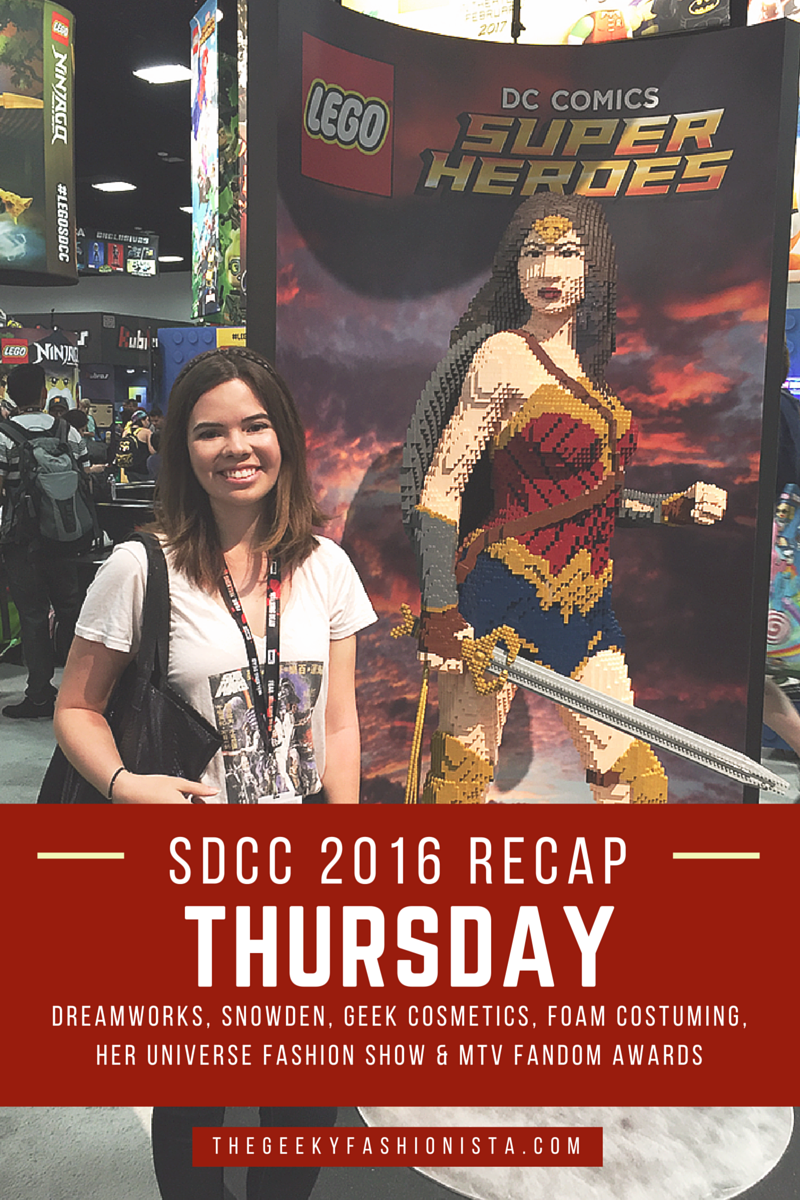 Thursday
Today I'm sharing my Thursday aka Day One of San Diego Comic Con 2016 recap! After an amazing Preview Night, I was super psyched for the con to officially begin. I had my overly ambitious schedule prepared with first choice and backup panels and couldn't wait to jump right into the craziness.
The first panel on my list to check out was in the massive Hall H where the movie studios usually show all of their exclusive footage. This is also where Marvel, Game of Thrones, and The Walking Dead panels take place and, thus, some fans camp out to upwards 40+ hours just to get inside. Luckily, there was no need for that today. It was a pretty low-key schedule for Hall H that day so I was able to walk right into the first panel, DreamWorks. This panel would be one of the few times the majority of my friends (minus my sister) would all be together as we all had very different things we wanted to do and see – which I think is one of the great things about Comic Con – there's just about something for everyone!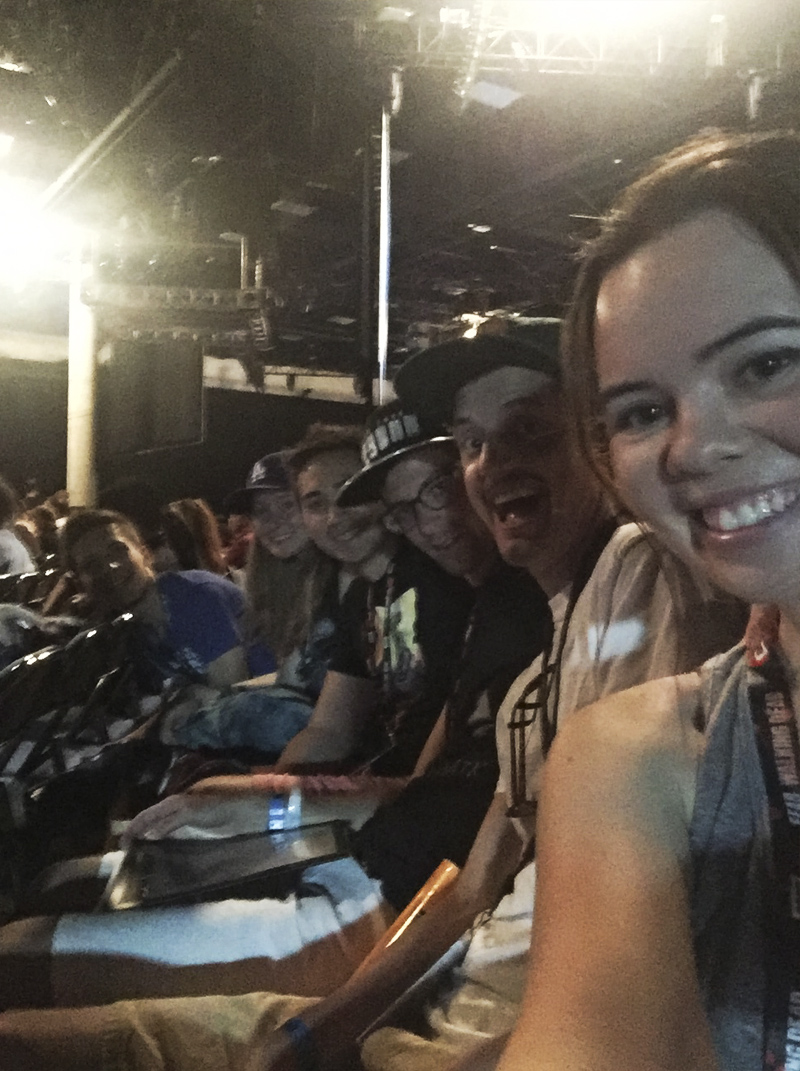 Look at all these cool people!
DreamWorks
The majority of DreamWorks' panel was for their movie Trolls. Upon entering the room, everyone received a colored Troll wig (I got light blue). They showed about 16 minutes of footage from the film which is the most I've ever seen revealed in Hall H. I kept thinking it was going to end but then it would just keep going. It was a good chuck of the movie that contained some pretty pivotal scenes. I originally had no interest at all to see a Trolls movie – the little dolls have always freaked me out – but the footage was actually pretty good. It was funny, cute, self-aware, and the leads do a great job.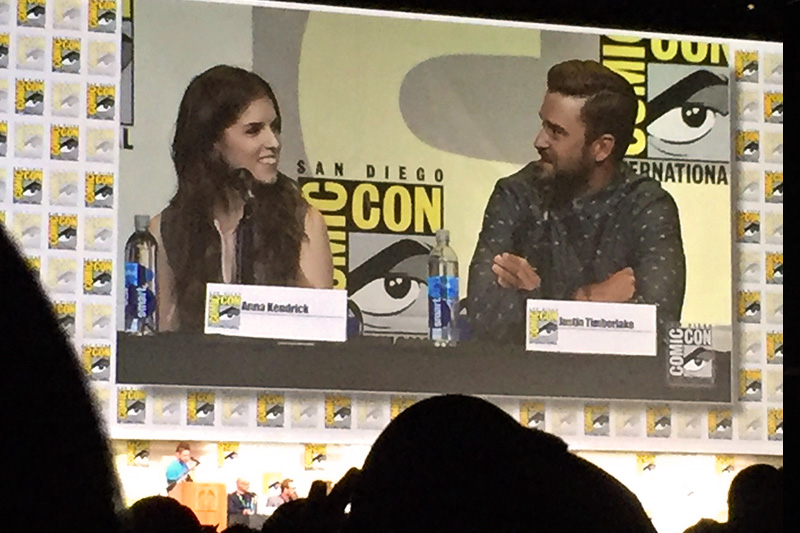 Speaking of which, both Justin Timberlake (who also serves as a producer for the music) and Anna Kendrick were there to talk about the movie and their characters. Anna's Princess Poppy is "unrelentingly happy" and as she states one could easily get sick of such a happy creature, but she manages to make her bearable by giving her depth, quirk, and charm. Justin's troll, Branch, is the total opposite, cynical and ever-grumpy, and it's amusing to see the pair's dynamic when they have to team together. While I still don't think I'd dish out money to see it in theaters, I'll probably check it out once it's on Netflix. If you have kids, this would be a fun movie to see with them.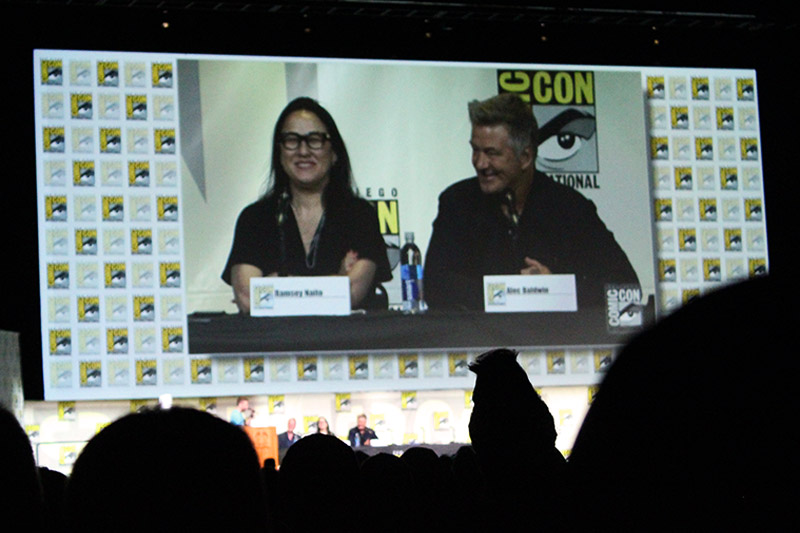 The second half of the DreamWorks panel was for another movie called Boss Baby. I was a bit iffy when I heard the title and premise – it sounds a bit silly – but the footage shown was actually pretty clever and funny. Plus, Alec Baldwin (making his first Comic Con appearance) doing the voice of the "Boss Baby" is genius. Again, this was another movie where had I not seen the footage I probably would have entirely dismissed it. This is just one reason why movie studios come to Comic Con.
Snowden
After DreamWorks, my party all left me to go do other things, but I decided to stay for the Snowden panel. Yes, you read that right. There was a panel at Comic Con for Snowden aka the next movie by 3-time Oscar winner (also making his first SDCC appearance) Oliver Stone. As someone said on my Twitter, Oliver Stone seems like the furthest thing from Comic Con which is very true, but, hey, Zachary Quinto is in the movie and he has tons of geek cred being Spock in the Star Trek movies and Sylar from Heroes. Also starring in the movie and on the panel were star Joseph Gordon Levitt and Shailene Woodley. They gave a first look at the trailer and from what I have seen of the real Edward Snowden, JGL was SPOT ON. Props to casting, he was a brilliant choice. Honestly, I'm not as well-versed on current events and the news as I should be but the movie looks very interesting. I definitely want to check it out (once again, on Netflix).
Also, during the Q&A portion of the panel, one of the actors at the talent agency I work at asked the panel a question regarding Pokemon Go. What I thought would lead to a funny discussion turned very serious once Oliver Stone started speaking calling it a "new level of invasion" then going on about data mining – yikes.
I wanted to stay in Hall H and check out the following panel for Luc Besson's next movie, Valerian and the City of a Thousand Planets (which I know nothing about but Besson's Leon: The Professional is one of my favorite movies), but had to head out to catch the next panel on my itinerary.
I had to run to the opposite end of the convention center at the Marriott Marquis hotel and, once there, got very confused trying to find the room the panel was in. Even though my family and I have stayed at that hotel for 8 out of the 10 years we've been going to SDCC, there was a huge, newly built ballroom area I wasn't familiar with but eventually found.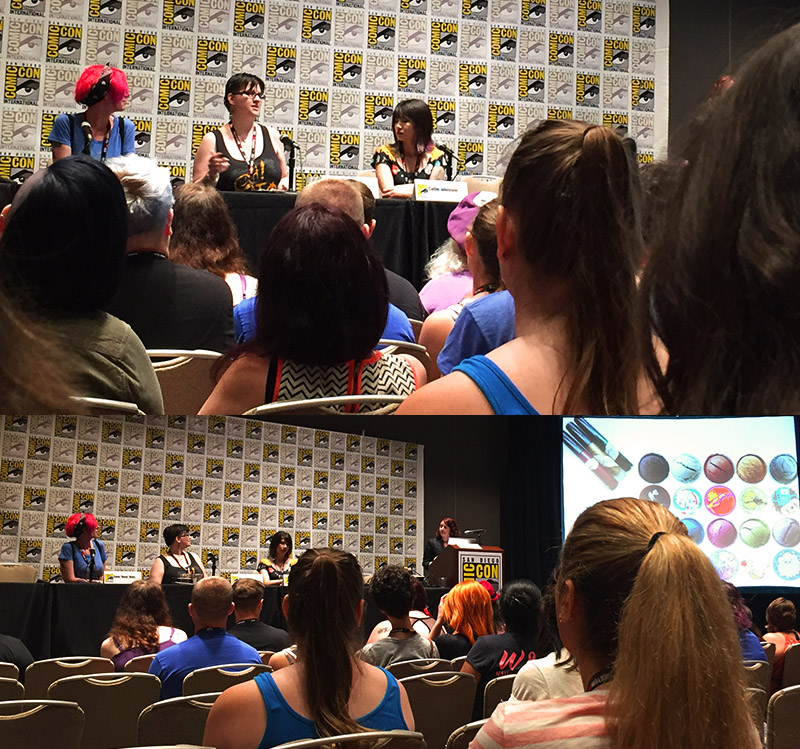 Geek Cosmetics
I was very interested to see what would be discussed at the Inside the World of Geek Cosmetics panel. I had absolutely no idea about the indie geek cosmetics scene, and being a geeky blogger who writes about makeup quite a bit, I felt so ashamed by my lack of knowledge and awareness. The three panelists included the creators of Shiro Cosmetics, Lucky 13 Lacquer, and AFK Cosmetics, all ladies who make their products in their own homes. I was very impressed by each lady's passion and drive for fandom and creating these cosmetics. This isn't just some hobby for them, this is a life passion and it shows. The panel discussion was very informative. Some topics that were covered include:
How has geek cosmetics changed and evolved over the years?
Challenges facing geek cosmetics
How do they feel about big brands like MAC and Covergirl deciding to cash in on geeks with their Star Trek and Star Wars lines?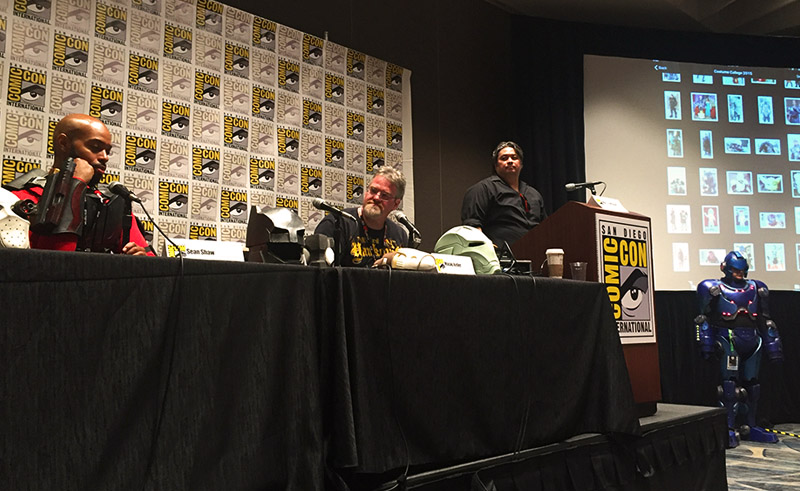 Foam Costuming
Luckily, I didn't have to move for my next panel, Foam Costume/Cosplay Fabrication as it took place in the same room. It was a pretty popular panel made for such a packed room, people stood in the back. I'm not someone planning on making any armor or robotic-like costumes in the future, but I am fascinated by the whole construction process. It's one thing to sew fabric to make a costume, it's another thing to somehow cut and mold foam into something wearable. The panelists definitely knew what they were talking about and I learned so much. Did you know an armor costume created with foam can be done as quickly as 2 days compared to 6 months if it was done with resin or fiber glass? That's crazy!
Her Universe Fashion Show
Afterwards, I went back to my hotel to rest a bit (Comic Con really pushes your body, and I had to make sure to still take it easy with my health issues even if it meant I didn't get to see everything I wanted). After eating and laying down for a little over an hour, it was time to go over to the Manchester Grand Hyatt Hotel for the Her Universe Fashion Show. Every year, I try to make this show and every year it conflicts with my plans so I super excited things worked out finally. I took a ton of photos so instead of overloading you with them all in this post, I'm going to do a separate post on just the fashion show later in the next week (hopefully).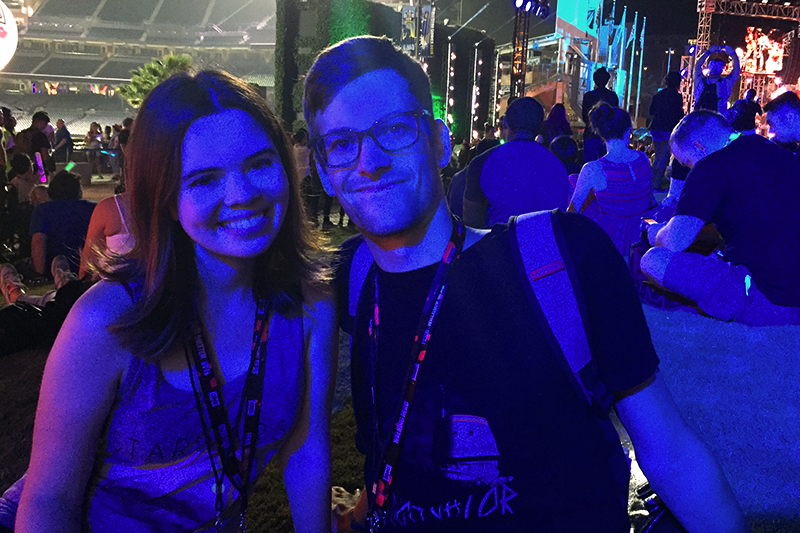 MTV Fandom Awards
Once I finished up with the fashion show, I stopped by my hotel again to drop off my camera whose battery had died during the show *womp womp*. My parents were relaxing but decided to join me in meeting up with Luke and Eli at the MTV Fandom Awards. It might not have been their crowd but they couldn't say no to the prospect of free food – yep, they're my parents. Unfortunately, once there, we were informed they had run out of the badges that let you get your one free drink and food item so after awkwardly standing around a bit, they decided to go back to the hotel (at least they still got a free awesome sitting stool on the way out – a little something for making it out). I managed to get a food/drink badge and enjoyed a free hot dog and Coke while our friend Ethan to joined us. After snagging some free chips and doing a silly moving photo thing together, we decided we too were ready to leave.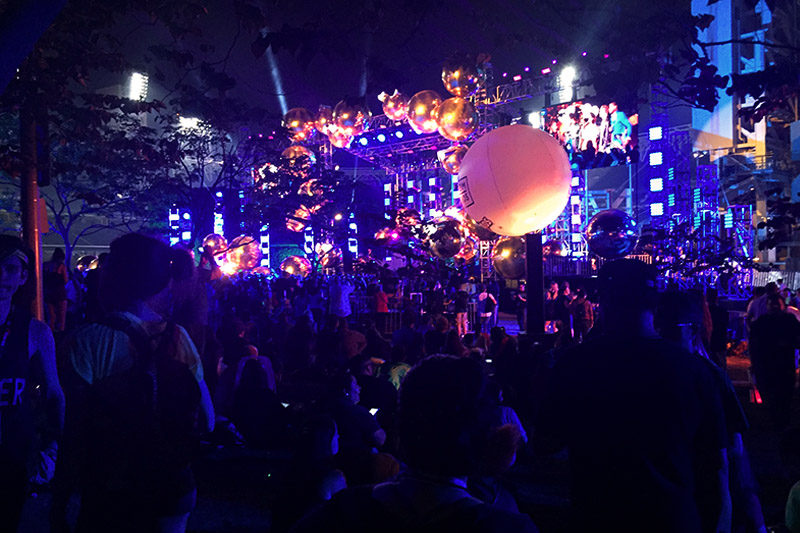 It was about 10 when we left the awards show and with still plenty left of the night, we decided to check out NerdHQ to see what they had going on. None of us drink and had little interest in dancing so we were a bit disappointed after waiting some time in line to get in and register to see that's all that was really going on in there. I believe last year was the same, but I was still hoping maybe it'd be like earlier years where you could still play video games and take instant photos with your friends, but alas. I know plenty of people like their dance parties and I have participated in them before and "danced" with many of the surprise celebs that show up in the past, but it just wasn't something for us. With that, we all decided to turn in for the night.
That concludes Day One of San Diego Comic Con 2016! Sorry I was a day late with posting! Friday recap will be up after my August Goals post next week! Hope you all have a great weekend!
Are you excited about any of the Hall H movies? Have you ever tried indie makeup?
See what happened the next day in my Friday recap post!
Missed the previous post? Check out what happened on Preview Night!