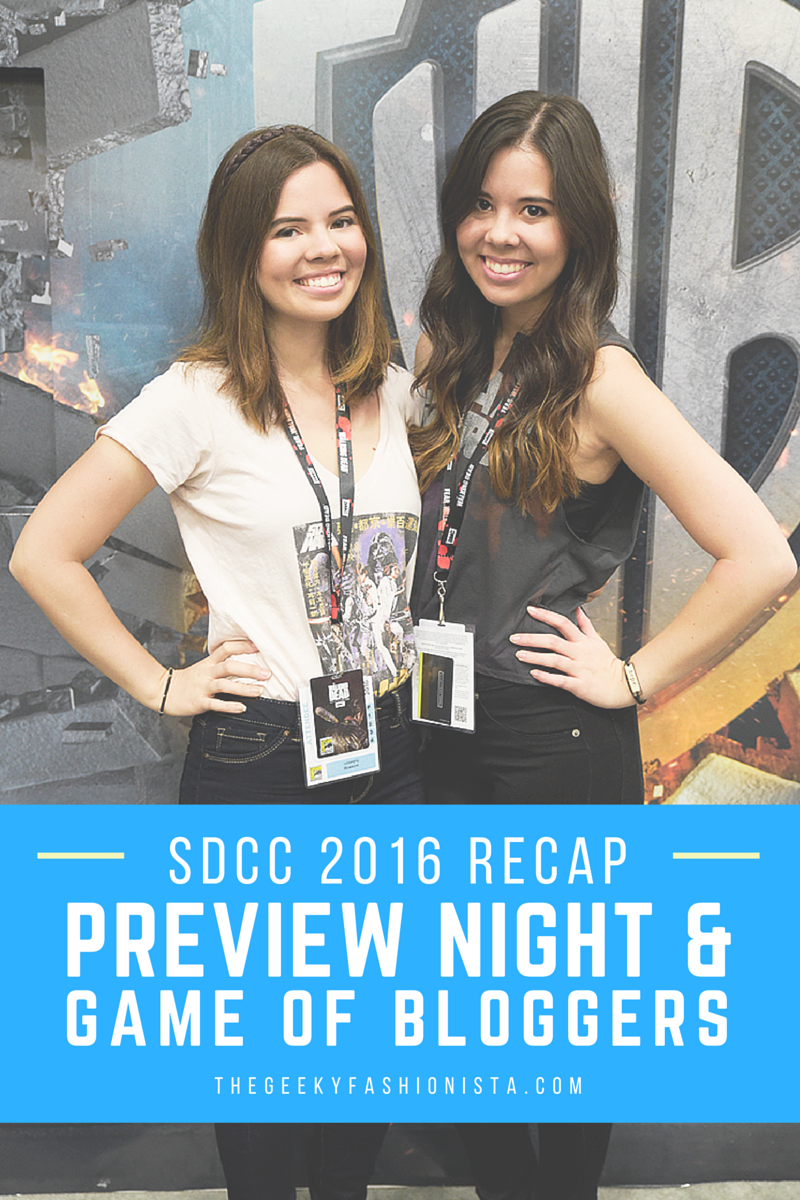 SDCC Preview Night
Sigh. San Diego Comic Con 2016 is officially over and now we wait another 359 days for it all to begin again. This was my tenth consecutive year attending SDCC and while I wouldn't say it was my "best" year as it certainly had its lows (ahem, Hall H Line – you'll hear more about that later), it was definitely memorable. 
Following a (sort of) blogging tradition of mine and to fulfill one of my July Goals, I'll be recapping each day of the con over the next two weeks (it takes me a while to go through the hundreds of photos I take) starting with Preview Night aka Day Zero of Comic Con.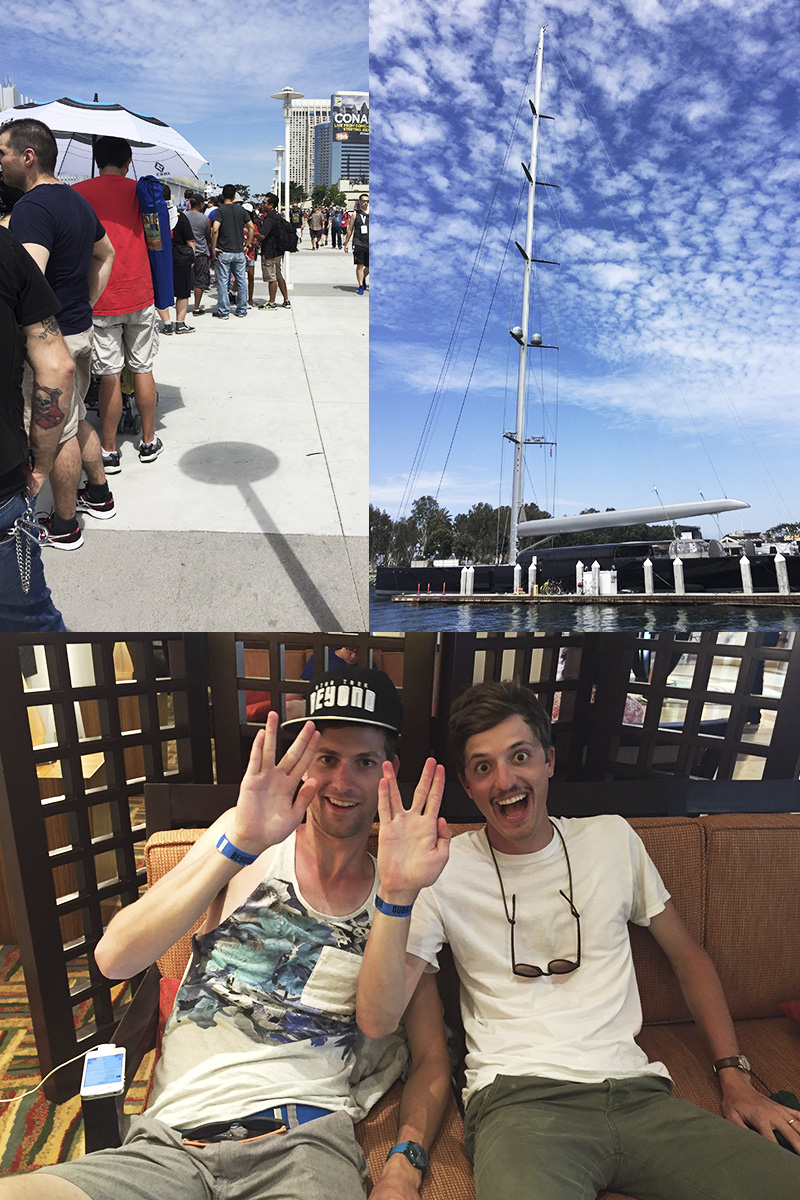 Star Trek Beyond Premiere Lottery
Like last year, I drove down early Wednesday morning to San Diego with my boyfriend, Luke (above, rocking the Star Wars x On the Byas tank top I got him at the con last year). Unlike last year, instead of hitting up Sea World or the zoo before the con, we headed straight for the convention center. Was Preview Night starting earlier this year? Were we lining up early for merchandise exclusives? No and no. Star Trek Beyond was actually running a lottery to give out tickets to see the premiere that evening. Luke and I had tried entering every online contest we could find but hadn't had any luck with any of them. This was our last chance – or should I say his last chance. As much as I would've loved to go to the premiere, I had already committed to go to a blogger meet-up, Game Of Bloggers, later that evening so even if I did win, I was planning on giving Luke both tickets to go with his friend, Eli. 
The line was to start forming at 11 for a noon drawing but, this being Comic Con, people were already lining up hours before. We got there about 10:40am in the blistering hot sun with my two suitcases (one filled with just cosplay items) in tow since the plan was to head straight to my hotel after the lottery. My friend, Abby, got in line a little before us but then bowed out to meet up with another friend for food and AC (I don't blame her!) – the sun was unrelenting. At least we were standing next to the water which gave us the occasional breeze and it was cool seeing all the different boats docked along the park (including the biggest sailboat I'd ever seen – pictured above).
Eli joined us around noon and we hoped that one of the three of us would win the coveted pair of premiere tickets. None of us had any luck the first time through so the guys decided to get back in line to try again. The line was much shorter but still another 45 minutes standing on the hot asphalt with the sun beaming right down on you. I'm a trooper, and I definitely wanted to help Luke get those tickets but I was feeling pretty faint from the heat and lack of sleep or food. Luckily, my parents had arrived from Florida and my dad walked over to help me back to the hotel with my luggage while the boys continued to try their luck.
About an hour later, I got a call from Luke saying Eli had pulled a winning ticket on their third try and they were both going to the premiere! I was beyond happy for them – beyond, get it? -Like Star Trek Beyond? Okay, sorry. Luke said if I came back I could probably get a ticket as the line was pretty short at that point and there were still tickets left, but, like I said, I already had my own plans for the evening that I was excited for and told him not to worry.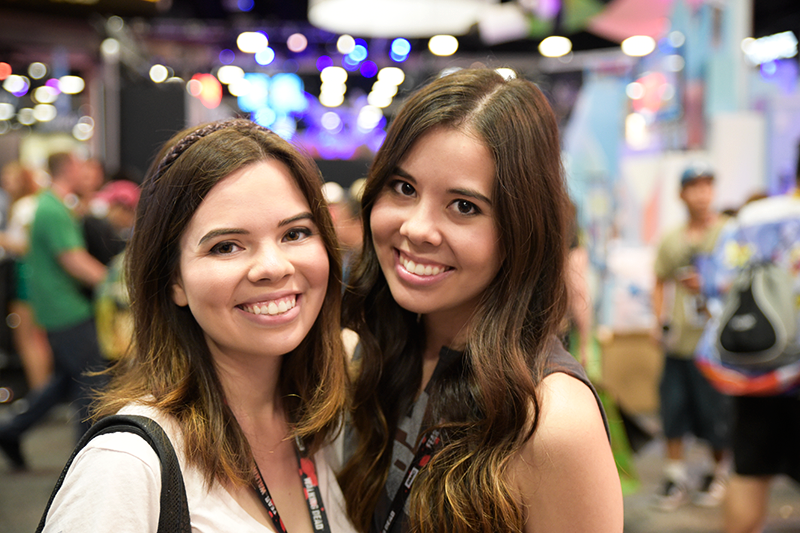 Exhibit Hall
My sister, Melissa, eventually arrived with some friends and she and my dad immediately headed to the Exhibit Hall. I still wasn't feeling well so I took a shower and rested up a bit before heading over (I was literally running on an hour of sleep). I also quickly realized my 3 hours in the sun gave me the worst sunburn I've ever had. It looks more drastic in some photos than in others, but, believe me, it's bad.
I picked up my attendee bag, souvenir book, and program guide at the Sails Pavillion. This year, all badges were mailed out so there was no line which was great. You just walked up and got your stuff. I was aiming for a Supernatural bag, but received The Vampire Diaries. Melissa loves the show though so I was okay with getting that for her. I went down to the Exhibit Hall and walked around on my own during which time I was tempted to buy everything at all the Star Wars booths. I gave myself a pat on the back for having strong willpower because I left my wallet intact and didn't buy anything (I can't say the same thing for Anime Expo). 
I even managed to resist buying anything at the We Love Fine booth which usually gets me every year. They have such cute, trendy fandom clothing it's hard to say no! While they had some cool jackets, nothing really jumped out at me enough this year to make me hand over my money.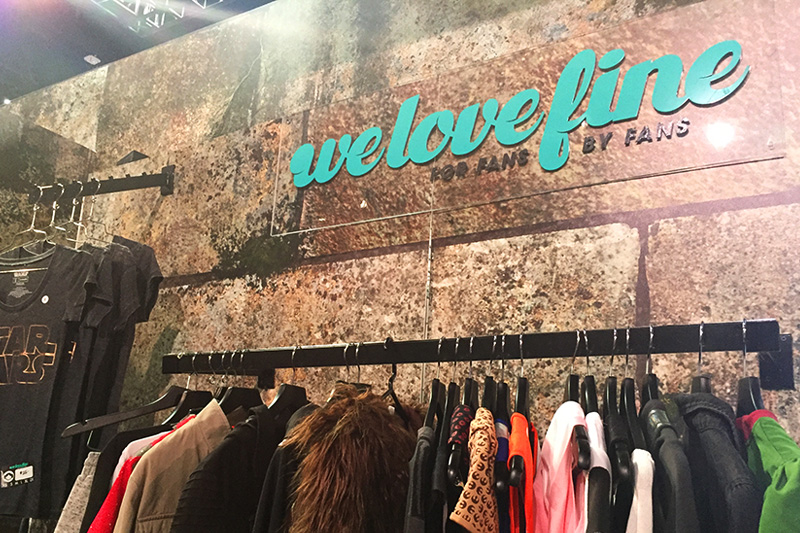 Although I did spend the majority of my time at the Star Wars booths, I did try to see as much stuff as I could in the limited hours of Preview Night. The WB and Fox booths looked relatively the same as they do every year, ABC had a white house which I'm still not sure what it was for, Lego had cool life-size Lego statues, Nickelodeon went old school with Olmek from Legends of the Hidden Temple, and The Walking Dead once again had the most interactive and coolest booth (IMO) even if I never actually went through it (I just can't deal with the lines).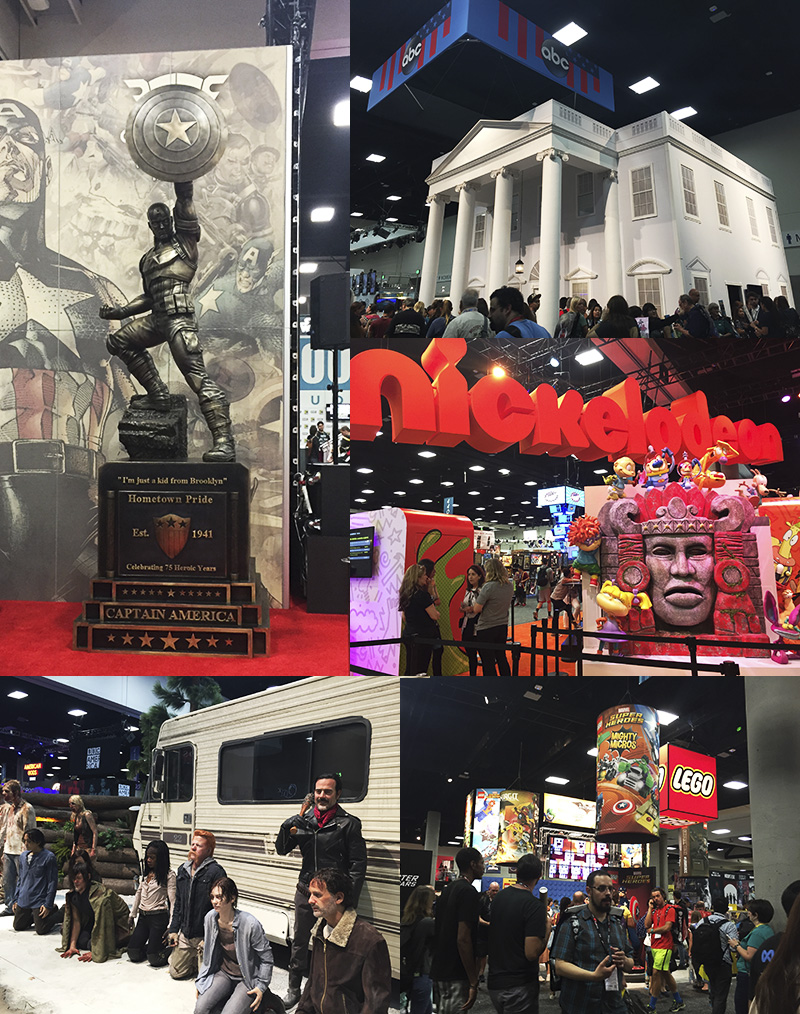 When I finally found my dad and my sister, Melissa directed me to some "selfie stations" where you could take a photo and then have it immediately sent to you. I thought it was super cute how they made it look like Batman was holding a selfie stick in the photo with you.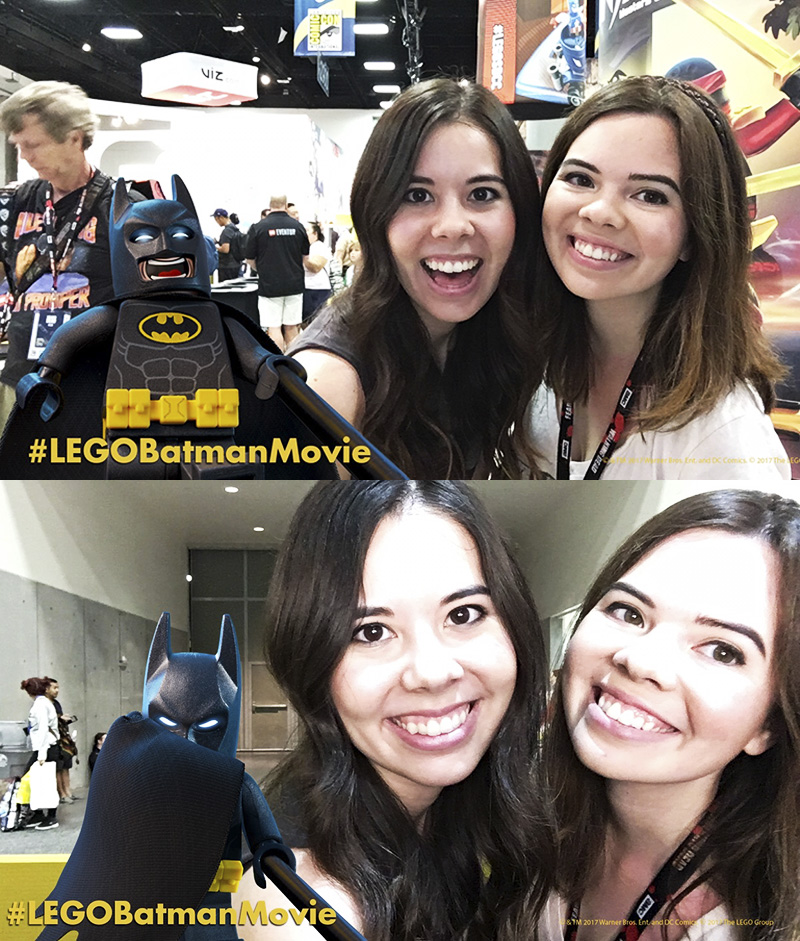 We didn't spend much time there this year, but Melissa and I have made so many good memories at the WB booth!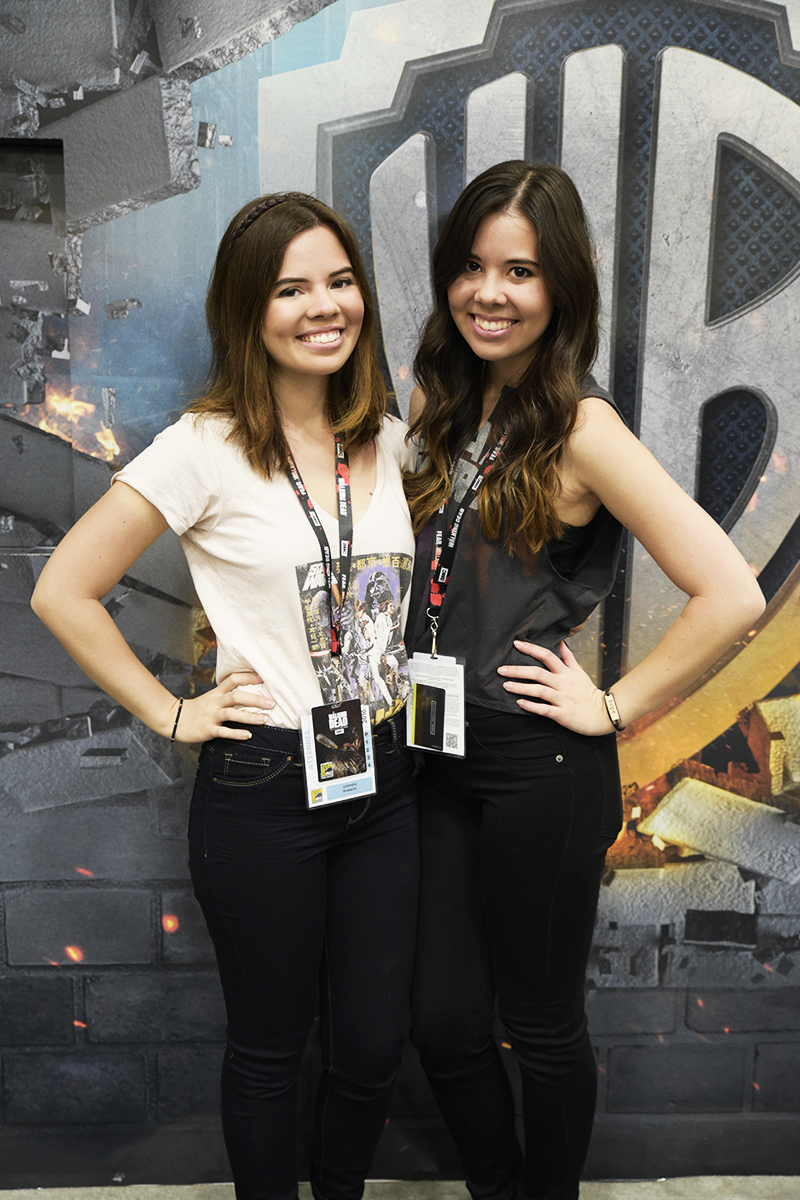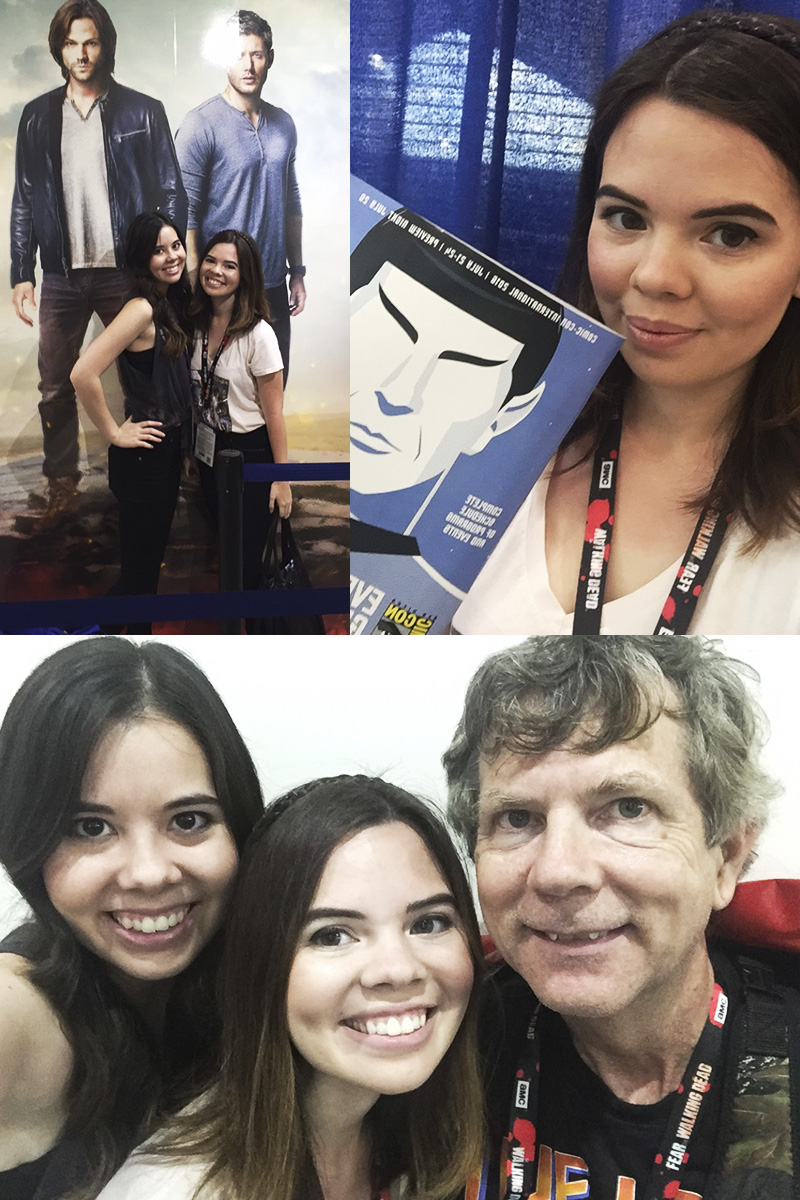 Look at our little nerd family! We don't get nearly enough photos with our dad! Once the Exhibit Hall closed, we walked back to our hotel in the Gaslamp (while catching tons of Pokemon) and took a couple night photos along the way because why not.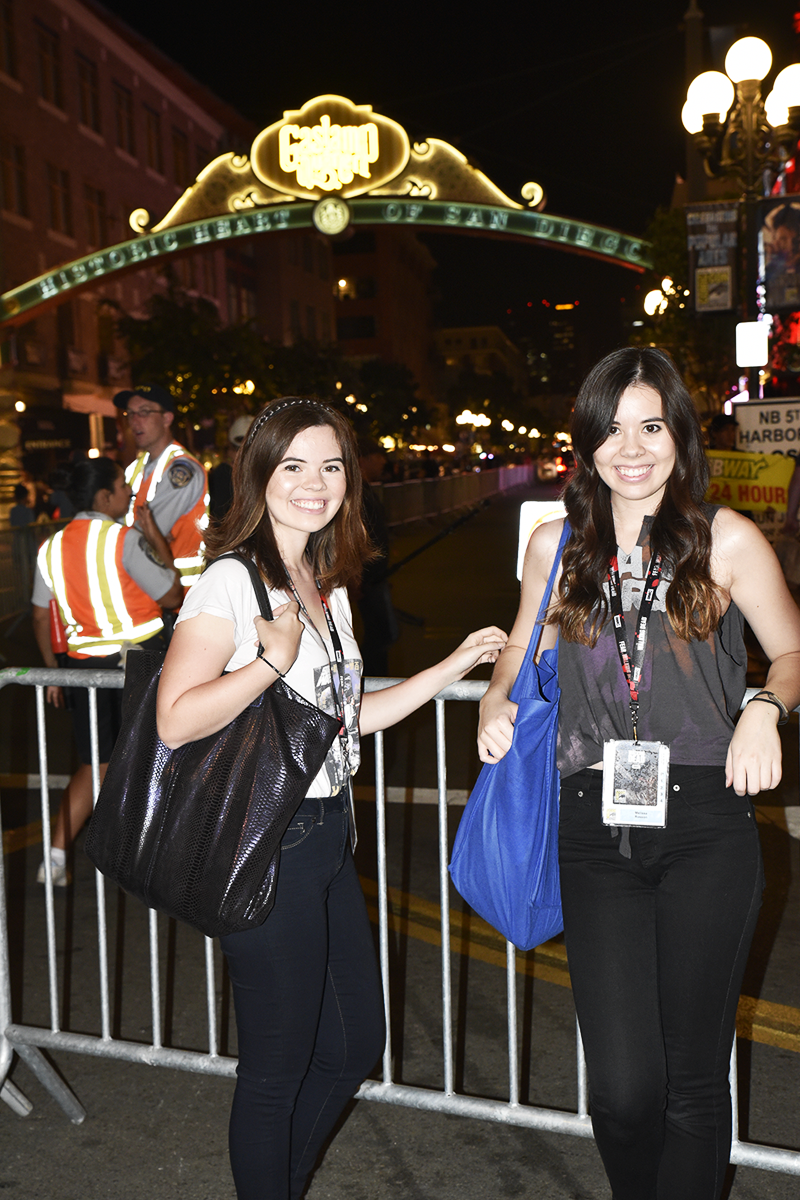 We found this cool brick wall and took some photos in front of it because why not as well. This is what you do as a blogger, right? I'm still getting used to this. Also, we thought our dad was only taking a photo of our top halves…the bottom half reveals my phone already hooked up to a portable battery (thanks, PokemonGo and Snapchat!) as well as confirm my statement that I do indeed wear flip flops to the Exhibit Hall (as stated in my Comic Con Bag Essentials post) crazy as that might be.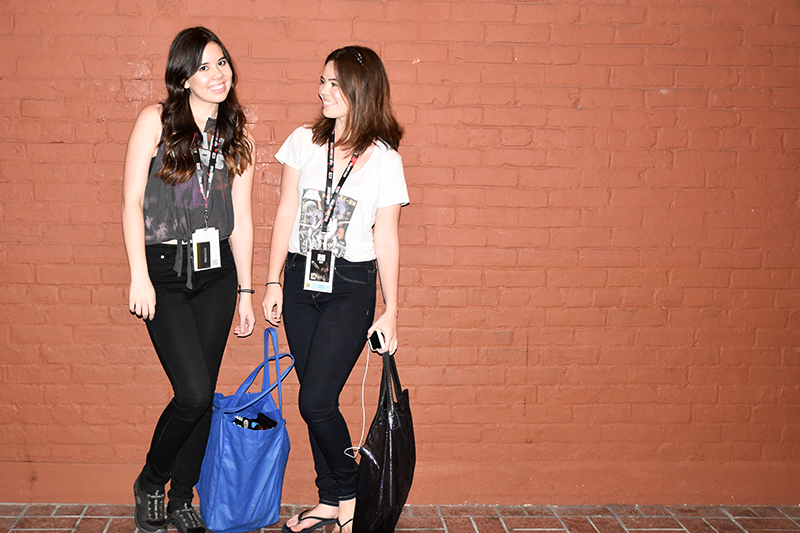 Across the street from our Marriott hotel was a Subway and a little shop that sold 2 for $5 hot dogs and ice cream. We had lunch at Subway earlier in the day (of course there were no special deals but I was super impressed with their assembly line) so we decided to stop inside the little shop for a quick, inexpensive bite and to catch a Pokemon or two before heading back to our hotel room to refresh.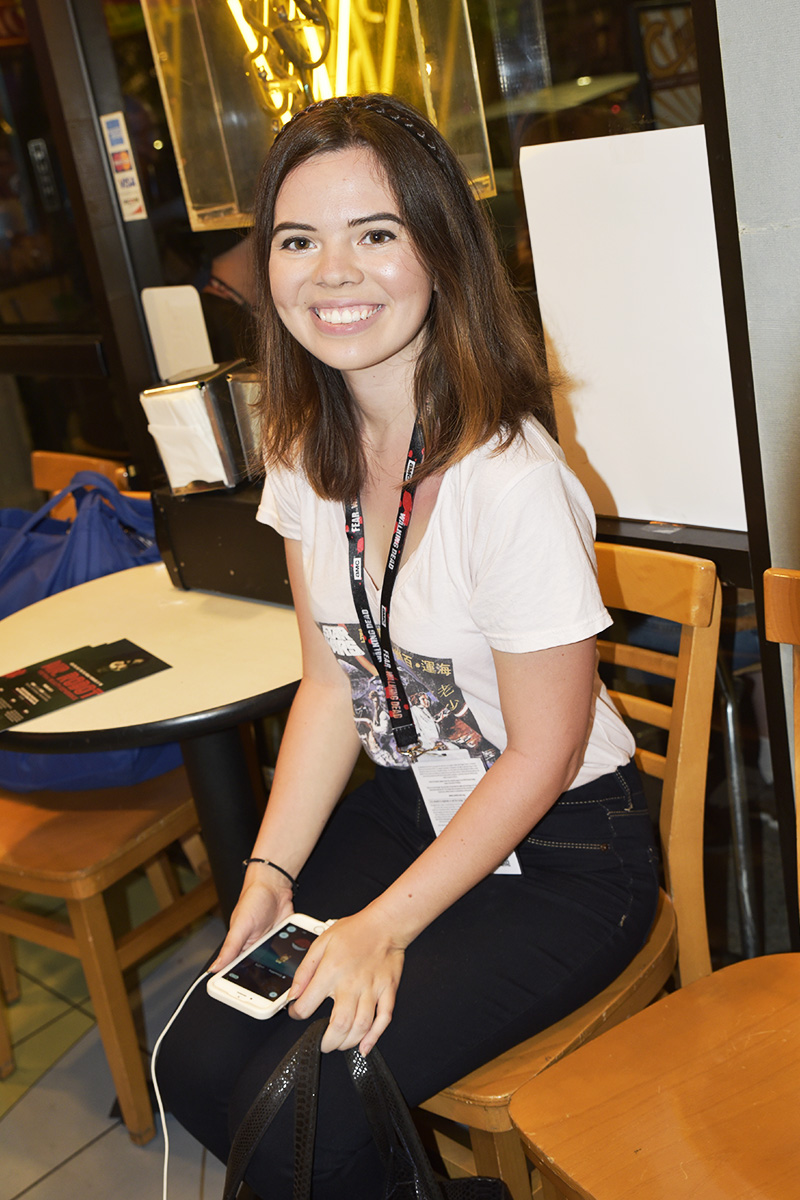 Game Of Bloggers
My sister and I headed over to Game Of Bloggers, a blogger meet-up event hosted by Tony aka Crazy4ComicCon at The Dragon's Den. I was very excited to meet other bloggers and hopefully make some new con friends. I'm pretty shy/awkward when it comes to approaching people so I'm glad my sister joined me and kept me company while I tried to muster up courage to speak to people. Luckily, the bloggers there were great and we weren't standing around awkwardly on our own too long before we started connecting with people.
Before I talk about the awesome bloggers I met, Melissa and I spent a good amount of time admiring Tony's Hero Within men's clothing line which was on display at the event. Since photos came out online, I've been so blown away by the level of creativity, design, and sophistication of each piece. To see and feel the quality in person only impressed me even more. While I was able to resist purchases from Her Universe and We Love Fine this year, if I was a guy (and DC fan) I don't think I'd be able to resist pre-ordering one of these amazing jackets.
Okay, now on to the bloggers, I'll try to make this as short as possible so this post doesn't go on forever. The first people I met at the event were Ashlee and Duane of Briotainment who were such a lovely couple. Jefferson of Nerds In Recovery was the first person to approach us and make us feel a lot less nervous being at the event. I told him how I was planning my first cosplay and he told me about his "Bubba Fett" cosplay that he'd be wearing and I'm bummed I didn't get to see it on the floor in person! Izzy from My Geek Side Is Showing was super friendly and outgoing. Upon learning I was really into anime, she also introduced me to her friend Nikki who is an expert in all things Japanese – I wish we could've had more time to talk! Tim, a friend of a friend who I've only met once a year ago when we tried to collaborate on a film project (before my life went array) was also there – so random since he's not a blogger, but he was helping a friend promote The Con Guy. It was really great to catch up with each other. James (@jamesjawa) who writes for various sites like StarWars.Com and ClubJade.Net and is doing an awesome fundraiser for charity where he wear a different Star Wars shirt every day was really cool and easy to talk to. Last but not least, final shout out to the man who made it all possible and took the time to talk to me about my own geek clothing line aspirations, Mr. Crazy4ComicCon himself! He has such a wonderful and positive presence that makes you feel really special even if you're just a little blogger myself it's no wonder he's been so successful in his endeavors and it's just amazing to see all that he has done and continues to do for the Comic Con community. You're awesome, Tony!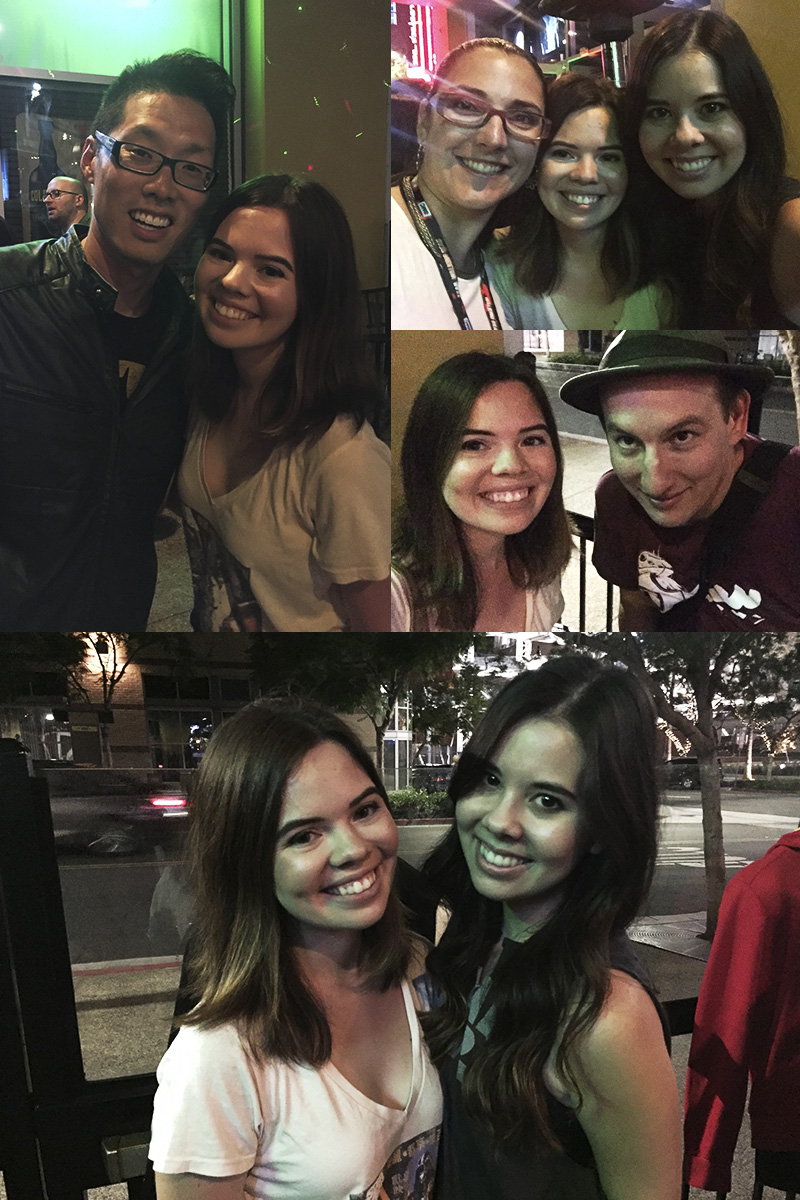 I was still making conversation and meeting new bloggers well past midnight. Luke, unfortunately, couldn't make it to the meet-up but said he'd stop by the hotel to say goodnight so we soon headed back.
Luke recapped his amazing and surreal time at the premiere and gave me an extra swag bag he had received which was filled with the most amazing goodies! There was a Star Trek t-shirt, hat, lanyard, FIVE Star Trek Blu-Rays, and popcorn. He said all the attendees were treated to free Subway and all you can drink soda as well! AND they all got a Star Trek seat cushion which was pretty cool.
I might not have gotten as much cool swag, but I definitely had a pretty great night myself and was so excited to tell him about Game Of Bloggers and all the cool people I met. For the past 10 years, I've always attended Comic Con with my family and rarely go out of my way to meet new people (I arrived at the very end of a geek girl blogging event once where I met my wonderful friend, Beryl, but that's about it) so this was definitely new and out of my comfort zone. It was really good for me, and I think a good warmup for me later doing another thing out of my comfort zone when I would do my first SDCC cosplays in the next few days.
Overall, SDCC 2016 was off to a good start! Sure, I was sleep deprived and got a really bad sunburn, but, hey, that probably would've happened eventually anyway. It was awesome being back in this beautiful city with my family and boyfriend and just feeling that palpable Comic Con atmosphere.
Look out for my SDCC Thursday post coming this Thursday!
Check out my SDCC recaps from years past.