Friday
Today I am finally sharing my San Diego Comic Con 2016 Friday recap! If you haven't already read my Preview Night or Thursday posts, be sure to check them out to get caught up on my SDCC adventures! Without further adieu, let's jump right in!
Having turned in rather early the night before, I was super excited to get a good night's sleep and wake up nice and early for a full day of amazing panels. As you can see on my con schedule, I had quite a full morning planned with some of my most anticipated panels (Cosplay Makeup, Geek Branding) of the entire convention. Of course, my body just had to go on the fritz that morning. For those new to the blog, I've had a lot of health issues over the past several months causing me to quit my law office job, stop attending classes, not drive, and for a period, unable to leave my bed. Praise God that I'm obviously doing much better now and for the most part can go back to a normal life, but I still suffer from daily (worst in the morning) abdominal pain and occasional chest pain and nausea. This particular morning, the abdominal pain was relentless, and I knew no matter how much I really wanted to see those panels or how much I tried to suck it up and bear the pain, there was just no way I was leaving my hotel room anytime soon.
This was especially disappointing for me since it was the day I planned to wear my very first cosplay at Comic Con! In my 10 years of attending the convention, one of the first questions I always get when someone finds out that I go to Comic Con is "So you dress up?" Every time, I always answer no but after today I could finally say "Why, yes. Yes, I have cosplayed at Comic Con."
After a few hours, I started feeling a bit better (which is normal for me), and put on my Han Solo costume. Of course, I didn't make all the pieces. The pants and shirt are modified, the boots I bought from Poshmark, the blaster painted by the boyfriend, the holster is not accurate at all, BUT I did completely make the vest from scratch complete with front and back usable pockets which I am superbly proud of even if it is FAR from perfect. I somewhat documented the process of making everything in photos and one day would love to do a little DIY post on how to make a quick and easy Han Solo costume. To add a little something extra, I wore the Chewbacca backpack I got Luke last year which I think was the perfect finishing touch (it's the fuzzy brown thing in the photo below which I now realize I should've taken it sideways so you could see my Cornelian blood stripes on the pants and, of course, Chewie on my back).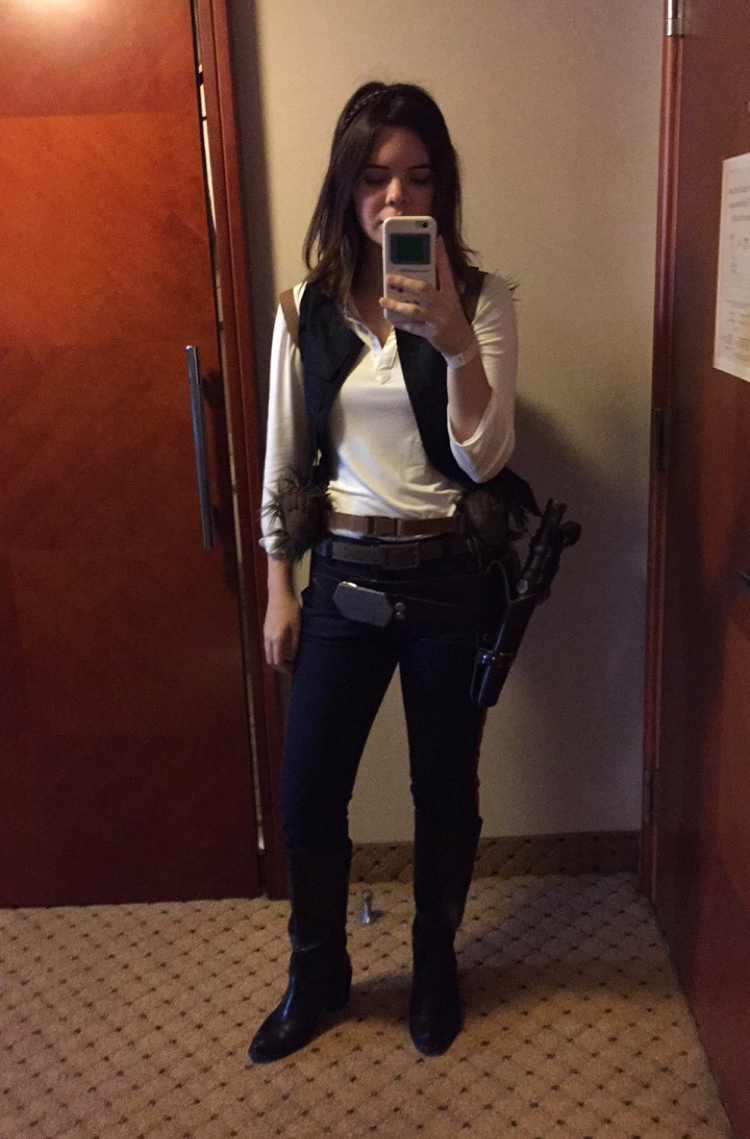 Leaving the hotel room with my costume on was super nerve-racking. The one and only the time I've ever cosplayed was at a MUCH smaller anime convention in Orlando back when I was still in college and living in Florida. This felt very different by just scale alone. Even though so many expect people to dress up at Comic Con, honestly, the majority don't. Unless you're there to primarily cosplay, often times wearing a costume is not logical if you plan on winding your way up and down the exhibit hall scanning for freebies or sitting in on numerous panels or just trying to quickly get from one event to another. Costumes can be bulky and can fall apart or become damaged in a huge crowd. People will stop you for photos. These were always some of the reasons I would give people for why I chose not to dress up for Comic Con.
I nervously hid behind my sunglasses and the big DSLR camera around my neck as I left my hotel alone and tried to act normal as I walked past HUGE lines and groups of people everywhere. I almost made it to the convention center when I suddenly realized I had left my badge in my hotel room and had to walk all the way back. Fail.
Take two. I replaced the bulky camera around my neck for my badge. Sure I would've loved to have brought it with me, but it was just to heavy and cumbersome and the strap irritated my sunburned neck too much to make carrying it around all day worth it. My phone would just have to do, thus, once again, you get to enjoy my lovely iPhone photos.
For some reason, I felt much better leaving the hotel the second time. As I stepped out, another hotel guest walking in said "Nice Han costume!" as he walked past which made me feel pretty good.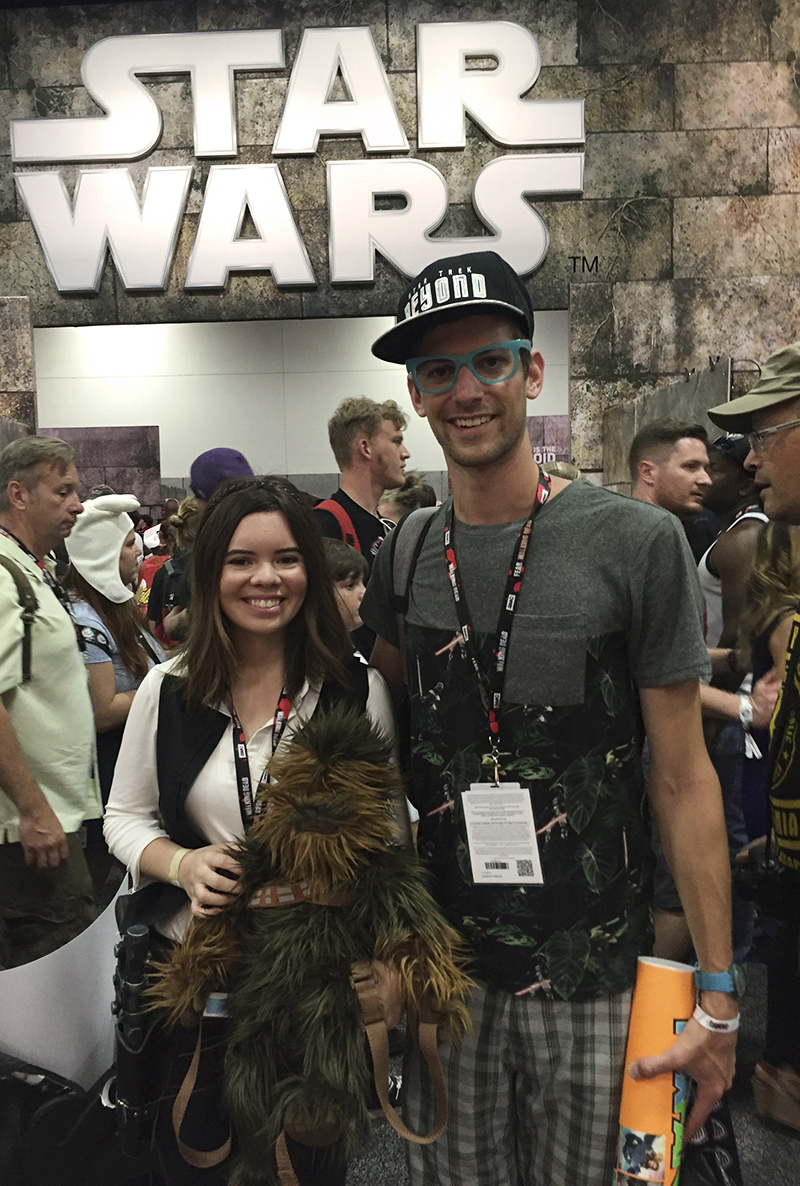 At this point, I had missed the first two panels on my schedule and the third one was about halfway through. Rather than rush over to the next building to get to it (especially since the next one I wanted to go through was back in the main convention center), I decided to see what Luke and Eli were up to on the exhibit floor. Turns out they were killing it with the swag game and had won a Stranger Things scavenger hunt and gotten a bunch of cool freebies including full copies of Star Wars books – whaaaat? We met up near the Star Wars booth (appropriate) and Luke and I took a couple "couple" photos together that I love – thanks, Eli!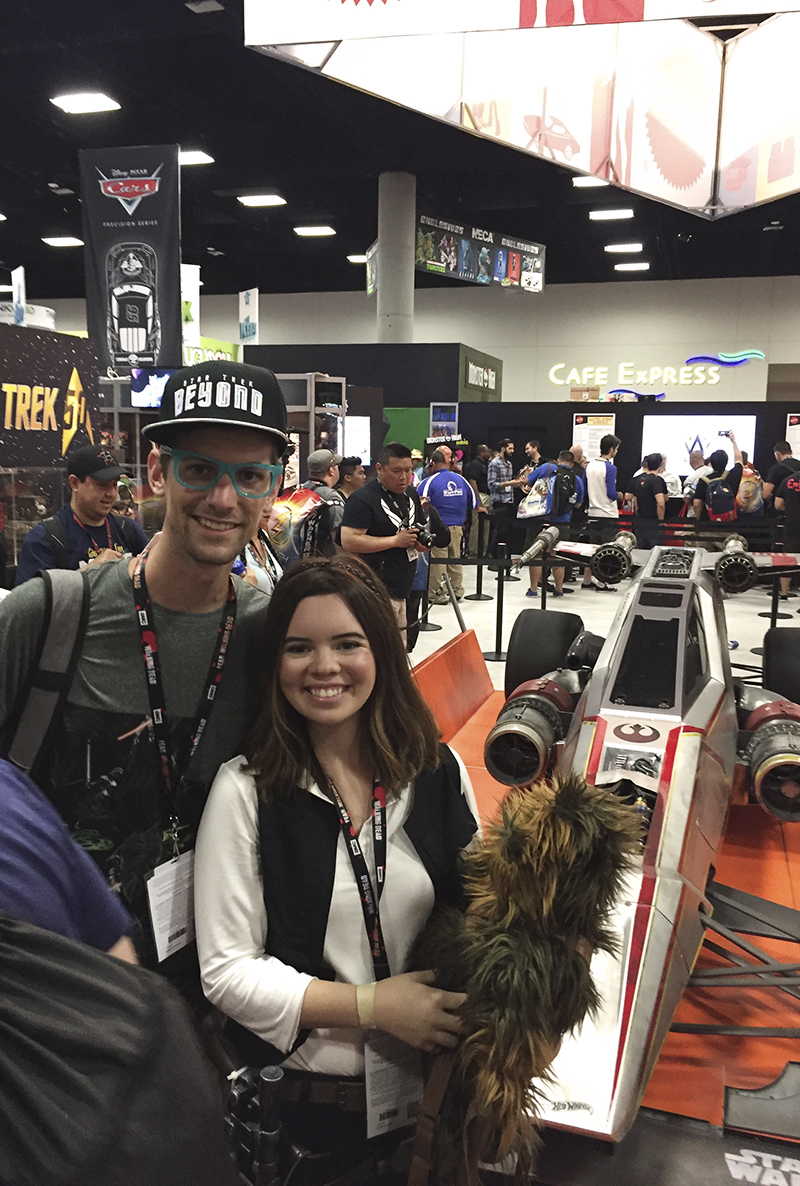 Look at this amazing Hot Wheels Carship! And that guy in the foreground's backpack!
After hanging out a bit, I went to the Star Wars Cosplay Photoshoot meet up that I had discovered late the night before (hence not being on my schedule). It would cut into my 1pm panel, but I figured since they were both within the general main convention area, I could quickly run to the panel after the shoot

Photo by Wade Courtney Photography. Click to see it in all it's high res glory (you can actually see me!!).
Star Wars Cosplay Photoshoot
The shoot took place outdoors and, my goodness, it was HOT! I don't know how some people managed to not pass out wearing some of those head to toe covered costumes. I definitely felt like I was melting. They called people to line up by character type such as "Dark Force users," "Reys," or "Rebels." Han Solos went in the "Other Rebels" category. Unfortunately, I didn't have the most ideal spot as I was behind a Rey with a large staff that most of the time completely covered my face (LOL, plus I'm already, you know, short) so you can't even make me out at all in some pictures. Despite that fact and the crazy heat, it was still a super cool shoot and experience. There were SO many camera people and fans with their phones taking photos of the group. It felt so neat to be a part of such a large group of passionate Star Wars fans.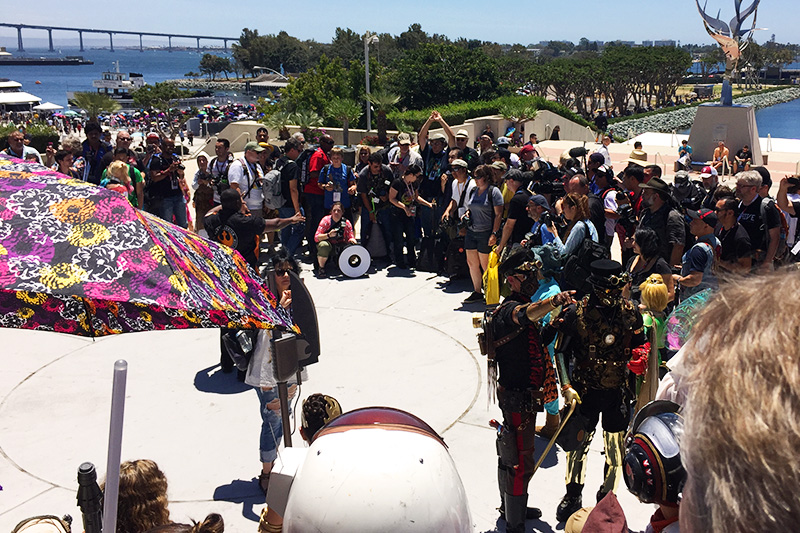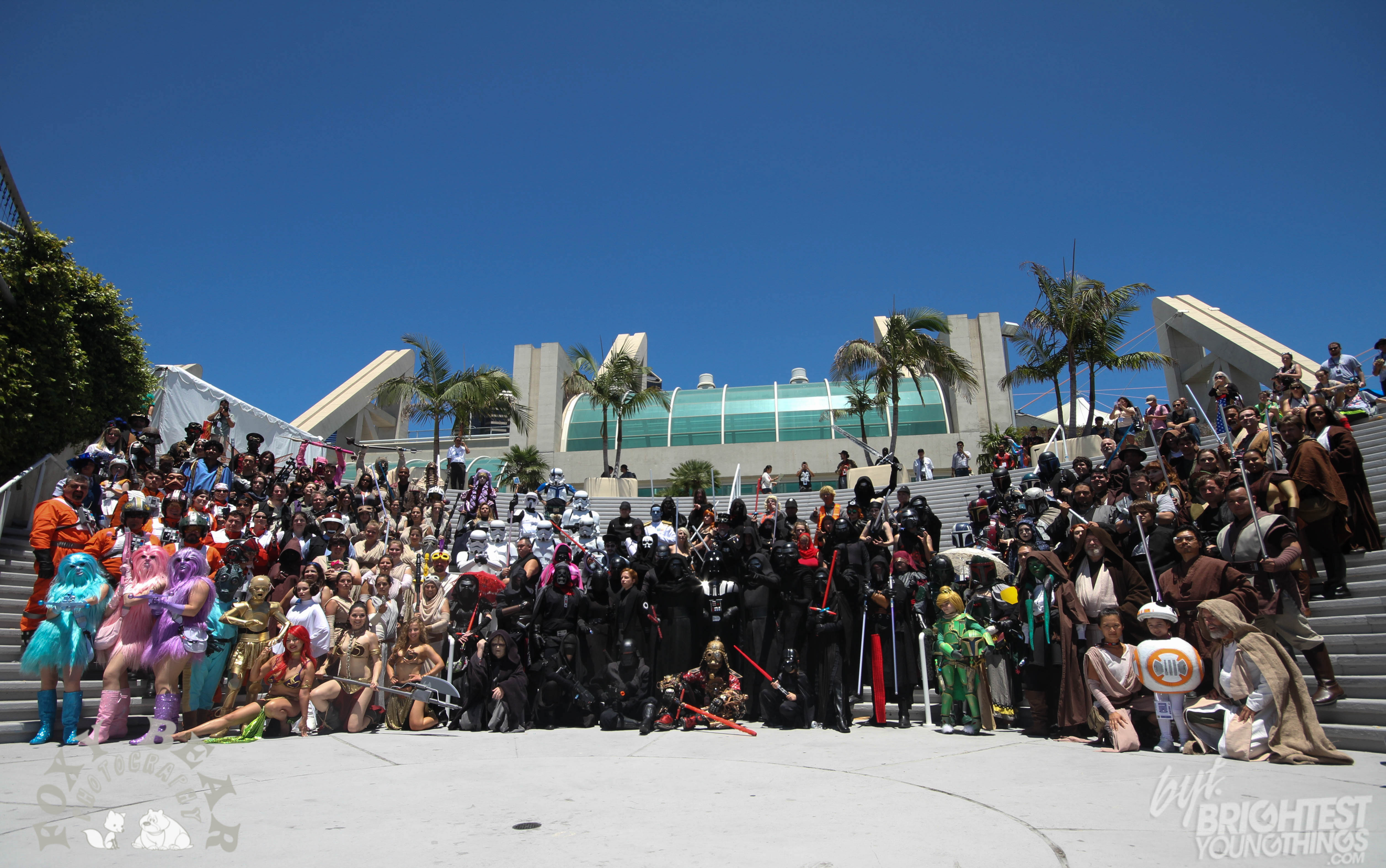 Photos By Foxy Bear. Originally posted on BrightestYoungThings.Com.
Pop Culture Shark Tank
The shoot went by very quickly (thank goodness) so I still had time to see the second half of the Pop Culture Shark Tank panel. I just recently started watching Shark Tank and as someone with entrepreneurial dreams of my own, I find the show very entertaining as well as informative. The idea of doing a panel somewhat based on the format of the show was really interesting. An aspiring entrepreneur had 90 seconds to pitch their business plan in front of a panel of judges who would offer feedback and tips. At the end, they all stated their favorite startup idea and they unanimously chose that of a non-profit that I didn't quite catch since I must've missed their presentation in the first half.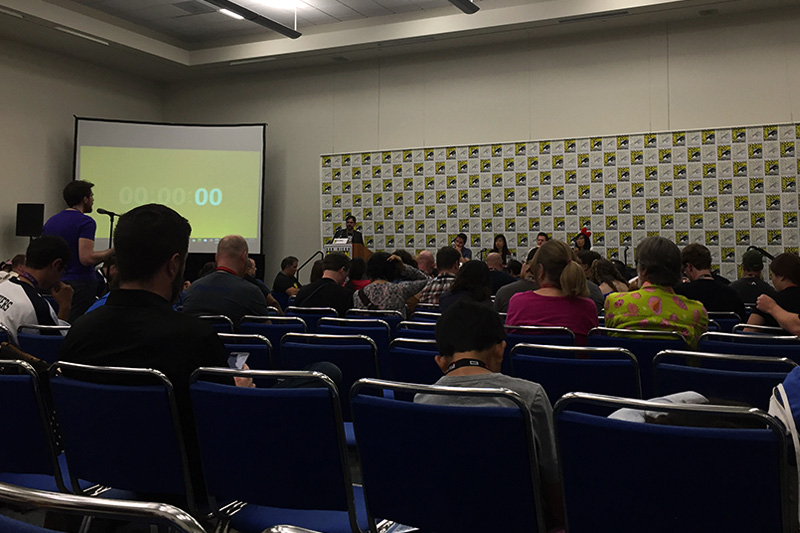 Meeting Steve Blum
On my way to the Shark Tank panel, I noticed one of my favorite voice actors, Steve Blum, doing autograph signings in the Sails Pavillion. There was no line at the time (same for most of the people out there), and I made a note to myself to stop by and see him after the panel ended. While checking his Twitter to see how long he'd be signing, I saw that he was ending at 2pm, the same time the panel would end so with less than 10 minutes till 2, I rushed back out and made it back to his booth just as they were taking down his signs. He was talking to another fan and his people squeezed me in as the last signing of the day. For my autograph photo, I, of course, had to go with Spike Spiegel from Cowboy Bebop. I don't think there's ever been a more perfectly cast dub voice actor than Steve as the ever-cool Spike. Although, we were a little short on time, he was beyond nice! He complimented my costume, especially loving the Chewbacca backpack, and apologized for not having more time.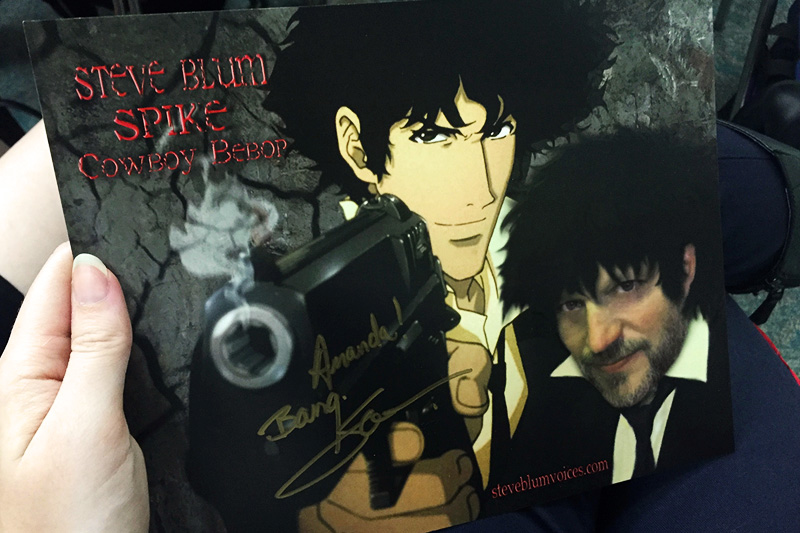 I had some time before my next panel, so I joined Luke and Eli at the Hollywood Location Scouts panel which was pretty full, moreso than last year when we attended it. I'm sure it was a great panel as it was the year before, but I was more concerned with finally eating my lunch than paying attention (plus, we were in the very back where it was a bit difficult to hear).
SPARK Your Creativity: A Call to Action
Once again parting ways with Luke, I went back to good old Pacific 24 at the Marriott Marquis where I would spend the next 3 hours in back to back panels. Yay – no more running back and forth from one side of the convention to another. The first panel I sat in was called SPARK Your Creativity: A Call to Action and included a group of kick butt, accomplished female creators that led a discussion on creating more female-driven content. It was definitely geared more towards the film industry which, despite living in LA, I'm not involved in, but nevertheless, it was still awesome to hear from such creative, driven women.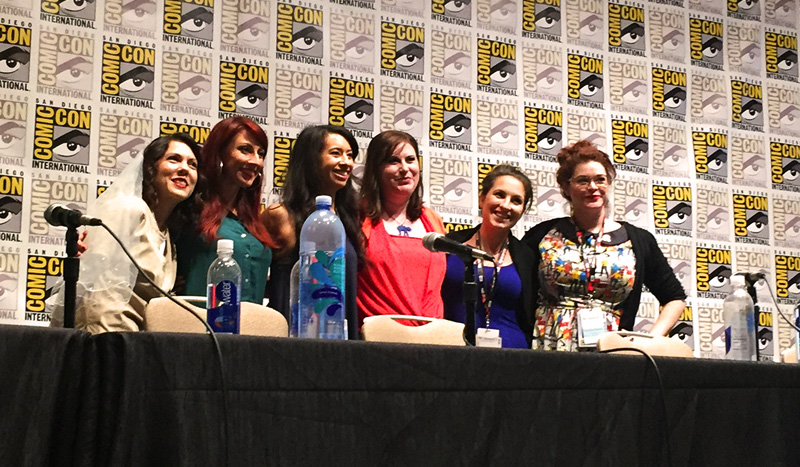 Serious Cosplay
Next up was Cosplay: Let's Get Serious which I found to be a really fun and interesting panel. Even though I had started to feel a bit sleepy, the moderator, Ed Catto, had tons of energy and was really able to work the small room and keep the discussion lively and entertaining. The panel consisted Kathy Wiktor from Cosplay by McCall's; Gillian Conahan, a cosplayer who writes for Cosplay by McCall's Blog; Carrie Wood, Eddie Newsome, and Mark Huesman – authors of The Overstreet Guide to Cosplay; and Kelly Cerone, designer of Anachronism in Action, creator of Cosplay by McCall's Shapeshifter and Laced patterns, and last year's Her Universe Fashion Show winner.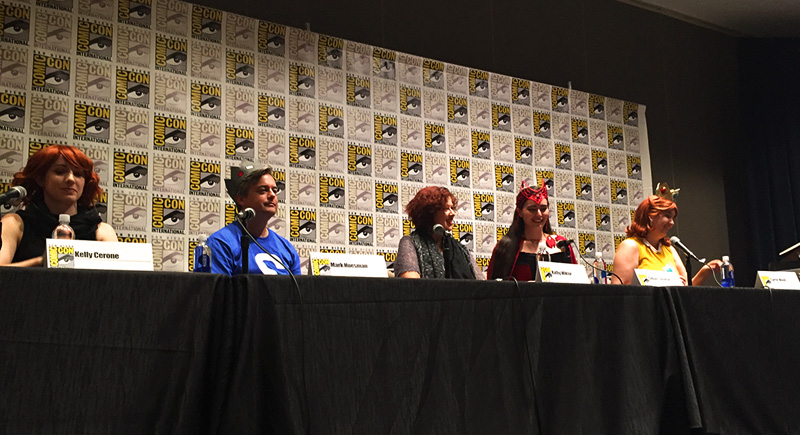 I loved the discussion topics! One was how to travel with your cosplay – something I've always wondered about. It's one thing to pack everything up in your car and drive. it's another to pack an intricate costume with many parts and props in a suitcase where who knows how it will be manhandled. Both Gillian and Carrie shared how they packaged two pieces they were wearing. Gillian's Scarlet Witch costume had a delicate headpiece made of wire that if someone sat on it or it got smushed in a suitcase, it would be ruined. To transport it, she had to pack it in a sturdy box within her suitcase where nothing else could crush it. For Carrie, her crown was attached to her wig so to neatly package it, the hair had to be rolled up towards the crown and secured.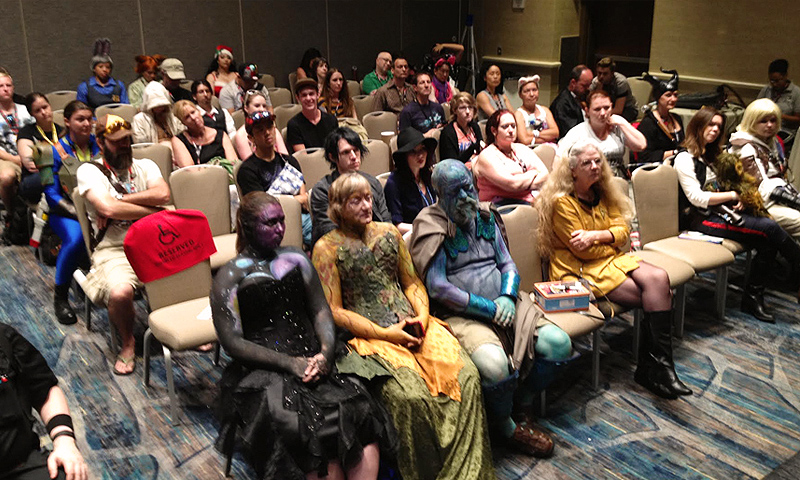 Haha my expression in the above photo! I wonder what I'm looking at-
Carrie also stated she purposely wears simpler costumes at big conventions like Comic Con compared to smaller or local cons because there's just so many people – you don't want to risk ruing a more complicated costume in a crazy crowd of people. This makes total sense. Within 5 minutes of being on the exhibit floor, the buckle and buttons I had made for my belt came off as people brushed by me.
Another topic was how to clean your cosplay. One suggestion mentioned that's used by a lot of theater people: use a 1 part vodka, 4 part water mixture and spray your costumes with it. I'll definitely be trying this!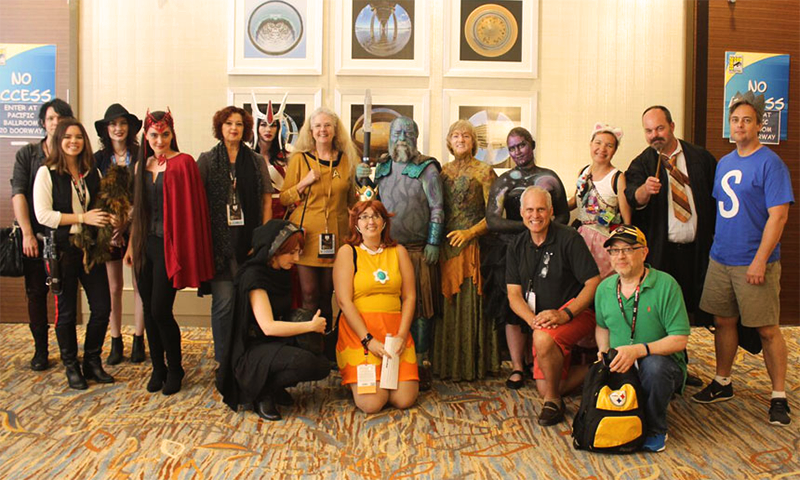 Photo by Lawrence Brenner. Originally posted on the McCall's Cosplayer Blog.
Cosplay Careers
My final panel in the room was From Cosplayer to Hollywood Creative which was pretty cool. Panelists included people who had made a career for themselves from cosplay: producers Gulliver and Christine for the film Cosplay Dreams 3D; costume designers Chad from ChadHatter Cosplay and Amanda with Blizzard Entertainment and Maker Studios; and Fanboy Brandon, the owner of a cosplay talent agency.
Brandon's story was particularly interesting in that as involved as he was in the cosplay community, he had actually never sewn a piece of fabric in his life. All of his costumes were commissioned by others (including Chad which is how they met). He spent years playing costumed characters at theme parks (including Captain Jack from Pirates of the Caribbean which Johnny Depp personally approved before hiring) before opening up his own entertainment company.
It was really eye-opening to see all the different career opportunities this "hobby" could open up as well as how it could help you with networking and meeting industry contacts.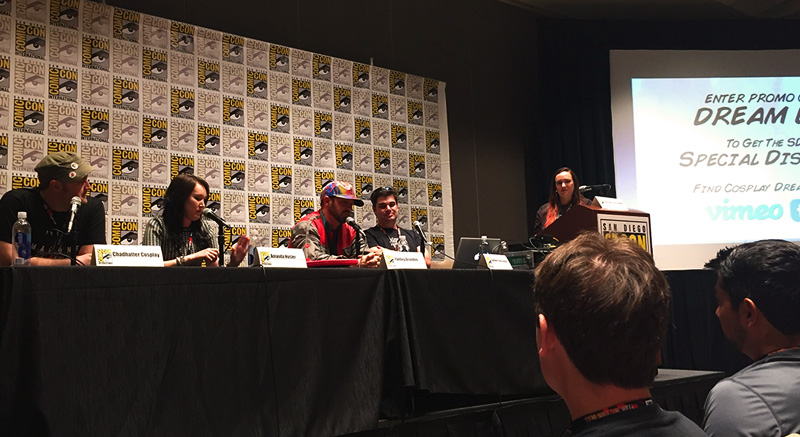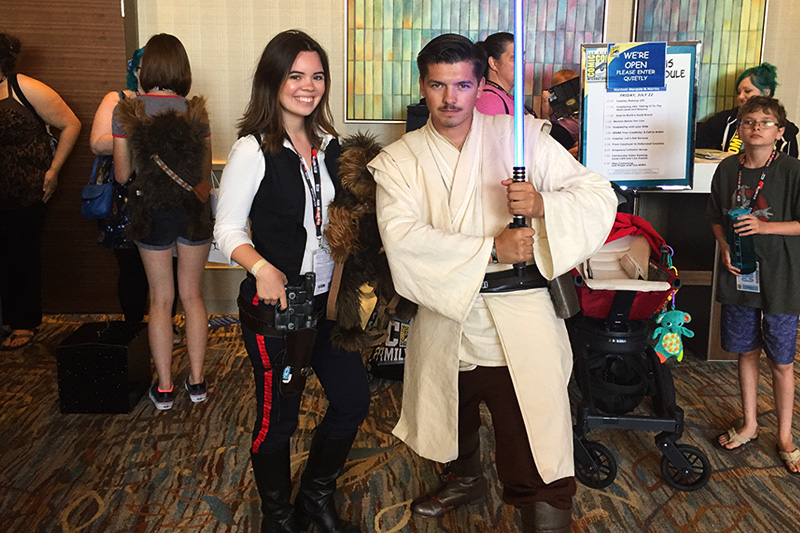 Another Chewbacca backpack!
Once I finished my Pacific 24 panels, I rushed back over to the main convention center to make it to the Funimation Favorites panel but ran into my friends John and Holli on the way (along with a bunch of photo requests) and, unfortunately, the panel was full when I arrived.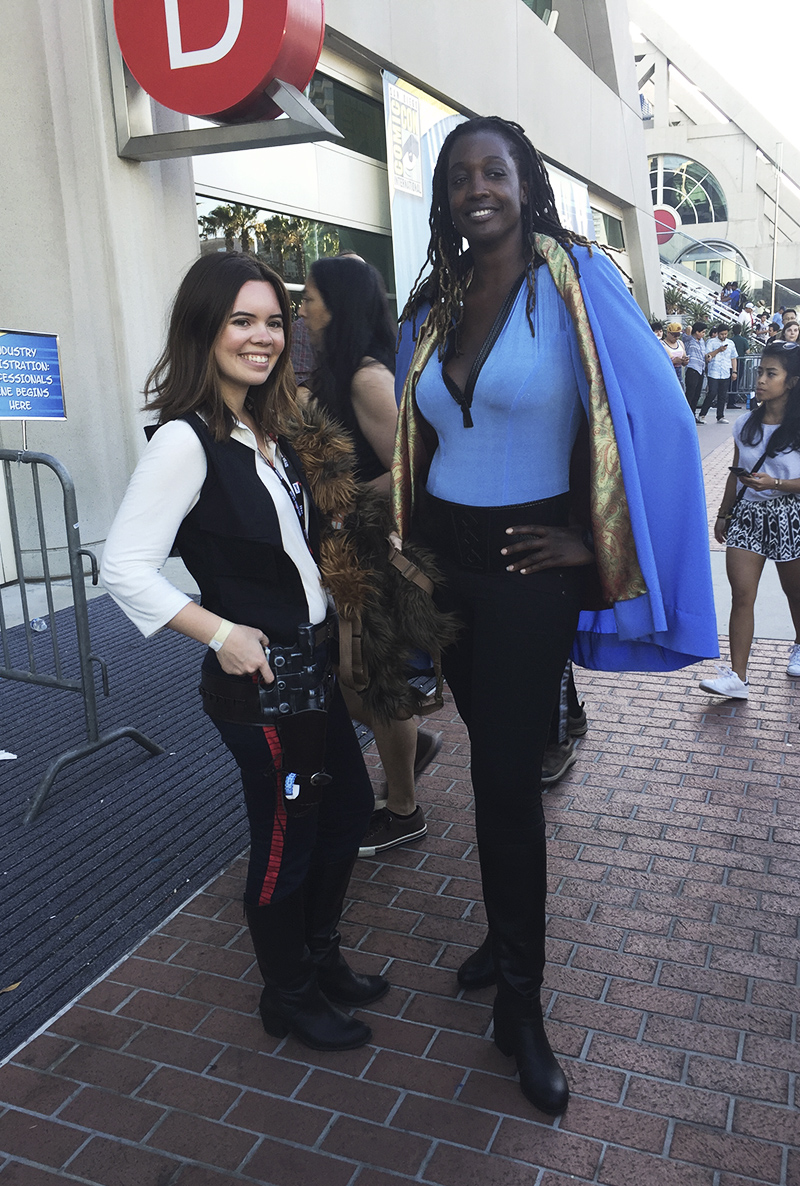 Ran into Lady Lando on my way to NerdHQ! She was so happy to have found a Han and Chewie!
It all worked out, however, as that meant I would be able to join my sister for the NerdHQ Mystery Panel! I got stopped quite a few times for photos (but I got to meet super awesome people like Kelli above), but we managed to make it just in time!
NerdHQ Mystery Panel

Waiting to see who would be on the "Mystery" Panel….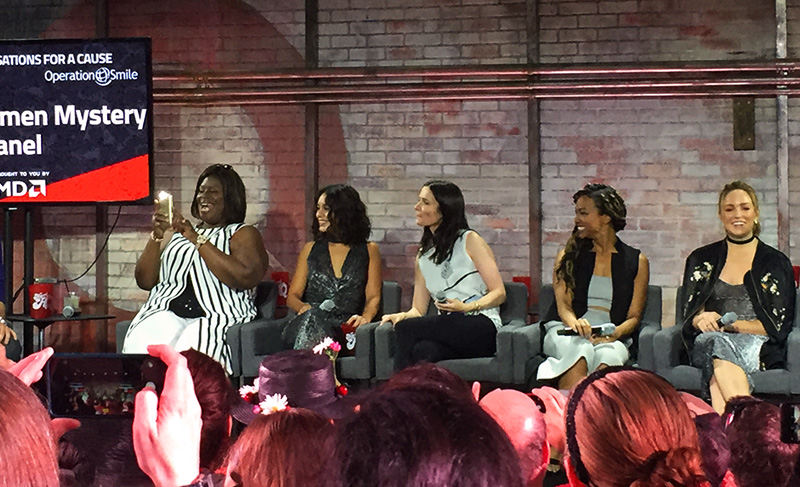 Ta-da! The mystery panel turned out to be a kick butt women panel with fierce ladies Retta from Parks and Recreation (who I spotted at the Hard Rock one year during SDCC – I tweeted her to make sure it was indeed her and she actually tweeted me back to confirm yes it was lol); Vanessa Hudgens who will be starring in the upcoming series Powerless; Bistie Tulloch from Grimm (she was the only one I didn't recognize at all); Sonequa Martin-Green from The Walking Dead; Caity Lotz from DC's Legends of Tomorrow; and Yvette Nicole Brown from Community (ADORE her). The panel was moderated as usual by the creator of NerdHQ and all around awesome guy Zachary Levi who you might know from Chuck, Tangled, or Heroes Reborn.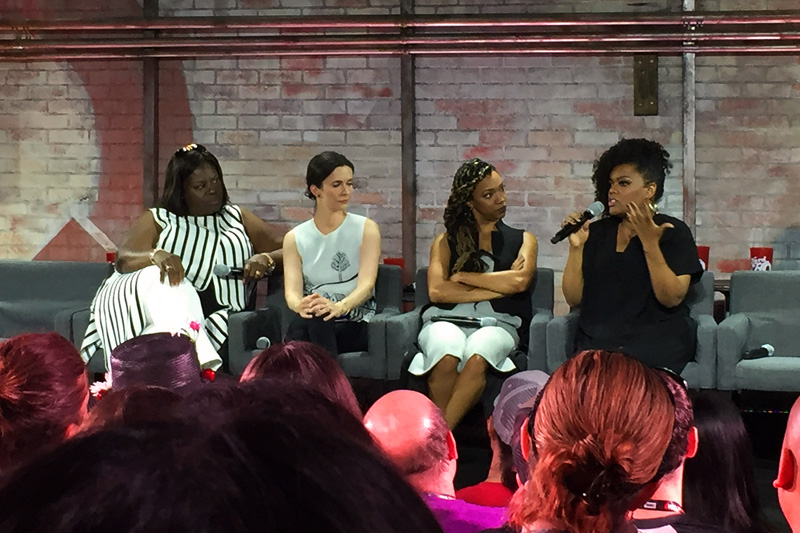 This panel was full of so much awesomeness, it's no wonder it went over time! I'm glad they put the whole thing up online so you can watch it all yourself (and I can rewatch it). My sister also recapped the panel on her writer's blog (she's an aspiring TV writer), Melissa Rosson Writes, and she is spot on in saying these ladies were laying down TRUTH about some important topics.
Some time is spent discussing vicious internet trolls which I can't even imagine being subjected to but is definitely something that needed to be addressed in the wake of what happened to Leslie Jones and also the struggles of being a women of color acting in Hollywood. I actually had no idea Vanessa was part Filipino! Yay for some Asian representation! I feel her though. In the same way, many people don't realize I'm half Vietnamese.
I've already said it once but I want to say it again: I really adore Yvette. That woman is such a light, a shining example of a follower of Christ. Every time she spoke, she just radiated love, respect, and strength. Same goes for Zac. The amount of love he has for people just pours out of him. It's so apparent and genuine, you can't help but be moved. Just check out near the end of the video when someone in the audience shouts out they trust him, how much that means to him. Goodness, we need more people like this.
All that was left was to meet up with our group of friends in the overnight next day Hall H line in hopes of securing the coveted wristbands that would guarantee our entry into the amazing lineup of panels that awaited us on Saturday that included Warner Brothers, Star Trek, Aliens, and MARVEL!
Spoiler alert: We did not get the wristbands. There was a bad case of line mismanagement (although nothing in comparison to what would happen the next day) and several hundred people cut in line during the night causing quite a frenzy. Almost as much of a frenzy as when Benedict Cumberbatch visited the line to say hi to fans. Even without wristbands and our fate tomorrow unknown, our friends camped out. My sister and I? We had a hotel room so we headed back to our beds for the night.
Aaaaaaaand – that's it for Day Two! Phew! What a day! This post turned out and took MUCH longer than I expected – sorry about that! I totally don't blame you if you just skimmed over half of it – it's a lot, but nevertheless I hope you enjoyed reading about my Comic Con 2016 Friday Recap.
Who would you cosplay as for Comic Con?
Missed the previous posts? Check out what happened on Preview Night and Thursday!