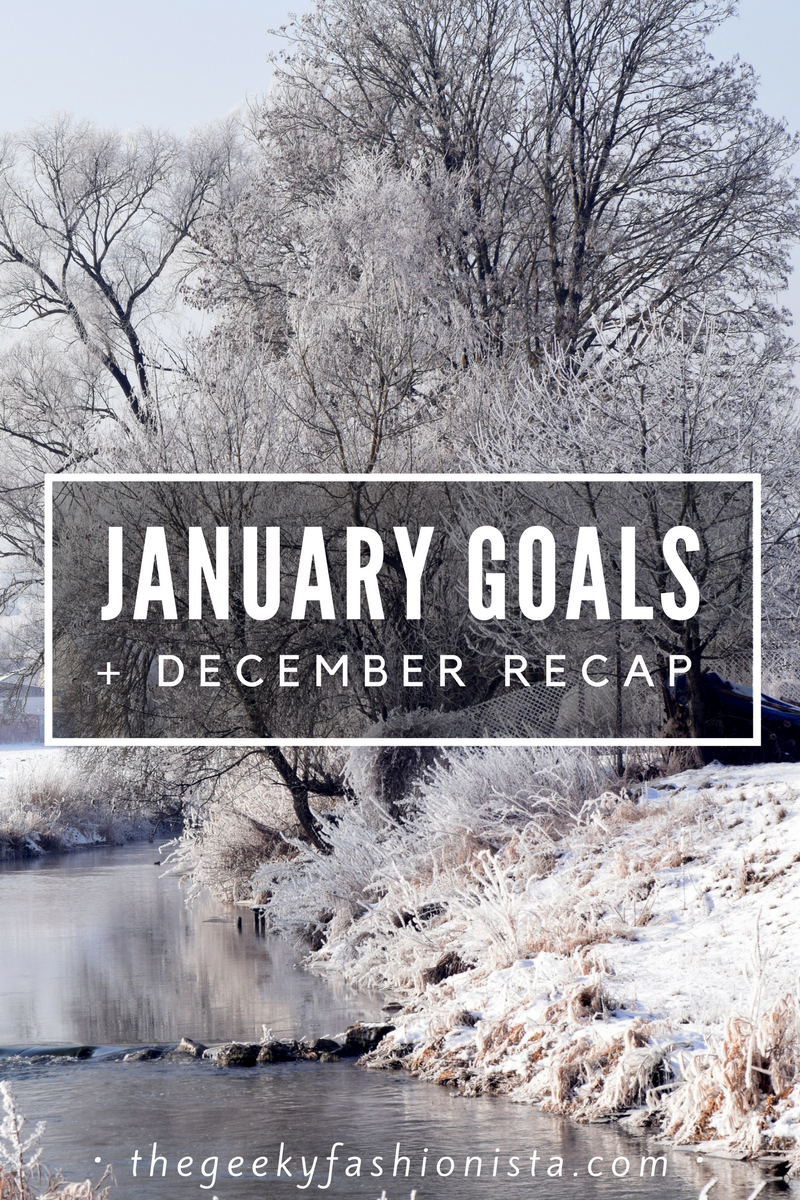 Happy New Year! Here's to the first official post of 2018 (since my last one was scheduled). I've got a super busy month planned ahead. Some exciting stuff (condo searching, Anime Los Angeles, work holiday party), some not so exciting stuff  (a lot of working). I really want to start the year off establishing some good daily routines. For example, wake up and actually have breakfast at a normal time, work, have dinner before 9, go the gym, shower, study, go to bed before 4am – that kind of thing. I go back and forth between LA and Florida a lot so that can be a little disruptive to a routine, but I'm hoping it won't throw me off too much. 
I know most bloggers probably want to start their blogs off really strong at the beginning of the year, but I'm not going to lie – I probably won't be too active blogging or on social media this month. I'll definitely put up some posts, but I really want to work on some things in my personal life (especially my health stuff) and that means being less in front of the computer every day. Once I get into a routine though, I'm sure I'll figure out a way to incorporate time for blogging a bit more naturally (instead of what I usually do which is stay up until 5am writing a post because it's the only time I have to do so).
Anyway, let's jump into my December recap and then onto my January goals!
December's Goals Recap
Personal Goals
1.

Get on a better sleeping schedule
– Honestly, I think this was the thing I did best this past month! Especially when I was in LA, I seemed to be going to bed at a somewhat normal time (that's 1am-ish for me) so yay! That's much better than going to bed at 4-6am! We'll see if this continues in 2018..
2. Sell more stuff – I did sell stuff but I didn't list nearly as much stuff as I would've liked – it's quite a process to take photos, write a description, look up an appropriate selling price, etc. and the time just wasn't there during this busy month. I wish I could just half-cross this out.
3. Go to the gym – I did go but only once in all of December so I guess I technically did this? I did spend half of the month where I don't have a gym and with all the holiday and travel craziness, I'm actually amazed I even went once. This is probably a more appropriate January goal so I'll be repeating it for this month. This is also more of a half-cross out just on the accomplishment that I somewhere still managed to go – I'll fully cross it out just to combine the half-cross out in #2.
Blog Goals
1.

Do more outfit posts
–  Fail. I posted one outfit post on Instagram but none on the blog.
2.
Post more consistently on Instagram
– I started off the month super strong then stopped once I went to LA. I think I've just accepted that I'm not much of an Instagram person or at least to the extent as most bloggers. I posted 8 times total in December and, honestly, I think 2 photos a week will probably be the norm for me.
3.
Reach 1,500 Facebook Likes
 – YES!!!
The Geeky Fashionista
Facebook page currently has 1,579 Likes!! So happy to have met this goal! Thank you to everyone who follows! <3
3/6 – not terrible given the crazy month
January Goals
Personal Goals
1.

Consistently study and practice Japanese
 – I'm finally going to fulfill my lifelong dream of going to Japan later this year! I'm so excited – I know it's still several months away but I really want to buckle down and learn the language a little before I go. Since I've always been interested in Japanese culture, I've tried self-teaching myself before but with consistent practice and use, it starts to fade. Starting this month, I really want to make a commitment to practice everyday whether it's through the many apps out there, my textbooks, or watching/listening to videos and audio lessons. 
2. Eat healthy – My SIBO condition has started getting bad again and that's most likely due to me being irresponsible with my eating. I actually think I eat pretty well, but I had gone back to eating gluten every now and then and lots of fruits (which has sugar I'm not supposed to have) as well as garlic and onion (two things I'm supposed to avoid completely). It was hard to be strict with my diet over the holidays and I knew I'd be paying for it with abdominal pain and headaches so here's hoping I can revert the damage I've done with some good disciplined eating in the new year. 
3. Work out at least 3 times a week – Repeating this goal this month! If there's any month where this goal is possible, it's January where everyone is gung-ho about going to the gym!
Blog Goals
1.

Post 5 times
–  Yes, just the one blog goal. I know it seems super simple, but with this being such a busy month for me in my personal life, I'll be happy if I can just get the five posts I already have planned written and posted. 
What are your January Goals?