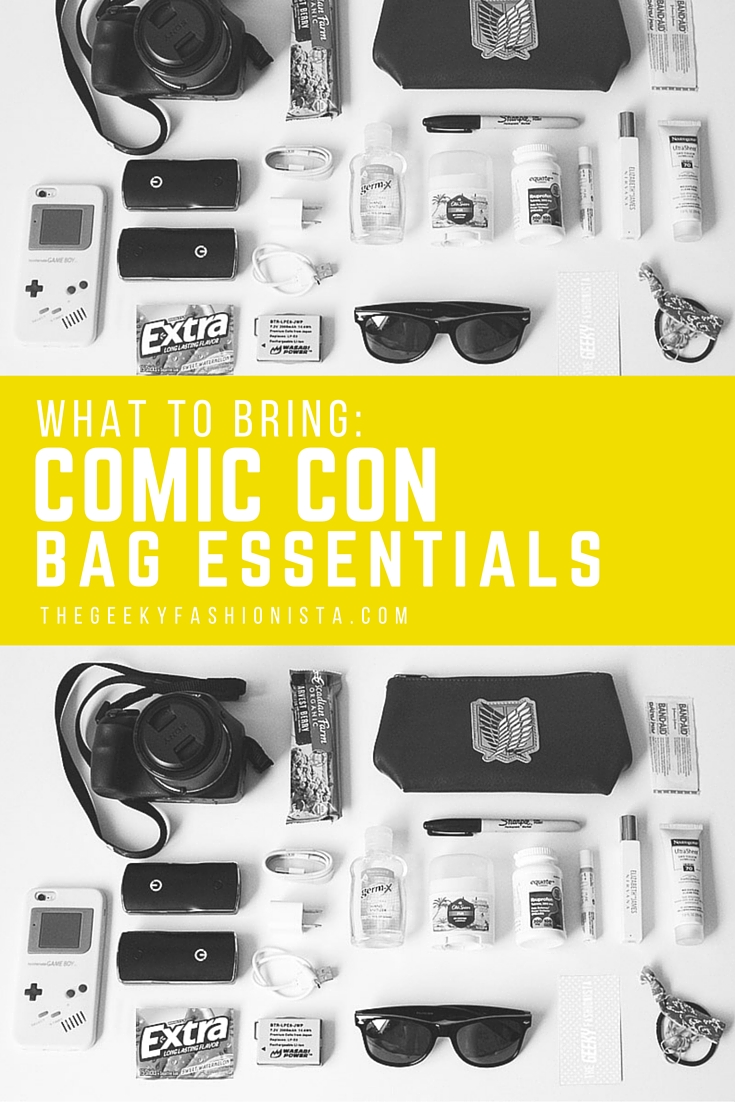 It's just days before what will be my TENTH San Diego Comic Con (HOW am I that old?)! Every year it never seems to come soon enough and then before you know it, it's there and you're still putting on the finishing touches of your cosplay, rush ordering your business cards, and scrambling to make sure you have enough spare phone and camera batteries – or maybe that is just me.
Back when I was flying in from Florida or New York, I remember how much I would overpack because…well, you never know! Plus, well, I really didn't know what to expect in those early years. Now after all these years, I still heavily procrastinate many things BUT there is one thing I have down – and that is my Comic Con bag essentials – the stuff you'll be carrying each day, all day with you during the con. There were years where I brought way too much stuff with me and my poor shoulder would be aching after a few hours. Other years, I would bring too little with me and found myself having to make trips back to my hotel and wasting precious con time.
The following list is what I have found to be everything I need to get me through each con day.
THE BAG: It's really up to you what kind of bag you use. I prefer a bag that isn't bulky and can carry quite a bit – because besides everything on this list, you also want to take into account all the swag you'll be getting throughout the day. My bag of choice year after year has actually been one of those free bags you get as a gift for purchasing a perfume at a department store. It's not fancy at all, but its super light and roomy – it can be as small or as big as I want it and really, it's amazing everything I can fit in it. That's me though. Some people prefer backpacks, I honestly find them a bit limiting in terms of collecting swag especially posters. My dad likes to use the same reusable blue grocery bag year after year. All you have is your Warner Brothers SDCC bag – that works too. As long as it can fit everything on this list, you do you. With all that said, let's move on to what should be in our bag…
Light jacket – While the weather outside is usually nice and warm during the day, nights and early mornings can get a bit chilly so it's always good to have something to throw on for those times of the day. Also, they really crank up the AC in some of those panel rooms so it's always good to have on hand.
Cellphone (no, that's not a Gameboy) – A must for most of us any day anyway. I use my phone for way more than just taking photos or keeping in touch with my family and friends (since we usually will end up splitting off to do our own things). To me, it's all about Twitter – keeping up with line updates, special promos, live tweeting panels…Twitter has completely changed the way I do SDCC for the better!
Portable Phone Charger/Battery – One of the absolute most essentials items next to my actual cellphone – all that tweeting can eventually run down your battery and with so much happening at Comic Con, you don't have time to stop and wait while your phone charges at an outlet.
Phone Wall Charger and Cord – When I do have some down time (for example, during lunch), I'll find an outlet and charge my phone the old fashion way to conserve my portable battery (which I'll also charge up if there's two outlets).
DSRL Camera – Cellphone pics are quick on the go and if you're trying to be inconspicuous (you never know what celeb might walk by you), but for things like cosplay or special events like the Her Universe Fashion Show, I definitely prefer higher quality photos.
Spare Camera Battery – No time to charge if my camera battery dies so I just bring a spare.
Sunglasses – You're in sunny California – it is bright during the day!
Water Bottle – You're going to be walking a lot and you will get thirsty!
Snacks/Food – Convention food isn't the healthiest or the most affordable. Help your body and wallet out by packing your own sandwiches, fruit, and granola bars. There's a Ralph's that's just a quick walk from the convention center where you can stock up on everything you'll need for the week – this is what my family and I have done every year and it saves us TONS.
Cash – Not all places take credit cards!
Business Cards – Whether you're a blogger, writer, filmmaker, this is THE place to network and meet like-minded individuals! Great for just giving out to new friends to keep in touch as well!
Makeup/Toiletry Bag – To keep all my smaller items together and not roaming everywhere inside my bag. I'm obsessed with my Attack On Titan cosmetics bag from Hot Topic but, unfortunately, it's sold out. Alternatively, they have a new one that features Mikasa that you can bet I'm going to be getting my hands on in the near future. EDIT: That bag is actually sold out too. Boo.
My Bag Inside My Bag
Bandaids – Accidents happen. Be prepared and bring a few different sizes.
Lip Balm – Nobody likes dry lips. I also prefer something with SPF.
Travel Size Sunblock – Protect yourself from the sun! Especially important if you plan on waiting long hours in the Hall H line!
Hand Sanitizer – People everywhere means germs everywhere!
Mini Perfume or Rollerball – Because I still want to smell like a lady.
Travel Size Deodorant – Because even girls sweat and can smell gross.
Concealer – For touch ups throughout the day. My dark eye circles are no joke.
Gum – You're going to be meeting a lot of people, wouldn't want your first impression to be that you have bad breath!
Permanent Marker – For the random signing that just might happen!
Rubber Bands – For all those free posters you're going to receive. A poster tube is ideal but a rubber band works in a pinch.
Hair Ties – For pulling your hair back when it gets too hot or the con just gets too crazy. Can also be used like a rubber band to secure rolled up posters.
SHOES: I didn't include this on the list (because it doesn't go in a bag), but hopefully it goes without saying. You're going to be walking A LOT. Wear comfortable shoes, whatever that is for you, whatever it is that you can walk MILES and MILES in without your feet cursing you. I'm a Florida/Cali girl so to me that means flip flops because my feet are not accustomed to things with backs so, yes, I'm that crazy girl wearing flip flops in the Exhibit Hall. I know the risks, and I've always survived.
WHAT NOT TO BRING: Leave the laptop, iPad, and books in the hotel room! I've brought them all at one point and usually regret it – UNLESS it's a situation where I know I'm going to be camped out in one room all day and won't have to worry about lugging all that extra weight around with me. Then by all means, bring the laptop and get some extra blogging done! Bring a book to read between waiting for panels – although really you should be talking to people and making new friends, but I'm shy so I understand. If you have one of those Macbook Airs that might be a different story too or if you're a strong guy. Me – I'm a rather small girl so I'd rather not deal with it.
That concludes my Comic Con Bag Essentials! Hope you found this list helpful in your last minute preparations! If you have any questions or think I left something out, feel free to leave a comment below!
Are you going to Comic Con this year?