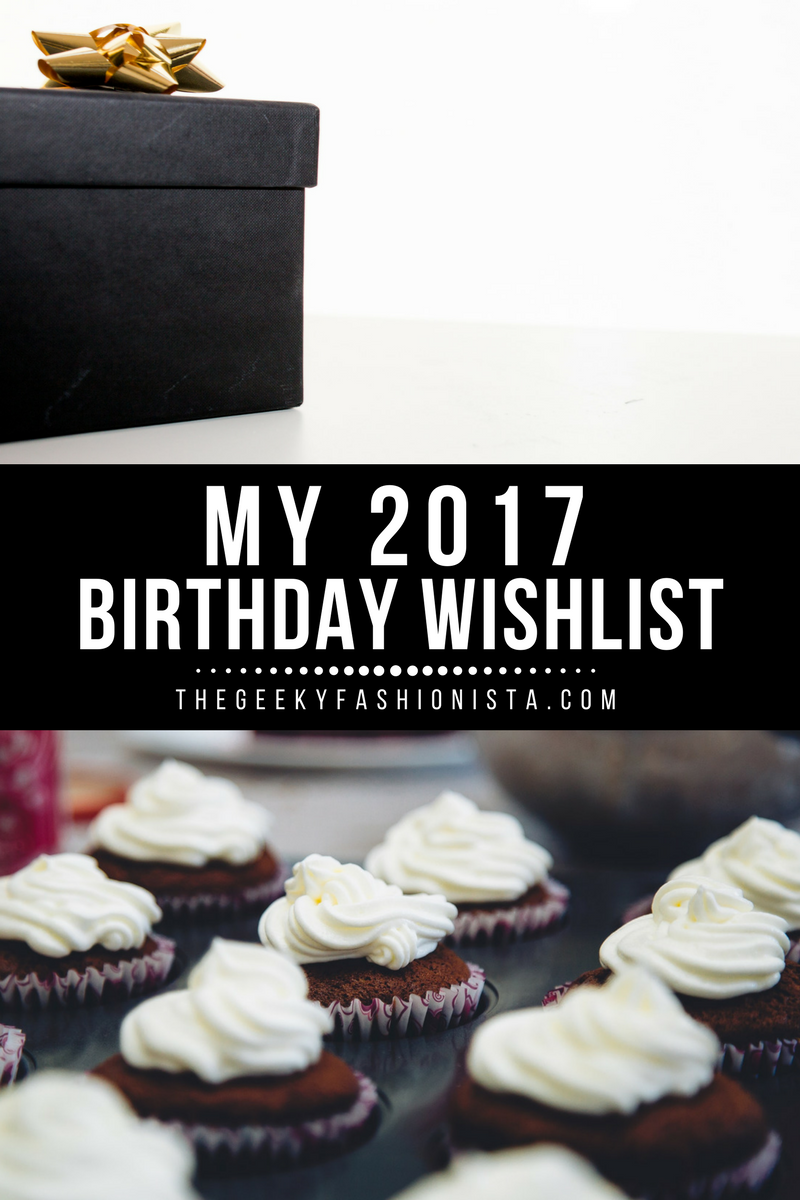 My 28th birthday is less than a month away (October 2nd!)! That just seems so crazy to me! The fact that we're already 3/4ths into this year already AND the fact that I'll definitely be entering my late twenties! As usual around this time of the year, my family members are hitting me up to see a wishlist to get an idea of what to get me. And as usual, I use this opportunity to put together a little post with some of the items that I'm currently wishing for to share with all of you! Enjoy!
My Birthday Wishlist
1. Star Wars Bag
Especially since Force Friday II, soooooo many cute and awesome Star Wars things have come out! While I probably don't need another bag, I can't help but want to add the May the Force Be With You Crossbody Bag and the Star Wars Vintage Poster Collage Wristlet to my collection. I love it when I can be stylish and show off my fandom love!
2. Fandom Workout Gear
While we're talking about fandom love… with my health steadily improving, it looks like I'll soon be able to start going to the gym and building my strength back. While I'm sure the first couple trips will be a bit of shock to my body and I'll feel like death afterwards, something that will make things a bit easier is wearing cute workout gear of my favorite fandoms! I am all about these Voltron Leggings from Etsy store geekilicious who also have a matching crop top. My body's not quite ready for crop tops yet and until then the store also has the cutest Mystic Messenger tanks! I would totally rock the Jumin or Mystic Mess ones! And of course, you gotta stay hydrated! I'd never leave home without this Star Wars Water Bottle.
If you didn't know, the Netflix show Voltron is my latest obsession fandom. I had been on the hunt for the perfect bomber jacket for months but hadn't found anything that got me really excited – until this. It wasn't a bomber jacket, but I knew I would happily rock this varsity jacket every chilly (and even not so chilly) day. These jackets from The Kigu Stop are currently in pre-order. It was supposed to end at the end of August but has been extended until 9/8! They're also doing free shipping with the code LABORDAY. If you're a Voltron fan, you're not going to want to miss out on these! 
I could really use some new everyday wear shoes… my favorite flip flops were lost in Australia and my favorite flats have been worn down to the soles. Even my favorite booties have a broken zipper and look like they've seen better days. But this is a WISHlist so instead I want to show you the shoes I'm currently lusting over. I love how simple and chic these Sam Edelman shoes are plus that thick heel – yes!! Your girl can't do stillettos. I feel like having these in a nude or black would be so versatile and instantly dress up any outfit. Ah, a girl can dream. 
5. Moisturizer/Face Cream
I've been wanting to invest in a good moisturizer or face cream for quite some time. After doing a little research, I've narrowed it down to a couple that look like they might be worth the investment: Fresh Youth Preserve Face Cream, GlamGlow Volcasmic Matte Glow Moisturizer, Dermalogica Active Moist, and Innisfree Enriched Cream. I'm content with my drugstore daytime moisturizers but for night, I'd really like to treat my dry skin to something a little nicer especially now that I'm getting a bit older.
My iPad Air is one of my favorite things, and I almost always have it with me whether it's for work or to play one of my favorite otome games. My boss gifted me a really nice case along with the iPad when I started working for her a couple years ago, but I've been on this new aesthetic kick lately where I want all my things white, black, or marble lately and that includes my iPad. Luckily, I'm not the only one who likes that look and it's relatively inexpensive and relatively easy to find a marble case on sites like Amazon.
I already have the carry on (which I'm OBSESSED with), and I'm not going to lie it's probably what set off my whole new marble obsession. It just looks so classy! When I travel, I rarely ever go for just a couple days so I always bring a checked bag with me – thank you, Southwest, for letting me do that for free! I would love to have a matching large luggage bag to fit all my checked in items. Having a bag like this would especially be perfect for when I have to travel with cosplay!
One thing I've always wanted in my room is a full length mirror – not the kind you hang behind your door but the kind that sits on the floor. It makes the room look bigger and more aesthetically pleasing and it's perfect for OOTD photos (that I might actually start doing if I had one).
10. Gift Cards
You can never go wrong with a gift card! Amazon, iTunes, Etsy, and Ulta would be your best bets 😉
Shop My Wishlist
What's something that would be on your birthday wishlist?