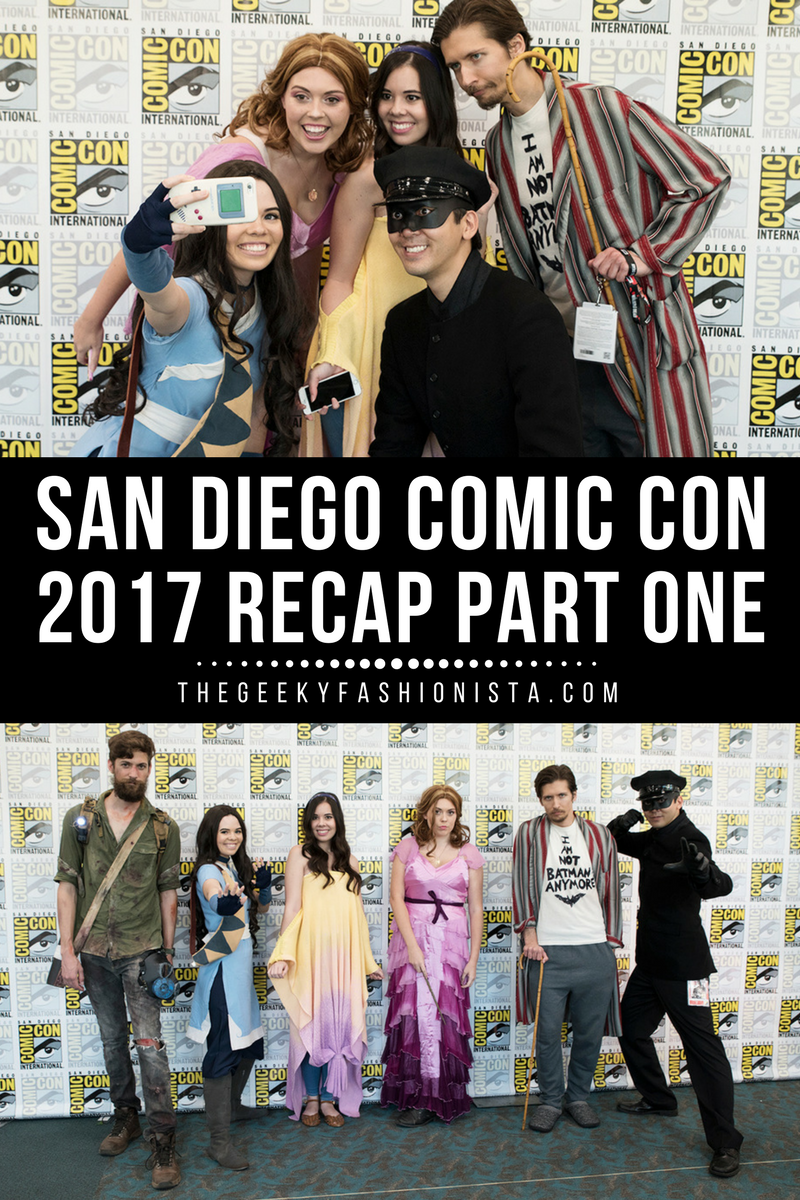 At last, here it is! Part One of my San Diego Comic Con 2017 recap! As usual, SDCC felt like it flew by in the blink of an eye. When it all ends, you feel drained and exhausted but yet you can't wait to do it all over again the next year. Despite its many ups and downs, it's always a fun experience that I'm glad I get to share with friends and family. Check out what my eleventh (yes, eleventh) year at one of the world's biggest pop culture conventions/geek fests had in store!
In years past, I've usually dedicated a post per day at Comic Con starting with Preview Night. This year, however, I condensed the 4 and a half days into 2 posts. This is simply because I didn't do much as I had previous years. Partly due to my health and just having trouble getting out of bed each morning and partly due to the line from Hell (which you'll hear more about in Part Two). Basically, I got to cross off maybe two things from my SDCC Schedule post – whoops. Still, I did my best to make the most of what little time I had!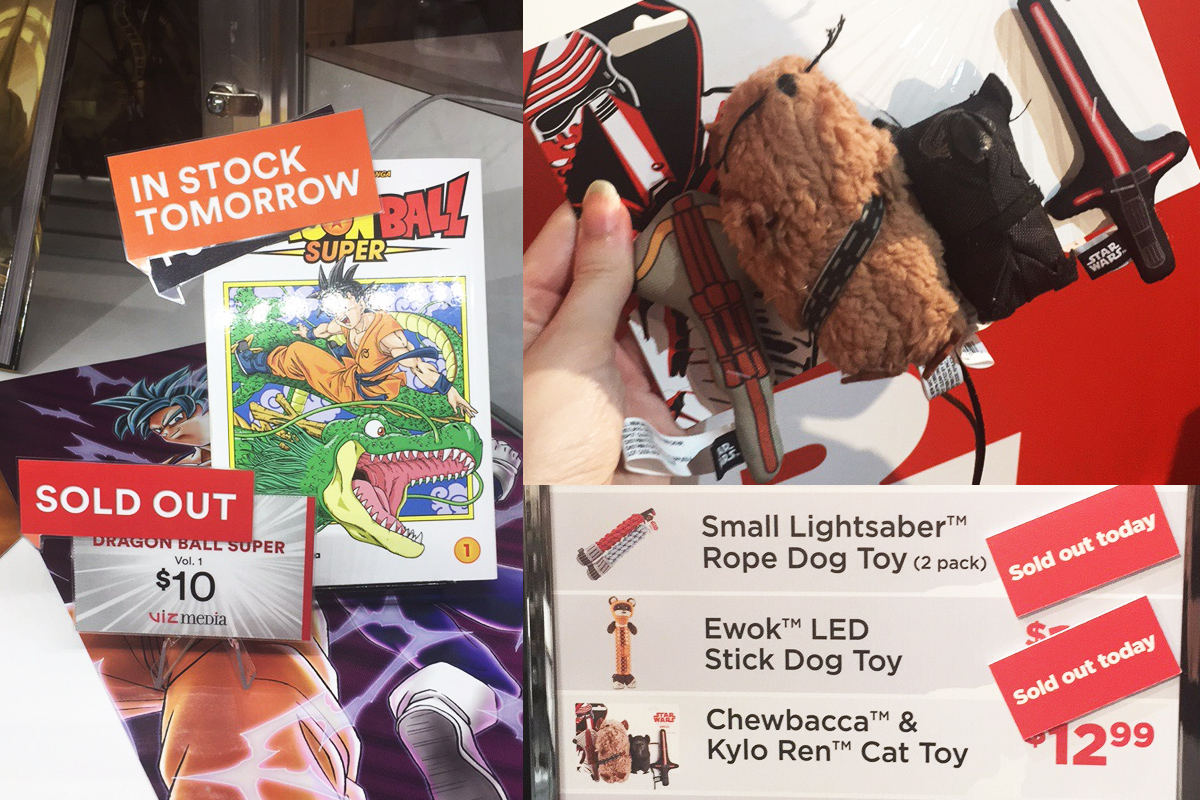 Day Zero: Preview Night
My friend, Veronica, was kind enough to drive me down to San Diego from Los Angeles. Unfortunately, traffic was insane and we didn't get into the city until late evening. By the time I dropped off my things with my parents in our hotel room and ran to the convention center (thank goodness we always stay at the Marriott Marquis next door), I only had 10 minutes before the exhibit floor closed for the night – yikes!
Once on the floor, I ran straight for the Viz Media booth. I had told my friend Brenda I would pick her up the new Dragonball Super manga there. She's a big fan and they were selling it with an poster exclusive to SDCC. As to be expected near closing time, it along with pretty much everything else at their booth was sold out and, in the case of swag/freebies, completely gone. This seemed to be the norm for most of the booths. I wasn't surprised but still a little bummed to see most of the exhibits and booths were already done for the night.
I didn't come home completely empty handed, however. After exploring the Star Wars area for a bit, I saw that the PetCo booth was selling dog and cat toys. Most of the items were sold out but their Chewbacca & Kylo Ren toy was still in stock! It looked so cute, I just had to get it as a little souvenir for my kitty, Xander, back home.
Afterwards, I went back to my room, ate, and went right to sleep. I wasn't feeling well and was super tired after the long day of driving. Not quite as exciting as last year but at least I didn't miss out completely on Preview Night. 10 minutes count!
On to the next day…

Day One: Thursday
As I stated earlier, my health made it difficult most days to get out of bed resulting in a late start some days. This happened my very first morning. It was past noon before my abdominal pain subsided enough, and I was able to eat and get dressed in my cosplay. Today, I was wearing Katara in her Third Season Water Tribe outfit from one of my favorite cartoons, Avatar: The Last Airbender. It took a little time to get ready but my mom was really helpful and patient with me. Also, yes, I know I'm missing the hair loopies XP
After a couple mirror selfies of my finished look, it was time to hit the con! 
Once again, I stopped by the Viz Media booth to check on that manga. I was so happy to see it was actually still in stock! Unfortunately, the cool free bag with purchase I wanted to get my friend as well was out for the day. I figured I'd just come back another day when they'd have it in stock so I could get her both items (this sure backfired on me later).
Swag Bag Pick Up
Afterwards, my mom and I went up to the Sails Pavillion to pick up our free WB bags. This was usually something we did on Preview Night so I don't know if it's always done this way every year but it was a bit of a pain how it was set up. I won't bore you with all my frustration, but there was A LOT of unnecessary walking involved. Normally, I wouldn't care. This is Comic Con – I've been doing this for over 10 years now – you're going to walk a lot, I get that. However, when you're feeling super weak and finally find the place you're supposed to go, being told you have to go all the way back to the other end of the floor where you came and then walk all the way back even though there's no one in line is SUPER annoying.
Getting the bags took way longer than I expected so it was already time to meet up with my sister and friend Courtney for the Netflix Films panels in Hall H! It was crazy that the day was pretty much halfway over already even thought I felt like I just got started!

Hall H: Netflix Films
Death Note
The one panel I was most excited for that day was for Netflix's upcoming Death Note film. Don't get me wrong, I have pretty low expectations for the movie. It's one of my favorite animes/mangas ever so there's a lot to live up to. I already wasn't a big fan of it's casting choices (save for Willem Dafoe as Ryuk which is PERFECTION – such a shame he wasn't there), but I wanted to see what they brought to the panel and give it a chance. I love anime and would love to see a good live action Western film adaptation one day. One day.
Unfortunately, the panel and the footage shown didn't make me feel like I should be raising my expectations any. I don't want to be totally negative though so I will say visually, it did look intriguing and the production value looks nice. Also I liked how they had the original creator involved. I hope the acting is better than what I saw though… I don't know if that's on the actor or if it's the direction but it was almost laughable at parts that I don't think were supposed to be funny so… we'll see. Also, I usually love seeing the chemistry of the actors on stage but this was pretty awkward. I think it was intentional…? But it was a bit uncomfortable to watch as an audience member not sure.
I'll definitely watch the movie eventually when it's out but I won't be in any rush.
Bright
One saving grace of the panel was that it was moderated by Terry Crews who just seems like such a cool and lovely guy. Once the Death Note panel ended, he introduced the next Netflix movie, Bright, starring Will Smith and Joel Edgerton. My sister had read the screenplay for a class but I knew absolutely nothing about the movie. It had an interesting concept and what looked like tons of action. To sum it up, it seemed like a raw and gritty cop action film set in a fantasy world. It comes out on Netflix in December and I may or may not check it out.
After the Netflix panel, I went back to the exhibit floor to quickly buy some cute Star Wars merch. Then it was time for my friends and I to meet up to do a little casual cosplay photoshoot. We had a bit of late start getting everyone together – I had wanted to make it to the Her Universe Fashion Show that started at 6 but not able to run anymore like I used to, that didn't seem like a possibility this year. Oh well.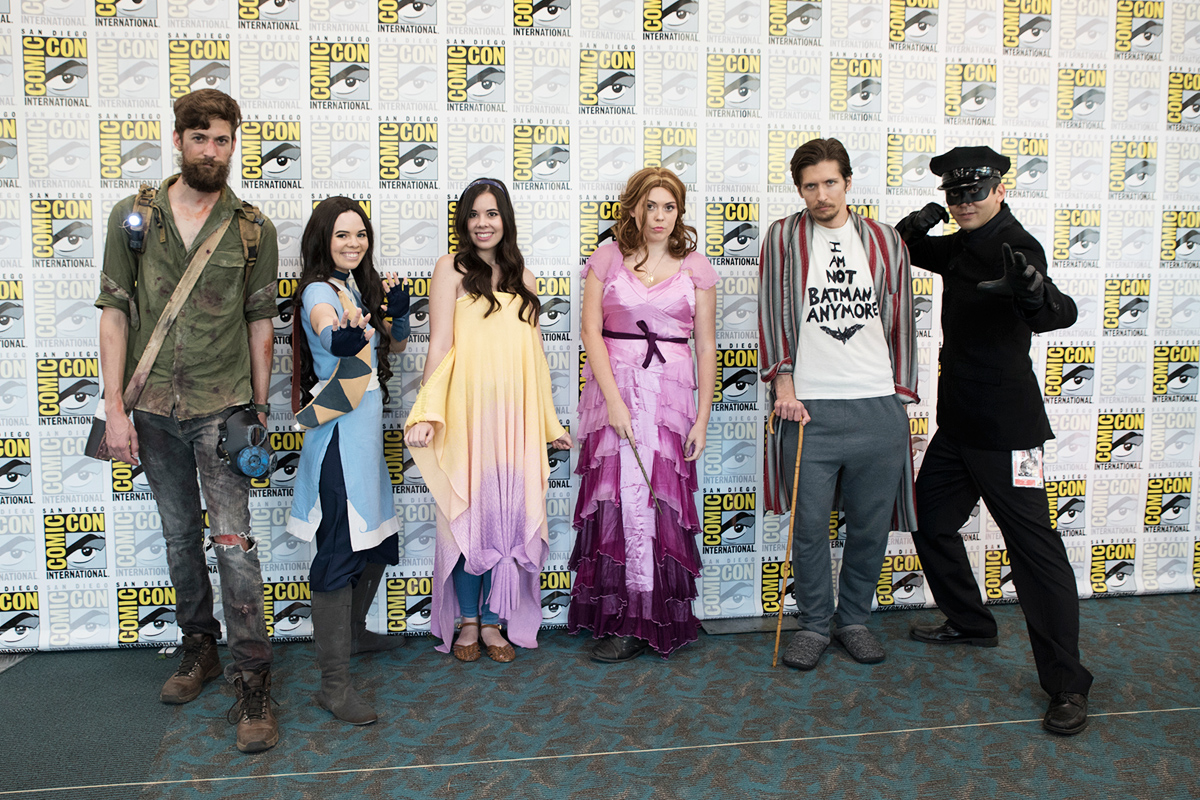 Cosplay Photoshoot
Today was the one day my friends and I were all going to be cosplaying together. It was essential then that we got a couple group shots. We decided to meet in front of the Comic Con backdrop which seemed to be a popular area for cosplayers and photographers.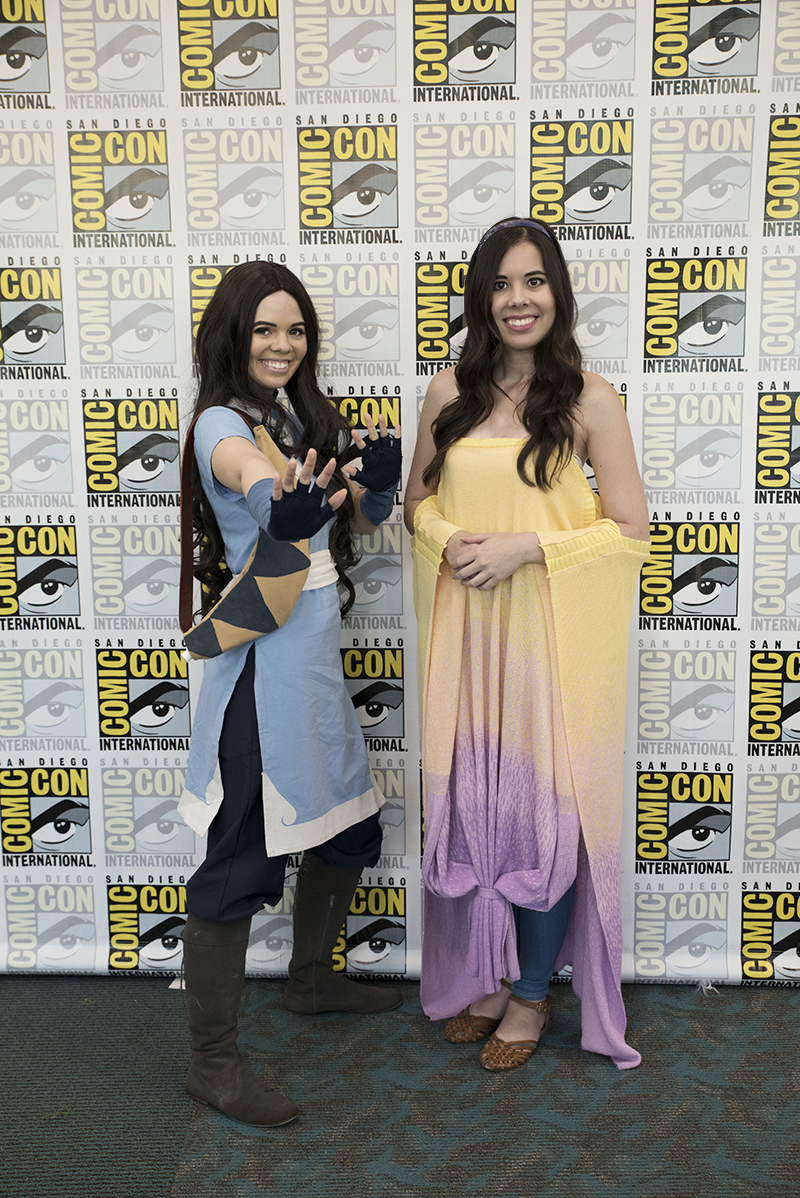 My sister, Melissa, was doing a casual cosplay conbound of Padme's rainbow gown (aka my favorite gown) from Star Wars II: Attack of the Clones. She's wearing the beautiful Galactic Dusk Poncho from Elhoffer Design.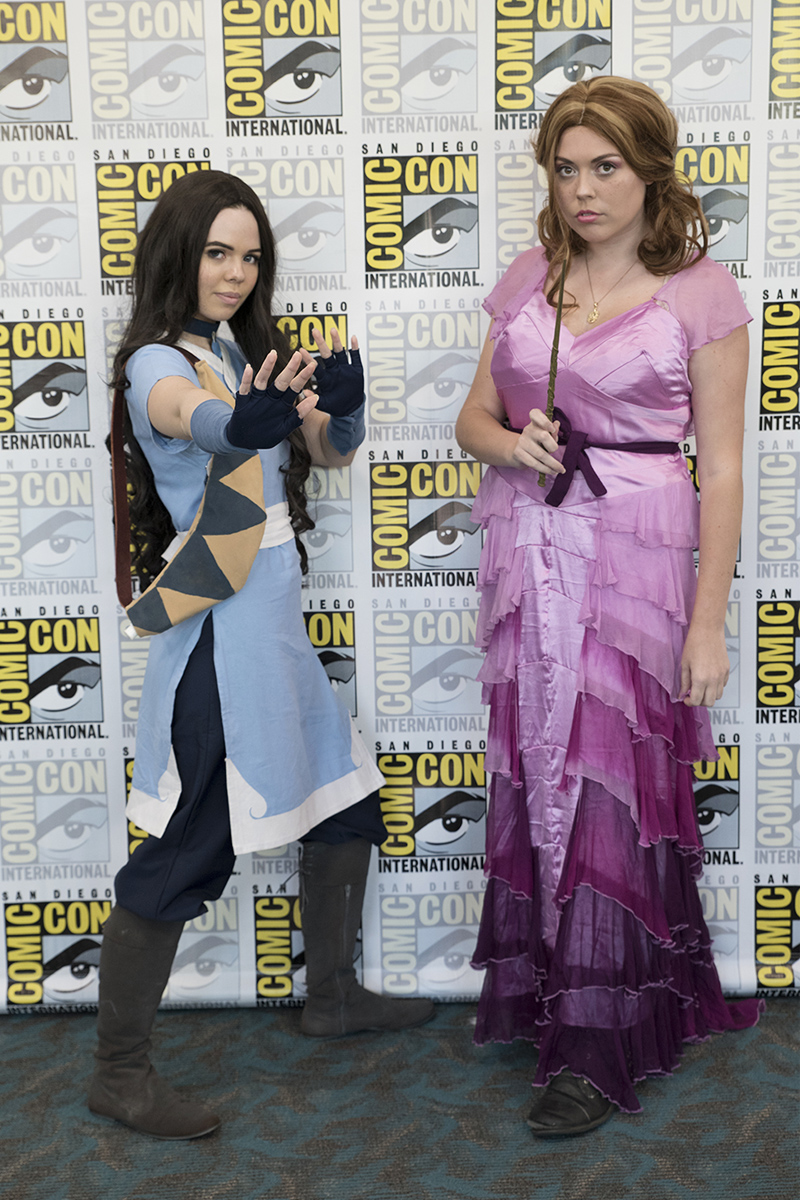 Courtney was Hermione in her Yule Ball gown from Harry Potter and the Goblet of Fire. An ever loyal Slytherin, she still repped her house in her necklace.
Luke looked amazing (and ready to kill some zombies) as Joel from The Last Of Us. I am SO impressed with all the detail and work he put into his cosplay to make it as accurate as possible. Can you believe this was a brand new shirt he had bought earlier that week? He, unfortunately, had a panel to run to so he couldn't stay long and hang out with all of us.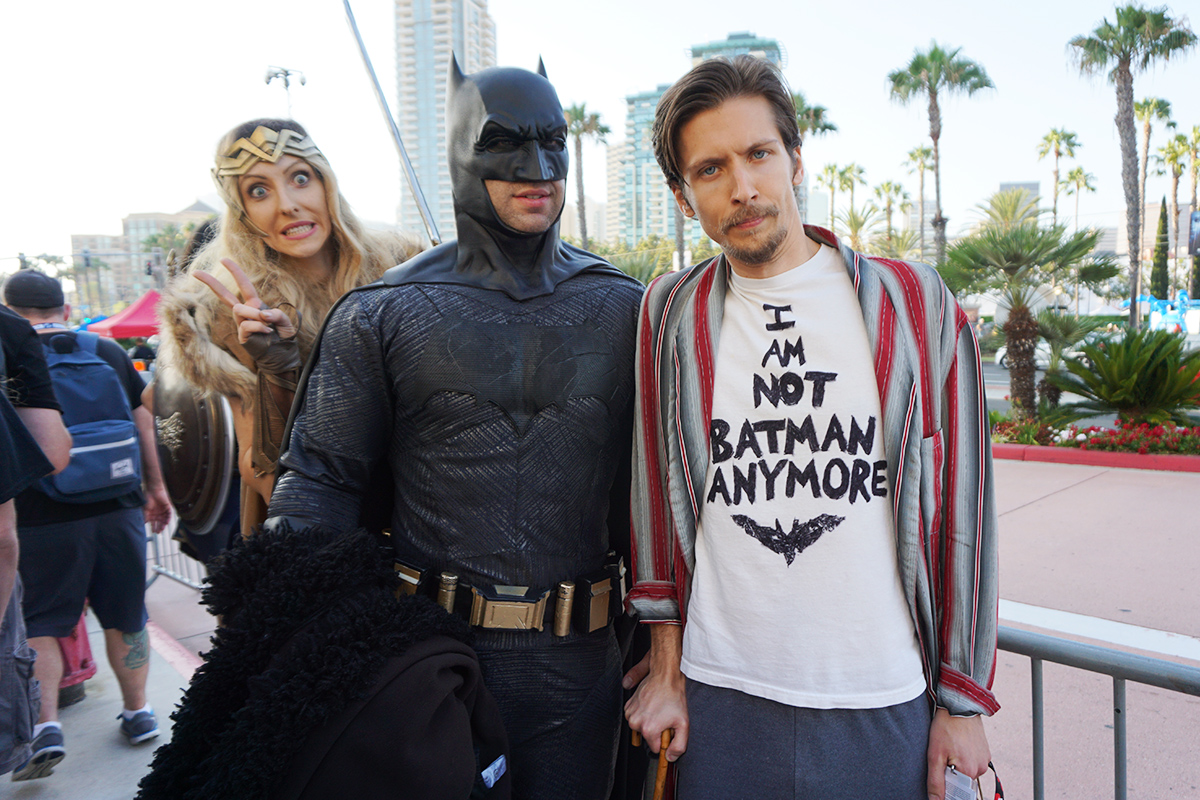 Kyle was a "retired" Bruce Wayne (a cross between Dark Knight Rises Bruce Wayne and Shia Labeof's "I'm Not Famous Anymore" look) which wins for most comfortable cosplay. We also randomly ran into our friend Bryan who ended up joining in our photo fun! He looked great as Kato from the Green Hornet.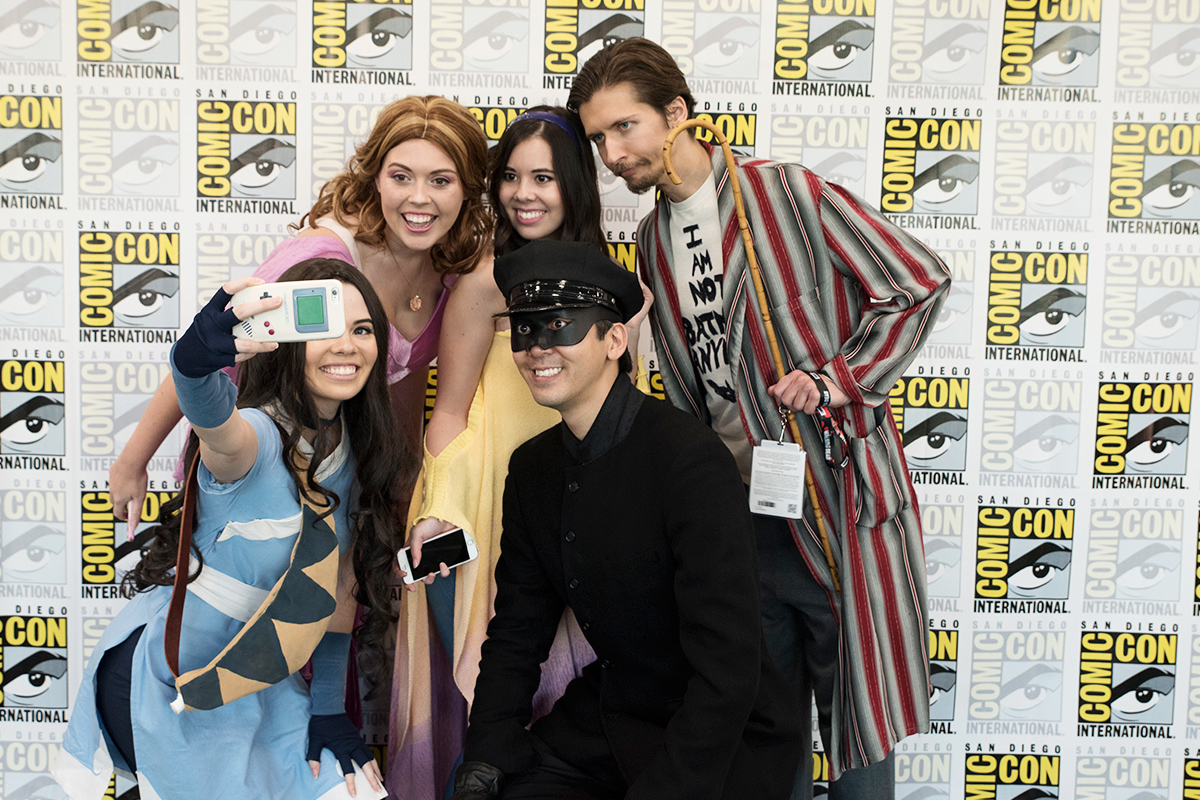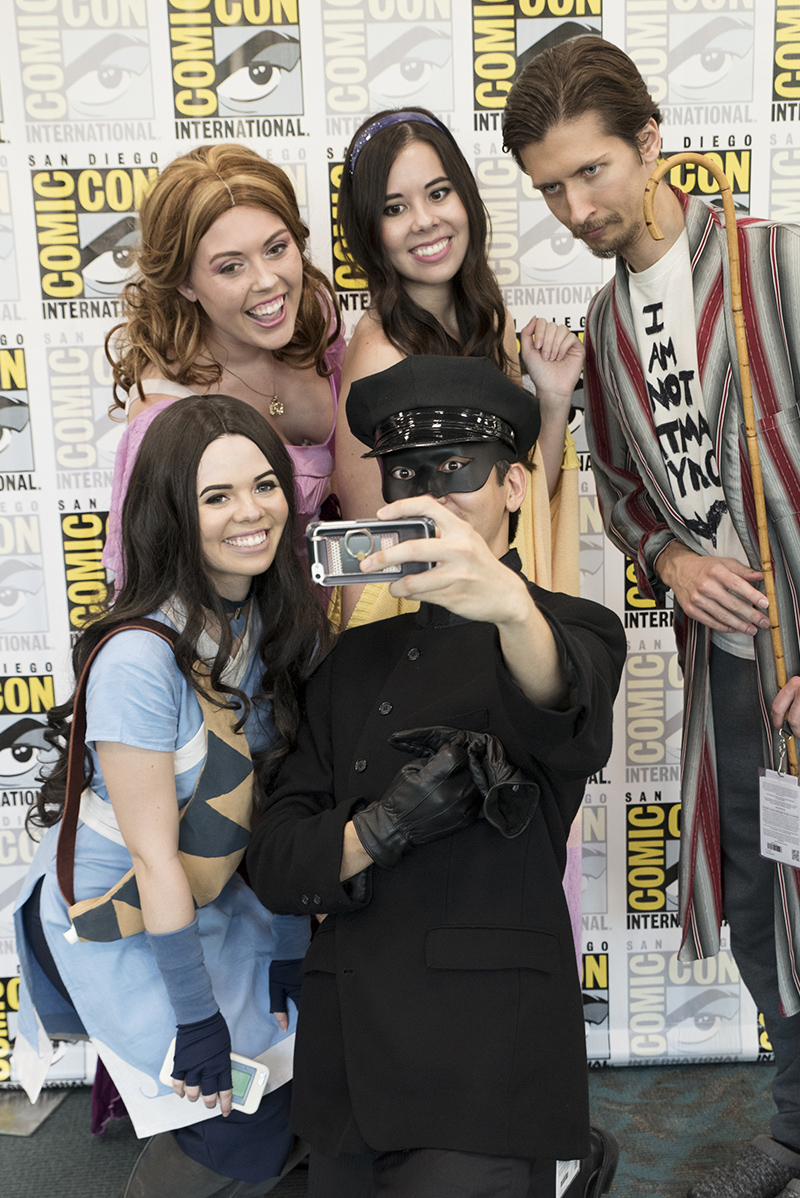 My dad wasn't the only person taking our photos. I had a handful of people ask for my photo throughout the day. It was less than usual though since I was running around the whole time. Since I was stationed in one spot for a while, I got more requests from attendees and other photographers as well. I love how this shot from Bentobyte turned out below!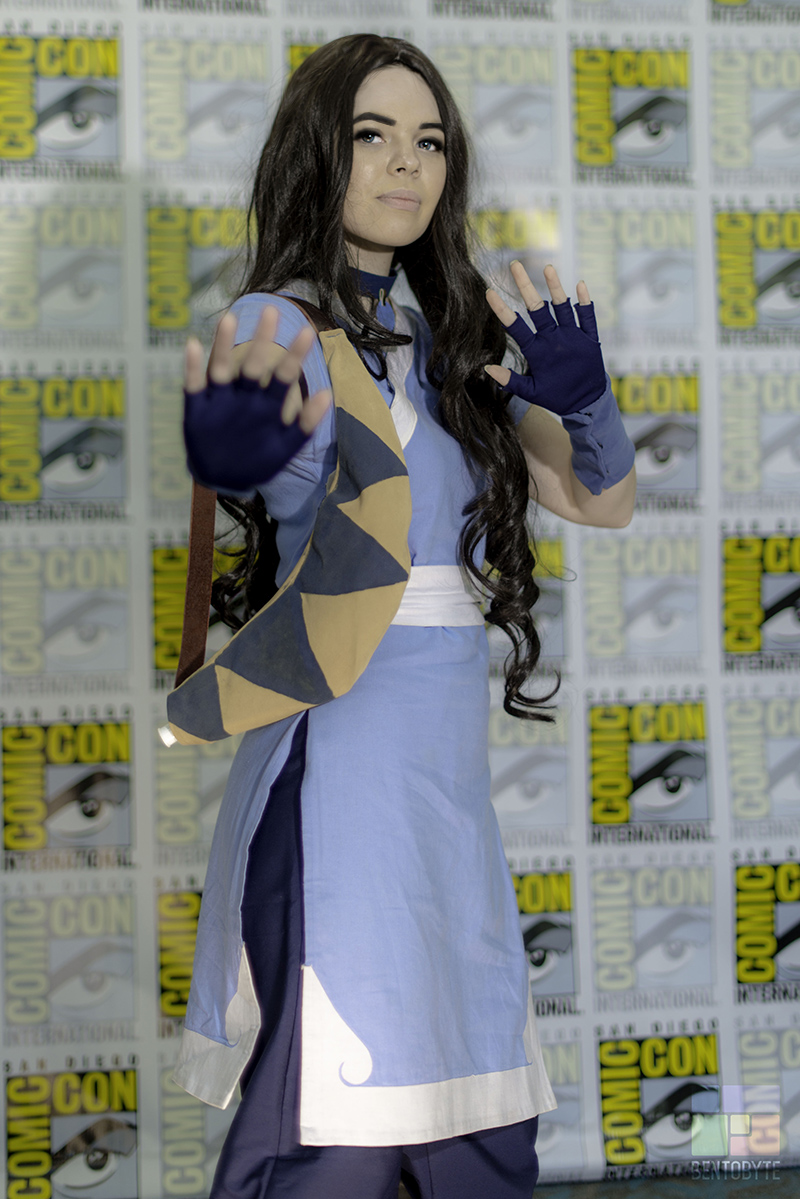 After we finished taking photos, I was so ready to head back to our hotel room. It felt so freeing taking off my long wig. I usually wear a wig cap, but my mom had done a special braid for me that tucked in itself. It looked beautiful from the back but seemed to pull and weigh the wig back making it a little uncomfortable. I also had to keep pulling the wig forward throughout the day. Wig-free, I was ready to rock this cute braid!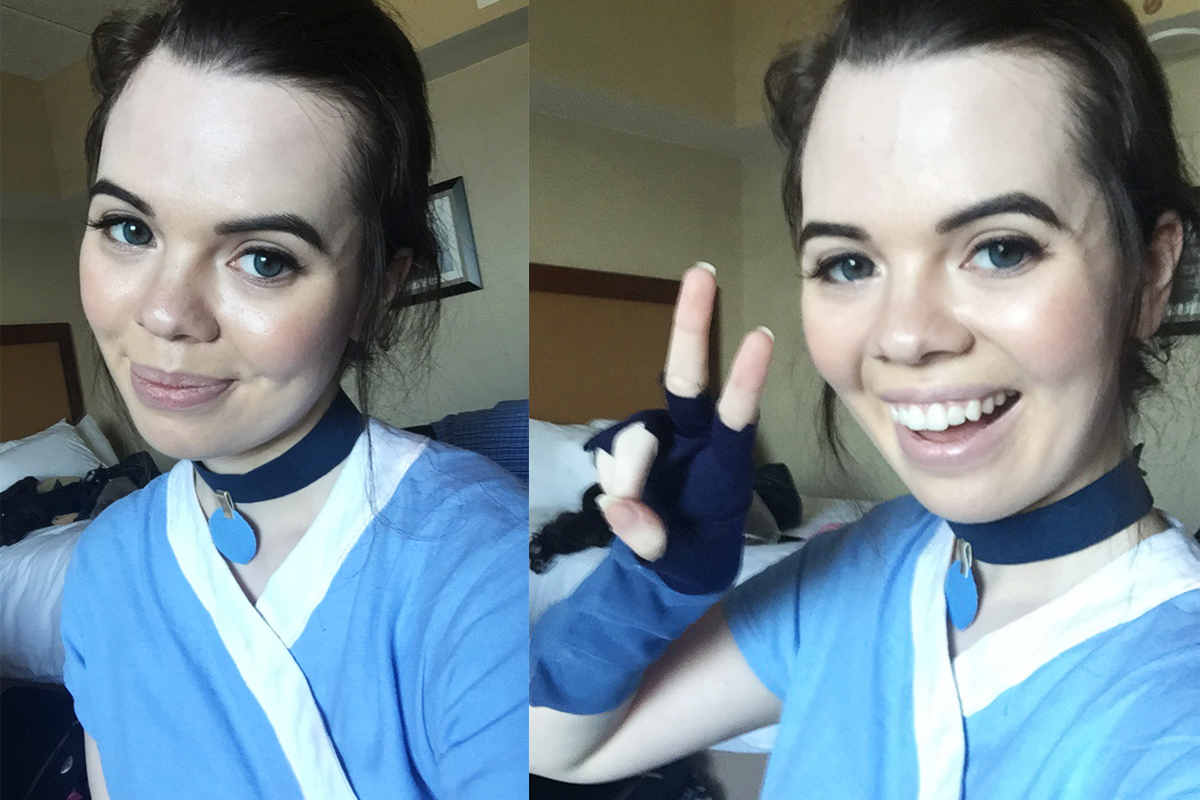 Dinner: Pho Time!
We were all feeling super hungry so we decided to head into the Gaslamp Quarter for some pho (yum!). We ended up at a little, and I mean little, restaurant called Food Shop. It was more of a takeout spot but we managed to gather some chairs and tables so we could all eat together inside.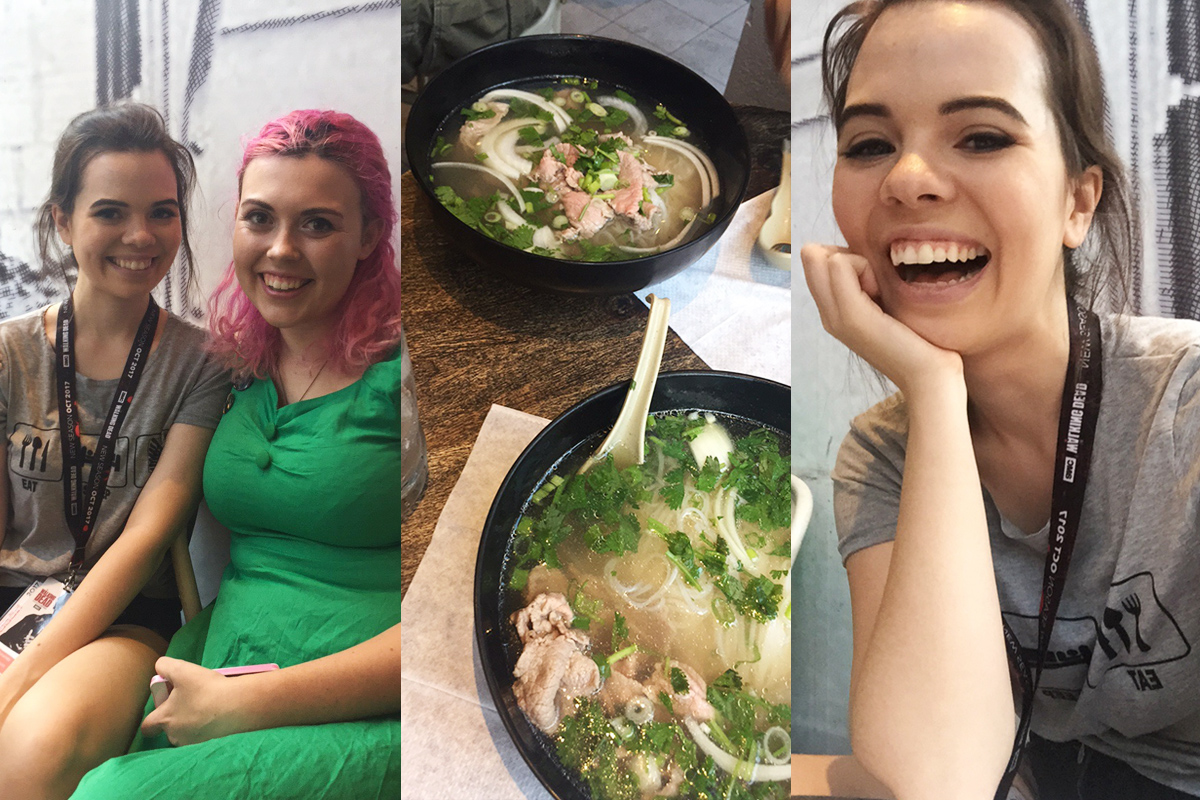 NerdHQ Dance Party
Come night time, our friend group gathered at NerdHQ for their annual dance party. We got our dance on to the Spazmatics who covered all the favorite 80s songs. We also checked off our annual Zachary Levi sighting. My mom, ever the finder of free food and well just free stuff in general, got me the most delicious treats! She grabbed a watermelon juice popsicle, cotton candy on a light up stick, and all the free soda we wanted. The party was still going strong after midnight but we headed back to our hotel for a shower and some sleep.
That's all for Thursday and Part One of this recap!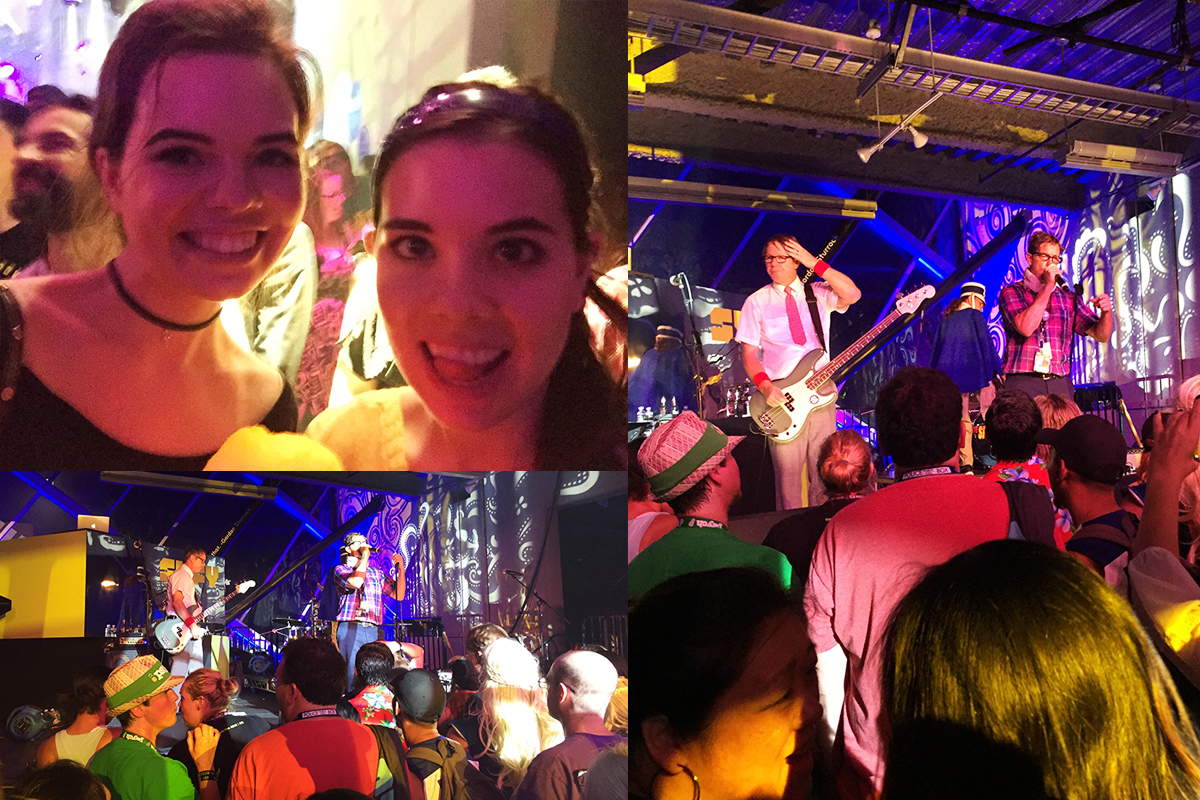 Part Two coming soon!
Check out my SDCC recaps from previous years!