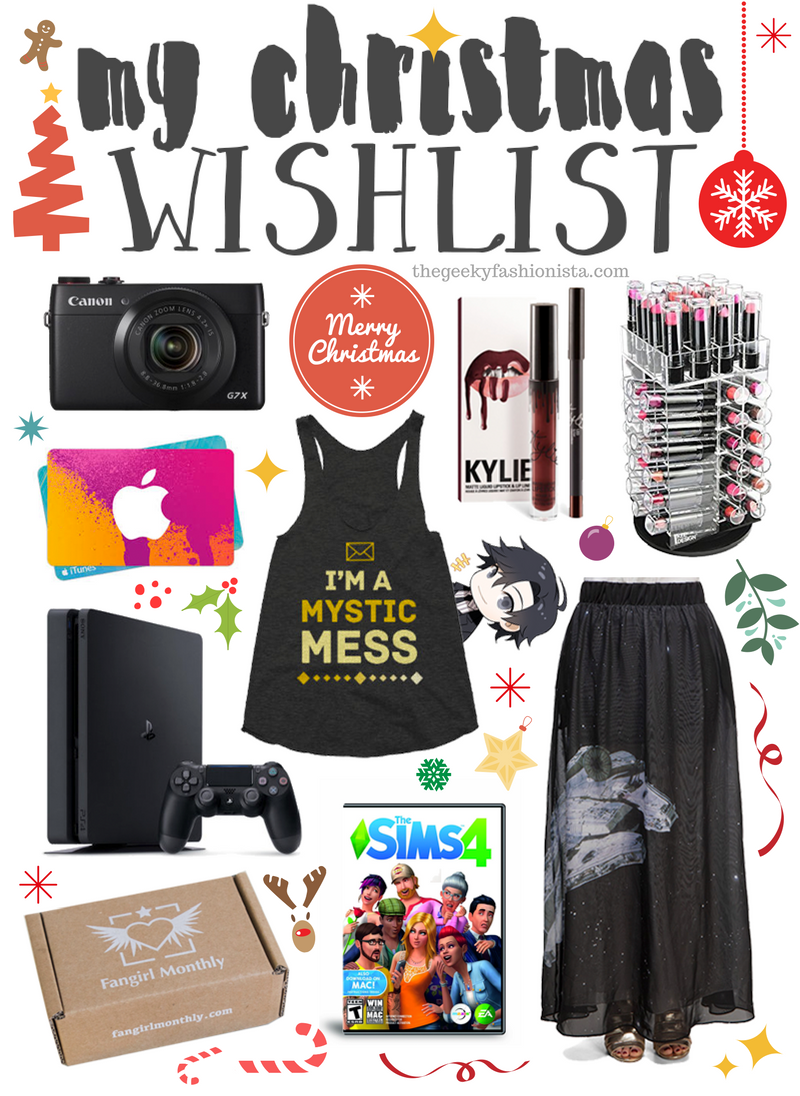 I can't believe it's only three weeks until Christmas! I've already finished up most of my Christmas shopping which makes me realize I'm probably putting this post up a bit too late to genuinely be useful to anyone (sorry, family!) as they too have probably already finished up most of their shopping…although, to give myself some credit, I actually think this is the earliest in December I've posted my Christmas wishlist in the 5+ years I've had this blog.
Yes, I think I've made a Christmas Wishlist every year since 2010 and even though I'm at the age now where if I really want something, I can just go out and get it for myself instead of hoping to find it under the tree from Santa (although those days were magical and Santa really did spoil me as a kid), I want to keep this post tradition going and share with you all what my personal wish list items are for Christmas (or otherwise)! 
My Christmas Wishlist
1. iTunes Gift Card – I used to shudder at the thought of paying for anything on an app until I came across Voltage Inc and their fun party games and stories and now Mystic Messenger. I love how even on days when I feel too nauseous or am in too much pain to even watch TV or read a book, I still can enjoy these apps on my phone or iPad. 
2. PlayStation 4
 – My birthday wishlist had two PS4 games, Attack On Titan: Wings Of Freedom and Psy
cho Pass: Mandatory Happiness despite the fact that I do not own a PS4. I still do not own a PS4 but I would still love to play these games as well as the new Final Fantasy
 hence why this is on my list.
3. Millennium Falcon Maxi Skirt – Maxi skirts are my favorite! They're easy to wear and make it look like I tried even when I have absolutely no energy. This Star Wars inspired skirt couldn't be more me! It's super pretty, classy, and subtly geeky. I love the one image of the Millennium Falcon on the side of the skirt instead of an all over print. The perfect amount of geek and chic!
4. Kylie Lip Kits – I feel like I'm the only person in the beauty world who hasn't tried one of these lip kits! Admittedly, I initially paid no attention to these because of the attachment to the Kardashians and the fact that they seemed impossible to get a hold of. However, I've heard only good things about these products and I'd love to finally try one out.
5. Subscription Box – I've mostly only done beauty box subscriptions, but would like to try out one of the many fandom/geek boxes out there. After looking at the many, many boxes now offered, I think I am most interested in the Fangirl Monthly box which offers anime & manga inspired jewelry and accessories based on a monthly theme. Their past Sailor Moon and Pokemon boxes looked amazing, and I'm excited to see what they do in upcoming boxes! 
6. The Sims 4
 – I haven't played the Sims in YEARS! Mostly because it's a black hole that I really can't afford to be sucked into and go MIA for days like I used to. Also, for years, I only had a laptop and it wouldn't have been able to handle the huge program and all the downloadable custom content that I use for the game (I'm sorry, but my house needs to part Hogwarts and part USS Enterprise). Now that I have an awesome desktop computer that could actually support the game, I'm anxious to give it a try again. It would be neat to see all the new features plus my boyfriend playing Minecraft has really given me the itch to do some creating myself.
7. Camera Equipment – I'm hoping to start my Youtube channel back up again next year and to also take my blog photos (both product shots and fashion shoots) to the next level. I've done some research into camera equipment and made a little personal Amazon dream wishlist. Some of these items would be a new camera body (I currently have the T3i
which I love, but I wouldn't mind updating
especially for the silent autofocus feature), get some new lenses (I'd love the Canon EF-S 10-18mm f/4.5-5.6
or the 24mm f/2.8
), some lighting
or a proper tripod
, and finally a handheld camera (the Canon G7X
would be at the top of the list). Most of these are more like dream wish list items that will take a lot of time to save up but hopefully I can treat myself eventually.
8. Makeup Organizer
 – I used to take such pride in my makeup storage organization but now it's mostly just "here's what I reach for most often" stuffed in my 3 Drawer Makeup Storage Organizer (which I love) on my dresser. With me purging a lot of my old makeup, I thought this would be a good time to revamp my makeup storage. One item I came across and really loved is this amazing rotating lipstick tower
. I have a lot of lipsticks but so many go overlooked because (especially with my MACs) I'm too lazy to go into my lipstick drawer and look at the bottom of each so I just stick to whatever I have on my dresser currently. I love how easily accessible and identifiable this will make my lip products while displaying them in such a pretty way. 
9. Mystic Messenger Anything – I think anyone who knows me (or follows me on Twitter) knows about my obsessions with Mystic Messenger. It has definitely helped get me through some of my worst sick days being a huge source of comfort, laughter, and entertainment. I even met one of my now closest internet friends because of the game. I'm not exaggerating when I say I would love anything and everything Mystic Messenger related. I already have the official VIP package so any other merchandise will basically be fan-made. There is some super cute stuff on Etsy including this very "me" tank or these adorable charms.
10. Other – I'm on the lookout for a cute iPad case, iPhone cover, wallet/change purse, and of course a new planner for 2017. 
What's on your Christmas wishlist?