Less than 2 weeks until my 27th birthday?? Whaaa–?? Where has the year – no, YEARS gone?? I can barely wrap my head around the fact that I'm in my "mid-twenties" – it just seems too crazy! When did I become a "grown up?"
Every year, the calendar indicates I get older, but I certainly don't FEEL any older. Okay, my metabolism is pretty much shot and yeah, I've got a lot of health issues I'm dealing with but mentally I don't feel older. Just check out the things on my birthday wishlist. ^^
My 27th Birthday Wishlist
Every year, family (and this year, my boyfriend) ask me what I want for my birthday and each year I respond by giving them a probably-too-late list of ideas that I take far too long compiling because, honestly, I usually don't know what I want either. This year was no different. XP
1. Pokemon Go Plus
– I'm still playing Pokemon Go and loving it. Two things I don't love about though are how you always have to be paying attention to the phone screen with the app open and it drains your battery like nobody's business. This accessory solves both those things! My phone can be locked (with the app running in the background), saving tons of battery life and I can still hatch eggs, get candy, catch Pokemon, and collect items at Pokestops without having to look at my phone screen!
2. Star Trek 50th Anniversary 3000 Piece Puzzle – In case you didn't know, I love puzzles and Star Trek so I was so super excited when I found this beauty of a puzzle that features something (character, alien, ship, structure, etc) from every Original Series episode – so cool!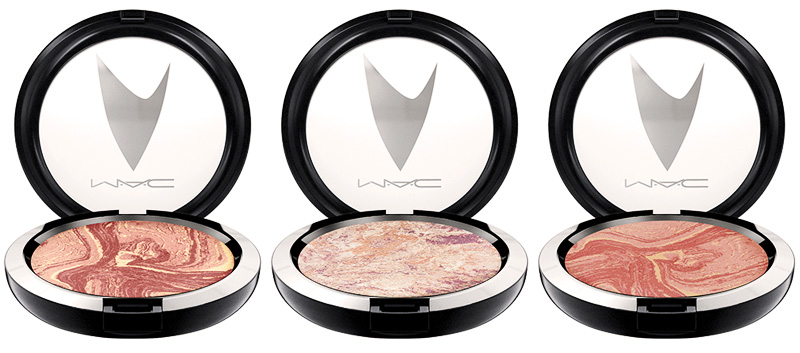 3. MAC Star Trek Collection Trip the Light Fantastic Powder in Highly Illogical or LLAP Lipstick – After checking out the entire very stunning but also very glittery collection, I decided on these two products as my top choices. The 3 powders are definitely my favorite items from the collection (don't they look gorgeous, above) – it took me some time to decide which one I liked most but finally settled on Highly Illogical (sheer golden plum just sounds so pretty and unique). For the lipsticks, I was originally set on Where No Man Has Gone Before which is a pretty pink color, but changed my mind after seeing some gorgeous swatches of LLAP's unique rose gold shade.
4. Rice Cooker with Food Steamer & Slow Cooker
– The one "grown up" item on my list. I have a rice maker that was given to me for free which is cool… but it makes terrible rice. There's a sale right now on this one according to Slick Deals at NewEgg which is why I have my eye on him plus the reviews on Amazon are pretty good. Still, $100 on a rice cooker may seem extravagant, but I know I'm going to have to upgrade eventually, and I'd rather just invest in something that I know will last.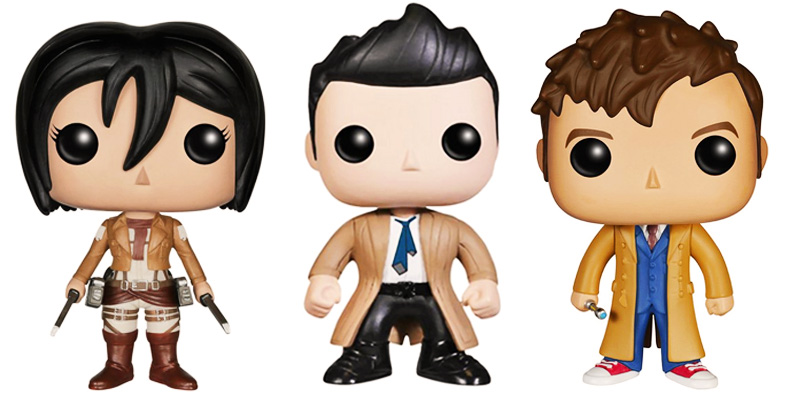 5. Funko Pops – Believe it or not, I actually don't own a single Funko Pop. I think they are so cute, and I love looking at other people's collections. However, I don't know how to start my own as I get overwhelmed at all the choices and want to buy them all – which makes them a great gift! You choose for me! To give you some ideas: Jedi Luke (Return of the Jedi)
, Mikasa Ackermann (Attack On Titan)
, Tenth Doctor (Doctor Who)
, and Castiel (Supernatural)
.
6. Attack On Titan: Wings Of Freedom for PS4
– I've already told multiple people this but the best early birthday present I've received so far is that the second season of my favorite show finally has a confirmed release date: April 2017. Sure, it's still a ways off, but I've been waiting 3 years, I can wait a few more months. In the meantime, I can whet my appetite with the PS4 game that I've been waiting to play since it was announced! Yeah, I don't have a PS4 but, luckily, I know some people that do and hopefully they don't mind me borrowing it…
7. Psycho Pass: Mandatory Happiness For PS4
– Another PS4 game for the PS4 I don't have? That's right. I'm also a big fan of this anime and it's world, and I'm really intrigued at the idea of this being a huge, complex visual novel.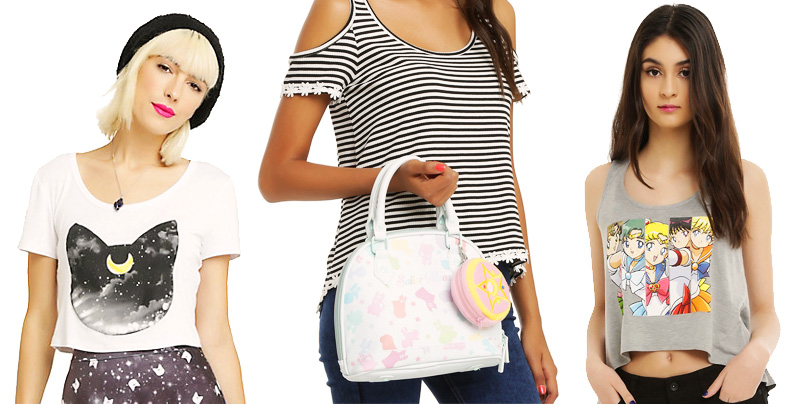 8. Sailor Moon Luna Head Girls Crop Top – Hot Topic has some many amazing Sailor Moon items (some of them more practical than others). I restrained myself from putting the moon rod or chalice on my list (although that transforming compact set is pretty sweet) instead opting for this super cute crop top that I know would get plenty of wear-time. This satchel (middle) is also uber adorable along with the change purse, and this tank top is great too.
9. BECCA Shimmering Skin Perfector Pressed Powder in Opal
– I'm obsessed with BECCA products and yet only own their Under Eye Brightening Corrector (which I love). I've often thought about what should be my next purchase. After MUCH swatching at Sephora, I decided on this pressed powder that gives you the most gorgeous glow.
10. Custom Plush or Build-A-Bear Evee: Every year, a custom plush makes my list because I'm a sucker for custom anything and stuffed animals/plushies in general. I'd love to get a Budsie one day modeled after my cat or a drawing I made. I'm a big fan of The Dolly Maker's work on Tumblr and hope to get a commission done from her some day too. Not quite "custom" but I do love Build-A-Bear as well and you're now able to get Star Trek, Star Wars, and even Pokemon stuffed animals! They have Pikachu, of course, and recently released one of my favorite Pokemon: the Evee! Unfortunately, the Evee is sold out online so I didn't link it but can still be found in stores.
Other: I'm on the lookout for a cute/nerdy mousepad and iPad case. Also Look Human is having a sale, and I've been eyeing their fun racerback tanks for some time (but like Funkos
, I got overwhelmed by all the options). Overall, I'm a fandom girl so you can't really go wrong with anything Star Wars, Star Trek, Attack On Titan (especially anything Jean), or Sailor Moon.
Family and friends: I hope this was helpful. Everyone else: I hope you enjoyed this look into a geeky girl's birthday wishlist and maybe found something you'd like to check out yourself.
What's on your wishlist?