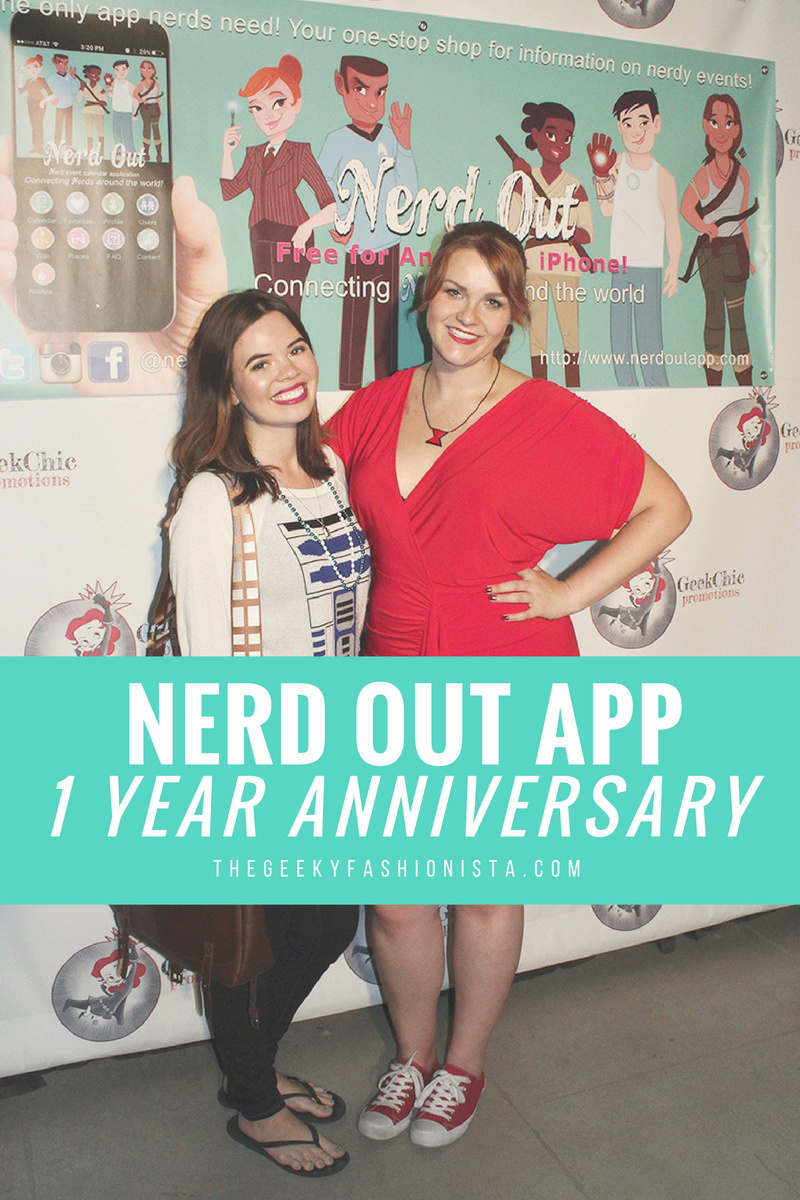 Sincere apologies to Elle on the supreme lateness of this post! I was invited to cover the Nerd Out 1 Year Anniversary Party, and if my health already putting me behind on posts wasn't bad enough, I lost this entire post after writing it up. As you can imagine, it was beyond frustrating. You've already heard it a couple times now and it will probably be my motto this month as I try to catch up on last month's posts but….better late than never, right?
Last month, I attended the wonderfully fun and geeky 1 year anniversary party for Nerd Out at The Perky Nerd in Burbank and what a party it was! Read on for all the nerdy details!

I'm so glad you asked! Here is the direct description from their site:
Nerd Out is a mobile nerd event calendar application available for download on Apple and Android devices. Never miss an event again! A safe place for adults & kids alike to discover nerd inspired events in their local areas while also showcasing thousands of events from around the world. Moved to a new area? Going on vacation? Find nerd events wherever you're located. Build your own schedule, connect with friends and even submit your own events (we're user submitted!) Updated 5 days a week!
Um, how cool is that?? I think it's an absolutely genius idea! I used it to find out about the Star Wars cosplay gathering during San Diego Comic Con! I'm also planning on going to some local cosplay/sewing groups that were listed on the app! It's such an amazing and easy way to find nerdy events and meet other people who have similar interests and passions in your city!
I remember when the app first launched – it's so crazy to think it's now been a year and to see how much it has grown! Definitely something worth celebrating!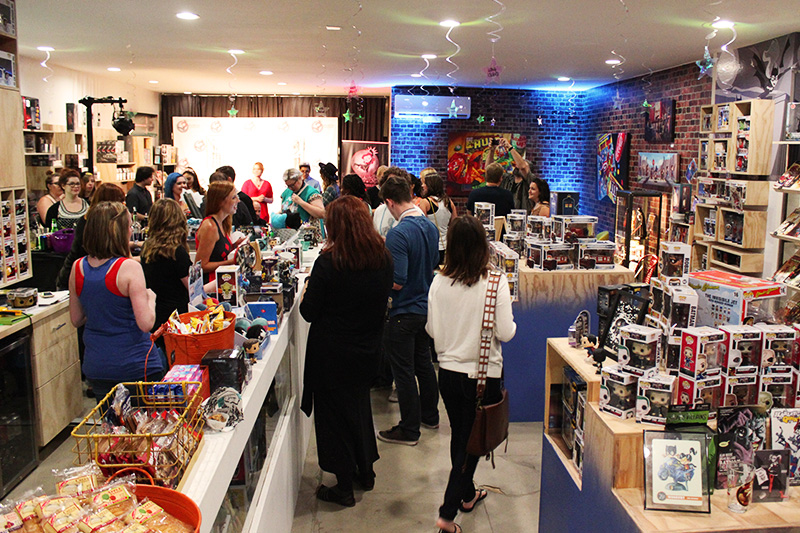 The party took place at what is now one of my new favorite spots, comic book/coffee shop The Perky Nerd in Burbank. First off, I love how it is both a comic book AND a coffee shop. So cute. Second, I can't believe that a place like this exists just minutes from where I live and this was my first time visiting it! Boy, have I been missing out!
The shop is so charming and, while not huge, makes great use of its space. There's the obligatory wall of comics, a cozy little sitting area to read and drink your coffee, and nerdy goodies like Funkos, superhero posters, action figures, and board games are displayed throughout.
They also host a variety of events including trivia and board game nights among others! My sister and I recently went to their Harry Potter Family Day which, while aimed more towards children, was still super fun!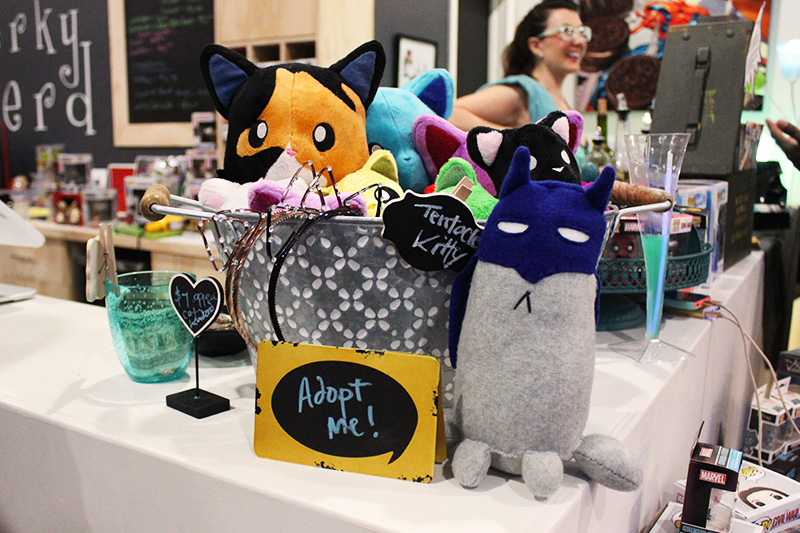 I was so tempted to take one of these little guys home – so adorable!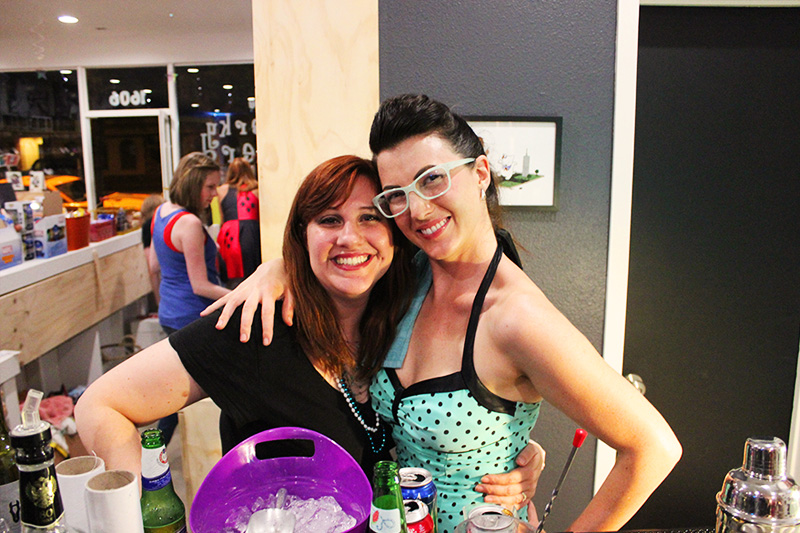 The awesome party wouldn't have been possible without the lovely ladies of Geek Chic Promotions (Kristen and Ruthann, above) who excellently incorporated the nerdy and tech theme into everything from the decor to drinks. A few examples: glow sticks in the drinks, stars hanging from the ceiling that listed locations that are available on the app, and a rock candy cake! I also love how they not only do all the planning for their events, they also act as the bartenders! Talk about a full package service!
I must admit, my favorite part of any party is usually the FOOD. The two lovely ladies of Kneady Bakery (Ashley and Kati) served up the tastiest (and nerdiest) desserts of any party I've ever been to. I was completely taken by the variety of treats and their clever nerdy names and decorations.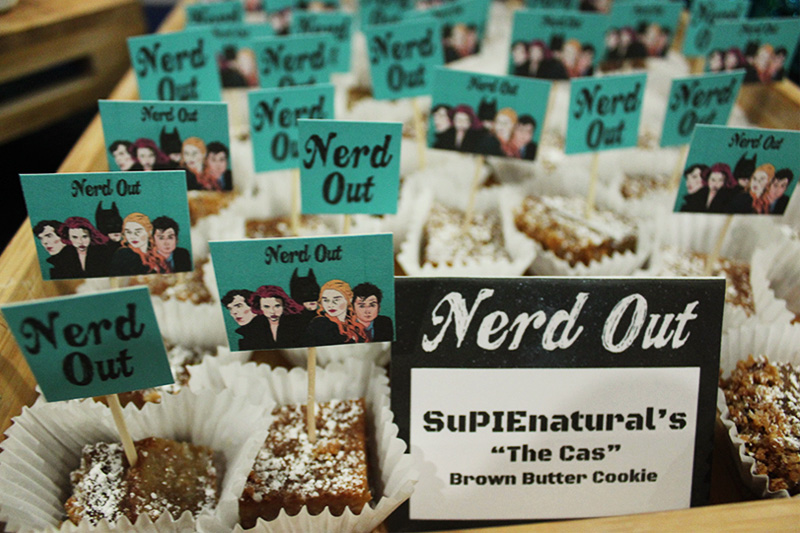 My favorite dessert was probably the "The Cas" SuPIEnatural, a Brown Butter Cookie Pie. I've never had anything like it and now just thinking about it makes my mouth water. I might have pre-ordered one of these for Thanksgiving already…although I do wish I didn't have to wait that long to taste one of these again. It was seriously heavenly.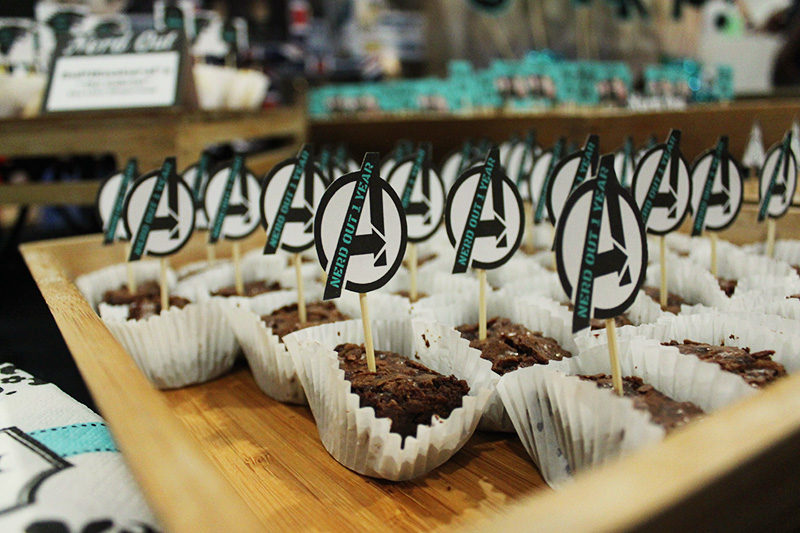 The Robert Brownie Jrs were also quite yummy!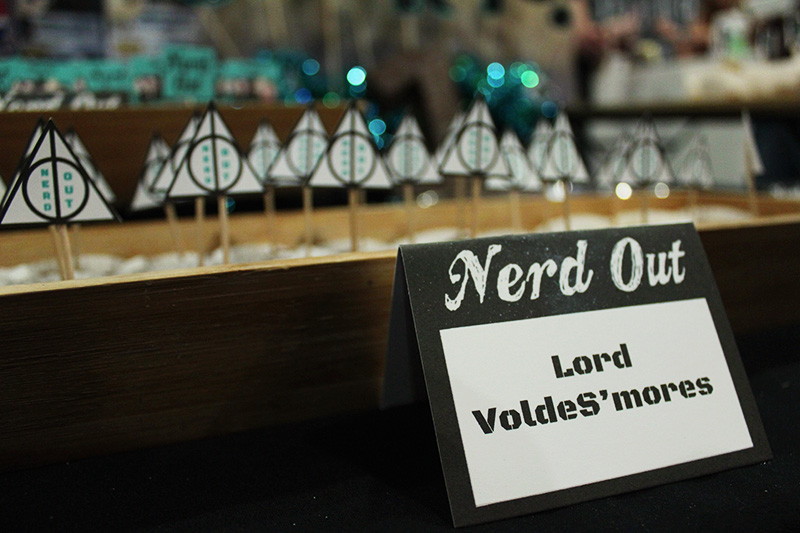 How great are these names??
My boyfriend and I both laughed at this little Star Wars reference on the SuPIEnatural "Chuck Almighty" Birthday Cake Cookie and "The Gabriel" Key Lime Gingersnap treats.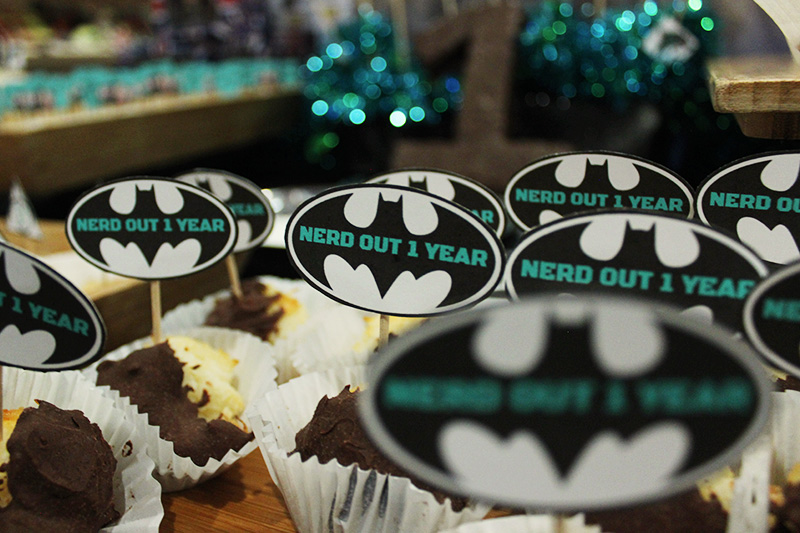 Are these photos making anyone else hungry?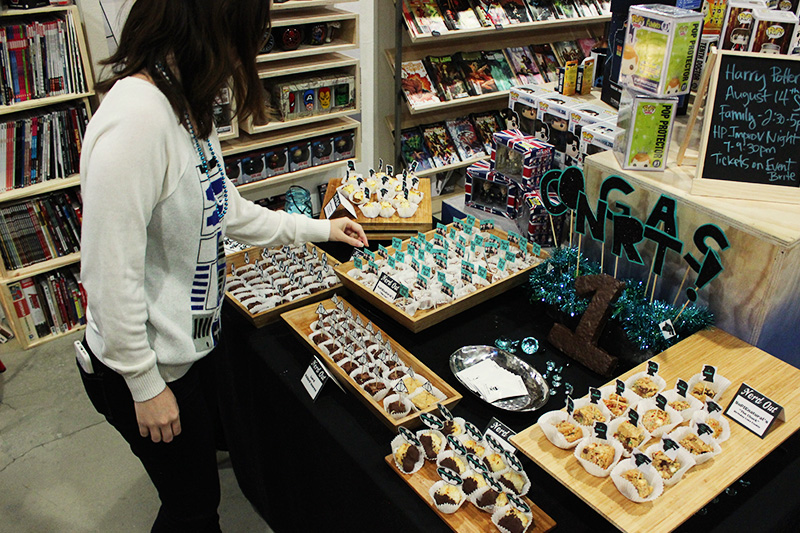 So many yummy desserts…which will I choose? Spoiler: I had 2 or 3 of each and then took a couple home…the girls insisted!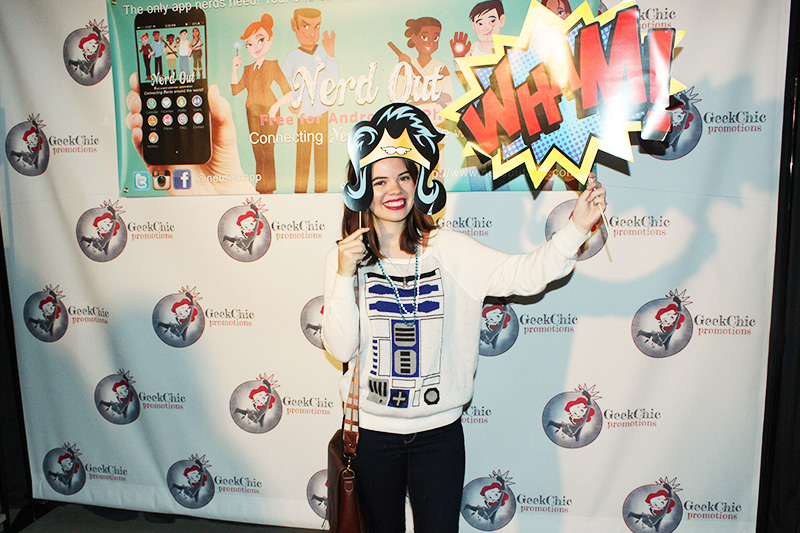 WHAM!! There were fun comic-related photo booth props and signs for guests to wear against the photo backdrop.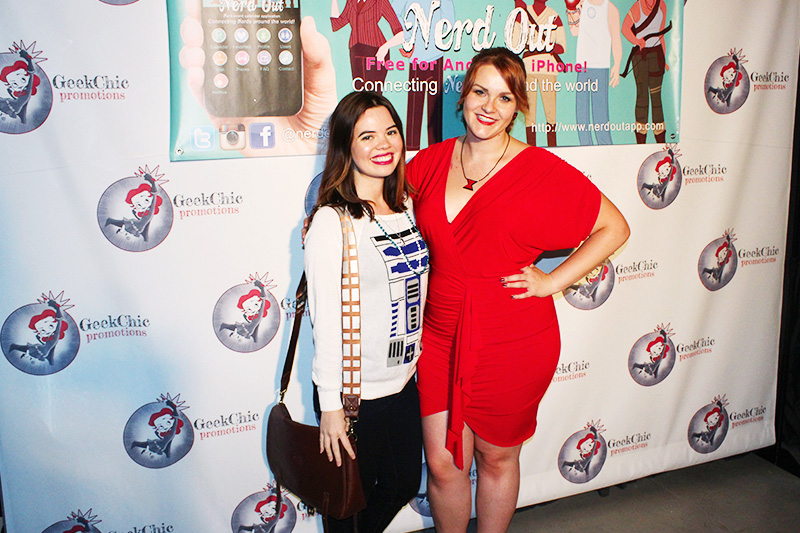 Here I am with the beautiful and beyond amazing founder and CEO of Nerd Out, Michelle, or Elle as some may know her from her blog Your Friend Elle. I've followed her and her blog on social media for quite some time so it was so great to finally meet her in person. I know I can be somewhat awkward at first in social settings (especially when I don't know many people there) but she was so warm and friendly towards me. She introduced me to the Geek Chic gals, took her time to speak with me one and one, and overall made me feel welcomed and comfortable which I appreciated more than I can say. On top of all that, she has such an infectious energy and presence, you can definitely see why people are drawn to her. What a #girlboss.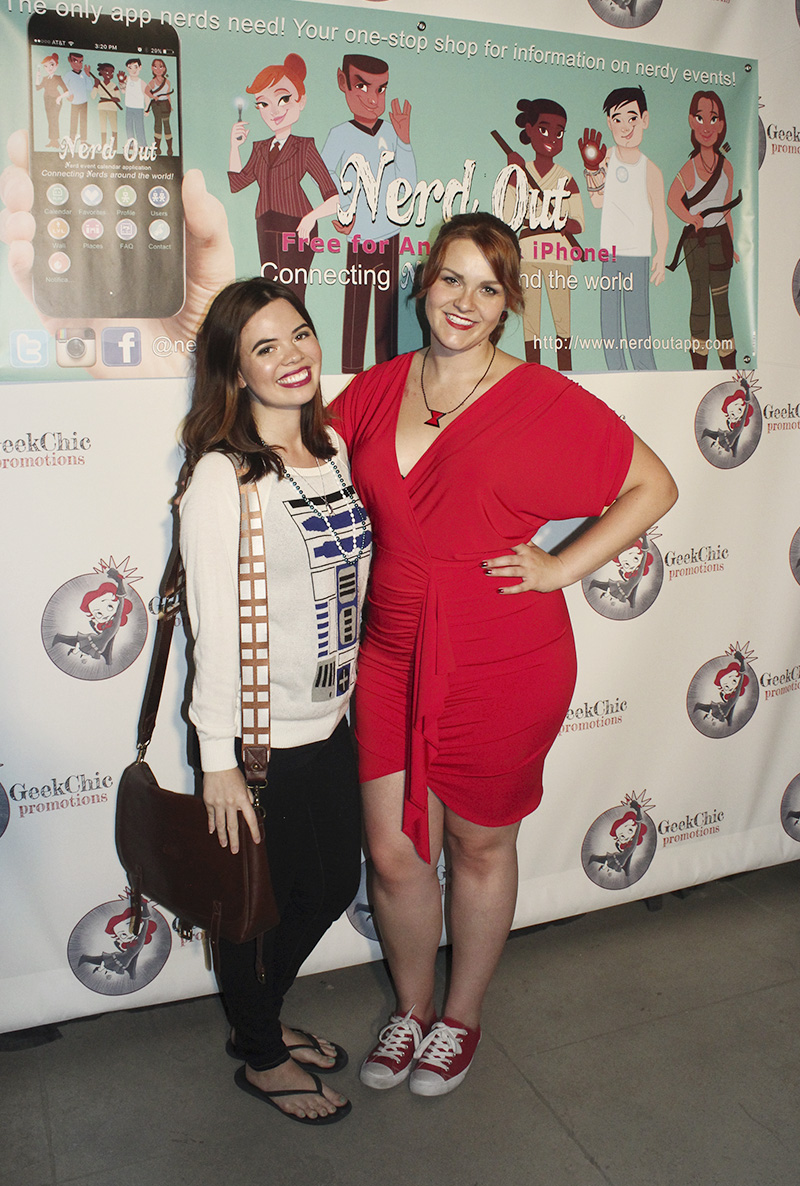 I love how Elle paired red sneakers with her dress! Doesn't she look so fab?
My "party" outfit was pretty casual – I wore my WeLoveFine R2-D2 sweater, Chewbacca bag from Costumes.Com, and R2-D2 necklace from Hot Topic. The blue and white bead necklaces were given to guests for an ice breaker game (which I didn't do too well on…).
How awesome is this rock candy cake? Sorry I couldn't get a better photo…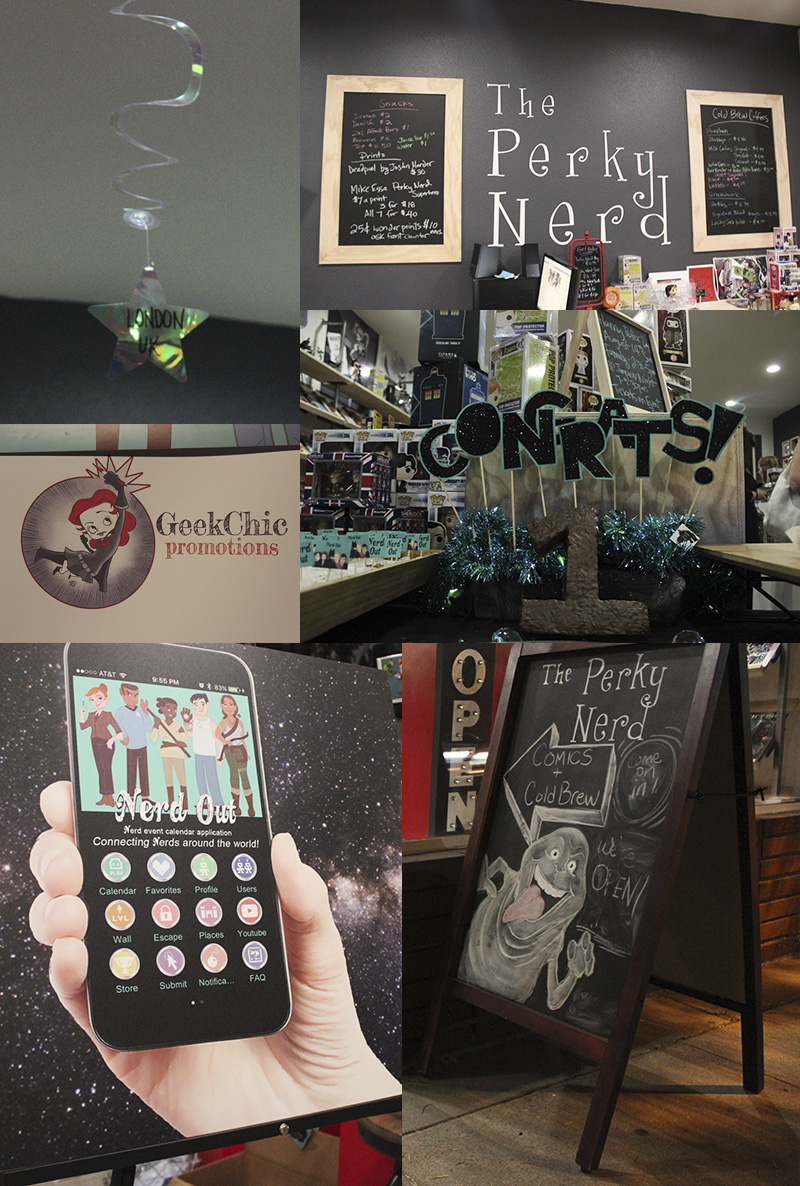 Congrats to Nerd Out on a wonderful first year! I'm sure incredible things await year two! Thank you to Elle for inviting me to join the party and to all the lovely ladies who made such a celebration so enjoyable! All you geeky lady bosses were a pleasure to meet and have given me so much encouragement and inspiration to pursue my own geeky entrepreneurial dreams. Keep being awesome and doing what what you're doing!
Have you downloaded the Nerd Out app yet?