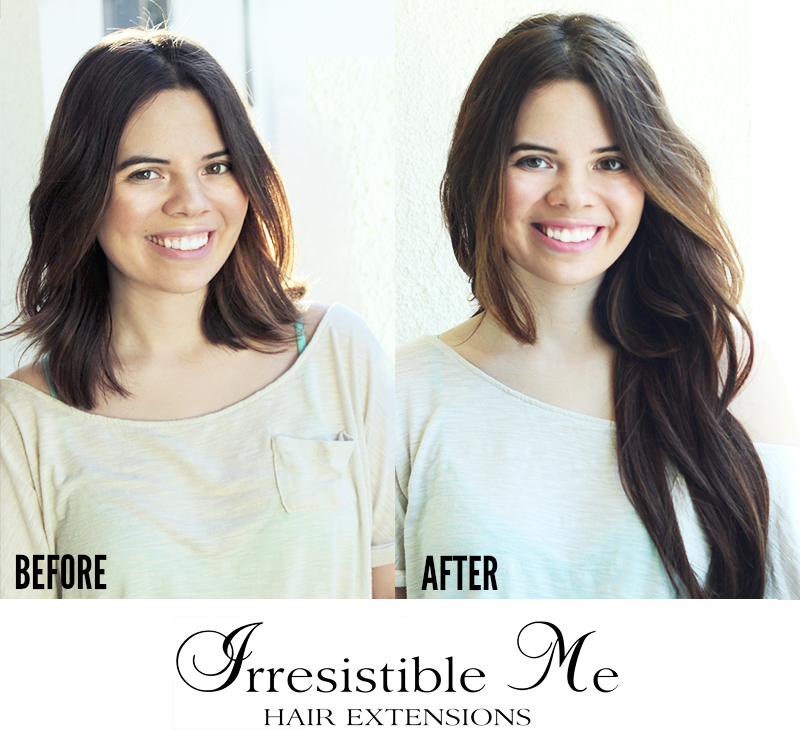 Today I will be sharing my Irresistible Me Hair Extensions review. The company, which specializes in 100% natural Remy clip-in hair extensions, hair accessories and hair tools, reached out to me a couple weeks ago asking if I'd like to try out their hair extensions. Even though I had long hair at the time they contacted me (almost as long as their extensions), I had been wanting to cut it short for some time but had a few hesitations. First a little background on my hair – I've had it long for as long as I can remember and it's relatively thick. For years, this long, thick hair was one of my favorite and most complimented features and my safety blanket – I was super self conscious about having a rounder face and felt the long hair gave it the illusion of looking leaner. Today, I'm not quite as self conscious, but I was afraid that once I cut my hair, I would realize the short hair didn't suit me and that I also would miss having my long locks. To calm these fears, I had previously looked into hair extensions but got overwhelmed and gave up. 
Enter Irresistible Me. When they contacted me, I was at the point where I was so unhappy with how damaged my hair had become, I was ready to just throw caution to the wind, and get it cut. Once so soft, my hair now felt dry and course no matter what hair masks and conditioning treatments I did and full of split ends (most likely the result of rarely cutting or trimming it to keep its length). What my hair needed was a fresh new cut to give it a fresh new start. With the assurance of having these hair extensions as a backup in a worst case scenario, I cut off over 12 inches of hair and got myself a nice little lob haircut. Luckily, I ended up loving the haircut but it does feel super strange not having long hair anymore. 
Fortunately, with these super easy to clip-in hair extensions, I can have the best of both worlds anytime I want!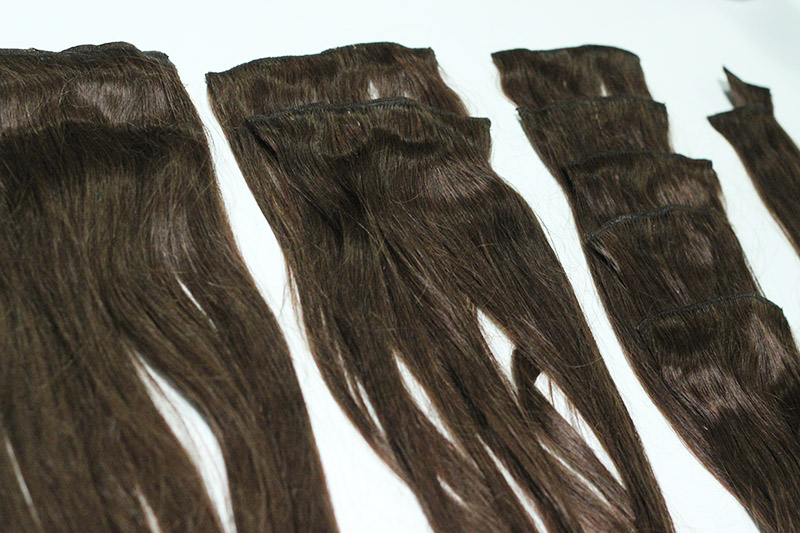 Choosing the Right Hair Extensions
Irresistible Me offers five different types of clip-in hair extensions: Signature Weft, Silky Touch, Royal Remy, Volume Vixen, and Ponytails. I was sent the Medium Brown, 24 inch, 200 grams extensions from the Silky Touch line. Here is what Irresistible Me has to say about this line that ranges from $89-$229:
"Silky Touch is our best-selling line made with 100% human Remy hair. These hair extensions are fantastic quality for a friendly price and can be very easily styled, cut, colored and curled to blend in your hair perfectly. The thickness of the hair decreases very slightly towards the ends just like normal hair does which will provide a completely natural look while wearing them. The Silky Touch extensions are perfect for anybody who loves adding a bit of volume and/or length to their hair occasionally or for special events and offer the best quality/price ratio on the market. If you're just starting with hair extensions and you want something great, the Silky Touch clip-ins extensions are the way to go."
As a beginner with hair extensions, they sound perfect for my needs! On the other hand, there's also the Royal Remy premium line that ranges from $139-329 for those a bit more experienced and ready to make an investment:
"Royal Remy is our premium line made with 100% human Remy hair. We use top of the line hair and a special treatment unique to Irresistible Me to add extra silkiness and durability and make these the best hair extensions you can find. The thickness of the hair is amazing – the same from the top of the weft to the bottom. This provide a lot of body and bounce while wearing them. Ultimately, the Royal Remy hair will last longer and is the closest match you can find to completely unprocessed hair. This line is also very easy to blend with your own hair and can be very easily styled, cut, colored and curled. If you're looking for longevity and volume, the Royal Remy line is the best choice you could make."
Once you've decided what line of extensions is good for you, it's time to choose a color, length, and weight. 
To help you determine your right shade, it is recommended that you take a few minutes to watch this video:
It shows HD side by side comparisons of all the different colors they offer. After watching this video, I decided the Medium Brown (#4) was the closest to my natural hair color. I got a balayage done just a couple months ago so I know it won't blend in perfectly, but it shouldn't be too noticeable. If none of the colors looks right for you, consider getting a lighter shade and then dying it to match yours exactly.
The lengths range from 14-24″. I figured you might as well go big (or long in this case) or go home and decided to go for the 24 inch. For this length, there is only one weight option – the 200 grams – which means it comes in a 10 piece set that consists of one 4-clip weft, two 3-clip weft, five 2-clip wefts, and two 1-clip wefts.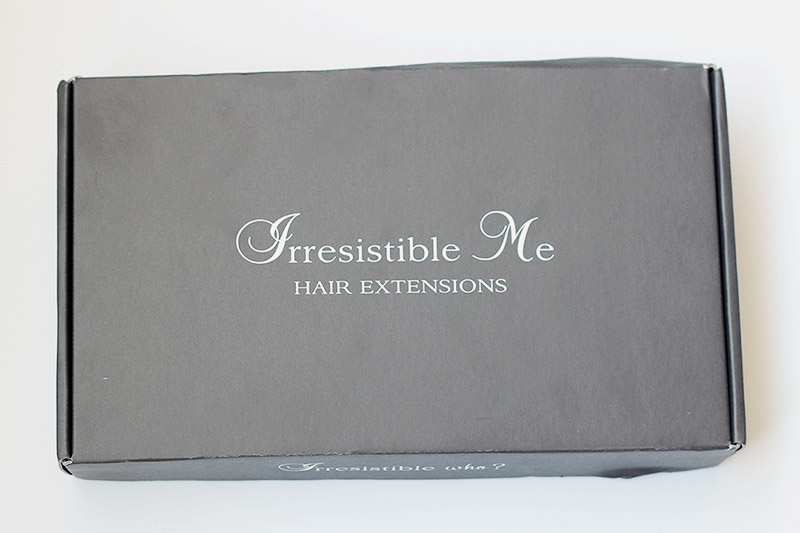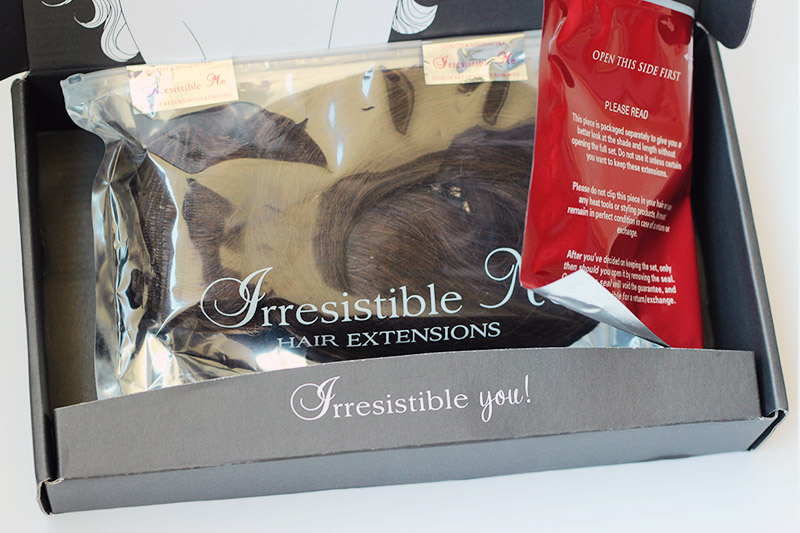 Shipping & Packaging
I was pleasantly surprised at how quickly I received the extensions (considering they came from China). The black box they came in is very cute, but it is a bit thin and the bottom of it got quite beat up in shipping. Doesn't look too attractive if you were hoping to keep the box for storing the extensions. I would recommend they get sturdier boxes (like Influenster's VoxBoxes) instead of just packing it up unpadded in a thin plastic Fed Ex bag. Luckily, the extensions themselves were sealed up safe and sound and in perfect condition.
Upon opening the black box, I saw a zip up bag containing the hair extensions. One side said "Open This Side First" and it contained a 3-clip weft piece packaged separately so I could look at the color and length without opening the full set for once you open the full set, you cannot return or exchange it. Once I confirmed everything looked good to go with this initial piece, I took out the full set which was neatly bound together by a rubber band inside a thin net pouch.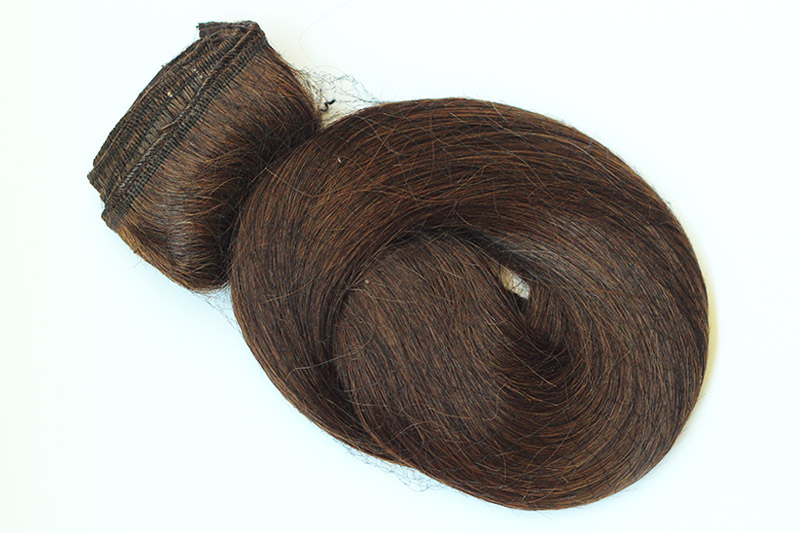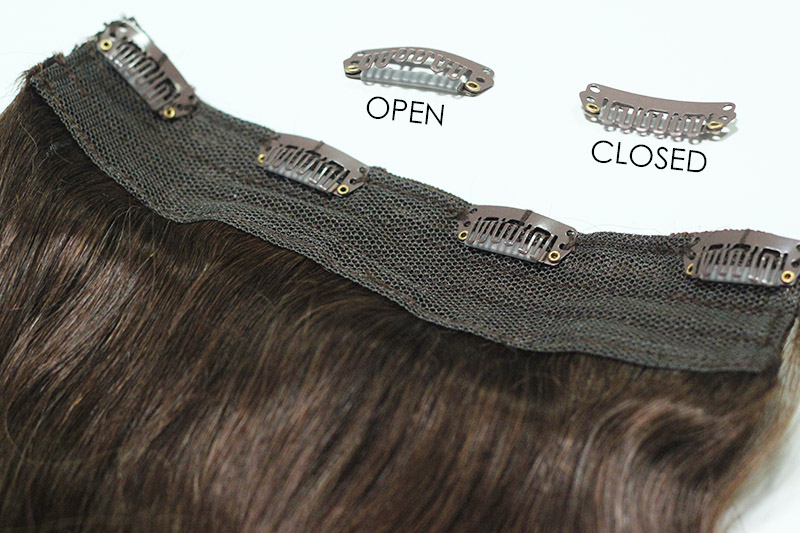 Wearing and Styling the Extensions
Irresistible Me's hair extensions are made of 100% human remy hair. It is the highest grade of real, human hair and, as a result, can be washed, colored, and styled just like your own hair! As soon as I took out the extensions, I was taken aback by the quality. I have several synthetic cosplay wigs and while I knew these would definitely be of much higher quality than those, I was still surprised by just how ridiculously healthy and silky soft they felt. 
I had never worn clip-in extensions before but it wasn't too difficult to figure out how to use them after watching a quick video online. The clips are easy to use and if any break, they do provide extras which I appreciated. After just a few minutes, I had all 10 pieces clipped in and just like that had long hair again! 
The extensions come straight and unless you have straight hair as well, I recommend curling them a bit with your hair to help blend them together more naturally. The extensions curled nicely and the clips stayed in without a problem while I styled my hair.
I wore the extensions for several hours as I went about my day and found them to be super comfortable. Never did I feel them pull on my scalp or fear them coming loose from my hair. While I probably wouldn't wear hair extensions of this length everyday, I would be very comfortable using these for special occasions and on the weekends and you can bet I'll definitely be wearing them again!
Overall Thoughts
If you're looking to give clip-in hair extensions a try, I highly recommend Irresistible Me! They have a great selection range of colors and lengths, the clips are comfortable and easy to use, and the super soft, silky smooth hair is of insanely high quality and will style easily.
Before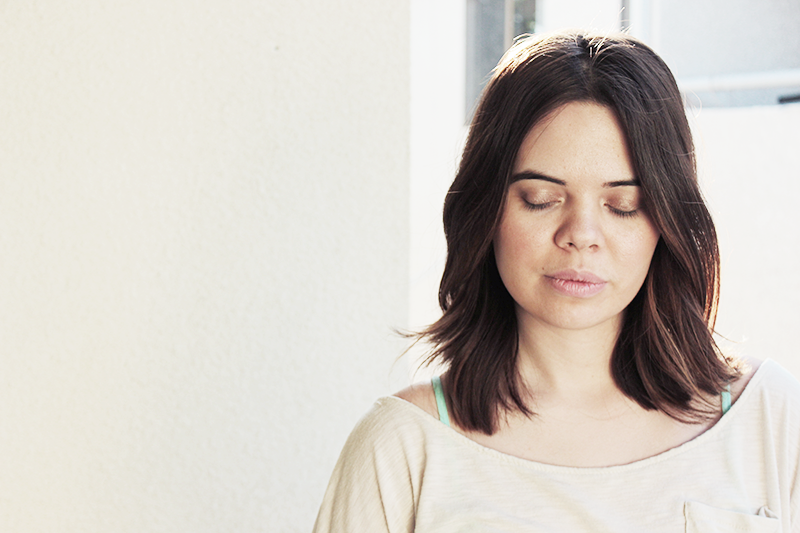 After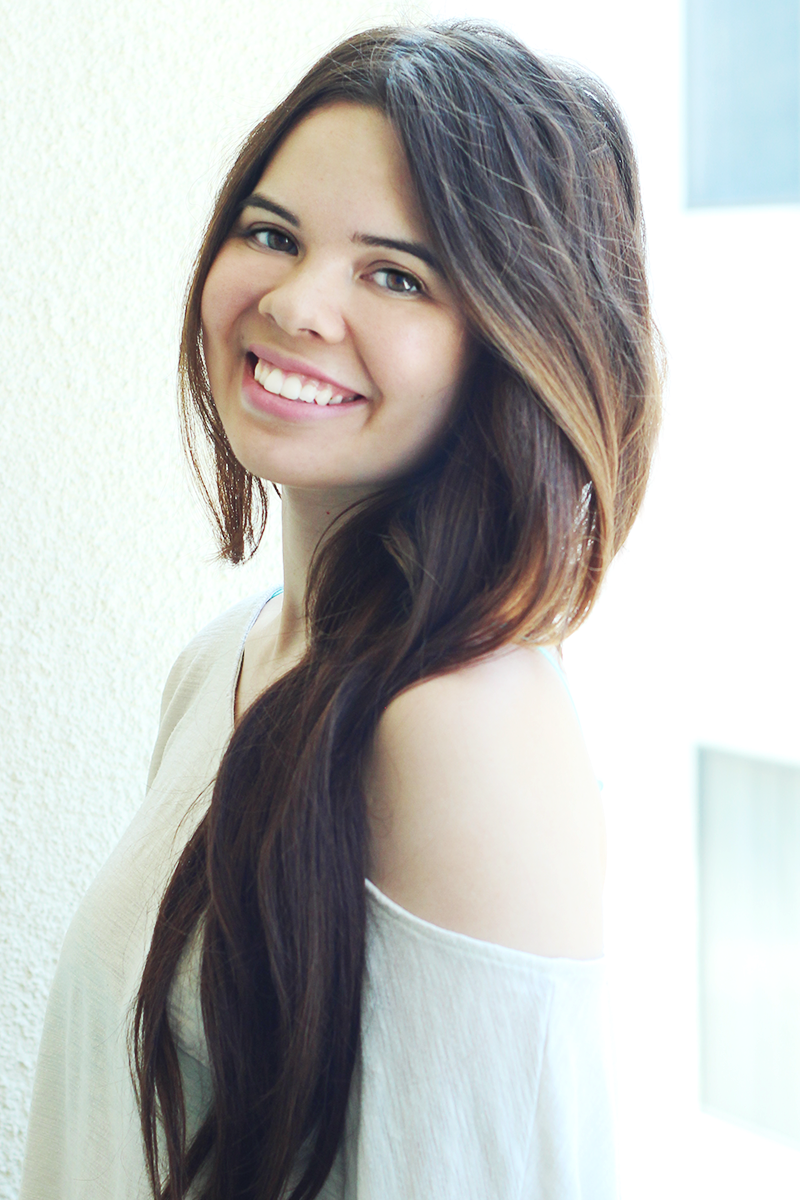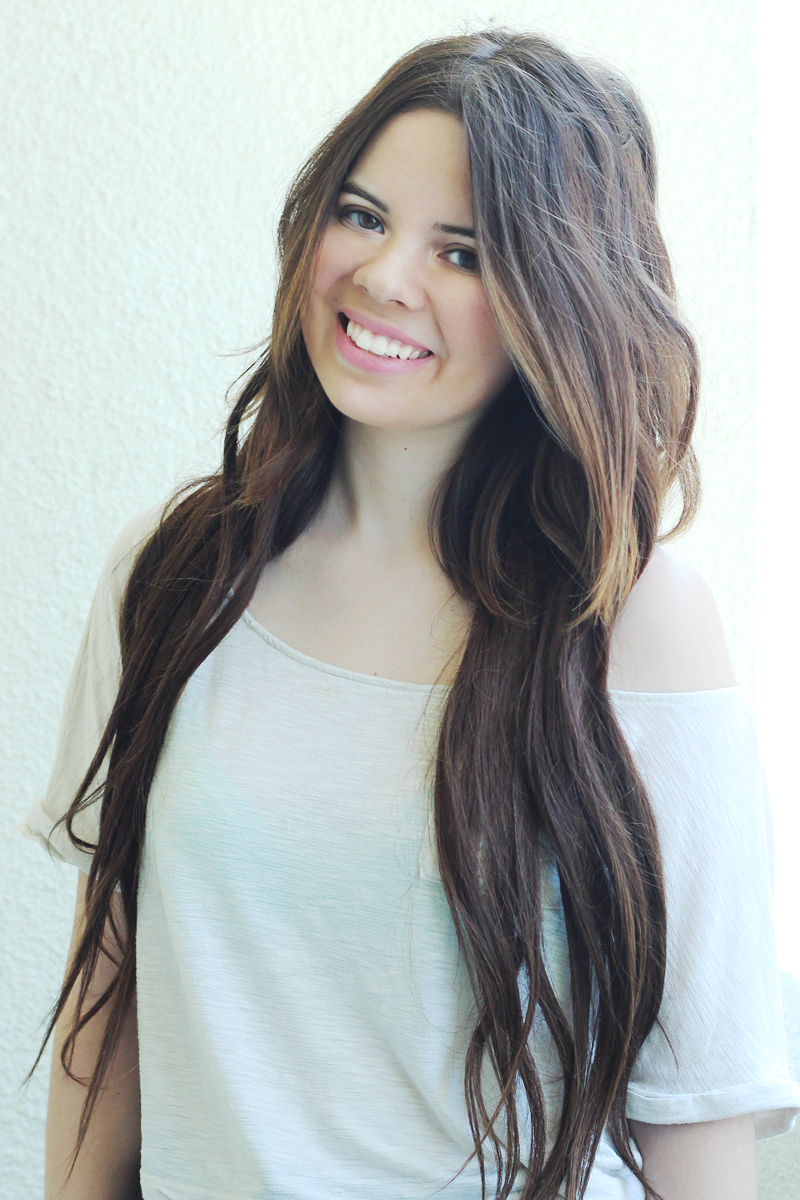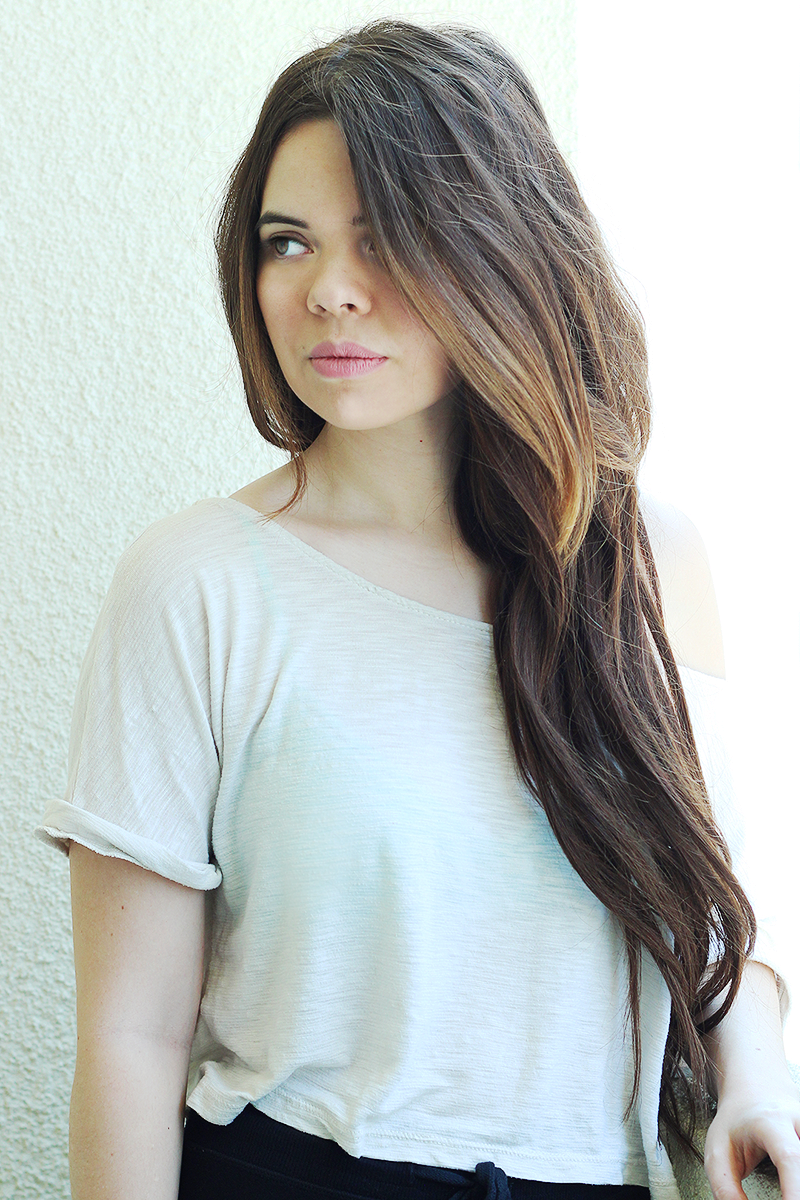 Have you ever tried clip-in hair extensions?