My New Year's Eve consisted of lots and lots of flying. My original flight from Orlando to Boise on December 30th was canceled and had to be rebooked the next day early in the morning – then I got an announcement at 1:30am that that flight was delayed by 9 hours, which means I would miss my connecting flight and, thus, also had to be rebooked…but being New Year's Eve, of course, almost everything was completely booked up. Luckily, around 4am I finally found a flight that could get me to Boise around 10pm (praise God!). It would be cutting it close to midnight and really messed up plans, but at least Luke and I would get to see the new year in together.
I was exhausted after getting off the plane in Boise, but the moment I saw Luke and ran into his arms, I knew it was all worth it. Ten days is the longest we've ever been apart since dating and I hope we aren't that long apart again for a very long time.
Unfortunately, Luke had a case of food poisoning earlier that day and still wasn't feeling too well which made our plans to go downtown to see the annual Potato Drop (we're in Idaho) not look so good. I really wasn't too disappointed and I honestly really didn't care what we did that night as long as I was with him.
After deciding we would just stay in that night, I started to eat some late night dinner when Luke tells me to throw on my coat – we actually ARE going out! It was 11:48! His dad drove us downtown towards the capitol building but traffic jammed up so Luke grabbed my hand and we bolted out of the car and started running with just 2 minutes till midnight.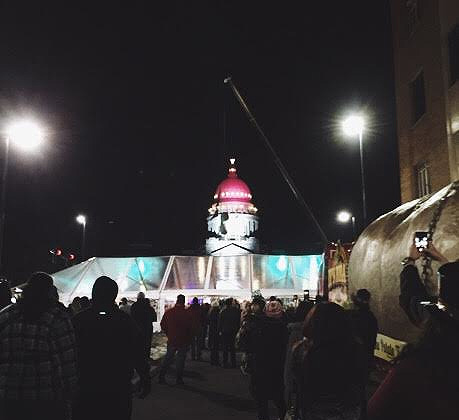 The Potato Drop-ped! In front of the Boise capitol building minutes after midnight.
Out of breath, we literally arrived just as they were counting down. Before I knew it, that big potato dropped from the sky, fireworks were going off, and I was kissing the man of my dreams and the happiest girl in the world. That's I how I ended 2015 and began 2016 <3
How was your New Year's Eve?