Brought to you by The Nerdy Girlie and Super Space Chick
This week's theme: 5 Favorite Things About Fall!

You all have no idea how excited I am that fall is finally here! It sneaked up on me because, you know, living in Los Angeles and all, it probably doesn't feel as fall-y as other parts of the country, but I've been feeling it, nonetheless! The weather is getting cooler, clothes are getting warmer, TV shows are returning, and pumpkin is slowly taking over (which I'm more than okay with). Fall is definitely my favorite season of the year, and I have so many things I love about it but here are my Top 5 in no particular order:

1. Cooler Weather 
My body is super sensitive to the weather and temperature. Fortunately, I now live in Los Angeles where the weather is usually very pleasant year-round, but still I find that the weather is at it's most pleasant in the fall – and I think this is so no matter where you live. It's not too hot, not too cold – it's breezy and cool and perfect.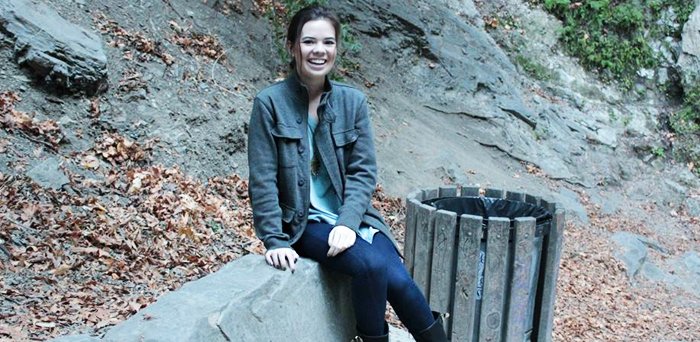 I bet you've never seen someone so happy to be sitting next to a trashcan.
2. Pumpkin Everything
You can't have one of these lists without mentioning pumpkin! During the fall season, pumpkin is everywhere and I want it all. Pumpkin pie, candles, tea, bread, cupcakes, donuts, muffins, and of course Starbucks pumpkin spice (call me basic, I don't care) – I can't get enough of this delicious and wonderful smelling fall staple.

3. Going Back to School
Yes, after graduating from FSU with my Bachelor's, at the ripe old age of almost 26, this lady is heading back to school (this time UCLA) for her Paralegal Certification! Class starts this week on the actual first day of fall, September 23rd, and while I'm a bit nervous, I'm also super excited! I love learning and law and I feel like I'm starting to find some direction in my life. I can't keep working assistant jobs forever! Also exciting is that my boyfriend will be taking a class there as well so we'll be Bruins together!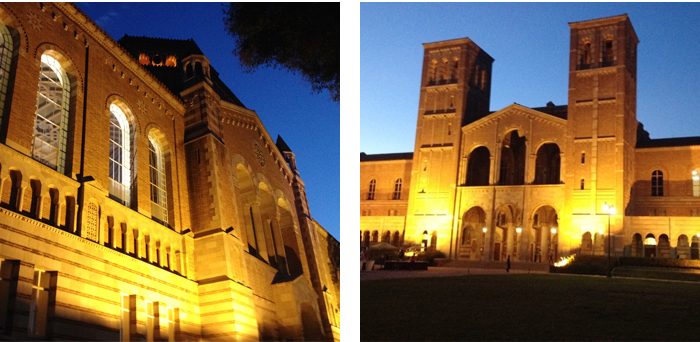 My boyfriend took these stunning photos of UCLA's campus at night.
4. Thanksgiving
To a lot of people, Halloween is THE big fall holiday, and while I do like dressing up in costumes and getting candy (although last year I had to work and didn't get to do any of that), I am all about Thanksgiving. Unlike Halloween, you actually get the day off to relax and spend time with friends and family AND eating an incredible meal of all the best foods is the main event – all the while reflecting on being thankful – I just love it. While I no longer go home to Florida for Thanksgiving, I am so fortunate to have made the most incredible group of friends out here in LA who I consider family. And one last thing, it marks the beginning of the Christmas season!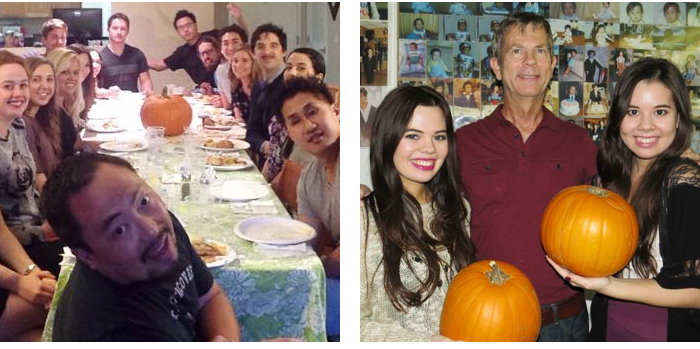 Crazy how I barely knew any of these people last year and now they are some of my closest friends. Also, little did I know that I would end up dating the cutie sitting next to me.

5. My Birthday (October 2nd)
I couldn't help but add this as one of my favorite things about fall! It might sound egotistical to say I love my birthday, but whatever – I do! It's not so much that I want to have a day that's all about me or just want gifts or anything like that. I think I just like having an occasion for friends and/or family to come and enjoy themselves with me. In college, I did a couple themed parties (one of which was Harry Potter; in NYC, my dad came to visit and we saw First Date with Zachary Levi and Blondie in concert; last year, I was at the peak of my Japanese obsession and had a Japanese-themed night out in Little Tokyo which you can watch in the video below (which also shows just how much people can change in a year – aka I don't see most of these people very often if ever anymore XP). Oh, and all the free stuff. Finally, signing up for all those restaurant programs pays off. Not sure what's happening this year, but without a doubt I know it's going to be the best one yet.
What are your favorite things about fall?