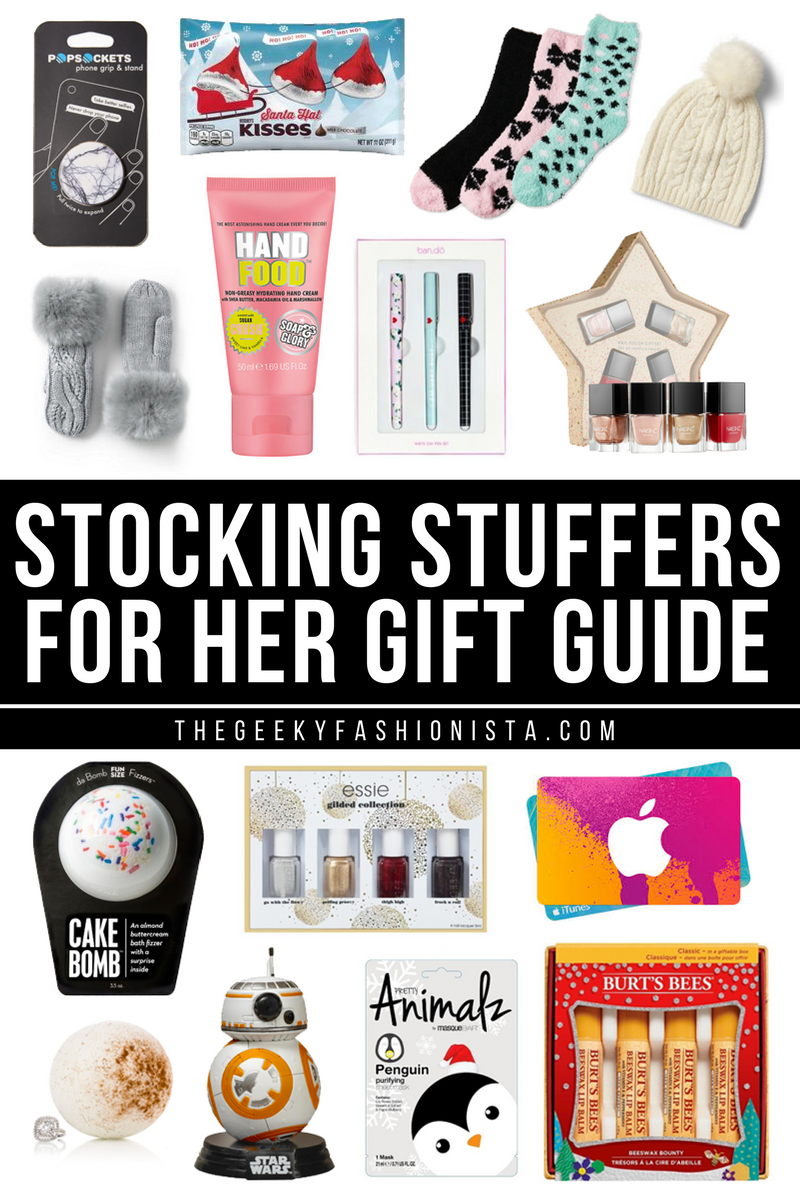 Who else gets super excited to open their stockings first thing Christmas morning? I know I sure do! It's always been tradition in my family that they are the first gifts we open, and I always look forward to seeing what little goodies are inside. 
Stocking stuffers can be especially fun to buy (at least for me) because I love the challenge of finding the perfect cute little items that will fit in the stocking. I also like that there's less pressure with stocking stuffers. They're more affordable and it's perfectly acceptable to give more practical gifts and fun, random knick knacks! These are actually the things I enjoy receiving the most! 
Today, I've put together some cute stocking stuffers gift ideas all under $50 perfect for the special ladies in your life! Hope you find something special here or get inspired!
12 Christmas Stocking Stuffers Gift Ideas For Her
1. Phone Accessories

We take our phones with us pretty much everywhere we go these days. It's definitely something I don't think about accessorizing nearly enough – I just end up using the same old phone case for years. It's honestly not something I think about buying for myself. However, if someone were to gift it to me, you bet I would use it! It's not just phone cases either! Now there are card holders you can stick on the back of your phone, phone charging tassels you can hook on your purse, and decorative Popsockets to help you prop up or hold your phone (I could definitely use one of these, Santa *hint hint*)! Our phones help us out so much, why not give them a little extra love?
2. Office Supplies

I don't know about you, but I LOVE getting cute office supplies in my stocking! Notepads, pens, paper clips, sticky notes – give me all of them! We all need these things, we all use these things. This is totally something I find just as fun to give as receive! Anyone else love shopping for office supplies?
3. Winter Accessories

It's winter and times are chilly! Keep your loved ones warm and looking cute with some much needed winter accessories! Every girl loves a pair of soft mittens or a cozy beanie!
4. Nail Polish
A girl can never have too much nail polish! Not sure what color she already has or what she likes? A gift set is great because they have several colors beautifully packaged for your giftee to try and see what they love!

5. Lip Balm
We all get chapped lips in the winter. There's no need to suffer though thanks to the abundance of adorable lip balm gift sets out this time of year! They're an awesome value, come in cute packaging, and with multiple tubes, she'll be able to keep one in every purse!
6. Fuzzy Socks
Everyone loves getting a new pair of fuzzy socks! They're super cute, beyond comfy, and keep your toes warm during those chilly winter days! They're also super fun to buy due to all the fun designs to choose from and no one is gonna judge you if you want to touch them all (soooo soft, how could I not). Anytime I buy socks for others, I am so tempted to grab a pair (or two) for myself!
7. Hand Cream or Sanitizer

My hands get soooo dry during the winter months! It is so nice and convenient to have a tube of hand cream I can carry around with me that'll keep my hands soft, moisturized, and smelling good anytime of the day. Also, hand sanitizer is great to have on you anytime of the year, but especially during the holidays when people are more prone to getting sick and you are surrounded by people whether it's family coming to visit or shopping crowds at the grocery store or mall. 
8. Bath Bombs

What girl doesn't love baths? Especially when using a bath bomb? As if a bath wasn't pampering enough, a bath bomb takes it to the next level. Many of them give a relaxing scent, turn the water a fun array of colors, or are fun to watch as they fizz or spin around in the water. Some even have little surprises inside!
9. Sheet Masks

Speaking of pampering, sheet masks make an excellent stocking stuffer! Not everyone has time to take a soothing bath whenever they'd like (*raises hand*) so for those days when I really want to pamper myself, a sheet mask is a God send. They can make me look like a serial killer (although there are masks that can combat this with cute animal faces instead of the usual stark white mask) but they make my face feel sooo refreshed. In just 10 minutes or so, my skin feels transformed and whatever stress or tension I might have had seems to melt away. Who doesn't like the sound of that?
10. Geeky Knick Knacks
Does she love Star Wars? Obsessed with Marvel? Proud Whovian? Acknowledge her geeky passion with a cute little keychain, button, or charm. Know her favorite character? Funko Pops make great gifts!
11. Gift Cards
You can't go wrong with a gift card! If you don't know their favorite store, Amazon or iTunes are always a safe bet!
12. Candy or Gum
Treat them with their favorite candy! There are so many fun holiday versions out this time of year! Candy canes are always fun too! If they're not a sweets person, you can do gum instead! 
Extra Savings
If you see something you like, don't forget to use Ebates before checking out to earn some cash back! It's absolutely free, super easy to use, and my biggest shopping non-secret! I use it every time I shop and have earned hundreds of dollars back. There is really nothing to lose, just gain by using it. Plus, if you're new, you'll get a $10 check just for signing up! What are you waiting for? Click the link below and start earning cash back! 

**Totally NOT sponsored, I just love it that much! I will get a little something for referring you though if you use my link!**
Be sure to check back for more gift guides!
What are some of your favorite stocking stuffers?
Disclaimer: This post contains affiliates links – if you click on or purchase something from these links, I may earn a small commission at no additional charge to you. Thank you for your support!