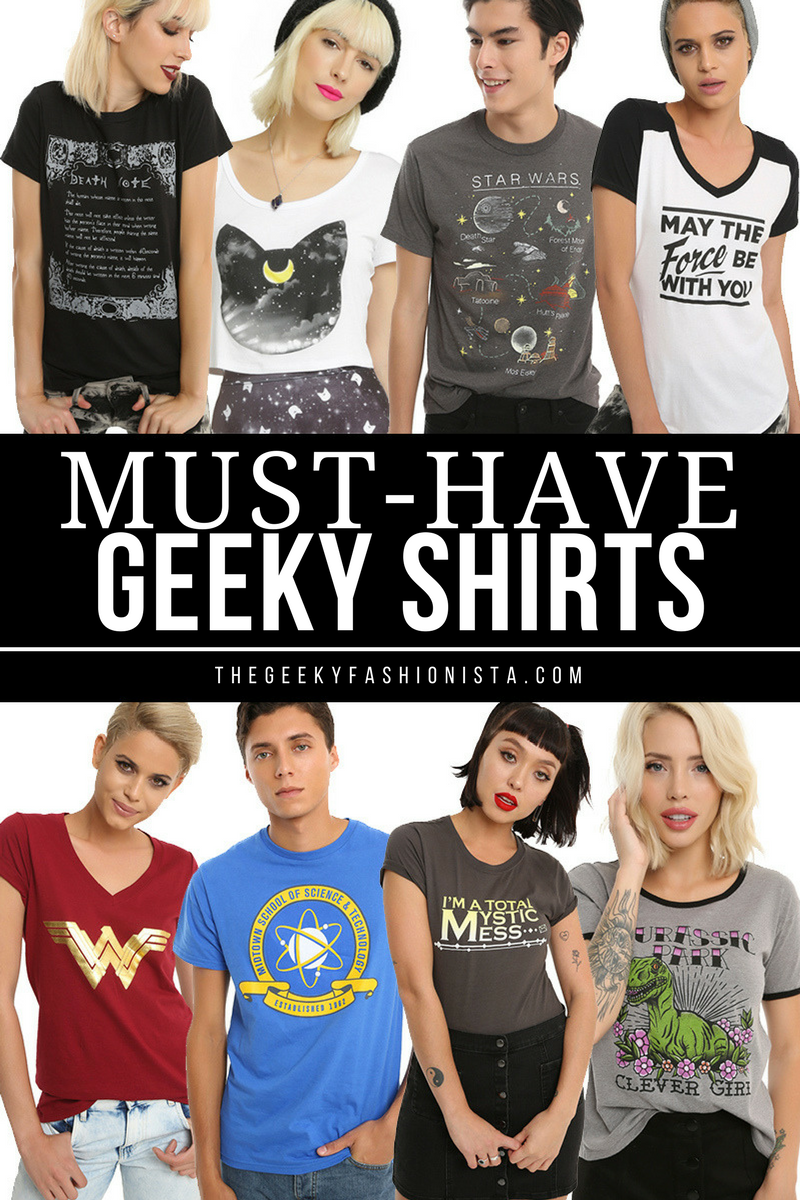 Happy Monday! Hope you all had a great weekend and are excited for the short work week, Thanksgiving, and, of course, Black Friday sales! One of my favorite stores, Hot Topic, had a one day Black Friday Preview Sale this past Saturday where all tees were just $10 (most average about $20-27) – that's an amazing deal! If you've been thinking about buying that Star Wars top, this would be the time to do it! Well, maybe not right now since the preview sale ended, but come Friday and the sale is back on – that's the time to do it!
Since we all know how important planning ahead can be when it comes to Black Friday/Cyber Monday, I decided to put together a list of my 12 Must Have Geeky Shirts. I either already own, just bought on Saturday, or plan to buy this upcoming Black Friday (didn't want to drop too much money all at once) everything on this list.I know with over 2,000 shirts on sale, it can be a bit overwhelming going through all the pages to find your perfect geeky tee. No worries though – I did it for you! Hopefully this list can help save you some time from having to do it yourself – because we all know when it comes to Black Friday shopping and just the holiday season in general – there's never enough time!
Disclaimer: This post contains affiliates links – if you click on or purchase something from these links, I may earn a small commission at no additional charge to you. Thank you for your support!
Anime
1. Sailor Moon Luna Head Crop Top – This top is too cute!! It has become one of my favorite tops – so much so I actually got a second one on Saturday! I love the Luna head design – it's simple but still really beautiful. Fans will definitely recognize Luna by the moon symbol and non-fans will just think you're into cats and space (which makes you automatically cool). Besides that, it is made of crazy soft and breathable material! I like pairing it with the matching skater skirt or any kind of high waist bottoms. I definitely recommend sizing up – I'm a true Small but got this is a Medium and it's PERFECT.
2. Sailor Moon Cosmic Heart Compact – I know it looks super simple but I just had to buy this during the Preview Sale after reading reviews about how incredibly soft it is – here's hoping they weren't lying! Still, as with the previous crop top, I am a fan of this kind of subtle geek fashion. I don't like too much going on with my shirts preferring simplicity over complicated designs or a big graphic print – there are always exceptions though.
3. Death Note Rules – I almost got this chibi tee (and I still might) making it the exception to my always preferring simple tees rule but the minimalistic design once again won out. Plus, I've been on a black and white kick lately so this fits perfectly with my aesthetic.
4. Attack On Titan Wings of Freedom – I loveee the show but have had a hard time finding a shirt I like to show off my fandom love. Unless it's Jean, I didn't really want a design that showed the characters or a Titan on it so this simple v-neck with the recognizable crest over your heart and on the back was perfect! Plus it was a flattering v-neck and came in this nice military green color.
Star Wars
5. Han Solo Classic – Yes, this is a men's shirt (first of 3 on this list) and I love it! I usually wear it with leggings or tucked into jeans. For a cool juxtaposition look, I'll accessorize it with a choker necklace along with some glam makeup. The material is also softer than you would expect from a men's tee – I wear a size Small as usual and it fits me just right.
6. May the Force Be With You – Super, super cute tee! I love the minimalistic black and white design, v-neck, and short raglan sleeves. Perfect to throw on with a pair of shorts and jacket!
7. Star Map – I love this shirt and the super cute retro planetary map design!
8. Star Wars Group Tie Dye – Here's the biggest exception! There's a lot going on in this shirt with the big promo photo graphic, bright pink logo, and allover black and white tie dye. Normally, this would not be my style at all, but with my new black & white aesthetic/wardrobe, I saw this shirt and immediately thought of a dozen ways to style it – hmmm, that might be an interesting post in the future? 
Comic/Movies/Gaming
9. Wonder Woman Logo – Not a big DC fan but Gal Gadot slayed my life in the movie and now I'm on the Wonder Woman train. This shirt instantly caught my eye with it's rich, bold burgundy color, v-neck, and gold foil logo. Both subtle and direct at the same time – love it! I can't wait to rep and cheer on my boss queen in this when I eventually see Justice League.
10. Spider-Man Homecoming Midtown Science High School – So I would get this more for my Spider-Man and Tom Holland-loving sister but I would totally wear this shirt too! I'm more of a neutral color kind of person, but I'm really digging the bright blue. It just seems like a really fun shirt to wear and style too!
11. Jurassic Park Clever Girl – I was going back and forth on several of the cute Jurassic Park shirts but ended up going with this cute ringer t-shirt for the pretty flash art design and the wider neck line (necklines are important to me, okay).
12. Mystic Messenger Total Mystic Mess – Being a HUGE Mystic Messenger fan, I was super excited when I saw Hot Topic come out with three shirts. I still have my eye on the other two, but for now, I'll start with this tee – which, surprisingly is actually the least simple of the designs.
Extra Savings
If you see something you like, don't forget to use Ebates before checking out to earn some cash back! I believe for Hot Topic, the cash back was 4%. Hey, if you're already planning on making that purchase, why not get a little money back? It's like an extra discount on top of the already amazing deals!
It's absolutely free, super easy to use, and my biggest shopping non-secret! I use it every time I shop and have earned hundreds of dollars back. There is really nothing to lose, just gain by using it. Plus, if you're new, you'll get a $10 check just for signing up! What are you waiting for? Click the link below and start earning cash back! 

**Totally NOT sponsored, I just love it that much! I will get a little something for referring you though if you use my link!**
What are your must have geeky shirts?