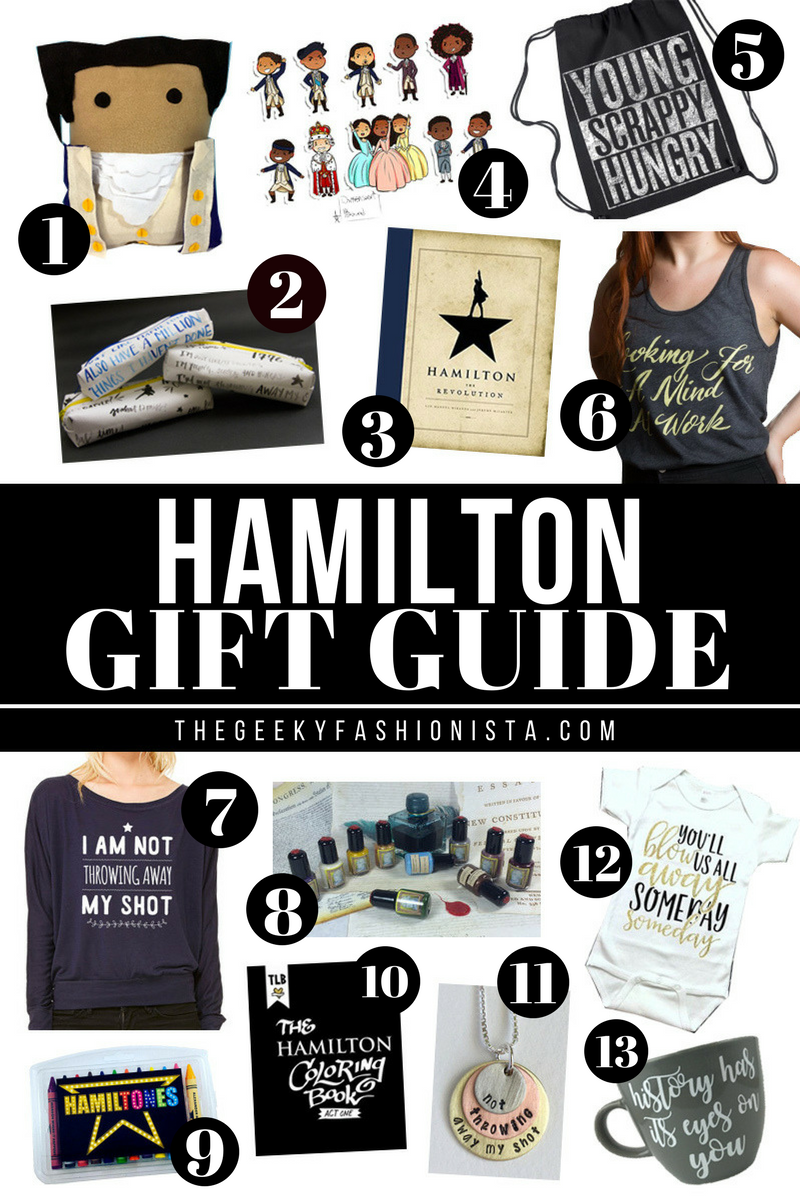 1 // 2 // 3 // 4 // 5 // 6 // 7 // 8 // 9 // 10 // 11 // 12 // 13 
Today I am bringing you my second holiday gift guide! The theme: HAMILTON!! While not as gung ho as many people, I've always understood the artistic merit (and genius) of the Broadway show. The personal impact of it really didn't hit me until after I saw the show at the Pantages Theatre in Los Angeles. Soon I was hit with the Hamilton fever that had already overtaken so many of my friends. Since then, I've pretty much played the Broadway soundtrack on loop every day and have been saving up my money to see another showing in December. It really is a show like no other. No matter how many times I listen to it, I can't get enough – it always moves me to tears and leaves a powerful impression on me. Obviously, I'm not the only one who feels this way as it has become quite a cultural phenomenon — one which truly deserves all the hype.
Obviously, the ULTIMATE gift for any Hamilton fan would be to see the brilliant (real life cinnamon roll and gift to humanity) Lin-Manual Miranda perform once again as Hamilton during the show's Puerto Rico run in 2019, but since that's a little over a year away, here's a list of items I put together Burr-fect for holding over any Hamilton fan during the holidays.
13 Hamilton Gift Ideas
1. Hamilton Fleece Pillow Plushie – Just when you thought Lin/Hamilton couldn't get any more adorable.
2. Pencil Cases – Somewhere to put those pencils before you put them to your temple and connect it to your brain.
3. Hamilton: The Revolution – This extensive behind the scenes book is a must have for any fan of the show!
4. Cast Sticker Set – How cute are these?
5. Drawstring Bag – Have a million things you haven't done? Throw your stuff in this bag and get to it!
6. Jordandene Tank Top – Tell the world what you're looking for in this high quality tank top!
7. Long Sleeve Shirt – Sleeves more your thing? Don't throw away your shot to snag this cute shirt!
8. Tell Your Story Nail Polish Collection – These cruelty-free collection of 10 mini nail polishes are all inspired by the musical!
9. Hamiltones Crayons – Each of the 12 custom crayons are named after a character or song from the show!
10. Hamilton Coloring Book (Act One) – Need something to color with your Hamiltones crayons?
11. Chain Necklace – Show off your Hamilton love around your neck with this subtle but stylish 3-tone metal necklace!
12. You'll Blow Us All Away Someday Onesie – For future little Hamilton fans! I wonder if anyone is naming their babies Theodosia?
13. Coffee Mug – For that morning pick me up – live every day with purpose!
A Few More Things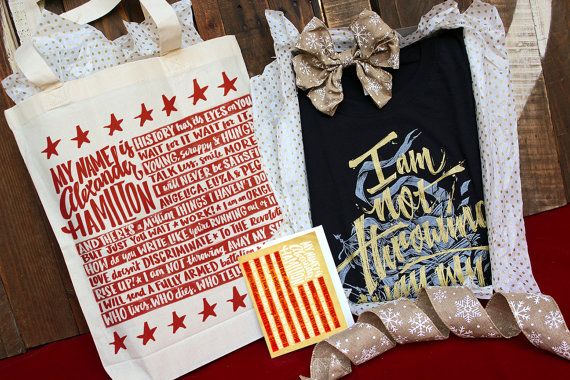 Extra Savings
If you see something you like, don't forget to use Ebates before checking out to earn some cash back! It's absolutely free, super easy to use, and my biggest shopping non-secret! I use it every time I shop and have earned hundreds of dollars back. There is really nothing to lose, just gain by using it. Plus, if you're new, you'll get a $10 check just for signing up! What are you waiting for? Click the link below and start earning cash back! 

**Totally NOT sponsored, I just love it that much! I will get a little something for referring you though if you use my link!**
Be sure to check back for more gift guides!
Are you a Hamilton fan?
Disclaimer: This post contains affiliates links – if you click on or purchase something from these links, I may earn a small commission at no additional charge to you. Thank you for your support!