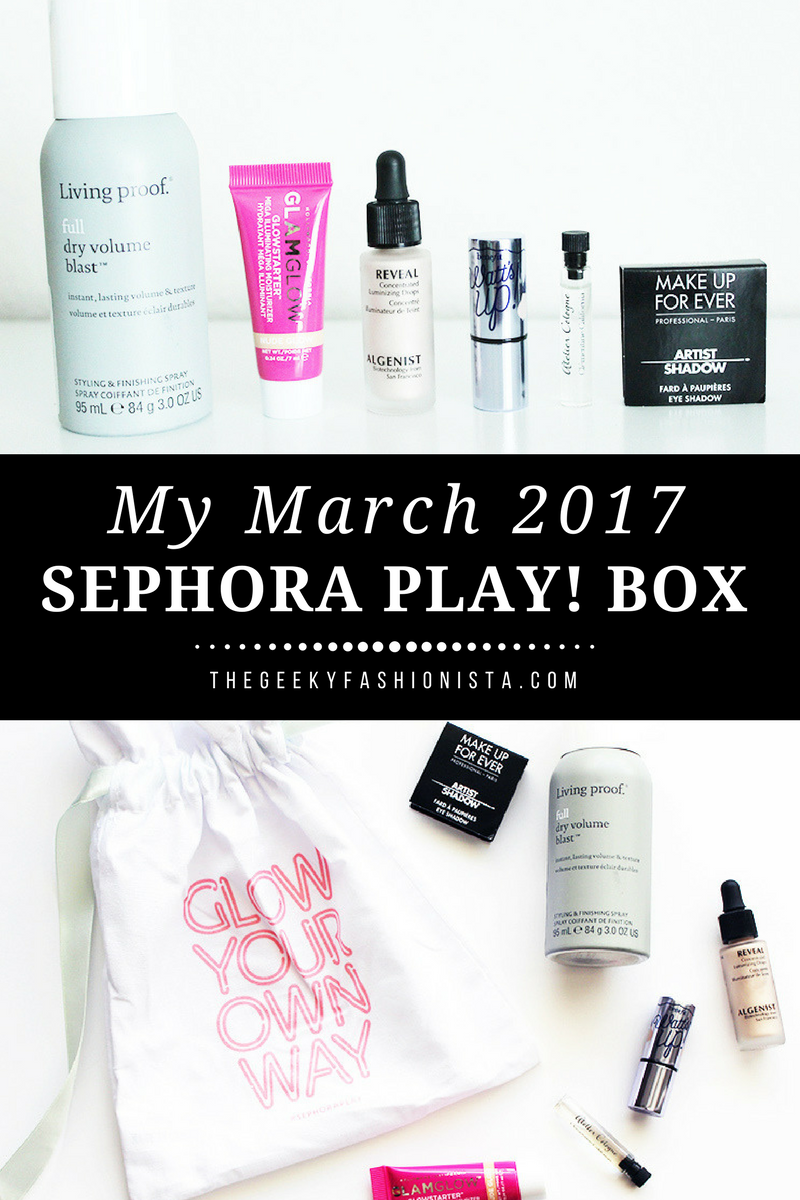 Time for this month's Sephora Play! box review! March's theme was  "The Gleam Team" featuring products that'll give you that perfect glow! Keep reading to see if this box got a "glowing" review from me!

About PLAY! By Sephora
PLAY! is similar to Ipsy in that it is also a $10 monthly beauty subscription service that offers 5 deluxe samples. They also offer a bonus fragrance sample each month – I like that it'll always be a "bonus" and never a main item. They curate the products for you based off your answers in your Play! profile (can be found under "My Account") which asks mostly basic questions about your beauty concerns and of course things like your skin tone, hair type, eye color, etc. It's not quite as fun as the little "quiz" you do for Ipsy, but, hey, as long as it sends me the right products!

This Play! pass card entitles you to 50 extra Beauty Insider points with an in-store purchase of any items from the box. Also included in the box is this great Play! Book info sheet that provides some really great info and pro tricks – definitely read this! It gives some awesome beauty tips!
What Do You Get Each Month?
Straight from Sephora's website, here's what you get with each Play! box (sorry it's a bit of a retread of above):
– Five deluxe skin care, makeup, and hair care samples (plus a fragrance bonus!) that are curated by our experts. Since beauty isn't one-size-fits-all, we send you a selection of products that we think are the best for you, based on the answers you provide in your PLAY! PROFILE.
– A collectible makeup bag that changes with each month's theme
– PLAY! BOOK with tips, tricks, how-tos and beauty advice
– PLAY! PASS to redeem in store for 50 bonus Beauty Insider points and a free one-on-one tutorial*
– PLAY! DATE, a monthly subscriber event for you and a friend to learn how to apply the products in your box—and more!
– Free shipping on all PLAY! by SEPHORA boxes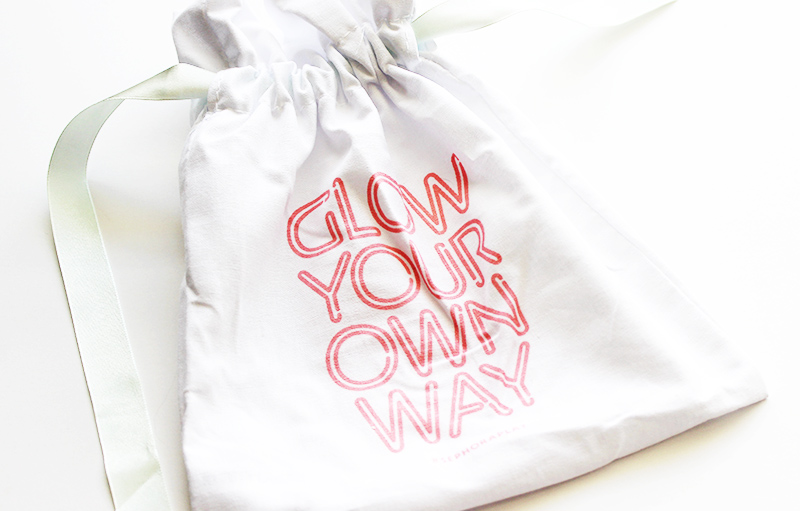 The Bag
This month's cute little drawstring bag was a simple white with the words "GLOW YOUR OWN WAY" printed in pink (I know the photo above looks a bit red though) on the front. It's nice but because of the material it's made of, I have a feeling it'll easily get dirty if I keep it around my makeup. 

Inside the Bag  

I was really excited to see this in my box as I've been wanting to try out some GlamGlow products having heard so many good things about their masks. This two-in-one moisturizer and luminizer ("glotion") smelled amazing and gave a really nice, natural dewey glow to my skin with a very subtle shimmer. I didn't really notice much of a tint though despite being named "Nude Glow." While I really liked this product and am glad I got to try it out, I still don't think I could bring myself to spend $50 on the full-sized product. 
Probably my favorite item in this month's box as well as the best value (this little sample itself is worth $17!)!  This serum gives such a beautiful pearlescent shimmer while providing many anti-aging and color-correcting benefits! I love adding it to my foundation to give myself a little bit of a pearly glow. Add some moisturizer and you've got yourself a lovely tinted moisturizer. 

This is such a great highlighter! I've used it before and was really impressed. I'm so glad to now have it in this nice little travel sized tube. Whether travel or full sized though, it's perfect for on-the-go with it's convenient stick form. No need for a brush, just apply the cream-to-powder formula to your cheeks, brow bones, cupid's bow, and anywhere else you'd like some highlight, then blend with your fingers.

The info sheet describes this BEAUTIFUL, highly pigmented shade as "pink granite." To me, it looked like a taupe with a subtle pink – definitely a gorgeous color. The gel-powder formula is incredibly smooth and finely milled. I can see myself using this for both day and nighttime looks. I loved the info sheet's pro tip of using it as an eyeliner by wetting a small angled brush with contact lens solution before dipping it into the shadow and applying it on the lash line. Who knew saline could help set color – will definitely be doing this in the future!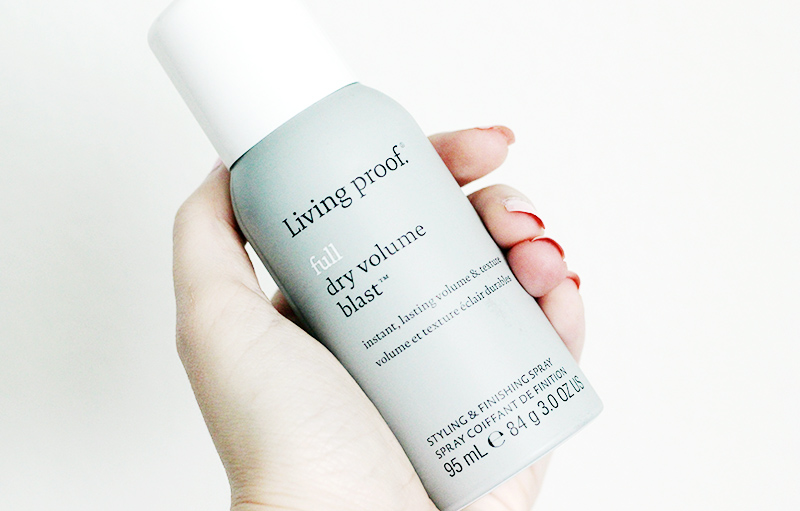 I thought this was a dry shampoo at first but it's actually a volume and texturizing spray that you use on dry hair. The info sheet does say that it can double as a "style refresher" with it's oil-controlling "powders that absorb dirt and impurities" which basically sounds like it can be used as a substitute dry shampoo in a pinch. After using this on my roots, I noticed a nice boost of volume and absolutely no stickiness. Also it's Living proof so, of course, it smells lovely.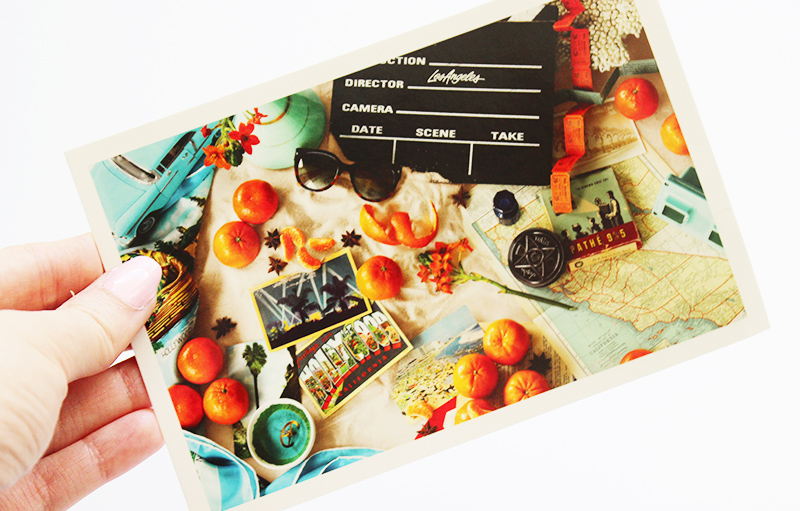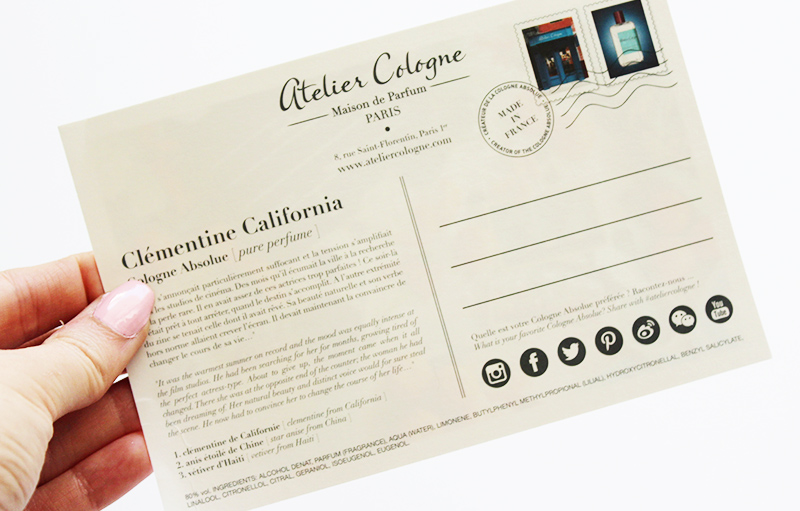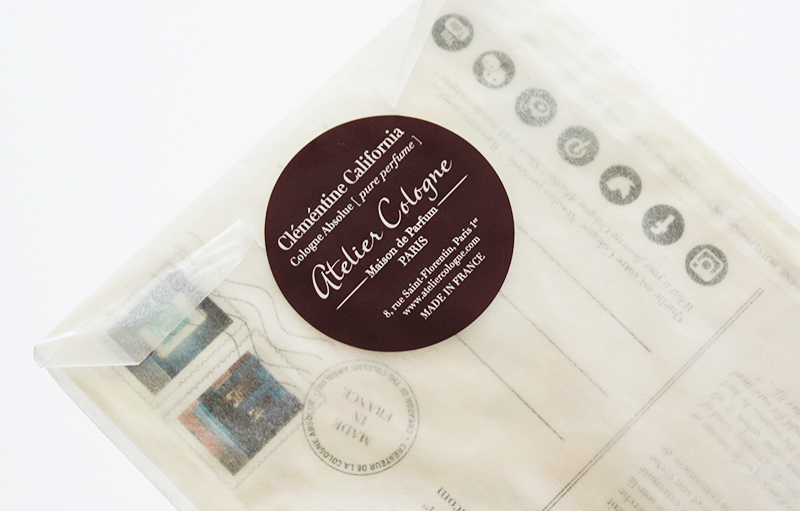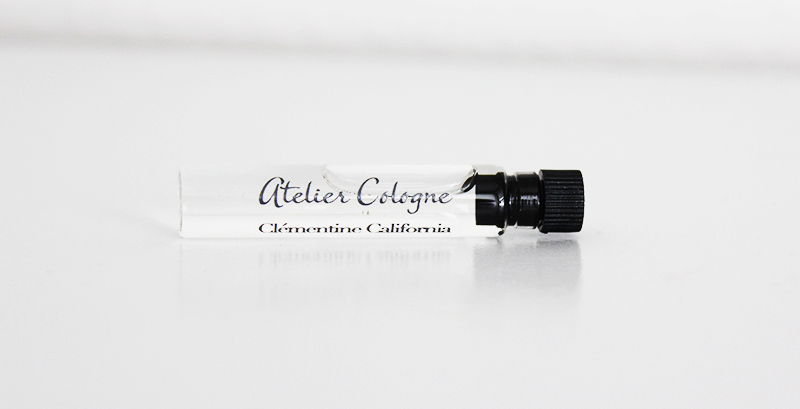 This month's perfume sample was inspired by the sunny California coast with it's fresh, citrus-y scent and can be worn by both men and women – I really liked it! The little vial came in a nicely sealed little package with a pretty California-themed postcard which I thought was super cute!
Final Thoughts
I really loved this box and theme! I'm all about highlighting and getting that natural "glow" look. After looking at a few other box variations, I'm really happy with the one I received. These are all excellent, high-end brands, and I enjoyed trying out each product which all delivered in terms of quality and highlighting. This box also had an incredible value estimated at $52 worth of product – that's pretty amazing!!
Be sure to check out my other unboxing posts!
What did you think of this month's Sephora Play! bag?