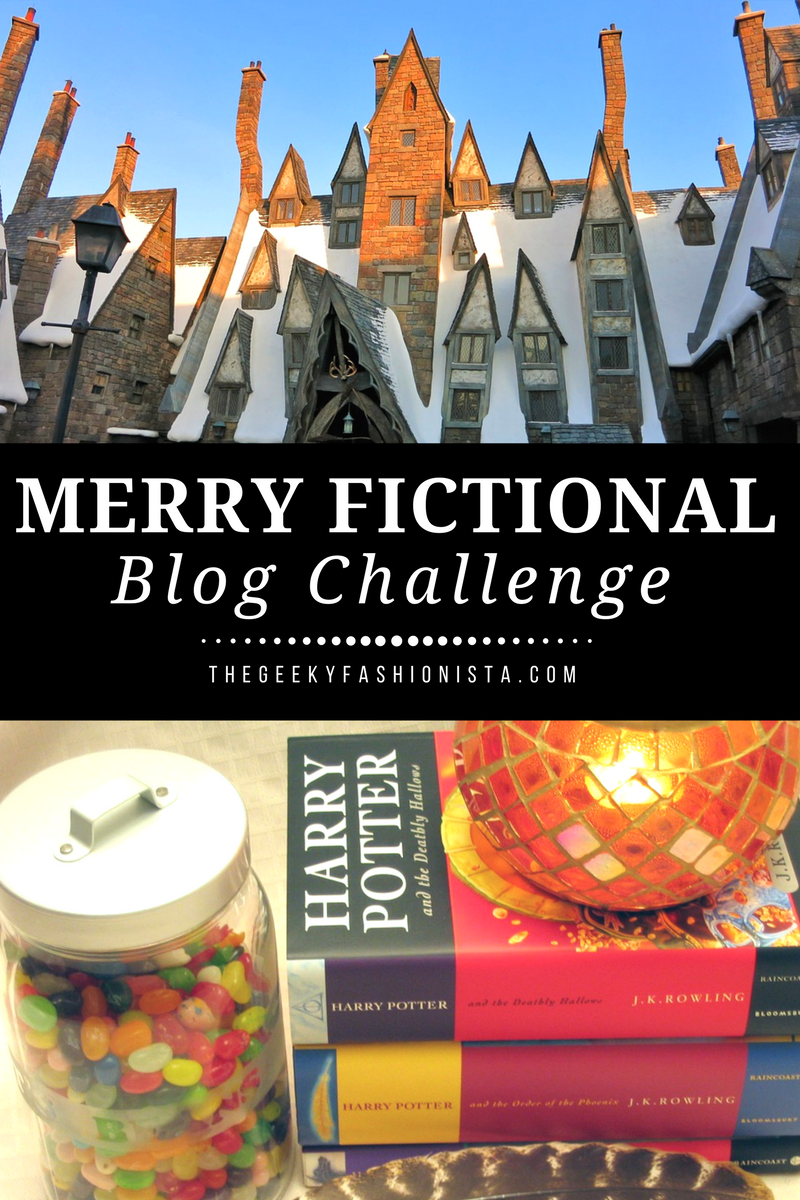 It's been a while since I've done a fun little tag so when I saw this cute geek-themed Christmas blog challenge by Katy from Oh So Geeky, I couldn't help myself. If you'd like to join in on the geeky fun, be sure to check out her original post with the questions then let me know so I can read your answers! 

Advent Calendar: Traditions you celebrate during December?
Most of my traditions are reserved for Christmas Eve or Day… During the month, the only thing that seems to be traditional is watching lots of Christmas movies with friends!
Carols: What's your favorite song(s)?
Pretty much anything on The Carpenters' Christmas Portrait. Having grown up with it, I may be a bit biased, but in my opinion, it's the ultimate perfect Christmas album, and I will say this till my dying day. 
Coal: A naughty character you'd send coal to?
Umbridge from Harry Potter. She is the WORST. Even the fact that she likes cats doesn't redeem her at all.
Fireplace: Favorite Christmas movie that melts your heart?
So many good ones but I have to go with It's A Wonderful Life. It never fails to give me the feels. 
Gingerbread: What's your favorite holiday snack?

Does pie count? If so, then pie because I LOVE pie. Pretty much any kind will do…pumpkin, cherry, rhubarb, strawberry, peach, blueberry, brown butter, etc.
Hot Cocoa: What's your favorite drink?

It might be considered more of a fall drink, but I'm still all about hot cider during the winter! 

Mistletoe: Character you'd like to meet under the mistletoe?
Jumin Han from Mystic Messenger <3
Mittens: A cozy outfit that keeps you warm during winter?
Well, seeing how I've lived in Florida or Southern California most of my life, I usually don't need more than a sweater to stay warm during the winter. However,  on those particularly cold days, the North Face jacket I bought during my year in NYC always keeps me warm.
Naughty: Three characters who'd make the Naughty list.
1. Negan – Sigh. I'm a fan of Jeffrey Dean Morgan and he plays this role SO WELL but what he did in that premiere episode… T_T
2. Kylo Ren – I don't hate him, but killing your dad? Not cool, dude.
3. Scar from The Lion King – I just rewatched the movie with my sister and he was a very bad kitty. Killing your brother in cold blood then going after your nephew? Yikes. 
Nice: Three characters who'd make the Nice list.
1. Newt Scamander – He's so gentle, innocent, and awkwardly sweet with such a caring heart for beasts – so many who are misunderstood.
2. Steve Rogers – He's the ultimate "good guy" hero, always wanting to do what's right. It's his innately good, humble, selfless traits that landed him the Captain America gig in the first place.
3. Cinderella – I saw the live action not too long ago and was so charmed by her ability to "Have courage and be kind," no matter the harsh circumstances around her. 
North Pole: If you could spend Christmas anywhere (even fictional), where would you go?
Hogwarts in a heartbeat!
Presents: A book or movie on your wishlist?
I've heard mixed reviews but I'd still like to read Harry Potter and the Cursed Child. I'd love to wait until after I see the show, but I don't think it'll happen for awhile and I keep seeing spoilers that are making me go "wait, what, seriously??" so might as well go ahead and read it for myself!
Rudolph: What's your favorite TV holiday special?
Ahhh I really don't know! Totally blanking right now! I'll update this if I later think of something!
Santa: A character you'd love to exchange presents with? What would you get them?
I really wanted to avoid repeat answers…but Jumin from Mystic Messenger! Poor guy spent Christmas alone feeling so down. I'd love to give him a present to cheer him up! Something with his beloved cat, Elizabeth the 3rd, or just cats in general on it. He would love it. He's also so thoughtful and generous, I think he'd be a great gift giver as well!
Scrooge: A villain you'd help see life in a different way?
Totally stealing this from Ashlee, but when I saw her answer I was like "YES! Definitely!" – Kilgrave from Jessica Jones. He was a messed up guy who did terrible things, but I too was hoping he would somehow be able to turn good in the end. 
Snowflake: Something that makes you feel special.
Three people in particular: My boyfriend, Luke – he makes me feel like the most beautiful and special girl in the whole world every day. My sister, Melissa – she cares and loves me so much I don't even quite understand it (I don't think she does either) haha. My friend, Courtney – she's so supportive and understands all my geeky, fangirly tendencies like no ones else XD 
Tree: What do you decorate your house with for the season?
The most decorating we do at home is put up a Christmas tree or maybe a wreath. My dad's not one for decorating so these things only get done if my sister and I do it. Last year, we didn't arrive home till Christmas Eve. We were too exhausted to put up the tree so we just didn't have one >.< However, when I have a home of my own, I'm definitely planning on decorating it lots for Christmas!
Yuletide: The top 3 things in your life that make you the most happy?
Besides the usual (family, boyfriend, friends)…Mystic Messenger, cats, and food.
BONUS: Ugly Christmas Sweater: Would you wear a sweater Molly Weasley made you or avoid it like the plague?
I would wear it with pride!
Hope you all had a wonderful Christmas this year!