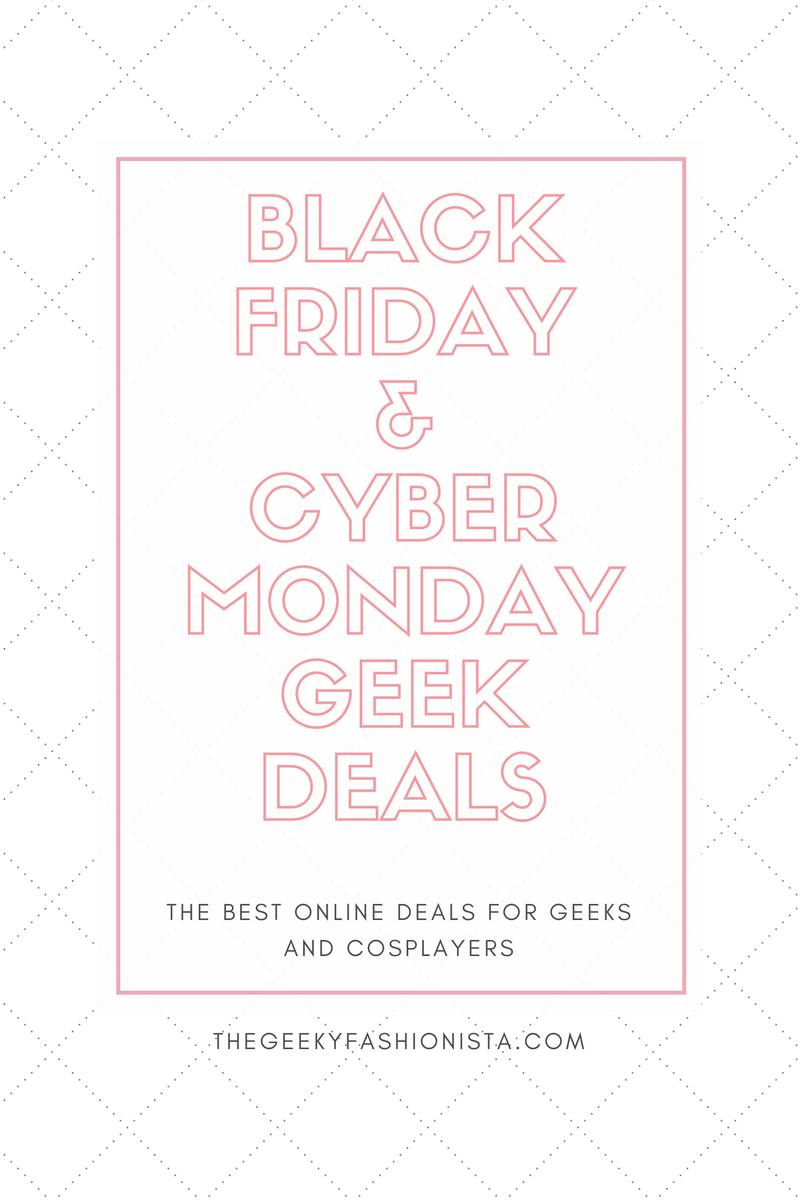 I know Black Friday can be pretty overwhelming trying to keep up with all the amazing sales out there. To help you out, I've rounded up all the best Black Friday and Cyber Monday deals for geeks and cosplayers I could find in to one post.
I did my best to keep everything up to date and I'll continue to add as I find more awesome deals!
Tip: For extra savings, be sure to use Ebates.com (referral link)! Sign up is FREE and many stores are doing DOUBLE cash back! So on top of whatever savings you're already getting, you can get up to another 15% off!
UPDATED 11/28 4:14AM
Cosplay
Anime Expo – Now's the time to buy your 4 Day badges if you plan on attending the largest North American anime convention! At $55, this is the BEST deal you're going to find for badges! I spent more than last year for a last second one day pass! Never doing that again – I've already got mine! UPDATE: SOLD OUT
Arda Wigs – Select wig styles and makeup brands 25% off, Thibra 25% off, craft shop 15%
15% off all tailor-made Costumes
20% off all Shoes
25% off all Wigs
30% off Signature Series Costumes
Craftsy – Lots of supplies on sale!
Epic Cosplay Wigs – until 11/28 11:59pm EST
40-60% off Factory Sample Wigs
50% off Golden Blonde Wigs (Use Code EPICWEEK)
20% off Lolita wigs at Coco Wigs (Use Code COCODEAL)
30% off lace front wigs at Pish Posh Wigs (Use Code PISHPOSH30)
20% off general wigs at EpicCosplay Wigs (Use Code EPICWEEK)
EyeCandys – until 11/27 at 11:59pm
15% off orders of $70+ (Use Code FRIDAY15)
20 off orders of $75+ (Use Code FRIDAY20)
Honey Color – Up to 50% off until 11/30, Free Shipping on orders over $50 (Use Code SHIP50)
Jo-Ann Fabrics – So many incredible deals all week long, I can't even begin to list everything, just check them out in store and online. Now's the time to get whatever you need to make that next cosplay!
MiccoCostumes – 30% off best seller costumes (Use Code BFS30)
Pinky Paradise – Their best deal of the year with 50% off store-wide sales! Through 11/25-12/8
Punished Props – 50% off all Digital Files and $5 off Print Books
TNT Cosplay Supply – 20% off EVA Foam (Use Code 2016Cyberbus) – ends 11/28
Wig Is Fashion – Up to 30% off
YayaHan.Com – 25% off entire order (Use Code THANKFUL)
Makeup and Nails
Beauty Joint – 25% off Entire Site (Use Code BF2016) – ending 11/27 at 11:59pm PST
Coastal Scents – 50% Entire Site – ending 11/19 at 11am EST
e.l.f Cosmetics – 50% off Site-wide order of $30+! (Use Code BLACKFRIDAY)
Espionage Cosmetics – $3-5 all Nail Wrap Designs – ending 11/27
Geeky Apparel and Toys
A Little Geeky – 20% off Black Friday through Cyber Monday – super cute aprons and home accessories!
AnimeStuffStore.Com – Up to 70% off hundreds of items!
Disney Store – Up to 40% off in store and online
ONLINE & IN STORE
All Tees, Muscle Tees, and Tanks for $10 – ending 11/25 11:59pm PST
All Raglans for $15
IN STORE ONLY
Buy One, Get One 30% Regular Price Items
Buy One, Get One 50% Clearance
Buy One, Get One $10 Jackets, Hoodies, Crews, and Cardigans
3 For $25 Pop Vinyl
ONLINE ONLY CYBER MONDAY DEAL – starts 11/27 10pm PST, ends 11/28 11:59pm PST
BONUS: Receive a coupon for $15 off for each qualifying $30+ purchase made from now till 1/10 in stores and online.
Look Human – Free gift + up to 30% off everything
ModCloth – until 11/27 at 8am EST
40% off orders of $200+ (Use Code FRIDAY40)
30% off orders $100+ (Use Code FRIDAY30)
20% everything (Use Code FRIDAY20)
Nerd HQ – Most products 20% off until 11/25-11/28
Pastel Pixie – 30% off site-wide
Reed Pop Supply Co – until 11/28 at 11:59pm EST
Spend $50, get 15% off
Spend $100, get 25% off
Spend $150, get 35% off
SuperHeroStuff – Up to 30% off
Save up to 60% off
20% off orders of $40+ (Use Code COINOP) – until 11/27 at 3am EST
Daily Holiday Deals up to 50% off until 12/3 at 2am EST
15% off all orders (Use Code BFCY15)
25% off all orders $100+ (Use Code BFCY25)
Amazon
– Countless great deals!
What will you be shopping for this week?