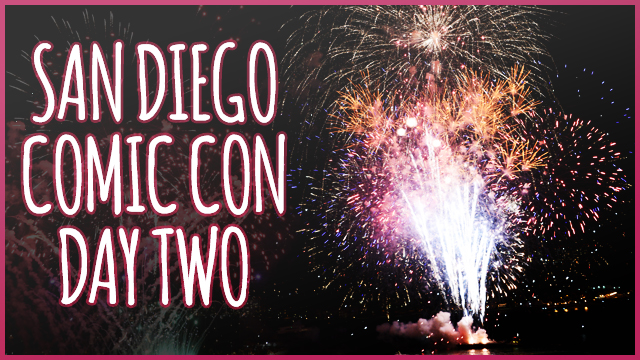 Day Two of San Diego Comic Con 2015
!! Before I start, I 
was
 able to get a replacement badge so yay! Crisis averted! If you don't know what I'm talking about, read my
Day One
post first.
Today I decided I wasn't going to miss out on the awesome panels lined up in the Fan Culture room (like yesterday) so I lined up outside the room nice and early as soon as the convention doors opened up. I was planning on camping out in the room for a few panels once I got in so I brought my laptop with me to do a bit of blogging while in line and in between panels.
First up was the 
Geek Wars: The Nerd Awakens
 panel moderated by the awesome Tony B Kim aka 
Crazy 4 Comic Con
. Panelists consisted of Chris Gore (comedian), Amy Ratcliffe (writer), Andre Meadows (comedian), Ivy Doom Kitty (pro cosplayer), Sam Maggs (writer), and Ali Mattu (clinical psychologist). The panelists were divided into two teams of three (Jedi vs Sith) then took turns answering trivia questions that covered various geeky topics while discussing issues such as objectification, online bullying, and casting decisions. I really enjoyed the friendly and intelligent debates and discussion. So much good stuff was being said I didn't want the panel to end!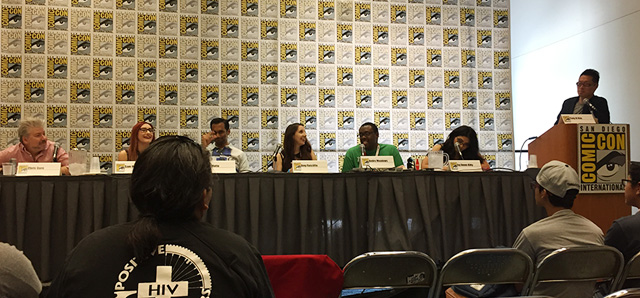 Next two panels were Advanced Cosplay and Star Wars Steampunk. I was really blown away by the talent and passion of the cosplayers at these panels. I do a little cosplay here and there myself but nowhere near the level of creativity and skill of any of these people. I've always wanted to learn how people do certain things or where they find their materials and these panels answered those questions and many more. After the steampunk panel, I was so ready to get my notebook out and start sketching some cool steampunk Leia/Padme outfits.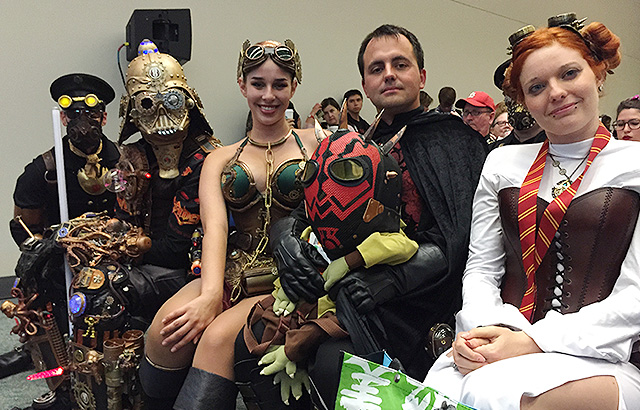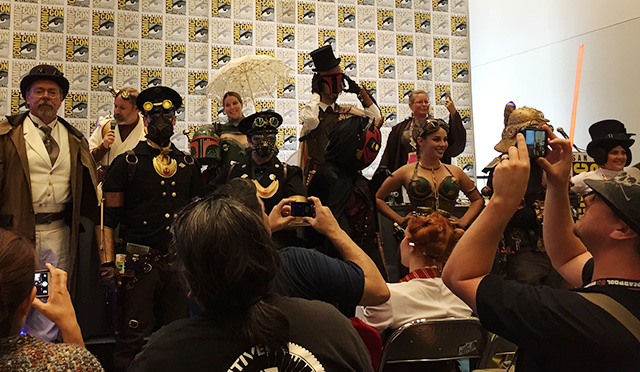 My last panel in the Fan Culture room was The Business of Geek Fashion. My degree is in Fashion Merchandising and Product Development and I have minors in Business and Communications so I was very excited to see this panel. Lisa Granshaw moderated and the panelists were Jed Seigel (ThinkGeek Solutions), Ed Labay (Hot Topic), Ashley Eckstein (Her Universe), Sara Scargall (WeLoveFine), and Arthur Gibree (Sanshee). The panel offered a really insightful look into how geek fashion is made, how it has evolved over the years, and the latest trends. What I actually found most interesting was the topic of licensing and how that works.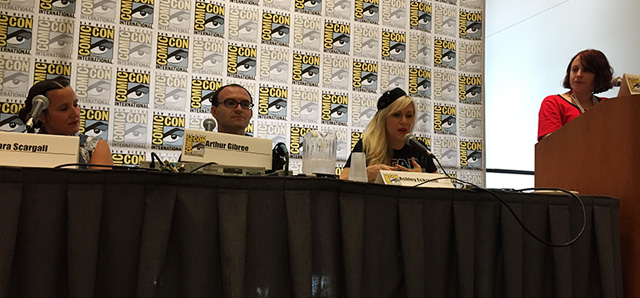 Luke and I met up in Room 8 for the "Beauty in the Beast" panel. Friends joined us, but after waiting almost 20 minutes after the scheduled start time, we were told that the panelist – entertainment designer and director Neville Page – wasn't showing up.  At that point, we weren't sure what to do next. Checking Twitter, we found out about the Star Wars concert that was happening and ran outside. While I got lost trying to figure stuff out, everyone else in our group somehow got into the concert. My sister got her and two friends VIP passes and Luke even got a lightsaber! Of course, I was frazzled from everything and feeling left out and sad that I couldn't be having a good time with my friends. Eventually, Luke left the concert so I wouldn't be alone which I still feel terrible about since it was the highlight of his Comic Con experience. We walked over to the Next Day Line to join our friends Holli and John. From there, we listened to the rest of the concert and enjoyed the incredible ending fireworks finale.
We stayed in line for several hours waiting for a wristband. We used Twitter to stay up to date on the handout progress, but the process was very slow and discouraging. I hadn't wanted to stay in line to begin with, but after all those hours I was pretty stubborn about staying in it until I had gotten a wristband – we were soooo close. I've been rained on while sleeping out in line alone with nothing on me (gotta love Hall H), so I had definitely been through worse, but my friends got cold and tired and left. My sister stayed with me and less than half an hour later, we had our D section wristbands and finally went back to our hotel to sleep for a few hours.
I have soooo many photos from Day Three so it might take a while, but it's on the way!