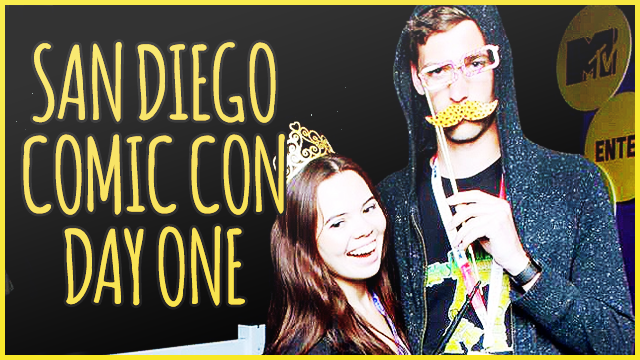 Yay! The first official day of San Diego Comic Con 2015! After a wonderful night of much-needed sleep, I woke up, threw on one of my new We Love Fine Star Wars tanks and excitedly headed over to the Wrath of Con Bloggers panel to see some of my favorite Con bloggers. Unfortunately, by the time I got there, there was quite a line outside the room and it didn't look to be moving at all 🙁 
I called up Luke to see what he was doing since my chances of making it into the panel looked slim. He said he was actually in Hall H with our friends John and Holli (often referred to as "Jolli"). He said there was currently no line and they had just walked in! I didn't waste anytime in booking it over there and, sure enough, he was right – no line, I just walked on in, found them and was able to enjoy the Open Road panel with Bill Murray (promoting Rock the Kasbah) – awesome!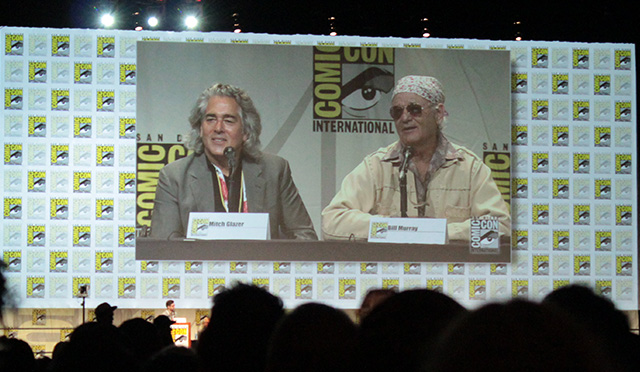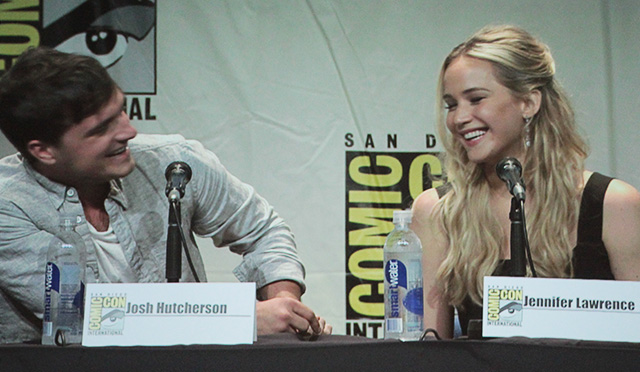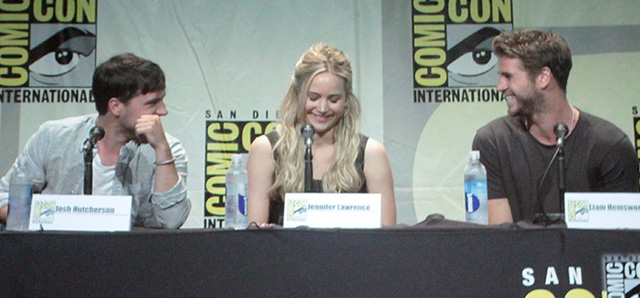 What really excited me was that The Hunger Games: Mockingjay Part 2 panel was up next! It opened with a cool presentation of live drummers before the panel's moderator, the hilarious Conan O'Brien took the stage. He introduced the panel starting with director Francis Lawrence, followed by producer Nina Jacobson, then cast members Willow Shields (Prim), Liam Hemsworth (Gale), Josh Hutcherson (Peeta), and Jennifer Lawrence (QUEEN, ahem, I mean Katniss). Personally, I was very surprised but super psyched to see the main trio there. I don't fangirl much anymore, but it definitely came out seeing JLaw and JHutch being adorable together (I'm hardcore Team Peeta). They showed the first full-length trailer of the movie which looked awesome then answered some questions both from social media and the audience. A few snippets I wrote down…
To Liam: "If you could meet Gale, what would you say to him?"
Gale: "It's alright, mate, there's plenty of fish in the sea."
To Jennifer: Which of Katniss' outfit would you keep?
Jennifer: "The wedding dress…because it's understated." Love her. She says the wetsuit would be pretty cool to have and wear to the beach then adds that she misses her orange backpack and she used to hide her phone in it.
When asked if the ending was going to be the same as the book, Francis Lawrence says things can change in adaptations but if fans liked the ending of the book, they'll love the end of the movie. I hope he means the epilogue…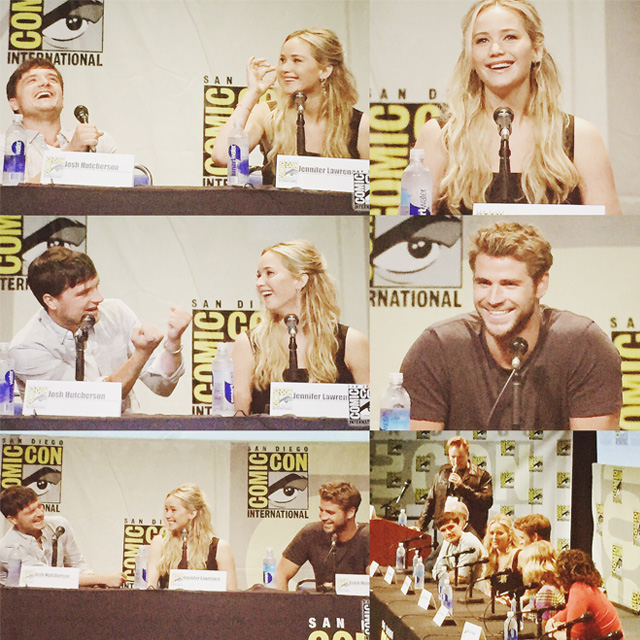 After the Hunger Games panel, I headed to NerdHQ which was located just across the street from my hotel. My sister, Melissa, met up with me to register and check out the venue before going back to the Exhibit Hall. I didn't have anything planned for another hour so I went back to my hotel room to charge my camera (which I forgot to do in my exhaustion the night before), upload photos, and eat lunch.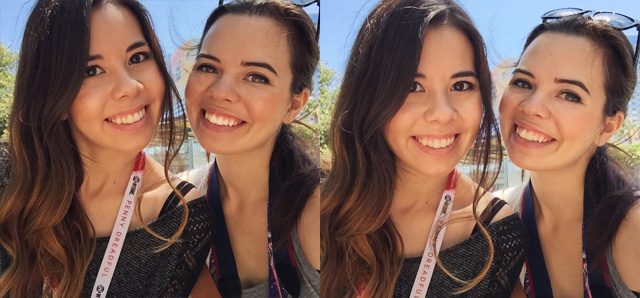 Fully recharged, I met Luke at the Manchester Grand Hyatt (which is absolutely gorgeous) for the Hollywood Location Scouts panel. I love these industry panels and find them so informative and insightful for anyone curious about the film industry. I went to one on Casting Directors a couple years ago and it's definitely up there as one of my favorite Comic Con panels ever (I might be biased though since casting is my dream). 
This panel consisted of Moderator Scott Trimble (Terminator: Genisys, Jurassic World), Nick Carr (Spider-Man 3, Enchanted), Stephenson Crossley (Fear the Walking Dead, Transformers: Revenge of the Fallen), Stacey McGillis (Guardians of the Galaxy, Tomorrowland), Kei Rowan-Young (Django Unchained, Chef), and Steve Woroniecki (Star Trek Into Darkness, X-Men: First Class). Talk about credits! These people are obviously some of the top in their field so it was fascinating to hear them talk about a job that is so vital to the production of a film but yet so often overlooked. The panel began with this cool sizzle reel that shows various films the panelists have worked, showing location stills and then clips of what it looked like in the finished movie. Pretty nifty.
I learned a lot about what it takes to be a location scout (such as how much managerial work and liability comes with the job) in this panel and loved hearing the panelists give advice and recall stories from their projects. One of my favorite tid bits from the panel was from Nick Carr, a New York-based location manager, who recalled working on Steven Spielberg's Munich. They had cleared the streets for shooting when in the background they heard a lone saxophone playing somewhere – they had to track the guy down and pay him to stop playing for a few hours while they shoot. A little while later, they got a call informing them that Spielberg actually liked the saxophone playing in the background and to actually go back and pay that guy again to keep playing.
Once the panel ended, the panelists hung around outside the room to take extra questions. Luke went up to Steve and chatted with him for a bit. Afterwards, we headed back to the convention center. I was going up an escalator when I realized the worst had happened (at least at Comic Con) and my badge was missing! We quickly retraced our steps back to the previous panel but found nothing. And even though I had just been in the convention center, when I came back, they wouldn't let me in without my badge. Fortunately, NerdHQ was next up on my schedule and since it was an outside Comic Con event, no badge is needed. I was panicking quite a bit but Luke's calm presence and support along with some prayer calmed me down. We walked to the MTV Fandom Awards line outside Petco Park and hung out a little bit before it was time for me to leave for NerdHQ.
My dad, sister, and I had front row seats at the
Julie Plec & Friends
NerdHQ panel which was pretty awesome. The friends included Gabe Sachs, show runner of
Freaks and Geeks
(a show I love), and Zachary Levi, star of the tv show Chuck and who you could call the show runner of NerdHQ. Julie is my sister's writing hero (she LOVES
The Vampire Diaries
) and she so wanted to speak to her and ask a question, but right when she finally overcame her shyness and decided how she wanted to word her question, they were taking their last question and while Zac noticed her (she being front row center and all), he looked at her and said they had had enough questions from girls and called on a guy instead. Even though I don't necessarily keep up with her shows, I have a lot of respect for Julie and found the discussion very interesting. It's not every day you get to hear from such a successful female show runner!
Afterwards, my dad went back to the hotel and Melissa and I went to join our group at MTV's Fan Fest and Fandom Awards. MTV has put out this big event for the last few years at Comic Con, but I have always passed on it because well, MTV isn't really my thing and I always expect it to be way crowded. Walking over there, we didn't even know if we would be allowed in – maybe the venue would be capped or there would be a huge line or the event would almost be over. Luckily, there was nothing to worry about – there was no line when we arrived so we just walked right in, got a lanyard that allowed us one free drink and food item (I see now why Luke comes each year), and found Luke and John sitting on a grassy hill while All Time Low played on stage. We hadn't even sat down for a minute when someone came over to us and asked if we wanted to be in a commercial for a chance to win…something (I can't remember). Melissa and I decided why not. Not sure what they meant about a commercial, but they placed us in line to take a series of pictures with an MTV popcorn statue in front of a backdrop that made it look like we were "backstage" at the awards show.
I was starving when we finished with the photos and quickly made use of my free food and drink vouchers and got a Coke and hot dog before joining our friends back on the hill. The awards show continued with young stars Bella Thorne and Tyler Posey hosting. I missed it but at one point Luke said they showed the reaction clip of the The Force Awakens trailer at Star Wars Celebration where I am pretty much front and center during the whole thing – so apparently I was there on the screens which I thought was pretty funny.
Around the time Flo Rida took the stage, John had left so Luke, Melissa, and I walked around the area picking up more freebies (thank you Neutrogena and Kit Kat!) and seeing what else there was to do. Luke and I took a silly prop photo (above) and went through one of those dizzy spinning tunnels that make you feel like you're moving. On our way out, we each got a free sitting stool which alone made coming to the event worth it. Between the free goodies, food, music, and activities, I'm definitely planning on coming back to MTV's Fan Fest next year!
We next headed to the NerdHQ Fan Dance Party, but I was carrying quite a bit of stuff and honestly too exhausted to dance so I just watched (shout out to the awesome raptor dance crew) then walked upstairs to find a place to sit (I know, I'm lame). Before we headed back to the hotel, Luke and I got a picture with a great looking Chewbacca similar to our one from Star Wars Celebration – except with a nasty flash glare. Oh well.
I must be getting old or boring because even though it was still before midnight, all I wanted to do was soak my feet in the hot tub with Luke, go over the next day schedule, and go to sleep. Which is exactly what I did and I have no regrets!