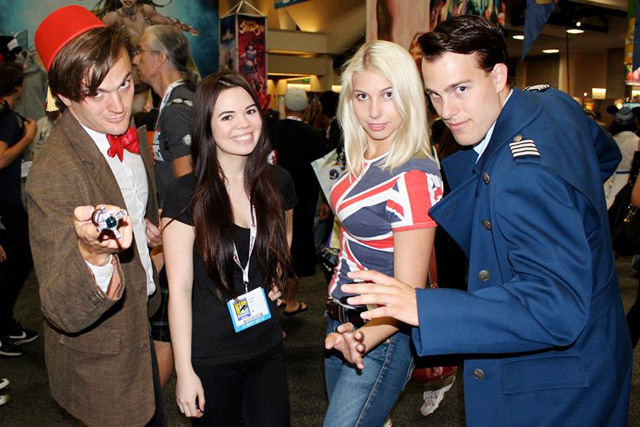 Whooo San Diego Comic Con is finally here, and I am beyond excited!! I've been going since 2006 so this will be my ninth year (??!!). So Crazy! I remember back when I first started going, and I was able to get into every panel I wanted – usually this was Hall H or Ballroom 20 and there was a very minimal wait if any. Things are certainly different now and require a bit of planning and strategy to make sure you get into the panels you want. This year in creating my schedule, I tried to stay realistic as to what panels I think I could get into (no Friday in Hall H for me, read below). Doesn't mean I'm settling though – I'm actually really excited to check out some smaller panels especially many of those in the new "Fan Culture" room. The following is a list of where you'll most likely find me throughout the con (fingers crossed!). If you think you're going to be at any of these panels or events, comment or tweet me (@amandahrosson) and let me know!

Wednesday (Preview Night!)
6pm Exhibit Hall – I'm love panels so I don't often get to roam the exhibit hall any day besides Sunday and by then a lot of the good stuff is gone so I definitely want to take advantage of Preview Night to get my goodies and swag!
9pm Game of Bloggers – Really looking forward to meeting fellow geeks and bloggers!
Thursday
12pm Mockingjay Part 2 – I would LOVE to get into this panel, but with any panel in Hall H, you can never really know for sure if you'll make it. I'll stay optimistic and include it on this list though.
1pm Level-Up Your Geek Fashion – If there's absolutely no way I can get into Hall H, I would LOVE to check out this panel (looking at the name of my blog, I bet you're not surprised).
4:15 Hollywood Location Scouts – I'm so intrigued and interested in learning more about this often overlooked but very essential production job!
7:30 NerdHQ Julie Plec – Julie is one of my sister's writing heroes, and I really respect her as a showrunner!
8:30 MTV Party and Fandom Awards – I've never gone but my boyfriend has every year so I'm hoping I can join him over there once the Julie Plec panel is over.
10pm NerdHQ Fan Party – After we've had our fill of music, food, and swag from MTV, we'll probably head back to NerdHQ to see what's going on there.
Friday
While I would LOVE to be able to make it into Hall H this day, with The Walking Dead, Game of Thrones, and Lucasfilm all happening, I know that's not going to happen, unfortunately 🙁 Oh well, I did get to go to Star Wars Celebration, and I'll be going to D23 coming up so I'm not too bummed. I honestly would be perfectly happy to camp out in Room14A all day as all the panels seem super interesting to me, however, the one I'm looking forward to most is…
1pm Business of Geek Fashion – Shouldn't surprise anyone, just reading the description for this panel got me SO excited with just how relevant it is to me and especially since I do have dreams of one day soon owning my own geek fashion line.

Saturday
10am Cosplay Makeup 101 – Just being a person who is constantly wanting to learn new techniques and things about makeup (and being fascinated with cosplay), I'm very excited to see what they have in store for in this panel.
1:30 Question Tarantino's Hateful Eight – If I could only go to one panel in Hall H that day this would be it because, well, it's Tarantino and he's a genius and definitely one of the reasons I got into film to begin with!
4:45 NerdHQ The Colony – Interested to hear Carlton Cuse speak, and I've missed Sawyer (Josh Holloway) from Lost!

Sunday
Once again, doubt I will try for Hall H but if I did…
11:15 Supernatural – For the last 9 years, I've always gone to a Supernatural panel (and NerdHQ panel which sadly won't be happening this year) – the guys are always so fun and entertaining, I just love seeing them interact with each other.
12:30 Exhibit Hall – I'll probably spend most of Sunday wandering the floor, looking for end of day swag, making last minute purchases, and taking lots of pictures of awesome cosplay.
5:15 NerdHQ Zachary Levi & the people he is currently working with – A Zac panel is always good especially when he brings friends.
What panel are you most looking forward to?