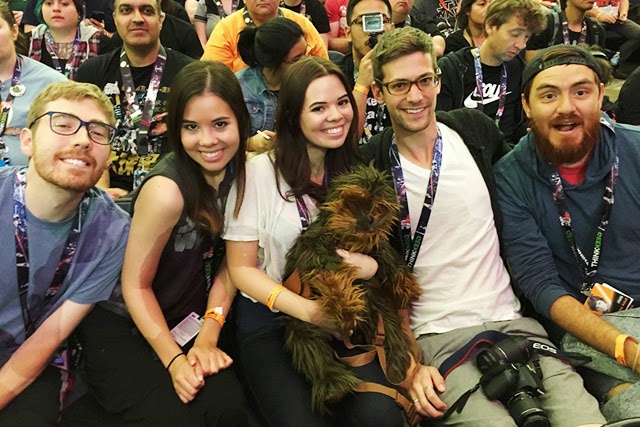 So happy to soon be seeing The Force Awakens panel!
Happy Free Comic Book Day! Hope you all got yourself some sweet free comics! There's tons of events happening all over LA, but, unfortunately, I'm a bit limited in what I can do for the time being as I am still without a car. *tear*
In yesterday's post, I recounted the beginning of my first Star Wars Celebration experience. An experience that began with an epic 15+ hour wait that led up to the eagerly anticipated The Force Awakens panel with JJ Abrams and Kathleen Kennedy. This post picks up where that one left off…
As mentioned previously, the panel was live-streamed online for the world to see so most Star Wars fans pretty much know what went down. It looks like the original live stream on the official Star Wars channel was made private but you can still find the entire thing elsewhere on Youtube (see below).
Some highlights…
Good things to come – More practical sets and effects, awesome locations, and strong female characters! All good stuff in my book!
Star Wars emojis – When you used certain hashtags on Twitter such as #TheForceAwakens, #SWCA, #BB8, etc. one of three Star Wars emojis would appear next to it – so cute! What do we have to do to make these permanent and useable on our phones??
New planet – The desert planet in the teaser is NOT Tatooine but actually a new planet, Jakku.
Droid builders – KK was so impressed with two droid builders at her last Celebration in Germany that she hired them for the new movie! Talk about the ultimate fan dream!
R2-D2 and BB-8 – It was awesome to see the actual R2-D2 used in the upcoming movie come out on stage, but the crowd seriously went crazy when BB-8 rolled out. He's much bigger than I thought but just as adorable in person – and I love the little rivalry there seems to be between him and Artoo. Even though I was seeing him in person, it was still hard to believe my eyes that BB-8 was an actual working prop and not CGI. Just…HOW??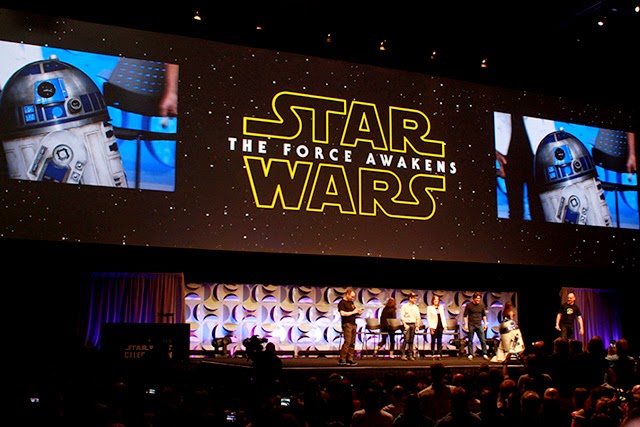 R2-D2 greets the excited crowd!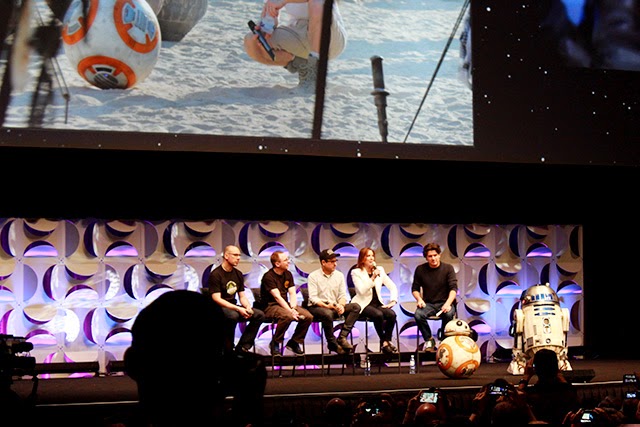 BB-8 joins R2 on stage! Droid cuteness overload!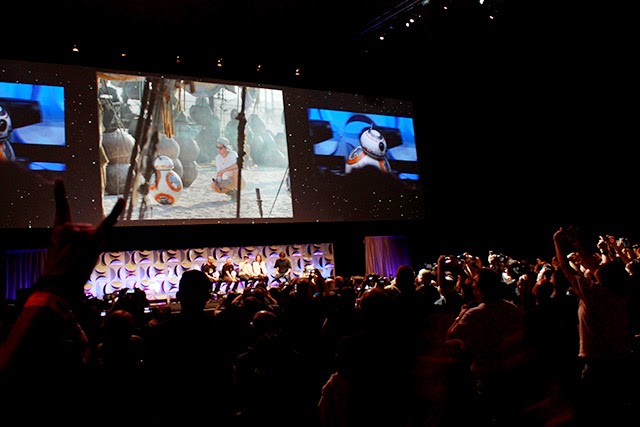 The insane crowd reaction as BB-8 rolled on stage.
The new trio… – The three new protagonists of the film – John Boyega, Daisy Ridley, and Oscar Isaac all seemed very excited to be there and I'm optimistic as they seem like a fun group with good chemistry. We learned that Boyega's character Finn is indeed a stormtrooper, Ridley's Rey is a scavenger on Jakku, and Isaac's Poe is an excellent X-Wing pilot (in his words the "frickin' best pilot in the galaxy"). Although they are all relatively unknowns right now, I know once the movie comes out, they're going to be everywhere. I hope when that happens they continue to stay grounded and appreciative of the Star Wars universe.
…Joined by the old cast – It was incredible to be in the same room as Luke, Leia, Chewie, and Threepio. Peter Mayhew came out with his cane and was just as tall as Mark Hamill sitting down. Anthony Daniels got C-3PO's name wrong but it's forgivable because he delivered such a heartfelt and eloquent speech and stands as the only cast member to appear in all 7 films. Harrison Ford was noticeably absent as he's still recovering from his plane crash but we're told he would've loved to be there. Their time on stage is brief, but their gratitude and appreciation for the fans and Star Wars is clearly evident and very touching.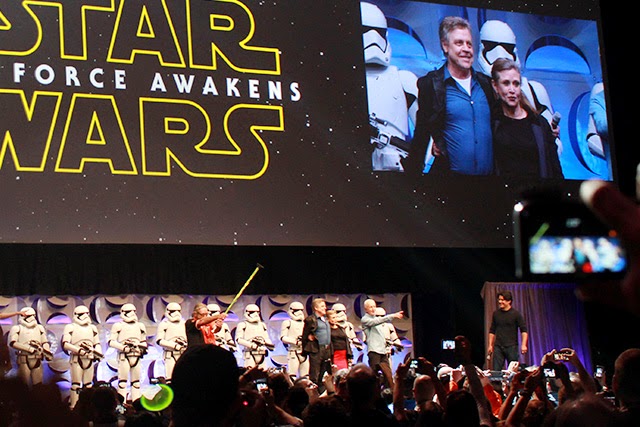 The old cast members backed by a line of the new stormtroopers.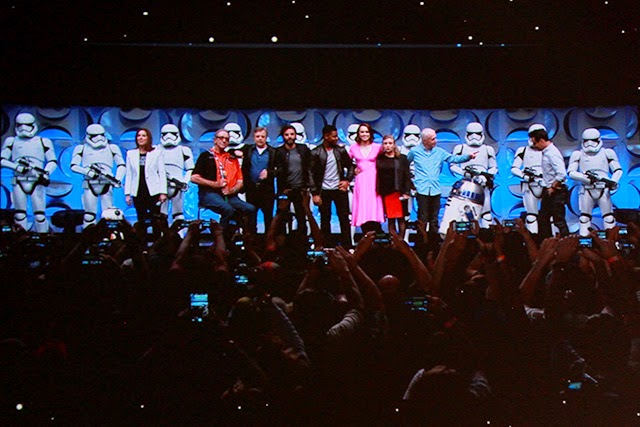 The new and old cast members together on stage.
The new teaser – The above moment could only be topped by one thing – new footage from the film. While we didn't get a full trailer, we got a pretty satisfying teaser. Even if you're not a Star Wars fan, you've probably seen the by now ubiquitous 2-minute clip. I've never teared up watching a teaser or trailer before (not even for Star Trek), but I couldn't stop the tears forming around my eyes as I took in every shot, on the edge of my seat, my hands clasped together under my chin. The overly enthusiastic group of guys in the row in front of my group recorded the crowd reaction as the teaser played. They were a bit over the top and made it difficult to hear a lot of stuff so thank goodness they played an encore! I noticed as they were filming that I could definitely see myself in their video and was going to grab their contact info so they could send me a copy, but my friend Bill actually found their video on YouTube. Check it out below! I love how you can see me wiping my eyes after the teaser plays and recording my own immediate reaction video – look for it in a future video very soon!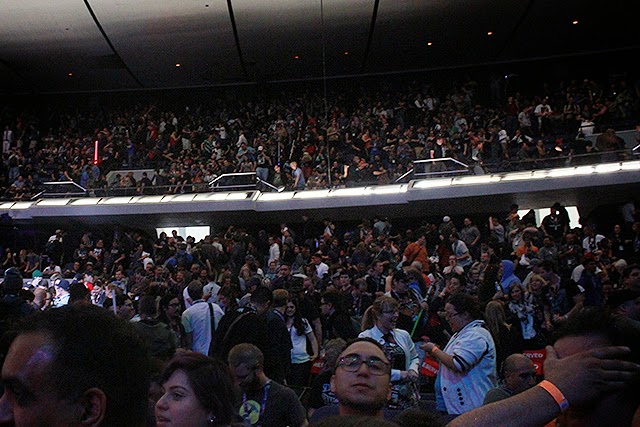 So many Star Wars fans!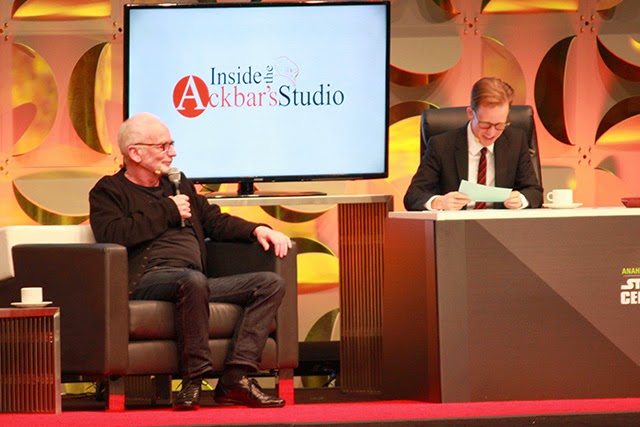 Haha Inside the "Ackbar's" Studio – I loved that.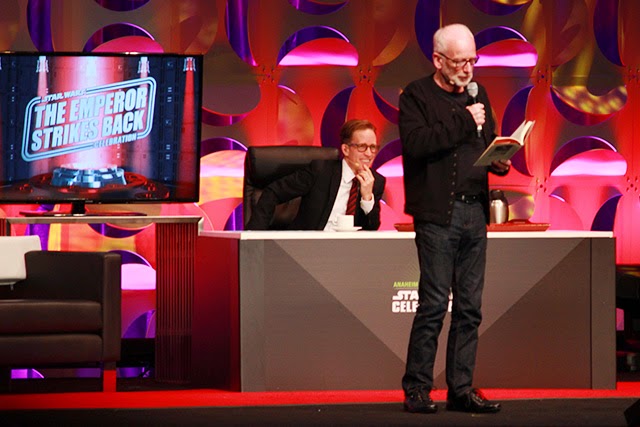 Ian doing his incredible Star Wars Shakespeare reading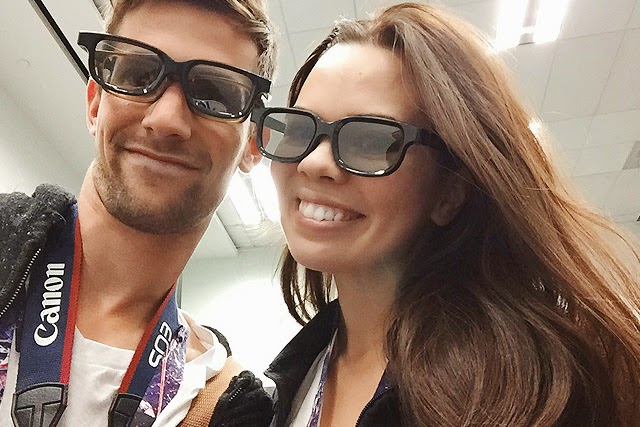 Queued up in line in our exclusive SWCA 3D glasses!
I'm not a big fan of the prequels, but I wasn't quite ready to end my first day of Celebration. Plus, if I were going to watch those movie again, what better place to watch it than at Star Wars Celebration in a room full of huge Star Wars fans from all over the world? I can also say I saw the world premiere of Attack of the Clones in 3D.
I thought maybe I would gain a new appreciation for the first two prequel films after watching them this time around (the last time I had seen either has been several years), but my opinion has stayed the same. The only scene I find interesting in TPM is still the Duel of the Fates scene, I still cringe at ALL the romantic dialogue in AotC, and I still find Anakin in that movie very creepy. I, by no means, hate the movies, I just really, really wished they were better and I liked them more, but I just can't and it saddens me. Sigh.
Don't think that means the day ended on a bad note, however! I actually really enjoyed the experience of rewatching the movies even if I don't love them like the original trilogy. I was in good company, got a much needed nap in, and got to walk away with a pair of cool 3D glasses! All in all, I had a pretty incredible day. Thus concludes my Day One recap of Star Wars Celebration.