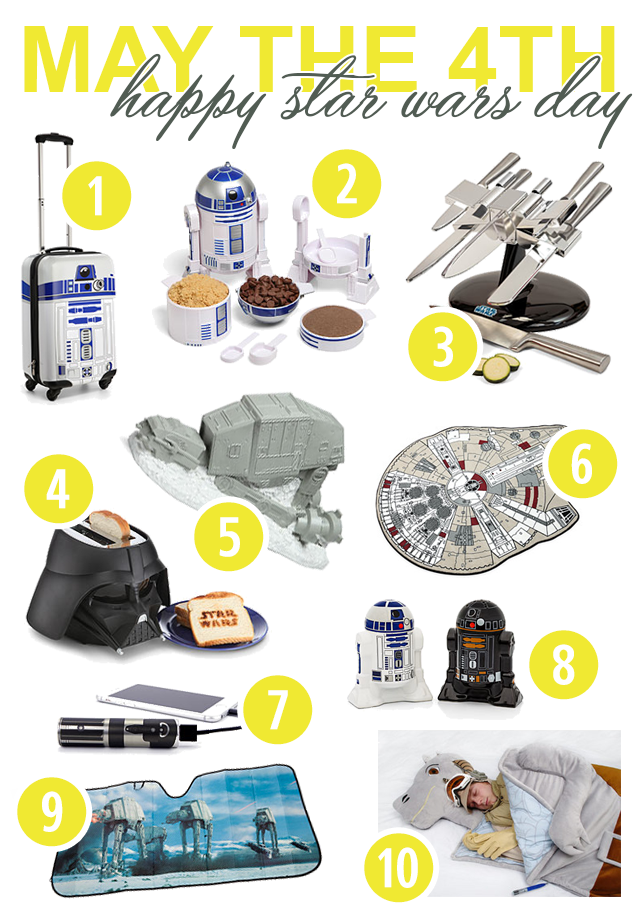 Happy Star Wars Day & May the Fourth Be With You!!
For today's post, I thought I would take a break from my Celebration recaps and share with you some nifty Star Wars stuff to help you celebrate May the Fourth! This post is in no way sponsored, but for convenience's sake, everything in this post can be purchased on
Think Geek
! They are actually running a Star Wars Day promotion where all their Star Wars stuff is 20% off and you get a nifty pin if you spend over $20! Promotion only lasts till midnight tonight so if you want something, you better hurry!
1.
R2-D2 Carry-On Luggage
– How cute is this? I just love the thought of having Artoo rolling along behind me around the airport.
2.
R2-D2 Measuring Cup Set
– My sister got this for Christmas last year, and I am extremely jealous! It's pretty ingenious how it's all put together and looks super cute in the kitchen!
3.
X-Wing Knife Block
– So cool! I can't get over how neat this looks! I was THIS close to purchasing it at Celebration but backed out at the last second due to lack of cash.
4.
Darth Vader Toaster
– I love Star Wars and I love toast so I need this in my life eventually! I've actually had my eye on this for awhile – I don't own a toaster yet but if I were to buy one, this is it right here.
6.
Millennium Falcon Printed Rug
– This rug is very high on my Must Have list. Once again, I seriously considered purchasing this at Celebration and just might have done so if they hadn't run out. With ThinkGeek's 20% off and free shipping over $75 though, I'm actually glad I didn't get it there and think I will purchase this myself once I'm done writing this post!
7.
MimoPowerTube Smart Phone Chargers
– You don't understand how valuable portable chargers are to my life especially since I can't charge my phone in my car! And during Comic Con, these are essential! None of my chargers are as cool looking as these though! My personal favorite is the lightsaber, but you can also get these featuring Yoda, Boba Fett, and Artoo!
8.
Droids Salt and Pepper Shakers
– I'm back to the kitchen stuff! Sorry, I can't help myself! I have the most boring salt and pepper shakers ever, and I wouldn't mind swapping them out for these cuties. These also ran out at Celebration (I saw the guy take the last one!) otherwise my sister or I probably would have picked these up for ourselves.
9.
Empire Strikes Back Sunshade
– I own the Millennium Falcon sunshade and see it get a lot of love, so I wanted to showcase another super cool Star Wars sun shade. This one features the Battle of Hoth and just how awesome does it look?
10.
Tauntan Sleeping Bag
– I've wanted one of these tauntaun sleeping bags since ThinkGeek first posted it as an April's Fool joke before it became an actual product. All these years later, I still can't afford to throw down $150 for a sleeping bag as that costs more than my mattress but…*sigh* one day.
What are some of your favorite Star Wars products?