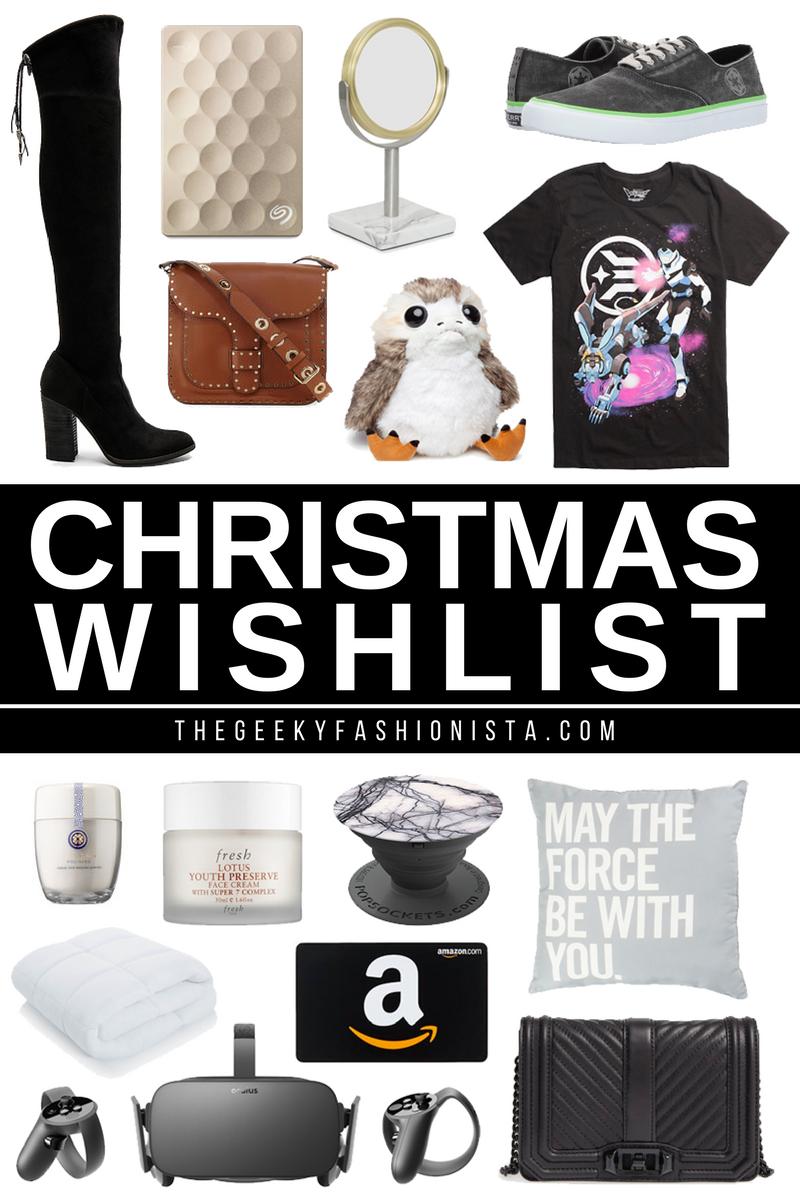 Last year, I put my Christmas Wishlist post up the earliest it'd ever been. This year, I'm pretty sure is the latest… sigh. Sorry, fam (I mean, my literal family, who I know have been requesting this post for weeks to use as a guide). This Christmas season has been crazy with lots of travel, parties, and cons. We still don't have the Christmas tree up yet.
As I wrote last year, while it's nice to be spoiled by Santa as once when I was a kid, I'm at the age now where if I really want something, I just go get it myself with my own hard earned money and that feels great. However, I've posted a Christmas Wishlist post every year since 2010, and I plan to keep the blogging tradition going with 2017! Plus, I don't know about you, but I love reading other people's wishlists – it gives a nice little peek into their personalities seeing what they like! Hopefully, ya'll will enjoy reading mine as well!
Today, I'm sharing my personal Christmas wishlist of items I've had my eye on all year (and most of which I'll probably end up treating myself to eventually).
My 2017 Christmas Wishlist
1. Rebecca Minkoff Bag

I don't really have any designer bags – there are just other things I'd rather spend my money on (which make them great gifts XD). I do have one Rebecca Minkoff bag that was given to me as a gift several years ago, and I absolutely love it. It's a mini mac crossbody, and I wear it ALL the time despite it having a broken zipper and showing a good bit of wear. I've been eyeing a new Minkoff bag for a while, and I've decided my next bag will be either the Midnighter messenger or Love crossbody bag. The Midnighter is versatile and adds a bit of edge with its studs and the Love looks so elegant with its quilted leather, it'll make any outfit look polished and put together.
2. Oculus Rift
Something that constantly amazes me is how far we've come in gaming technology. With how busy my life has been this year, I've had little downtime. However, I recently was able to try out the Oculus Rift and didn't want to stop! It didn't hurt that I was playing the new Voltron VR Chronicles (currently 60% off at Steam!) game. I am so impressed by the whole immersive virtual reality experience and am looking forward to playing more games and seeing all this new technology can do!
3. Voltron/Shiro Anything

Last year was Mystic Messenger – this year, my fandom obsession of the year goes to the Netflix reboot series Voltron. I just can't get enough of the show and it's lovable characters – my favorite is the leader of the team – Shiro. And bonus, just like Jumin last year, his colors – black and white – fit in perfectly with my aesthetic! I have a little collection of plushies, charms, pins, and prints – but am always looking to grow my collection. There's plenty of high quality fan-made stuff out there on Etsy and Storenvy as well as the cool official merch I still don't have like the action figures and Hot Topic recently added a bunch of character shirts!
4. Phone Accessories
I just got a cute new phone case, and I love it (thank you, Wish app, for your $1 phone cases – especially since I don't know how much longer I'm going to have my iPhone 6)! There are still other phone-related accessories I've had my eye on besides cases though. As mentioned in my Stocking Stuffers post, I'd love to try a PopSocket. Also, I am always in need of more portable phone batteries and even just charging cords as mine are constantly dying on me or lost/taken. 
5. External Hard Drive
I've had the same 1 TB hard drive since college – it's what I used to store all my raw Youtube video footage for editing as well as thousands of convention photos over the years, 2 complete laptop back ups, and more. I finally completely filled it up when I recently backed up my Macbook so I could wipe it clean. I'm now in need of a new external hard drive – definitely not picky as to brand or what it looks like as long as it can safely store my stuff.
6. Bedding
Yes, I am asking for bedding stuff – does this mean I'm an adult now? I'm saving up to buy new high quality sheets, a comforter and desperately need pillows of any kind – regular, body, decorative, etc. Right now, I pretty much just bundle up an old blanket to sleep on as it's more comfortable than the two flat, lifeless pillows I currently have. For the sheets, I love the bamboo ones I've had for years, but they're green and I would love some that are white. Same goes for the comforter. 
7. Shoes
I'm looking to expand my wearable shoe collection (because while I do have a decent amount of shoes most are unique, not versatile shoes and not appropriate for everyday or even everynight wear so I'm planning on selling most of them). I could really use some nice quality classics: nude heels, black or white sneakers, tan booties, and black over the knee boots would be a great start.
8. Marble Anything
Yes, I'm basic and on the marble train and I have no regrets! I see something marble and am instantly drawn to it – especially if it has a gold accent!
9. Porg
These cute little creatures were a highlight of The Last Jedi for me and while I don't mean to start a porg army collection, I'd love to have a little porg in my life.
10. Skincare
Apparently, I'm at the age now where I'm more interested in skincare products than makeup. 
11. Gift Cards
I will never be disappointed by a gift card! Especially from iTunes, Amazon, Hot Topic, and Target.
12. Fandom Clothing
I love repping my favorite fandoms through my clothing! I'm a fan of anything black and white; super soft and comfortable; loose/oversized; off the shoulder; with a simple design – of course, it doesn't have to be all those things, but having one of these things is what I look for when shopping for geeky fashion.
Extra Savings
No matter what I buy for myself, I make sure to ALWAYS use Ebates before checking out to earn some cash back! It's absolutely free, super easy to use, and my biggest shopping non-secret! I have earned hundreds of dollars back. There is really nothing to lose, just gain by using it. Plus, if you're new, you'll get a $10 check just for signing up! What are you waiting for? Click the link below and start earning cash back! 

**Totally NOT sponsored, I just love it that much! I will get a little something for referring you though if you use my link!**
What's on your Christmas wishlist?
Disclaimer: This post contains affiliates links – if you click on or purchase something from these links, I may earn a small commission at no additional charge to you. Thank you for your support!