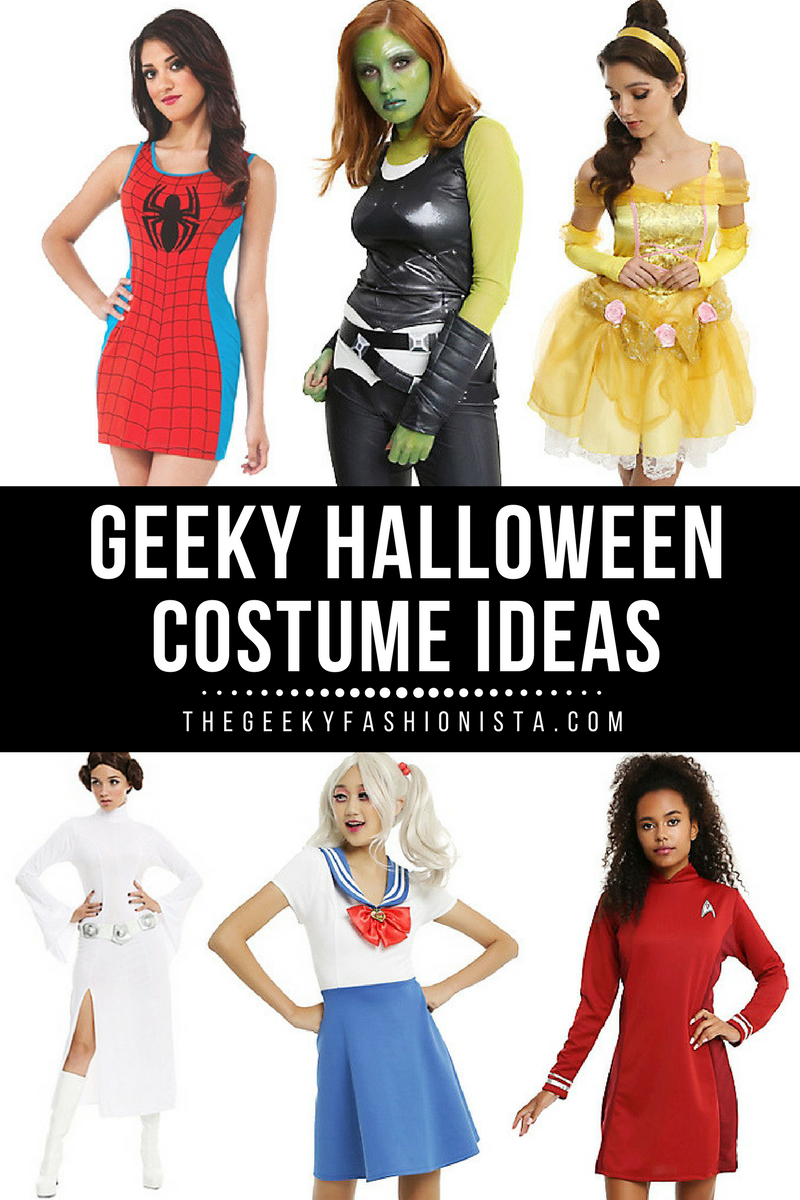 Halloween is just around the corner! Now's the time to be thinking about what costume you're going to wear unless you want to end up like me in past years. I tend to procrastinate and throw together an outfit the day of… but not this year! I'm planning on changing my ways! I still don't know exactly what I'm going to do but I have a couple of ideas and just need to narrow it down to one! And yes, they include some of the ideas in this post!
To help make sure you don't procrastinate this year, I've compiled some fun geeky Halloween costume ideas! Many of these outfits are also on sale right now so don't wait! Give yourself some peace of mind and order that costume now to have ready come Halloween!
Disney
So maybe not really "geeky" but I had to include some Disney princess costumes! These more "casual" cosplay dresses are perfect for a Halloween party!
Guardians of the Galaxy
I just love this group of galaxy-saving misfits! I think Gamora would be so fun to cosplay if you're willing to take the extra step to do some body paint. It'll definitely make you stand out! Plus, I love her ombre hair! If that's a bit too much for you, why not dress as Star Lord er, Lady, in a cool red (faux) leather jacket and fun graphic tee? (Funny story, my college sorority nickname was Star Lady!) 
Sailor Moon
What girl didn't want to be a Sailor Scout after watching Sailor Moon? The outfits are so fun and colorful! I wore the Sailor Moon dress at Mega Con and Anime Expo and it is so comfortable – not just perfect to wear all day at a con but all night for Halloween! I bought my dress before the other scouts' dresses were released so yay for more choices now! I'm hoping they'll also eventually do the outer scouts as they are my favorites. DEAL: If you're a Sailor Venus fan, her dress is currently under $11 – what a STEAL!
Spider-Man Homecoming
One of my favorite movies to come out this summer was the latest Spider-Man reboot! No need for spandex here though! For a more casual and comfortable costume but still repping your Spidey love, try his pre-spandex sweats outfit or go as a Midtown science student! 
Star Wars
How could I not include a couple Star Wars costumes? The Princess Leia senatorial gown with iconic buns hairstyle is forever a classic and still a perfect Halloween costume. And whether you're a girl or guy, Han Solo is always super fun to dress up as – as I can attest! And now that Hot Topic has come out with a vest, the hardest part of the outfit to find/make is done for you! Also, I couldn't help but include this hilarious Jabba the Hutt costume! DEAL: Hot Topic currently has Leia's classic white dress for 75% off!
The Avengers
Any of the Avengers would make a perfect Halloween costume, but I'm partial to Black Widow – she's just such a kick butt character that can definitely hold her own among the guys. I'm also partial costumes with props and few costume props are as recognizable or essential as Captain America's shield or Thor's hammer. DEAL: At 50% off, I am so tempted to make my Black Widow cosplay dreams come true right now!
What geeky Halloween costume would you wear?