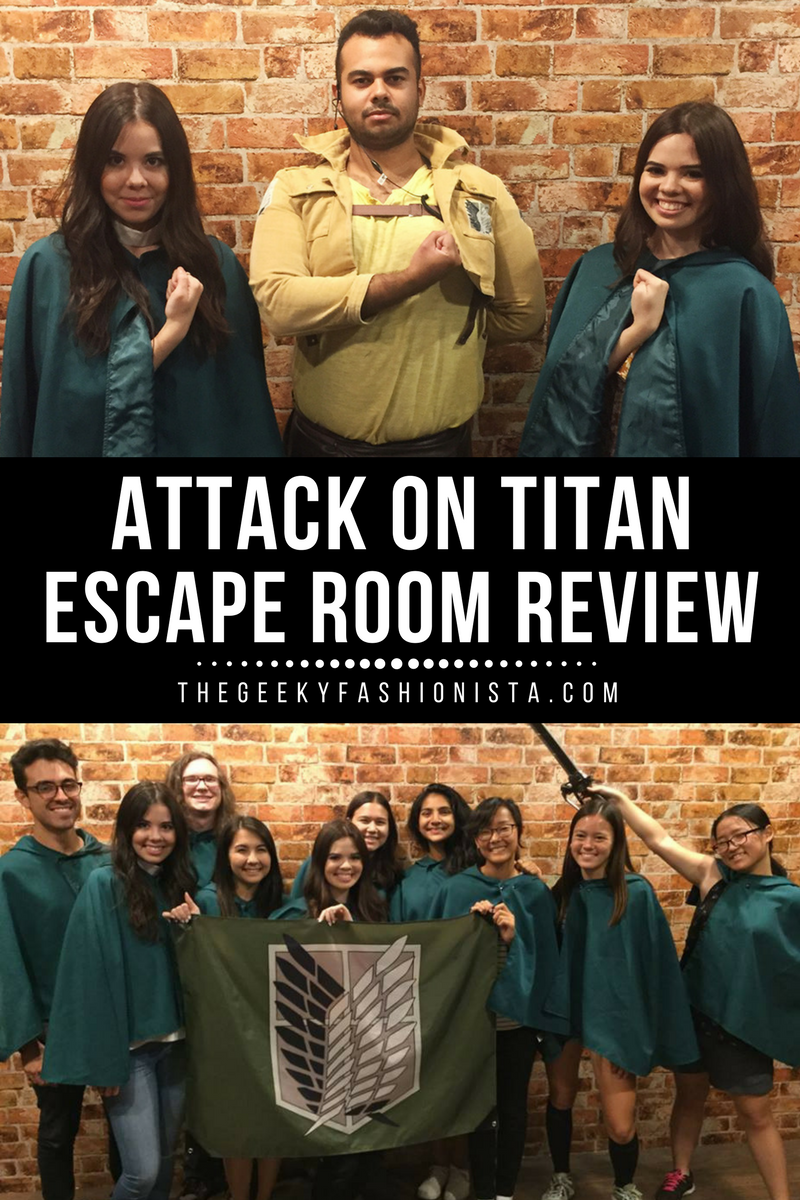 One of the major highlights of my birthday weekend was finally doing the Attack On Titan "Castle Under Siege" Escape Room in Little Tokyo, Los Angeles! First reason being I have always wanted to do a full length escape room. Second reason, I am full on obsessed with Attack On Titan and pretty much anything related to it. I couldn't think of a more perfect theme for my first escape room! Read on for details of my experience and review!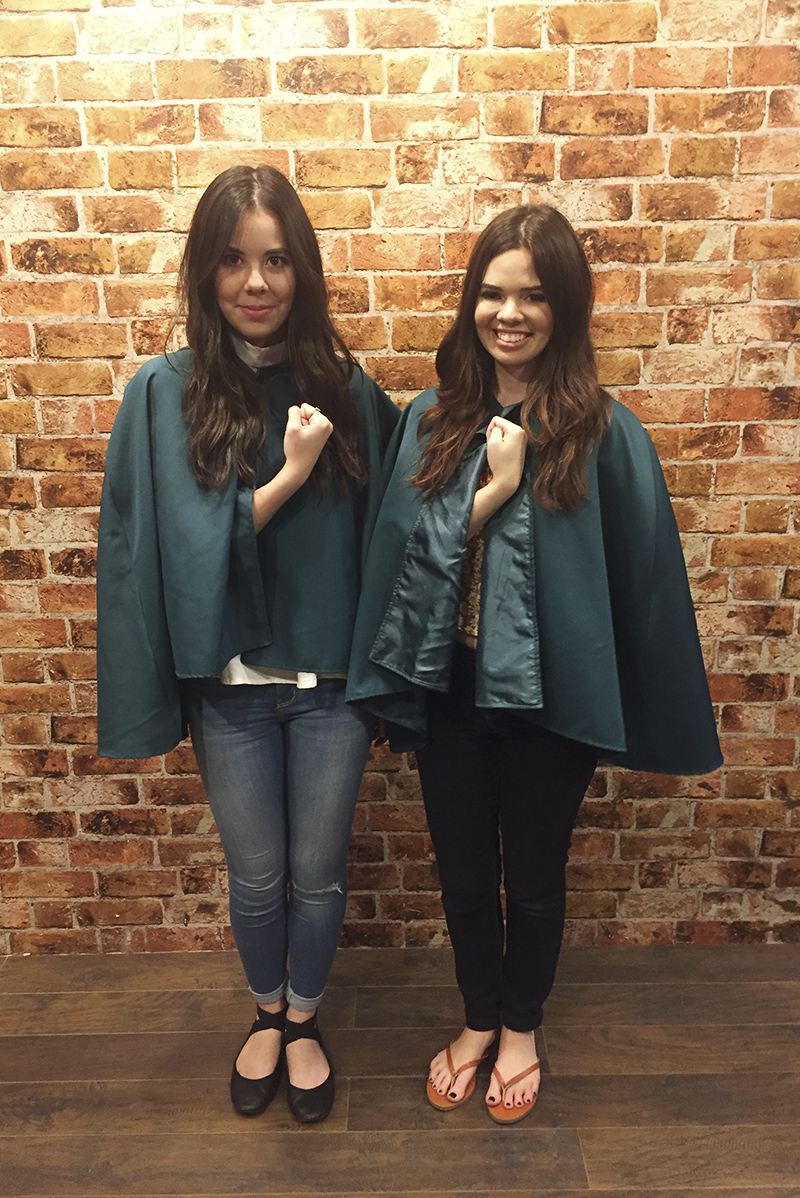 Castle Under Siege is an official collaboration between SCRAP and Attack On Titan. It's something I've been wanting to do since I first heard about it at the beginning of the year. Being the only major Attack On Titan fan I know though, I was hesitant to ask any of my friends to throw down the $35 to do it with me. However, with October being the final month of its run, I knew it was now or never.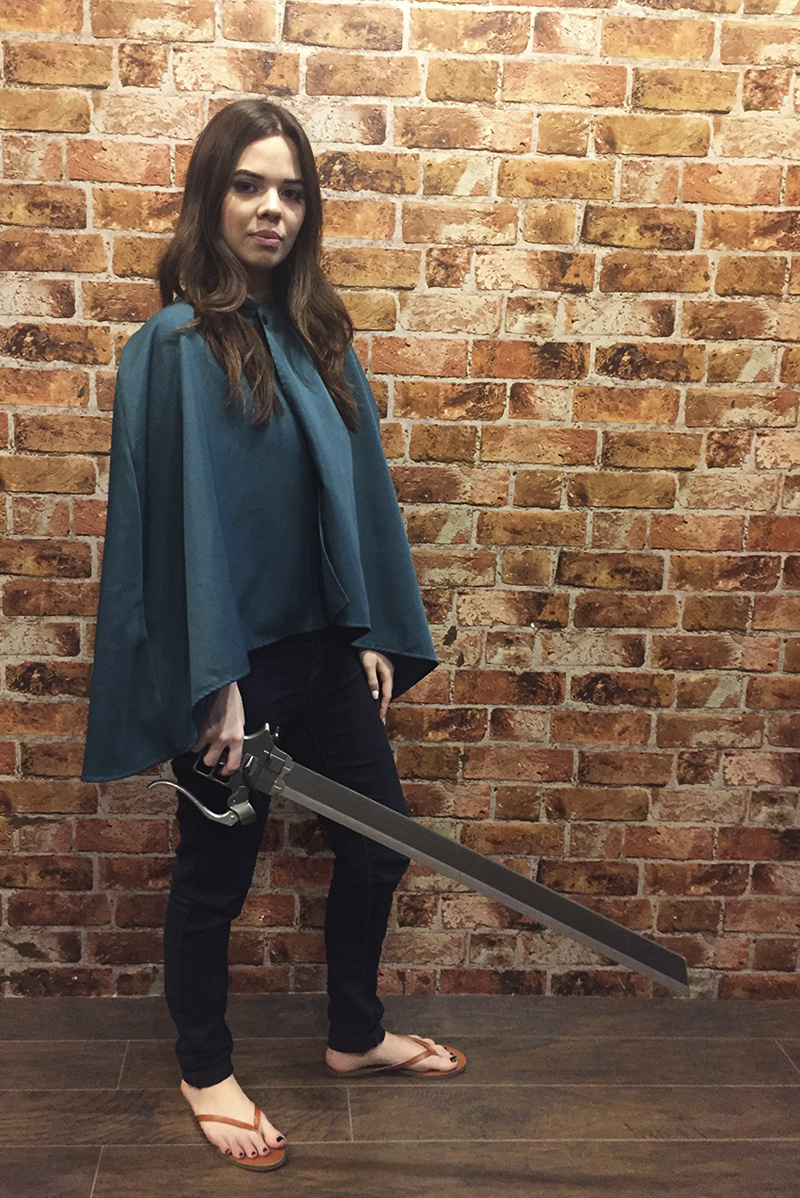 We made our online reservations for the 4:30pm slot to give us enough time before the main birthday dinner. Our group of 4 consisted of my sister, Melissa, who has watched a couple episodes of the show for me and our good friend John and his girlfriend, Marissa. While John has seen the abridged version (which is hilarious), I was thrilled that Marissa was actually a fan of the show as well. My friend Meg wanted to join but all 10 slots had all already been filled, unfortunately.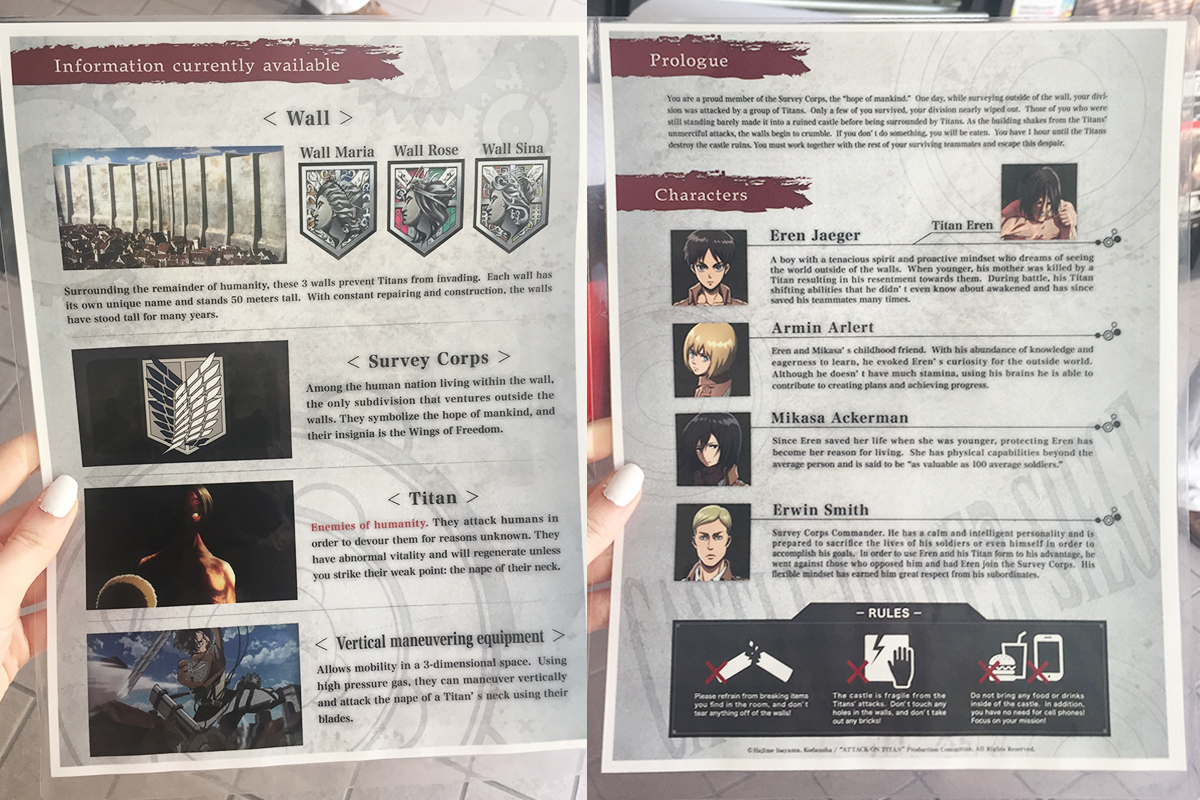 No prior knowledge of the show is needed to enjoy the escape room. For newbies, they do give you an information sheet that goes over some of the basics of the show including some of the main characters so you'll have a little better understanding of what is going on.
After signing in, you are led into a small room where you can store your bags and personal belongings then given a survey corps cape. It's a nice way to get you pumped about the game and make you feel like you're entering this Titan world. Your "commander" gives a brief rundown about the show for those not familiar as well as the escape room scenario.
Basically, we are members of the logistics team of the Survey Corps who are trapped in a ruined castle. Titans are surrounding us and we have to use our minds and resources to help our teammates Mikasa and Armin defeat them to save ourselves as well as humanity.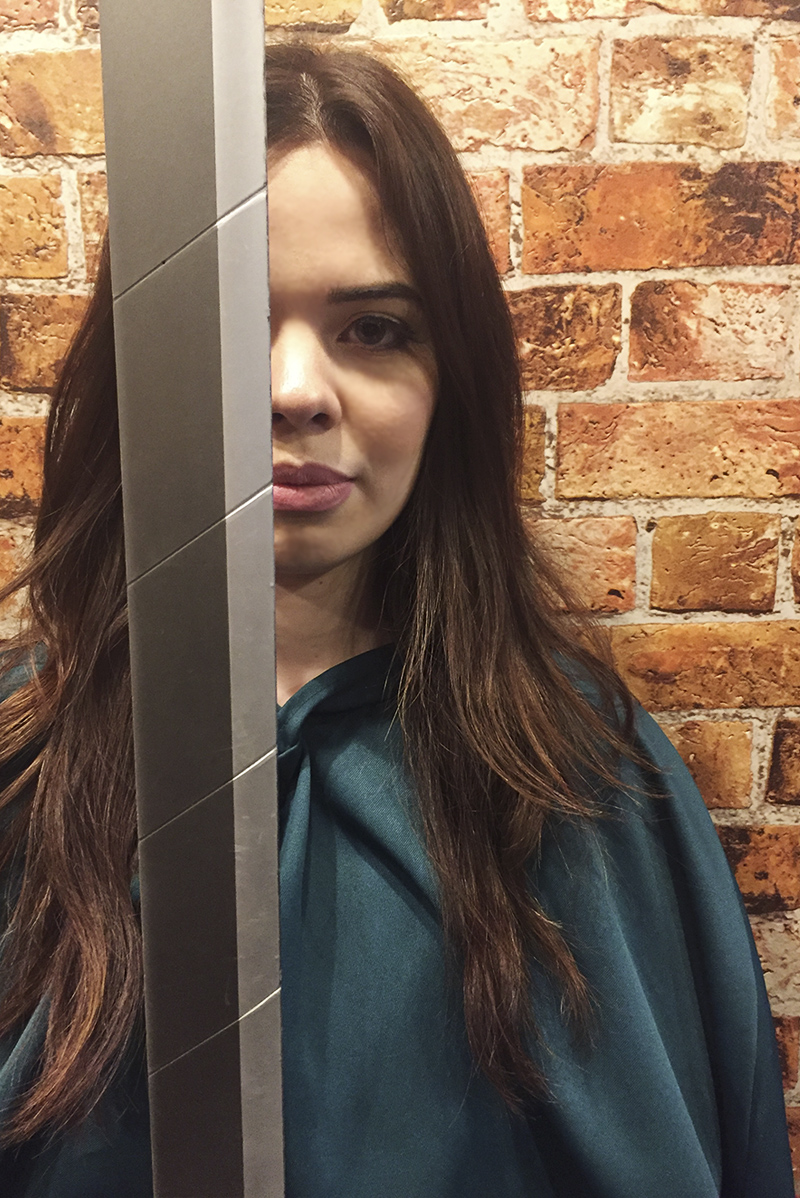 Since you will all be working closely together, your commander has everyone do a brief introduction. Each person states their name, their favorite character from the show, and what skills they can contribute in the mission. Of course, when it was my turn I excitedly announced my love for my favorite character, Jean.
With 60 minutes on the clock, everyone is led into the "ruined castle." Inside, there is an in character game master that acts as another commander who helps push the game plot along and gives you little hints and clues every now and then if needed. Besides one tricky part, honestly, our team was pretty on top of things and really didn't need much assistance.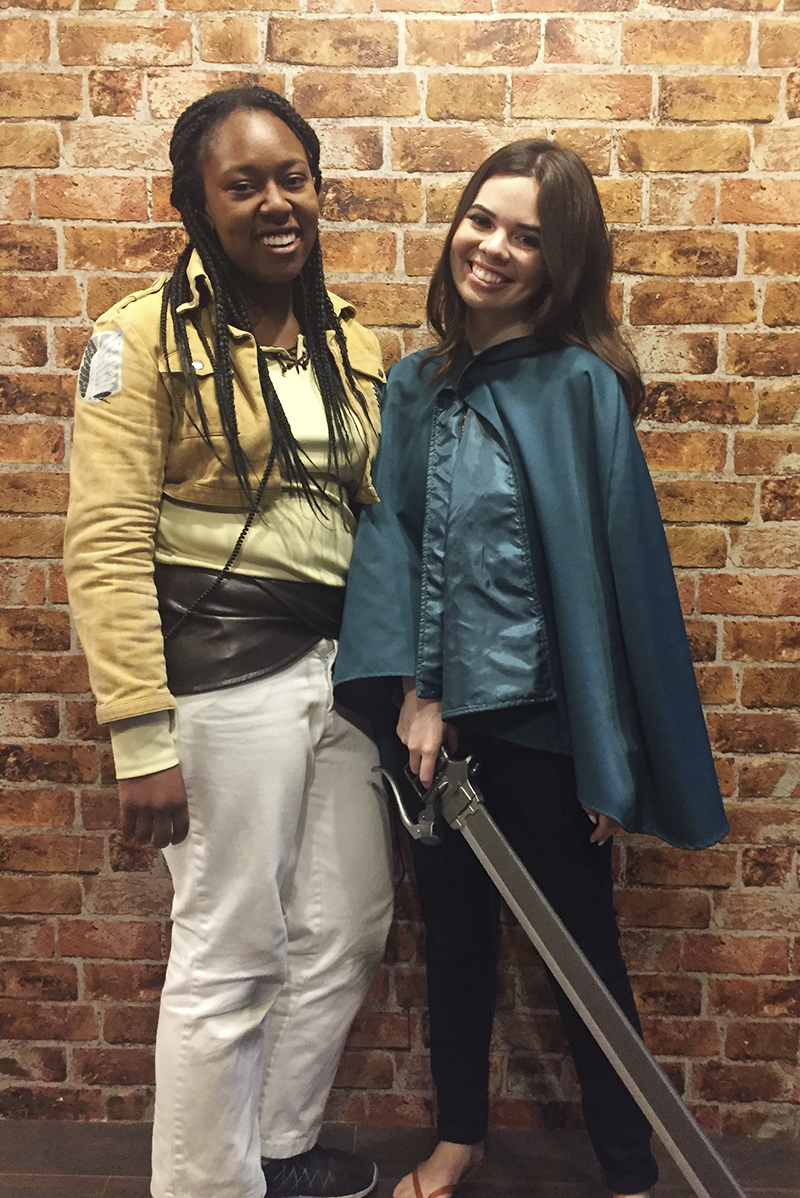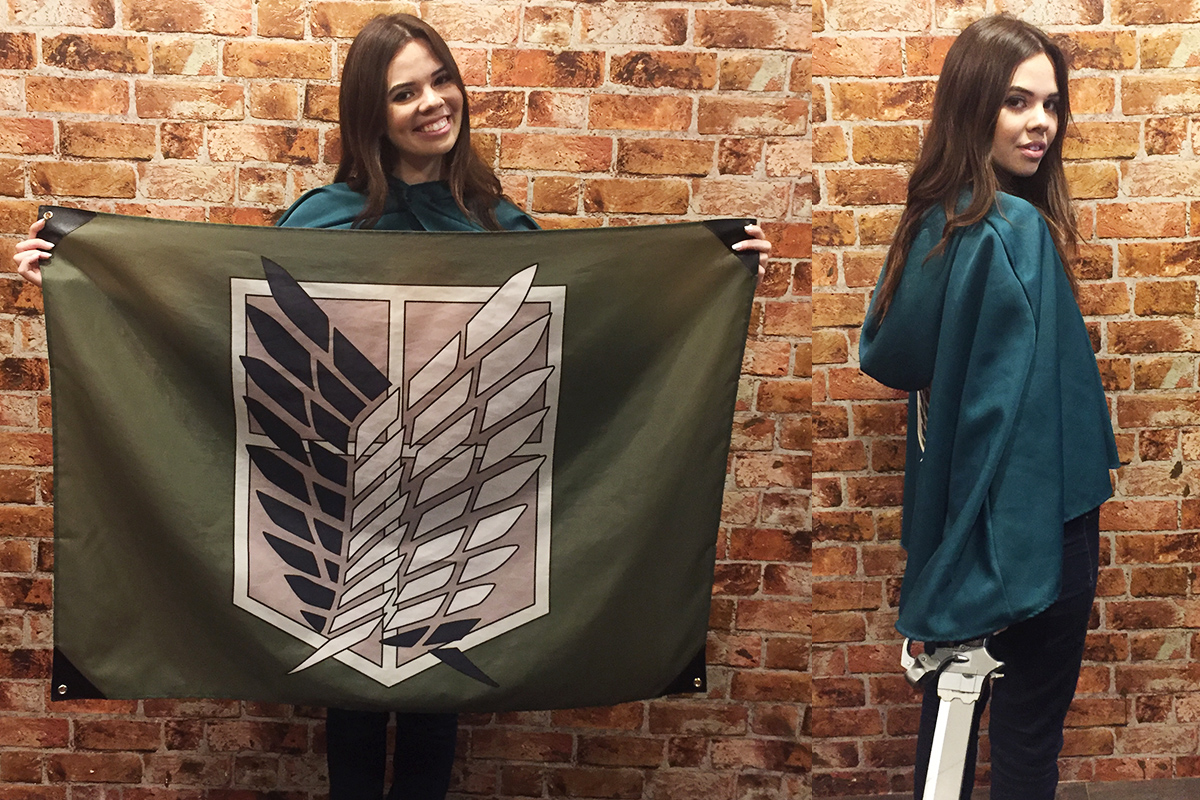 I won't give away the details of what happened during the game but I can absolutely say I thoroughly enjoyed myself. I had no idea what to expect. After finishing one challenging puzzle, I was sure the game was going to end but it just kept going, upping the stakes of the plot each time.
I was genuinely surprised and impressed throughout the game.
I was a bit worried that with a full group of 10 people including six strangers that someone might end up "taking over," trying to do everything themselves. Fortunately, that was not the case. The 10 of us worked fairly well as a group and everyone did some part to contribute whether it was puzzle solving, collecting items, etc.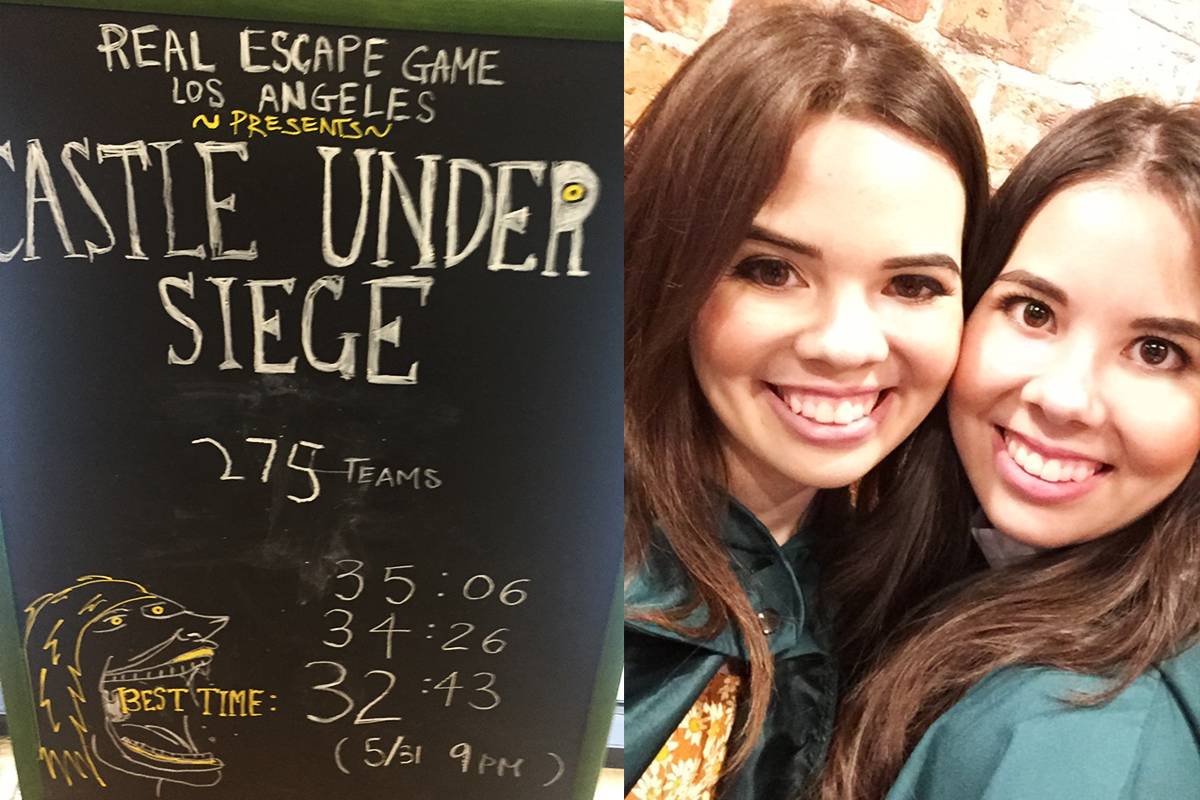 We managed to complete the escape room in 48:21 which isn't too shabby if I do say so myself! I definitely thought we were moving at lightning speed so I was shocked to see the shortest time was 32:43! How?? If your team is victorious, you get to watch a cool little video at the end. They'll also take a photo of your team and post it on the Real Escape Game LA Facebook page so you and your friends can forever remember the day you saved humanity!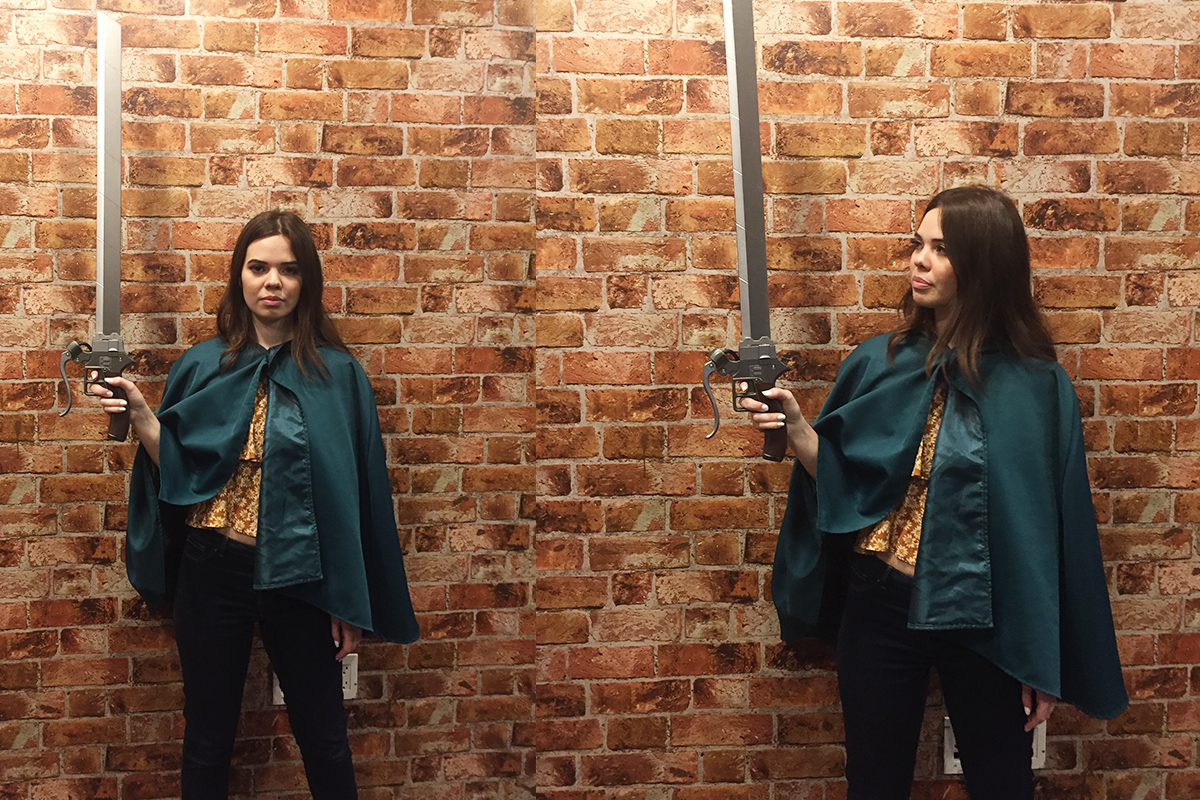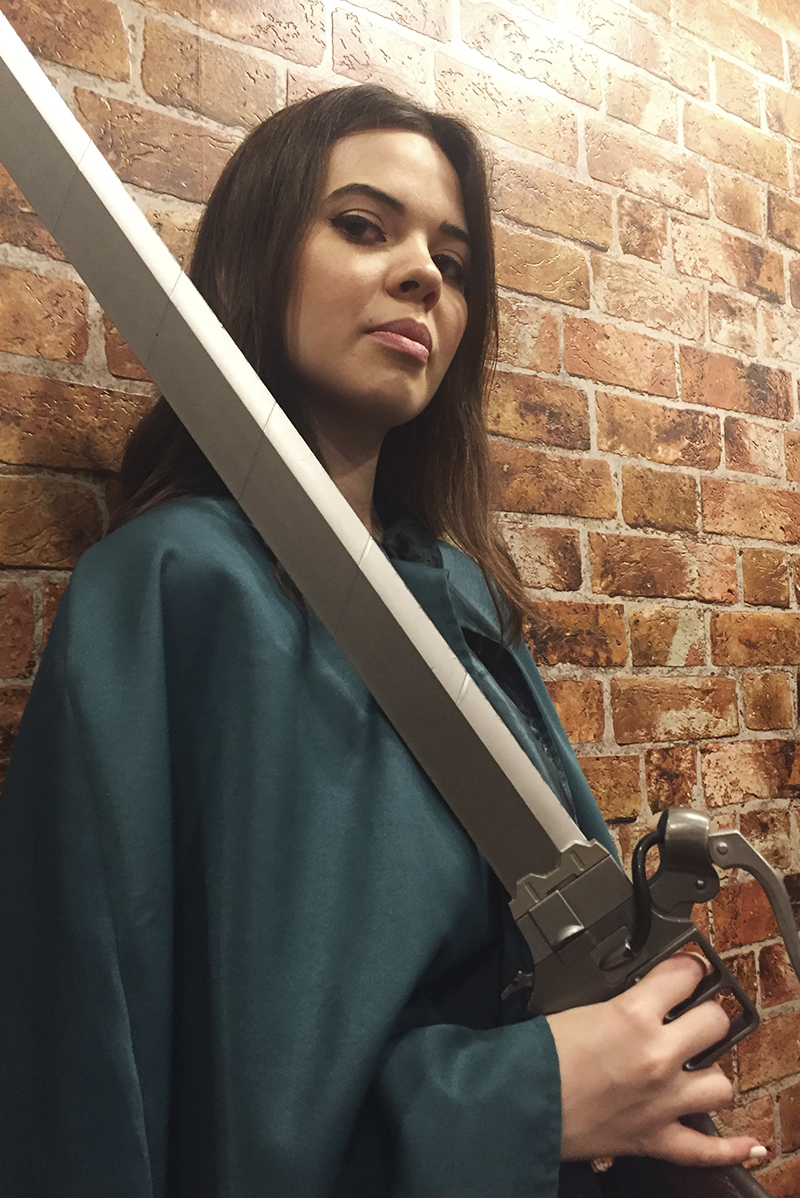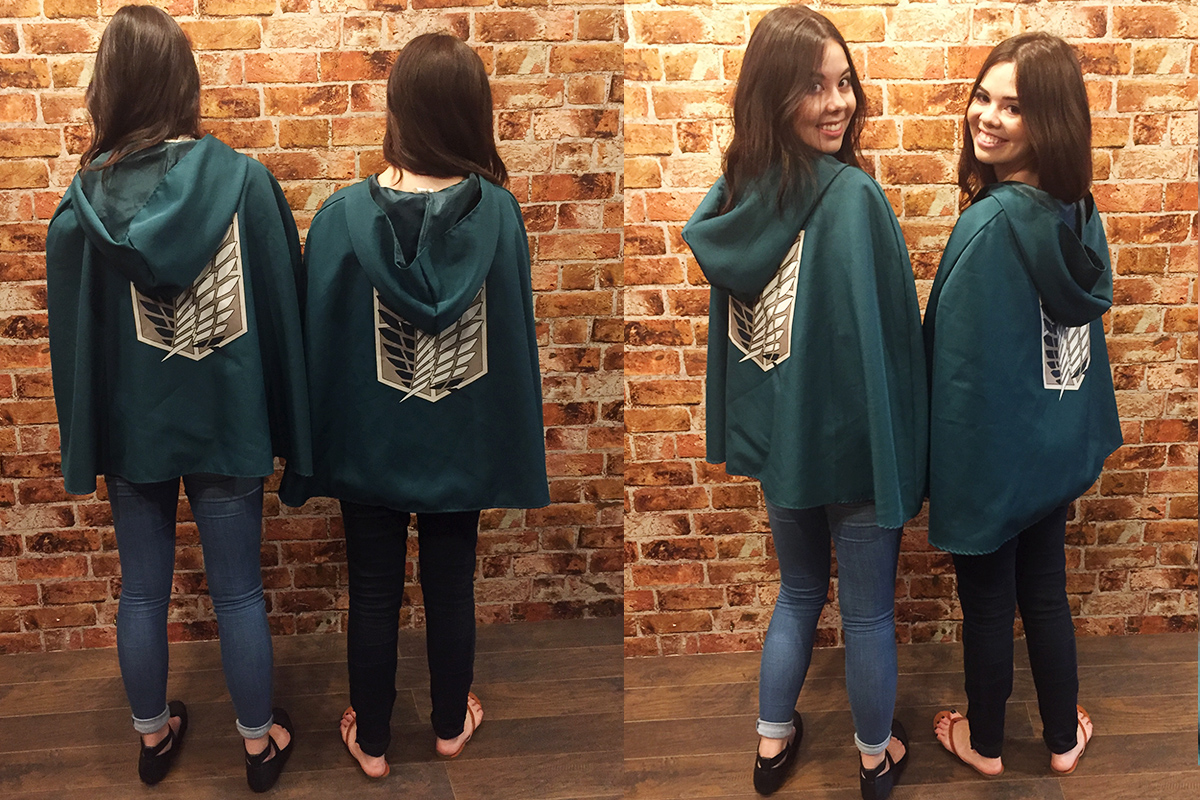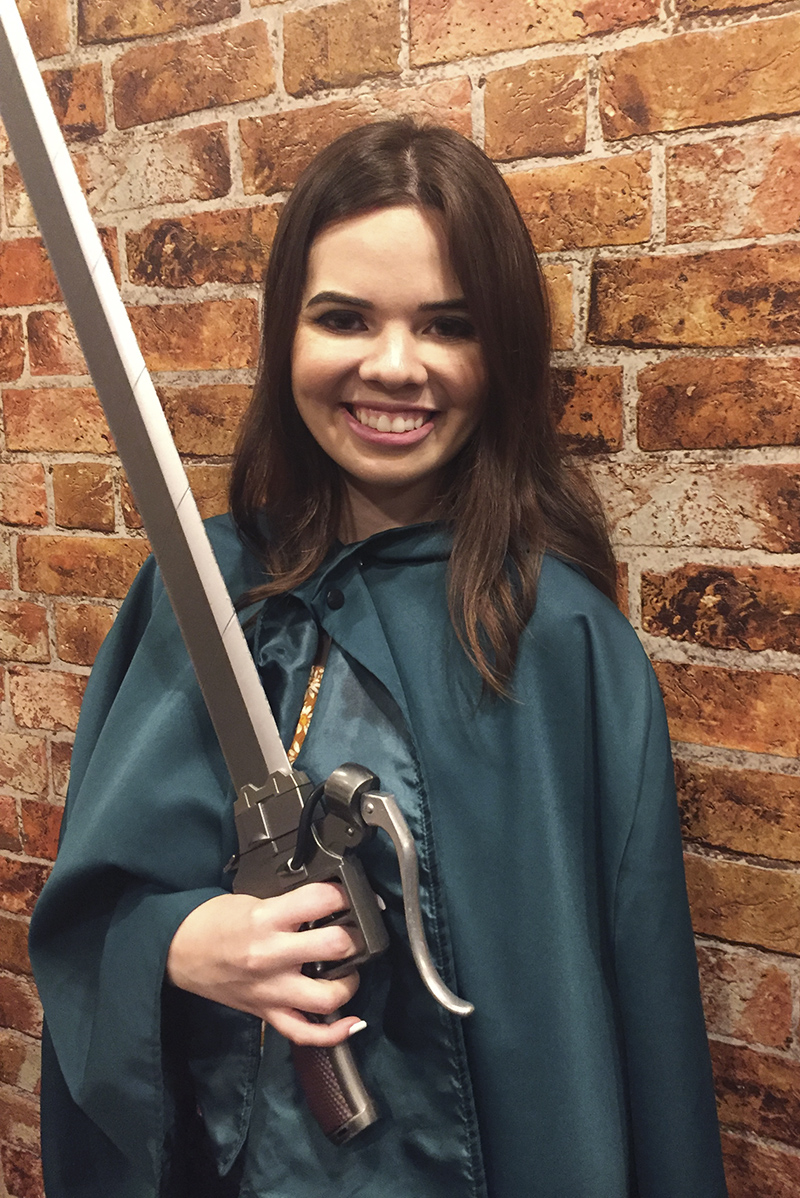 Afterwards, they also let you take as many photos as you want. As you can tell, I fully took advantage of this. With my mind out of puzzle solving mode, I was able to properly fangirl and do a mini photoshoot. Bless my sister and her iPhone photography skills.
Overall, this was such a fun and amazing escape room experience whether you're an Attack On Titan fan or not. If you're in the Los Angeles/Little Tokyo area, I highly recommend you check it out while you still can!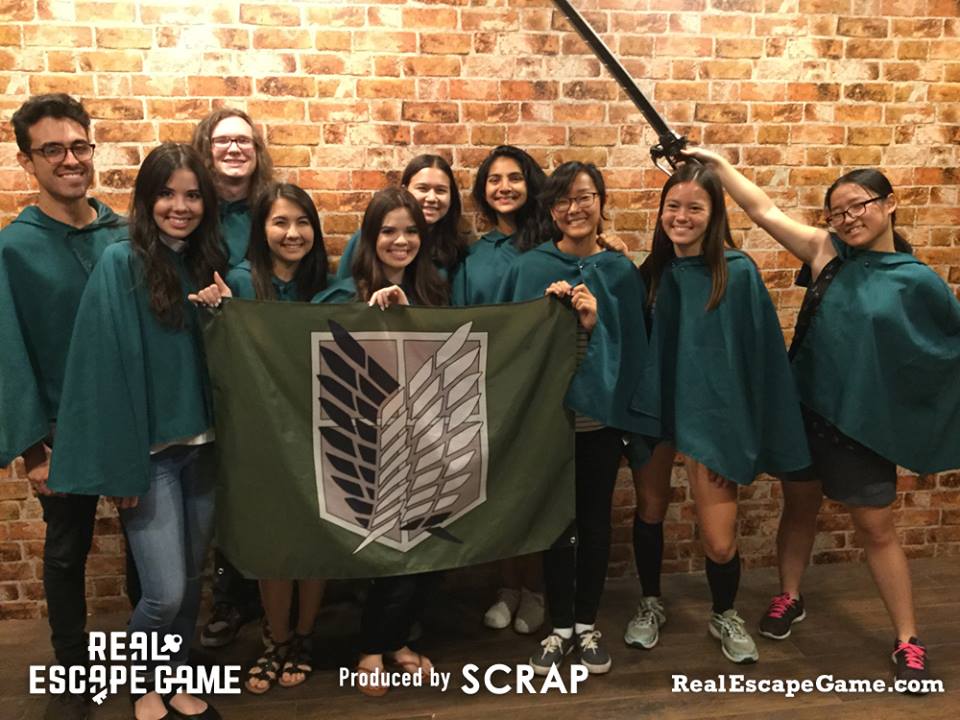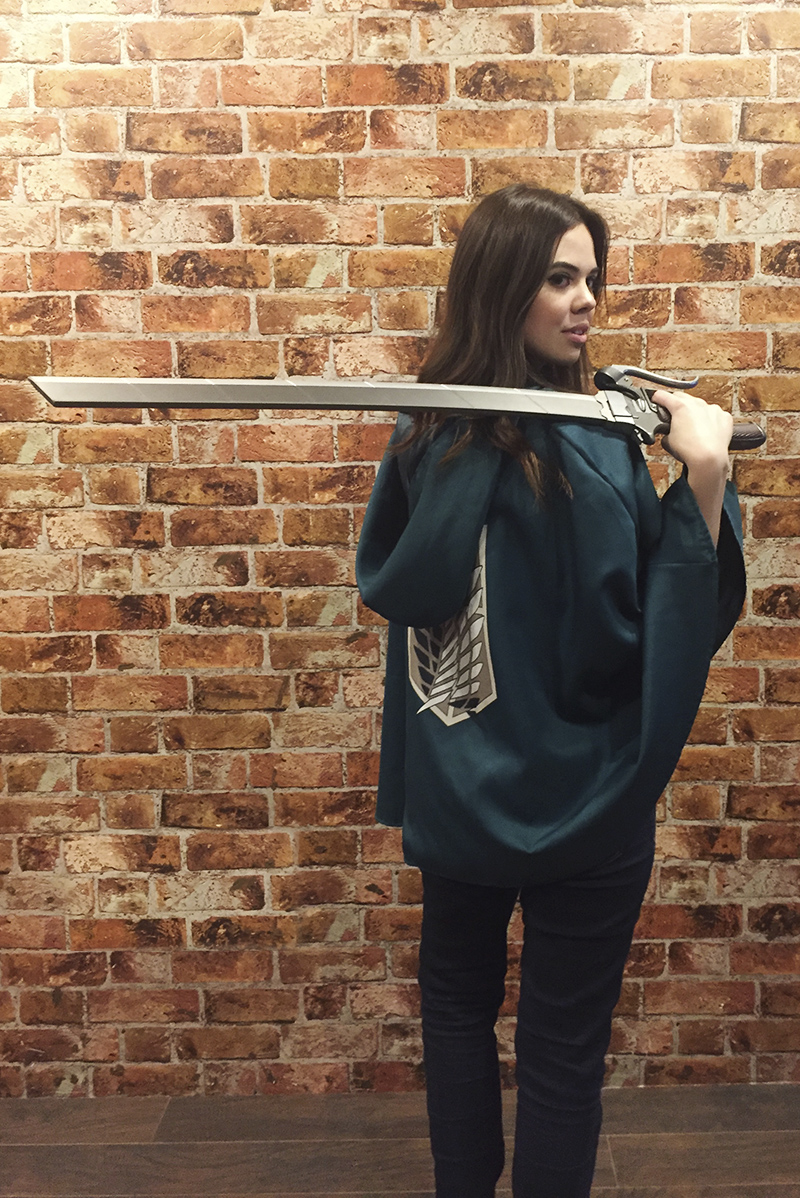 Have you ever done an escape room?