Here is Part Two of my San Diego Comic Con 2017 recap! If you haven't already, be sure to check out Part One! As stated in that previous post, in years past I've usually dedicated a post per day at SDCC. However, as you'll see, I didn't do enough this year to warrant separate posts. Of course, that's a disappointment, but I'll try to not be too much of a downer and instead highlight the fun things I was able to do! I mean, this is Comic Con – just being there is quite an opportunity and experience in itself!
Day Two: Friday

The Expanse Escape Room
I started off Friday getting in line to do The Expanse Escape Room with Luke. I had never done any kind of escape room before so I was excited to get a little taste of one. After about an hour or two of waiting, they divided people up in 2 groups of 5-6 who would compete against each other (and the clock). The groups would have 10 minutes to finish the escape room and whoever finished first would receive a special swag bag. 
For only 10 minutes, the escape room was pretty intense. Both teams blew fast their individual starting rooms then joined in the second room. Everyone was furiously trying to break the safe code. Before I knew it, both teams apparently finished at the same exact time and we all got swag bags! Crazy! But I went with it XD After we got our bags, we had the option to do a cool "motion poster."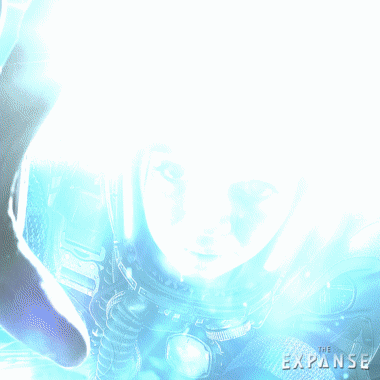 Inside the swag bag was a Blu-Ray of the first season of The Expanse along with a fidget spinner. Both Luke and I have a bit of a love-hate relationship with these things. We think they're dumb and wouldn't spend money on them, but, hey, if we get one for free, then, yes, we will let it amuse us for countless minutes while we wait in line for a panel…

The Start of "THE LINE"
Speaking of… after the escape room, I grabbed some supplies from my hotel room then ran to join my sister, Melissa, and friend, Courtney, who were both already in line for the next day's Marvel panel. They were sitting on top of the hot basketball courts during the hottest time of the day. It was absolutely terrible. The towels and bags I brought helped a little but not much. But at least we were all in this together. 
Eventually, we found our much more prepared friend Meg who we had met the year before in this very line. Staff then started moving us to the other side of the convention center – quite a long trek – because they apparently had an event scheduled in the evening where we were. I guess they didn't think of that earlier… After moving several hundred people and all their gear nearly a mile away, we finally settled in a much better location around the bay. Unlike the scorching courts earlier, there was a nice breeze to counteract the blistering hot sun. 
Since we knew we were going to be spending several more hours under the hot sun, we decided to make a little fort to shield us from the sun. Luke, who had joined us while we were moving locations, had thankfully brought a tarp. Using that, along with some of Meg's gear, we were able to finagle a makeshift "fort." It wasn't much, but it made staying in line so much more bearable. Our fort even got featured in the San Diego Union-Tribune!

Hall H: Marvel's The Defenders Panel
I hate leaving the line but near late afternoon, I decided I might as well try to go see one panel. The Defenders panel was happening in Hall H, and I was curious to see what would be shown. I was apprehensive about whether or not I'd be able to get in – because I didn't have time to wait in a line – but luckily, it was walk in and I got a decent enough spot. Always helps when you're on your own.
The panel started with Jeph Loeb, who was moderating the panel, being surprised with the Comic Con Inkpot Award. He was genuinely shocked and gave a very moving impromptu speech that included this gem:
"Never give up on your dreams. If your friends want to wake you up, let them wake you up from a nightmare. Never from your dreams."
Jon Bernthal then took the stage to introduce a clip from The Punisher which got a massive response from the crowd.
When the lights went back up, The Defenders cast arrived on stage: Charlie Cox (Daredevil), Krysten Ritter (Jessica Jones), Mike Colter (Luke Cage), Finn Jones (Iron Fist), Elodie Yung (Elektra), Jessica Henwick (Colleen Wing), Deborah Ann Woll (Karen Page) and Sigourney Weaver, who plays the show's villain. The Defenders' showrunner Marco Ramirez is also there.
After some discussion about the show and characters, they surprised the audience not with a clip…but the ENTIRE first episode of the series! Now, the entire series is on Netflix but at the time, getting to see this nearly a month in advance was pretty awesome.
The final surprise of the panel was the first ever showing of the full length trailer for The Defenders. Not a bad panel at all. Marvel knows how to deliver to its fans which only made me even more excited for the next day's panel…
Check out my friend Courtney's vlog to see our dreaded Hall H line experience!
Back In Line: Wristband Or No Wristband?
After another quick trip back to my hotel room for more food and water, I was back in line with our friends. I noticed on my way back, the line looked much, MUCH different from when I left it. Apparently HUNDREDS, who knows, it could've even been a thousand people, had joined their friends in line just in time for wristband distribution to guarantee their seats in tomorrow's panels. We went from "most likely definitely going to get in" to "yikes, I don't think we're going to make it at all." Seriously, not cool. Still, we held on hope that not THAT many people would just cut so many others who had spent literally all day waiting in line.
Oh, how wrong we were…
After several hours of waiting, none of us received a wristband. We would have to camp out overnight and chance it the next day to see if we'd get in. As if we didn't learn anything from the year before – never underestimate the power of line cutters and crazy fans with no shame – we went for it giving up our Saturday along with our Friday.

Day Three: Saturday
Not So Marvelous
If you couldn't already tell from the tone in the paragraphs before, we did not get into Hall H AT ALL. We stayed in line all day in hopes that maybe, MAYBE we'd get into the last panel of the day, Marvel, but nope that didn't happen either. Thanks to hundreds of line cutters and people who were literally selling counterfeit wristbands as well as selling spots in line. One guy would wait all day near the front of the line then people gave him money to join him at night – he went from a party of one to a party of 40 and I don't think he was the only one doing it either – just ridiculous. I really hope they find some way to counteract this next year. I'm sure people will find other ways to dupe people to get into which is just really sad and ruins the experience of the truly dedicated fans. I really hate to see what Comic Con has become over the 10+ plus years I've been attending. This was so, so messed up.
Oh yeah, and because of this whole fiasco, many people who had "real" wristbands (which guarantee a seat inside) weren't able to make it inside for the first few panels. Luckily, Comic Con did reimburse them with free tickets for next year.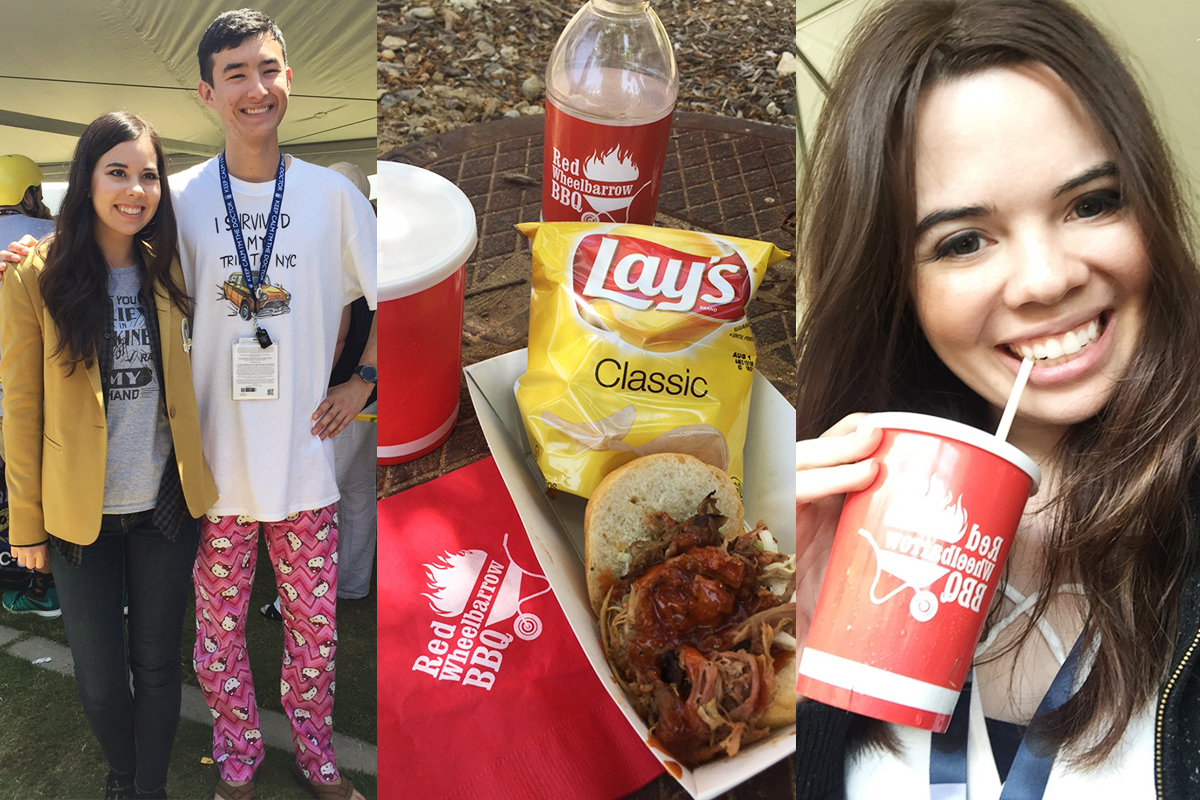 The main highlight of my line of doom experience was realizing you could get "free" food around the area by using Bitcoins — apparently it was a tie-in with Mr. Robot. Hungry, Luke and I left the line to get some lunch from Red Wheelbarrow BBQ. They were giving free pulled pork sandwiches, milkshakes, waters, and chips! It was one of my few moments of happiness all day.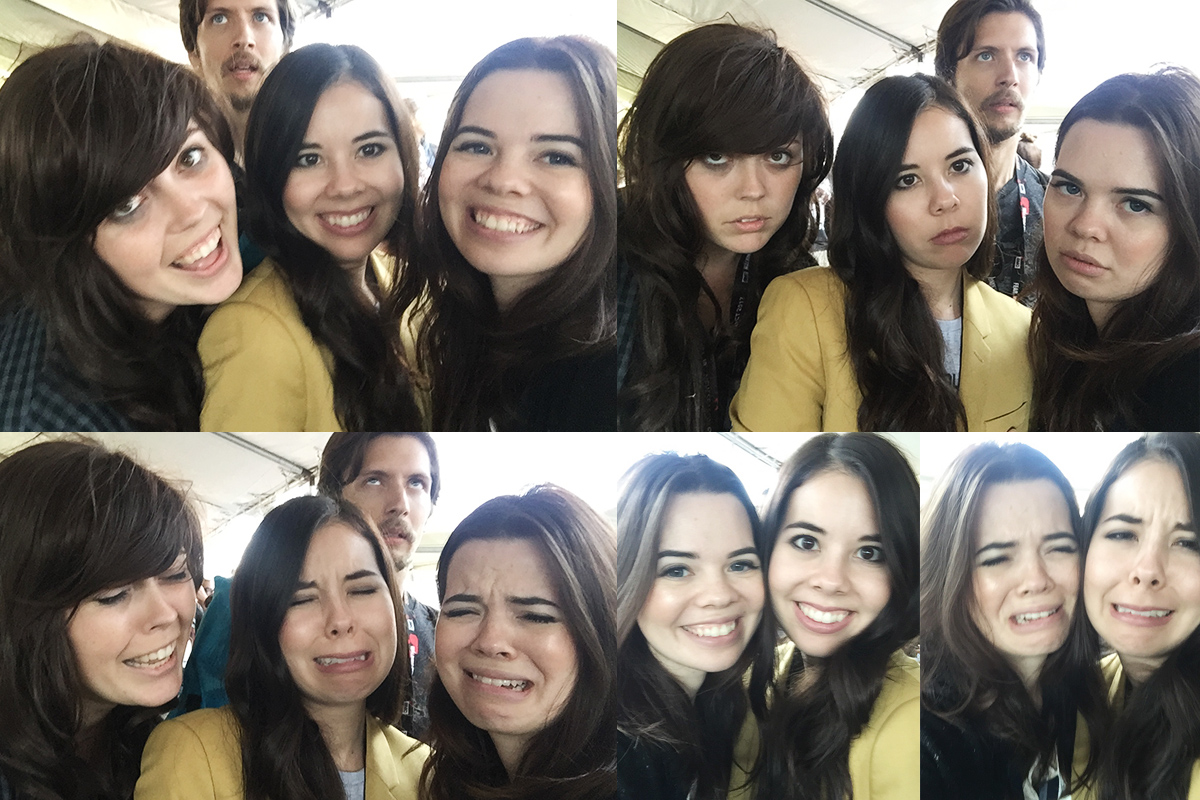 The many faces of the line: hopeful and excited, zombie mode, and utter despair.
One by one, our friends began leaving our group to try and salvage their Saturday and actually do something. I should've left earlier. There were so many other panels I wanted to attend but I wanted to stay optimistic with my sister. All she wanted was to get into the very last panel, Marvel, to see her main man, Spider-Man. She and I along with Courtney and Kyle stayed till there was absolutely no hope left.
After 30+ hours in line, we left with no hope.
Life After "THE LINE"
We still had about 3o minutes left before the exhibit hall closed so we split up and did our best to make the most of it! Upon entering the hall, I found myself in line for a signing with Yoshinori Ono, video game producer for Street Fighter, who had flown all the way from Japan to be at the con. He was a really nice guy and how cool is this poster? Just minutes after leaving that line of doom, I felt my day already start to turn around.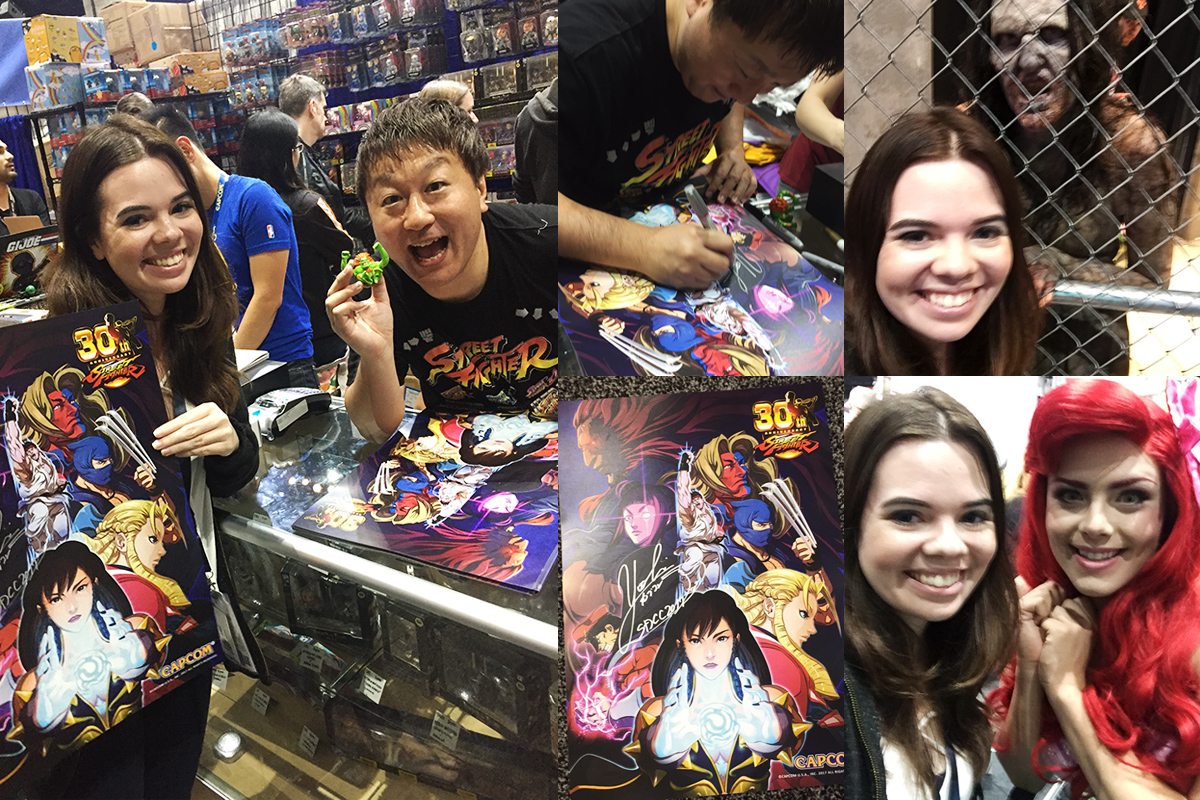 Then I saw Richard aka the incredible TheOfficialAriel just sitting at one of the booths. I walked up to him, told him I was a fan, that he looked great, and asked for a photo. He was SO nice! I just wish I was a better selfie taker!
There was also a signing for Westworld happening at the WB booth so I joined the massive crowd to take a few shots before getting out of the horde. I totally did not see that Melissa and Courtney were in that crowd at the exact same time as me until I reviewed my footage later on.
Talk about a long day! At least it felt long even if mostly all we did was sit in a line outside. I felt bummed I had pretty much wasted the best day of SDCC waiting in a line, but that last 30 minutes was pretty good. We also got to use our Bitcoins to get more free food! I got myself two more slices of pizza as well as some gelato. Back at the hotel, we made use of the pool and hot tub before meeting up with some friends at a bar where Courtney and I proceeded to inhale fries until I was so tired I almost fell asleep at the table.
So all in all, bad first half of the day, but good second half.
Day Four: Sunday
The next day, my health was really acting up again, and I was NOT feeling well at all. I was in a lot of pain and not able to get out of bed. I was super upset because I had already lost pretty much both my Friday and Saturday and now it looked like I would miss the majority of Sunday as well. 
Already having my cosplay lineup spoiled by the line, I was determined to do one last one before Comic Con ended. Still not feeling great, my mom helped me get ready in my most simple cosplay, and I plastered on a smile for the rest of the day.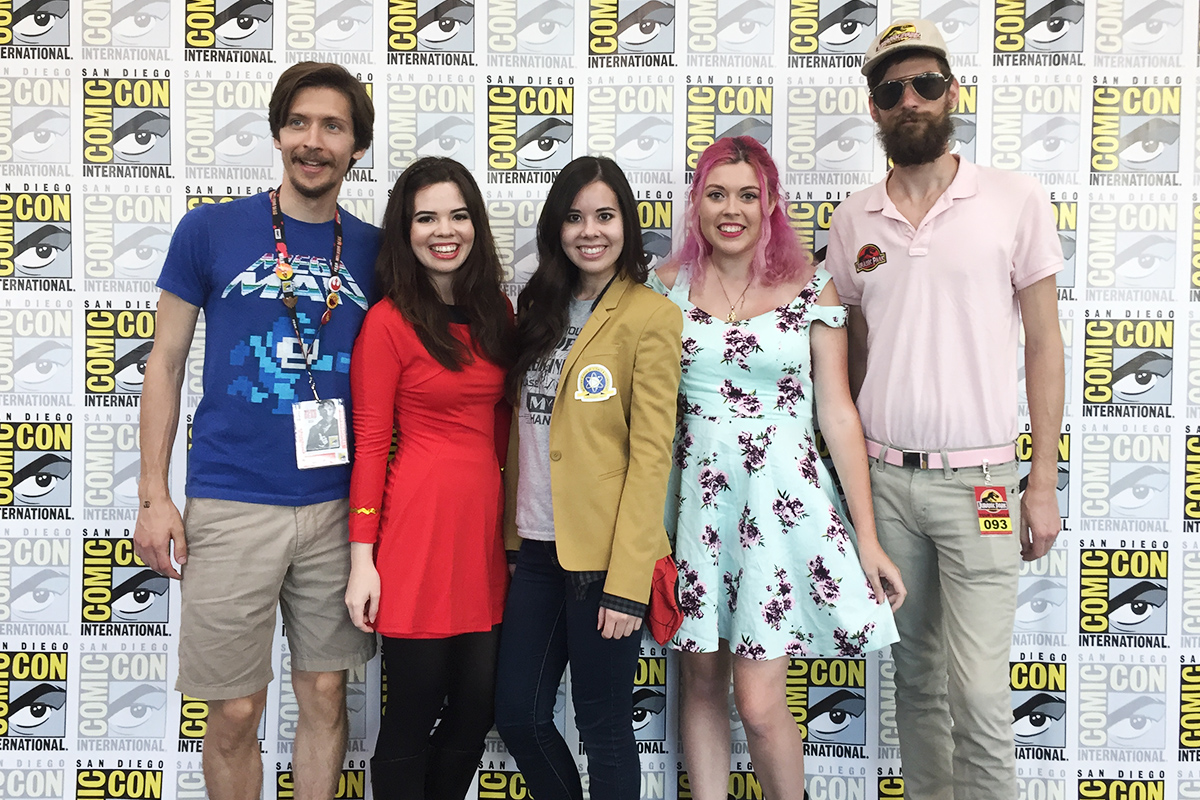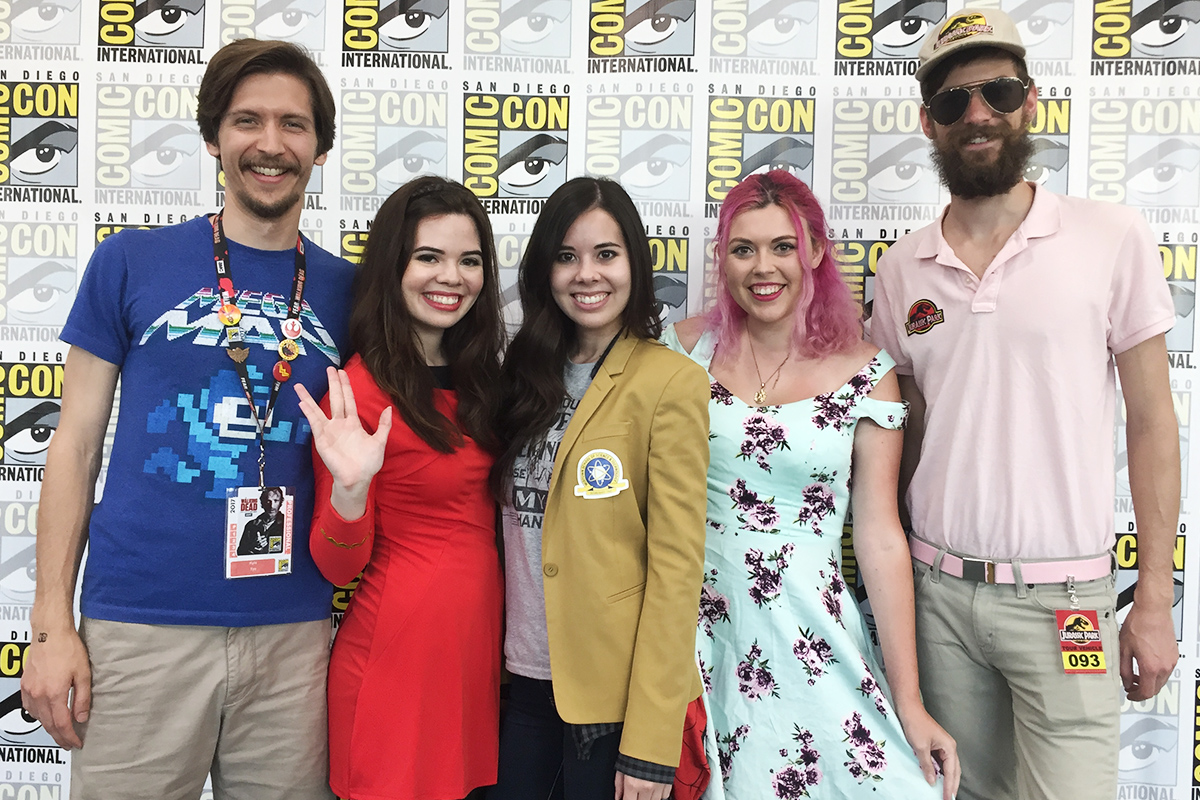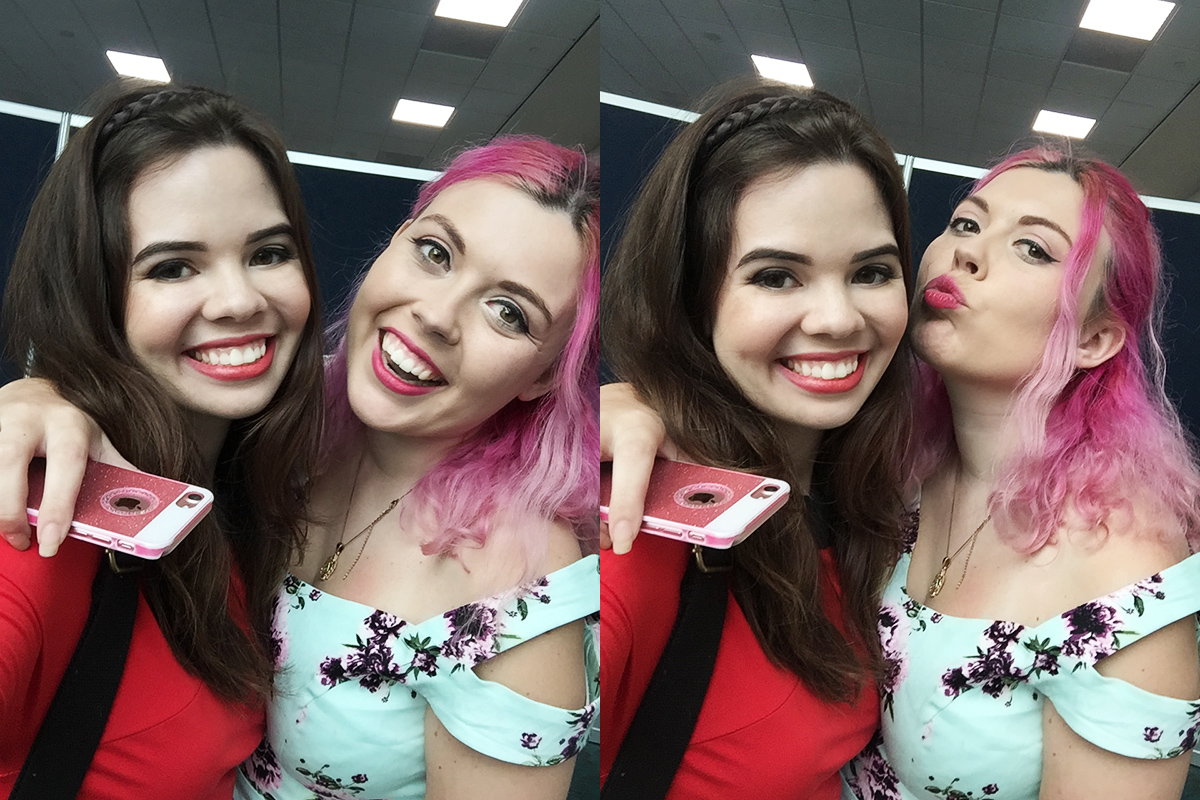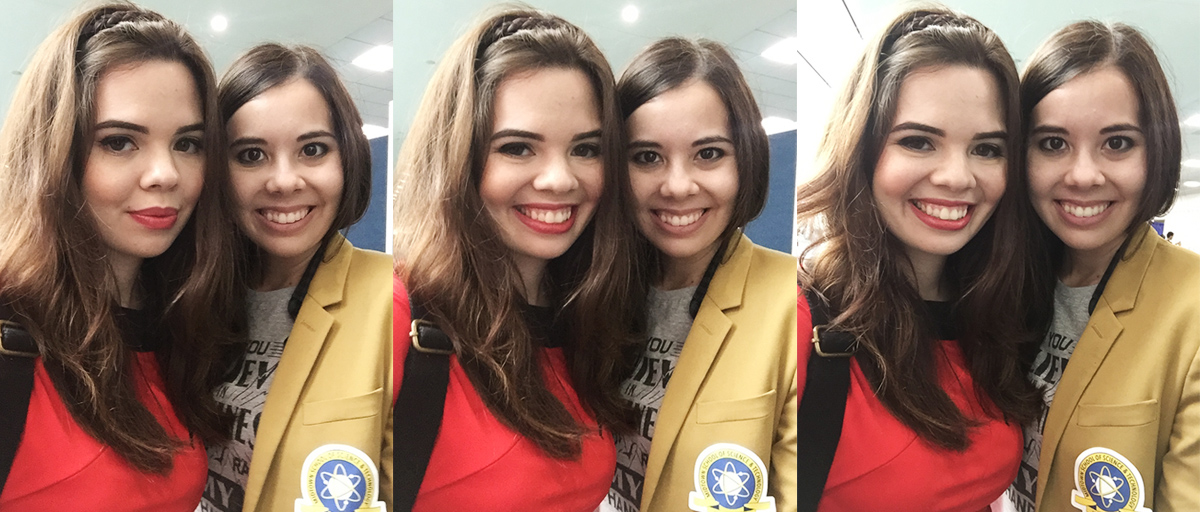 With just an hour left of the con, I headed down to the Exhibit Hall in my Star Trek uniform to see what all I could do with the time left. Honestly, not much. But I did get to take some final photos with everyone in front of our favorite backdrop before we all said our goodbyes.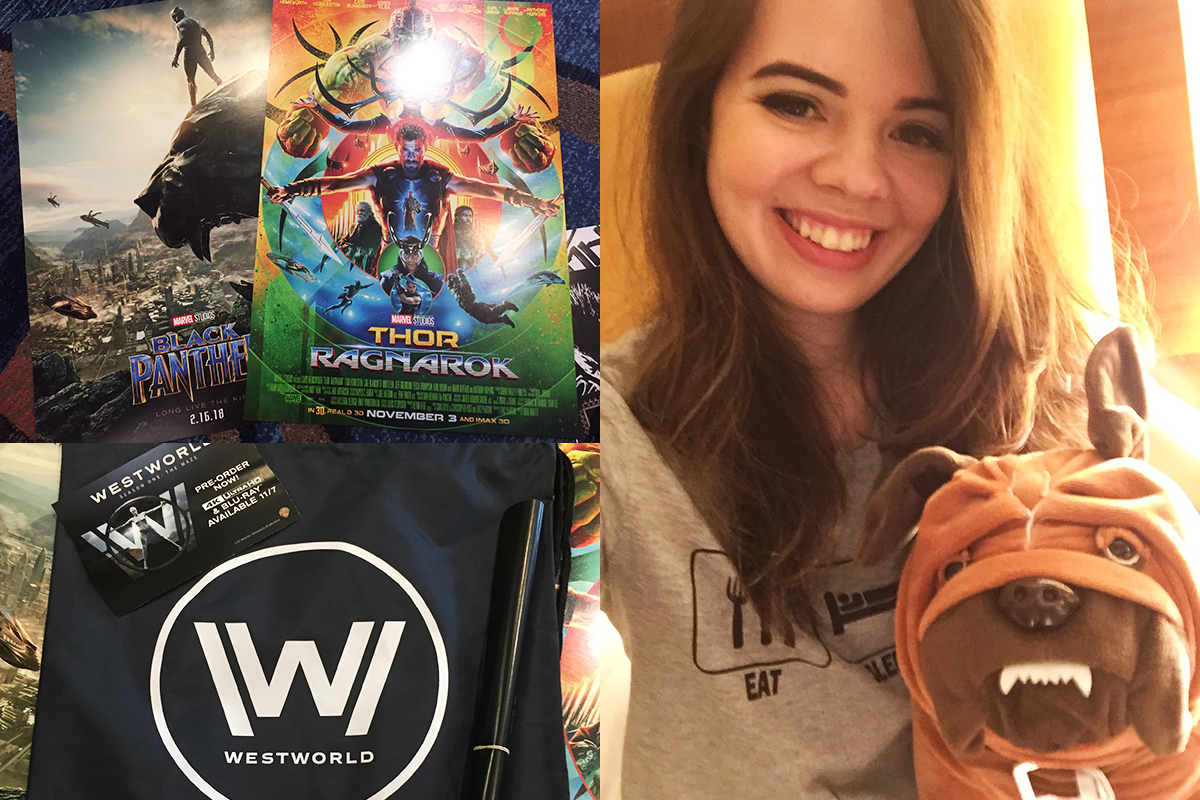 I went to the fulfillment room and got my panel freebies that included some huge cool posters for Thor: Ragnarok and Black Panther and a neat swag bag for Westworld. The only reason I was able to get these items even though I didn't attend the panels were because the beyond sweet Lindsay Evans (@LinElizabeth89) was kind enough to offer me her swag tickets after I had been tweeting about my terrible line experience throughout the day. I love it when Twitter brings people together. My mom also got me this Lockjaw plush from Inhumans because she said it looked like a pig (my nickname). I found that endlessly amusing. XD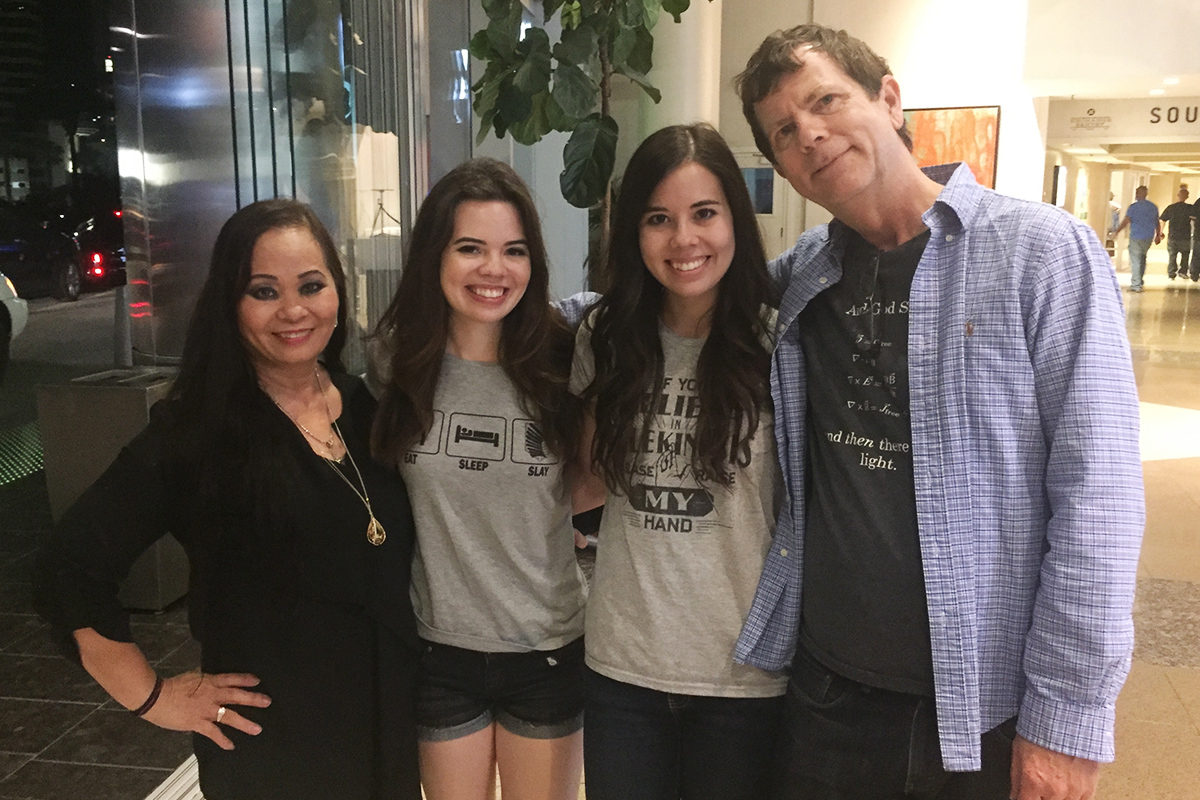 Before leaving my parents and returning to LA, we took a rare family photo in the lobby of our hotel.
Well, that's it for San Diego Comic Con 2017! It had its moments, but I don't think it's a stretch to say it is easily at the bottom on my list of Best Comic Con experiences. That's not saying this year was absolutely awful, but most years are just really, really awesome. I truly hope next year will be an improvement in my health and how the Saturday Hall H line is handled. (It'd be difficult to be much worse! Oh no, I hope I didn't jinx it). Sigh. Until next year!

What's your best/worst con experience?
Check out my SDCC recaps from previous years!