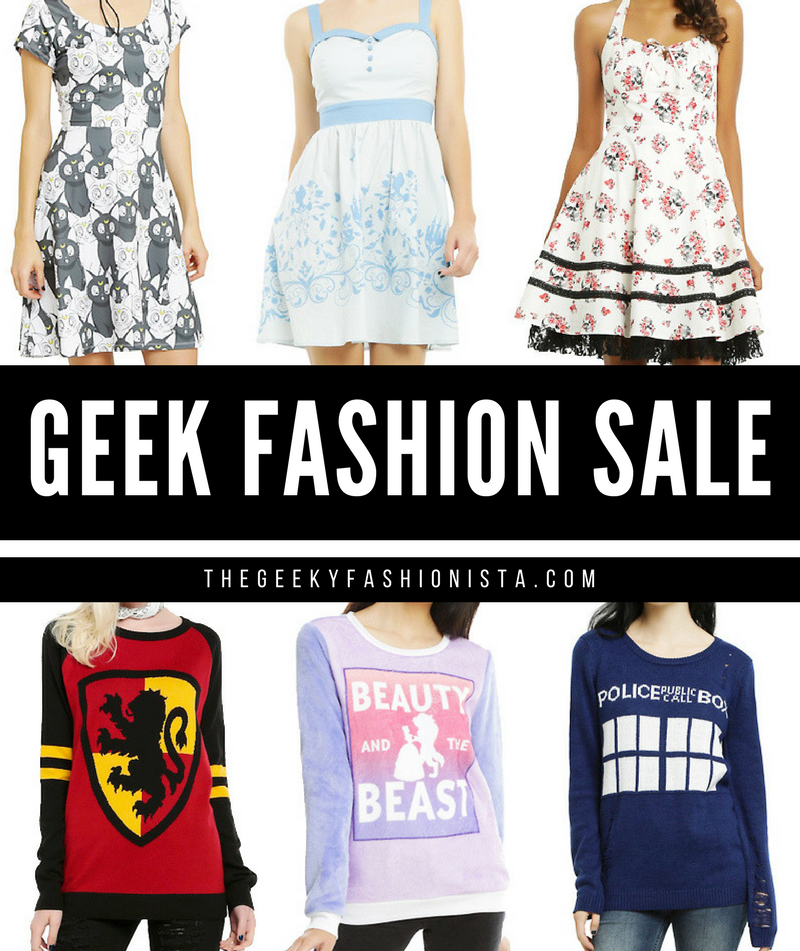 Woot!! Hot Topic is having a 40% off sale on tons of super cute apparel pieces on their website! Fandoms include Disney, Doctor Who, Star Wars, Harry Potter, Sailor Moon, and more! Also, the whole site is 20% off – including clearance AND today is the last day for $1 shipping on orders over $50!! So many awesome deals – GO, GO, GO!! Hurry before the sale ends!
Don't know where to start? Keep reading for my picks 🙂
Dresses
Sailor Moon Luna and Artemis Dress – I love cats and Sailor Moon so I am all about this dress that has an all over print of the anime's feline duo.
Disney Cinderella Sweetheart Fit & Flare Dress – How sweet is this Cinderella blue dress? I love the feminine vintage-y silhouette and subtle details.
Ivory Blooming Skulls Halter Dress – This adorable dress is the perfect balance of girly and edgy with its floral skull pattern and black lace.
Sweaters
Harry Potter Gryffindor Sweater – Represent your house pride in one of these pullovers! They, unfortunately, didn't have my Slytherin house 🙁
Beauty and the Beast Fuzzy Sweater – This cozy looking ombre sweater first caught my eye when I saw Youtuber CharismaStar wearing it in one of her videos! 
Disney Cinderella Sweetheart Fit & Flare Dress – If only wearing this sweater could help you travel through time! The distressing adds a nice touch to a simple design.
Which Hot Topic piece do you like best?
Disclaimer: This post does contain affiliate links.