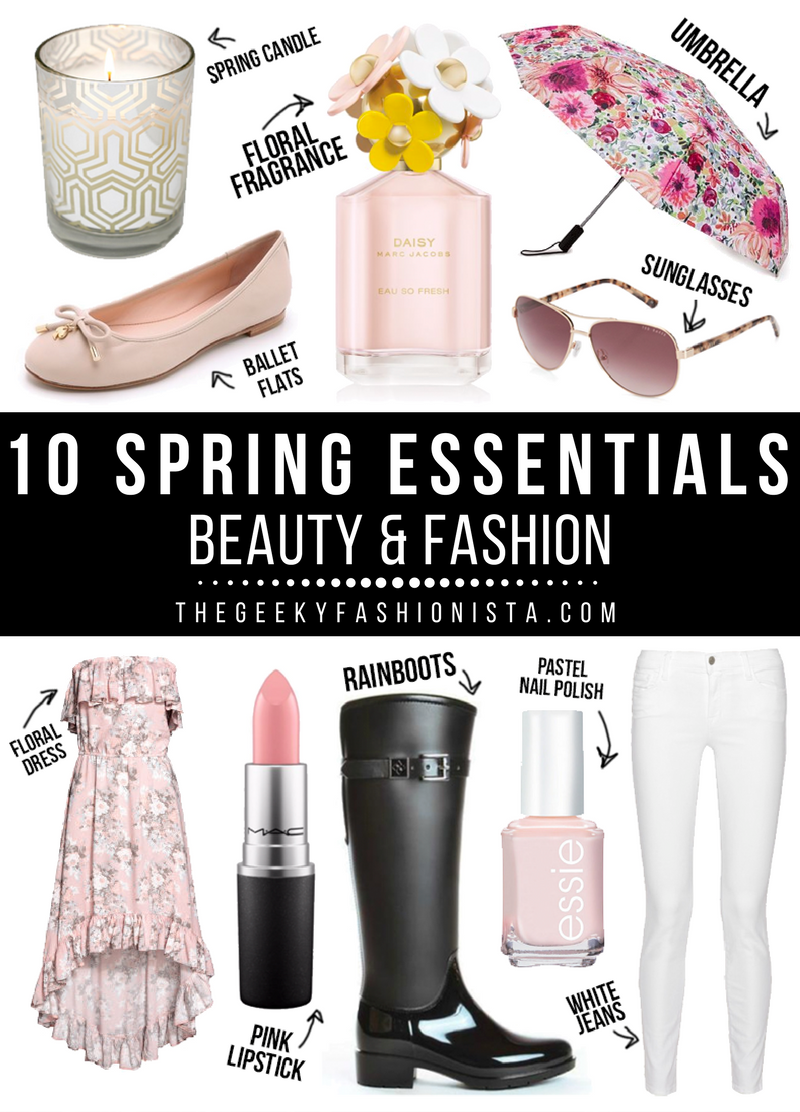 Living in Los Angeles, I don't normally get to see the drastic change from a cold winter to a warm spring. This particular winter has been a bizarre one though (hello, climate change!) with lots and lots of rain in LA resulting in much colder (and wetter) weather than you'd imagine for our usually year-round sunny city. I have noticed a return to warmer – and dryer – weather recently and hopefully it stays that way. LA people are just not cut out for the cold/rain – luckily I grew up in Florida so it doesn't bother me.
The change in season brought more than just warmer weather and more sun, it also means a change in in our makeup and wardrobe. It's time to put away those big winter coats and boots and time to start breaking out floral prints and pastels!  
Keep reading for my Top 10 Spring Essentials in beauty and fashion! 
1. Umbrella
To me, spring is not just synonymous with flowers but rain too. Traditionally, this isn't something I would need in LA but who knows when the weather will decide to act up again, and it's better to be prepared with a cute umbrella! There are so many fun designs, styles, and shapes this season. I'm partial to floral and included some of my favorite picks below along with some other eye-catching options!
2. Rainboots
Like the umbrella, maybe not so much an essential in LA, but many of you are probably going to need a pair of rainboots this season. I definitely have a pair ready for me when I visit Florida! Whether you prefer a fun color or print or want to stick with a classic black, these will keep your feet nice and dry against those April showers!
3. Pastel Nail Polish
I can't get enough of pastel nails during the spring! Check out my Top 5 Spring Nail Colors post for my all-time favorite picks!
4. Spring Candle
Even though winter is when I go candle crazy, it doesn't mean I don't like a nice spring scent come warmer weather. I love the smell of flowers but since I'm not always able to have a fresh bouquet on hand, a nice floral-scented candle can help give off the same fresh-smelling atmosphere.
5. Floral Fragrance
While we're talking about spring floral scents, let's move right on to perfumes. I don't just want my home to smell like lovely fresh flowers, but myself as well! My favorite fragrances are floral and perfect for springtime. In case you're wondering, Marc Jacob's Daisy is what I'll be wearing all spring! 
6. Sunglasses
The sun's coming out so you'll want to make sure those eyes are ready and protected! As far as styles go, aviators are super hot this season especially ones with fun colored mirrored lenses or shapes.
7. Ballet Flats
Too warm to wear boots but not quite warm enough for sandals, ballet flats are perfect for spring! I adore them in soft neutral colors that can go with anything. I love my pair from TopShop so much, I think I might get a second pair! 
8. Pink Lipstick
There are plenty of other spring lip colors one could wear, but for me, spring is all about a soft pink lip. My favorite is MAC's Cremesheen Lipstick in Creme Cup. Other favorites are Urban Decay's Vice Sheer Lipstick in Brat and Smashbox's Be Legendary in Pout.
9. Floral Print Dresses
I am obsessed with floral print dresses! Mini, maxi, midi, wrap, strapless – I love them all! Nothing makes me feel more pretty and feminine! 
10. White Jeans
A big trend this season is white jeans, and I am feeling it! They just make any outfit feel more put together and clean whether the style be high-waisted, cropped, boot cut or even destroyed! 
What are some of your spring essentials?