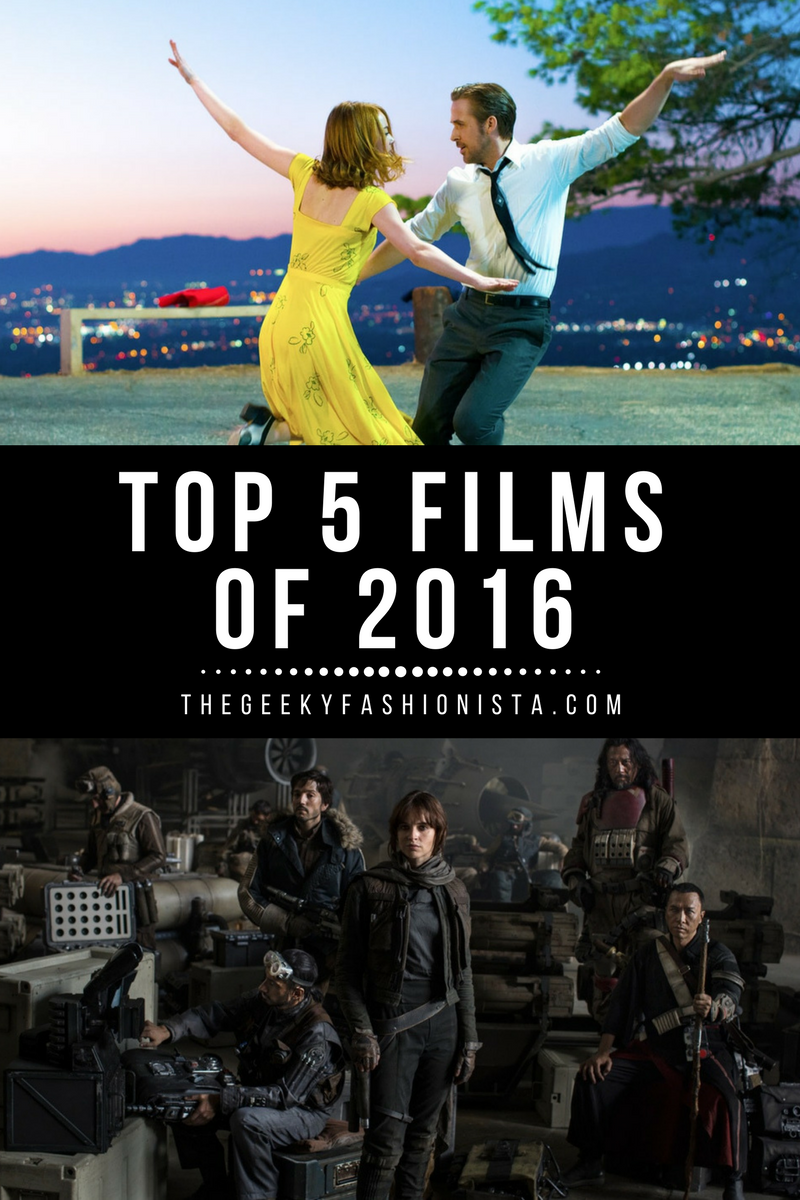 Today, I'm sharing with you my Top 5 favorite films of 2016. I know everyone is talking about the Oscar nominated films, but despite living in LA where one has access to see pretty much any movie once it's released, with my busy schedule, I really don't see very many. I'll see most of the big franchise ones with friends, but other than those, my film viewing is a bit limited. However, this year had quite a few franchise films and most of them were better than average so no complaints here. 
Keep reading for my favorite films of 2016!
My Top 5 Films of 2016
If you know me or follow me on social media at all, I think this spot should come at no surprise. I LOVED THIS MOVIE. It made me laugh, cry, upset, even swoon (I ship JynxCassian okay), cry again, then filled me with hope and excitement. This movie could have simply been dark and bleak – a "raw and gritty" Star Wars film geared to just adults. While it is certainly something you might want to think twice about before showing small kids, it still stayed true to what makes the Star Wars so enjoyable. There was still humor, there was still HOPE. If either of these vital two things were missing, no matter how gorgeous the sets, the number of nostalgic throwbacks, or cool action shots, it would not have succeeded.
From beginning to end, I was thoroughly engaged with the story of Desmond Doss and his steadfast personal convictions. Such an inspiring, moving film, it's difficult for me to really put into words just how much it impacted me.
I think Marvel did a wonderful job bringing these many, many characters together while still letting the main conflict between Steve and Tony be the core. This easily could've been a train wreck but instead was another home run for Marvel!
What a delightful experience! Why aren't there more films like this? Ones that feel so pure and whimsical and can just transport you away into a land of music and romance while still tugging at your heartstrings and leave you humming the soundtrack
all week.
I found this movie quite a trip (pun intended). I've been a fan of the character and was super excited for Benedict to don the infamous cloak. As usual, he didn't disappoint and neither did Marvel once again with another home run. I have not seen the past two Thor movies but I will see Thor 3 because I have to know what Strange's role will be in it.
What were your favorite films of 2016?