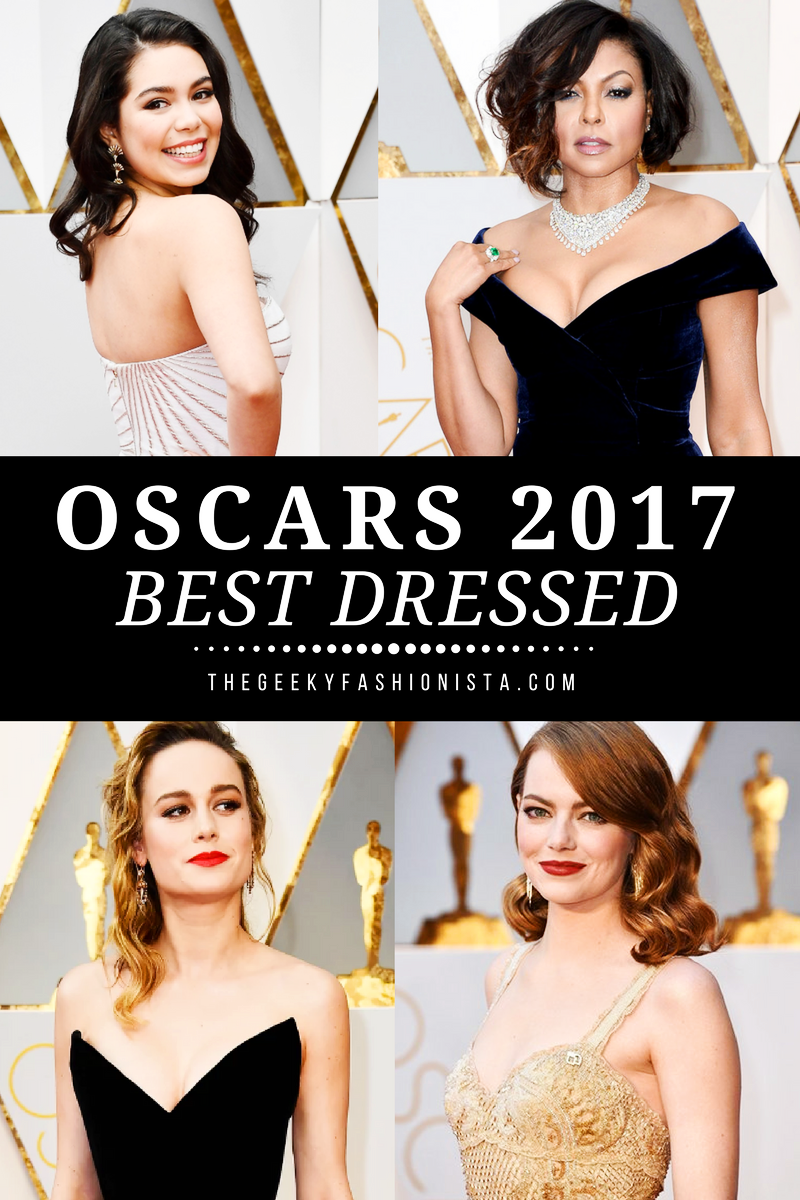 I think this is the earliest I've ever put up a Best Dressed list! Yay – go me!! I really haven't been feeling very well all week (meaning no annual Oscars viewing party with friends for me) so it's been a bit difficult doing, well, anything but seeing as how I'm leaving in 2 days to go to AUSTRALIA (!!!), I really wanted to push myself to get this post up ASAP. 
Anyway…the Oscars were this past Sunday and despite being majorly sick in bed, I was still able to watch (and tweet) the broadcast in real time! And what an Oscars it was! Of course, there was that infamous Best Picture snafu we've all heard about by now… Despite that, overall, I thought it was a really good show and that Jimmy Kimmel did a great job hosting.
La La Land was one of my Top 5 Films of the year but I was glad to see one of my other favorites, Hacksaw Ridge, getting some love and taking home 2 awards. I'm usually pretty spot on with my Oscars predictions each year but this year with 18 out of 24, I was a bit off. Some winners threw me for a loop (i.e. Suicide Squad) and others (Fantastic Beasts, Hacksaw Ridge, Arrival) I was genuinely happy to be wrong about.
But this post is about FASHION so let's talk about that. There were some real stunners on the red carpet. I miss my flowy gowns of awards shows past, but it's definitely interesting to see how fashion evolves over the years. The biggest color trends I saw were lots of metallics (especially gold), black, white, and red. There were also lots of long sleeves, high slits, high necklines, low plunging necklines, capes, and velvet!
Who worked these trends the best? Keep reading for my Oscars Best Dressed List!
Also be sure to check out my red carpet posts from past years.
2017 Oscars Best Dressed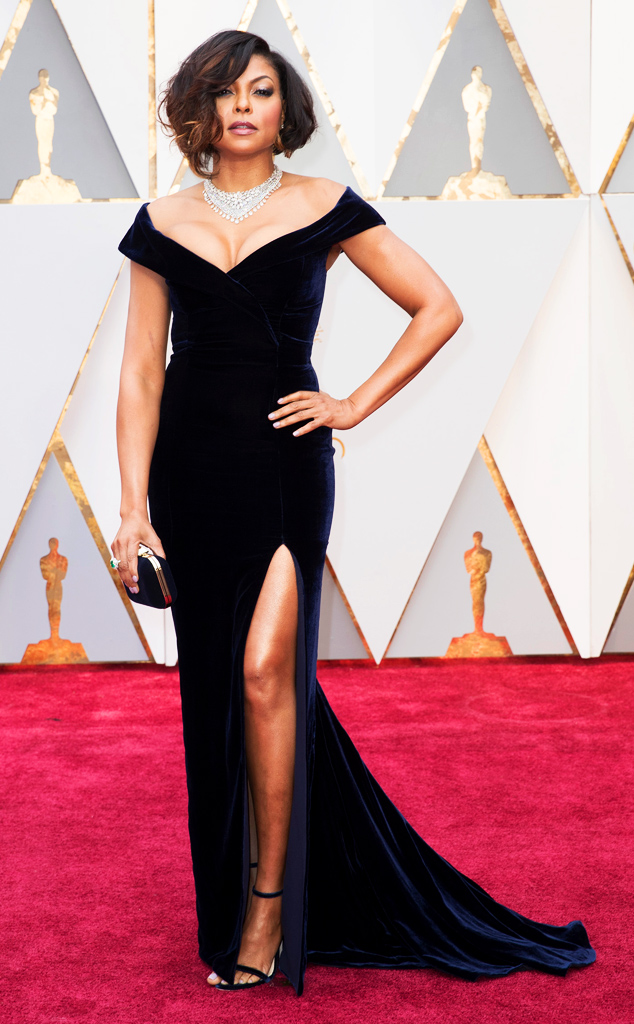 #1 – Taraji P. Henson – Alberta Ferretti
This was a no brainer for me. As soon as I saw it, I knew it was going to be my number one. Taraji absolutely SLAYED it in this gorgeous velvet gown. The dress is beautiful in itself and fits her like a glove, but it's really her confident attitude that sells it. Also, I really love that instead of an expected black it's a gorgeous deep midnight blue color. And the accessories are spot on – let that statement necklace make it's statement and keep the rest lowkey. Finally, her hair and makeup are flawless. Way to go, Cookie!!
#2 – Brie Larson – Oscar de la Renta
Brie kills it once again! And wow, another velvet gown already? I must be really feeling the trend! That's actually a bit unexpected but here we are. What really drew me to this gown was the intricate hem. It's just so unique and the neckline perfectly compliments it (love the shoes too!). Brie also looks overall so beautiful and sultry. Like many other stars that night, she's definitely channeling Old Hollywood glamour but with a modern twist.

#3 – Auli'i Cravalho – Rubin Singer
After hearing her in Moana, I knew this young lady was a star in the making! Her Oscars appearance and performance (wow!) only solidified those initial feelings. She radiates such pure youthfulness and joy while having such poise – definitely be on the lookout for her! Her comparisons to a Disney princess aren't unfounded. In this beautifully hand-beaded gown, she looked simply stunning! Love the soft, natural makeup and earrings too! What a red carpet debut!

#4 – Naomie Harris – Calvin Klein
This isn't your typical Oscars dress, and I really like that about it. Some people have mixed feelings about the cape (I originally did too), but without it, I feel like this would've been more of a Teen or People's Choice Awards kind of dress (which I still would have loved). It's very minimalistic but still feels very sleek and sophisticated (the hair and makeup help). Also really loving the unique shoe details.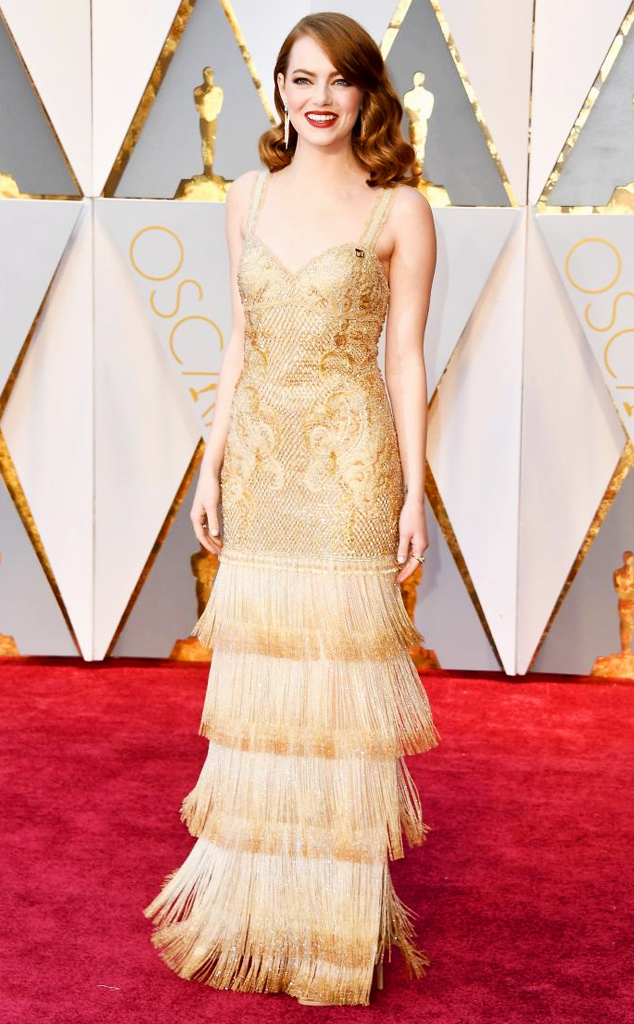 #5 – Emma Stone – Givenchy Haute Couture
Honestly, I was pretty disappointed when I first saw this look. I LOVE Emma, but I am not a fan of the column silhouette, flapper fringe or the scale-y look of the bodice. So how is it that this dress ranks so high? I think partly because it did grow on me a bit and partly because I just love Emma so much. While it's not my favorite look from her, she still looks stunning rocking that Old Hollywood vibe and gold really does suit her (looks like the Academy agreed too!).

#6 – Chrissy Tiegen – Zuhair Murad
Chrissy is one of my faves and I think she looks incredible in just about anything but the gowns she wears haven't quite made it to any of my lists…until now. I think this look is super glamorous and elegant while still sexy. She has her trademark high leg slit but it's balanced with long sleeves and that gorgeously draped cape. Also that beading detail?? STUNNING.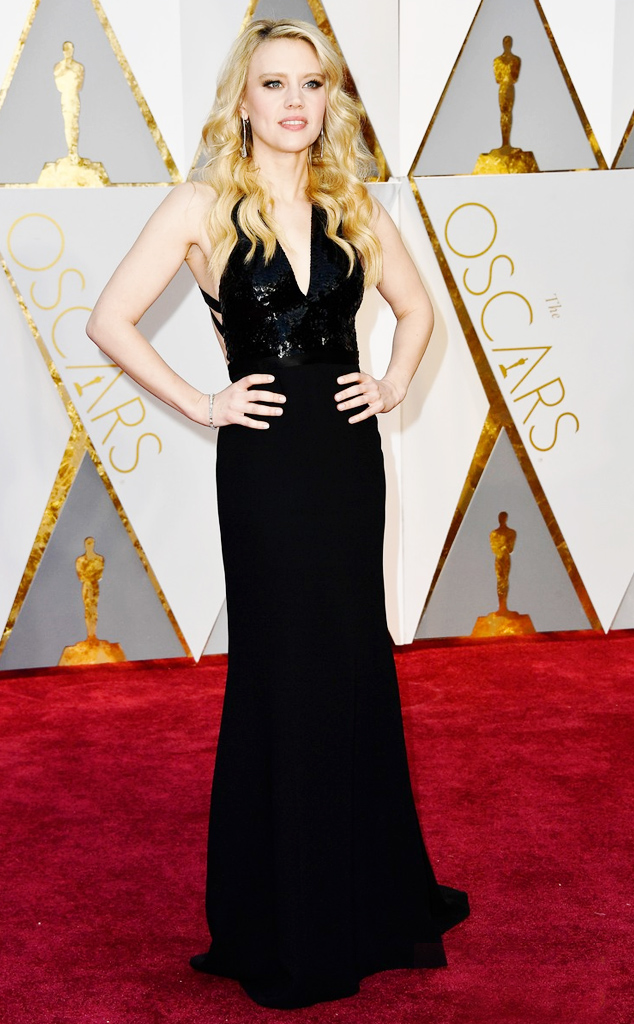 #7 – Kate McKinnon – Narciso Rodriguez
I think Kate looks amazing! I love it when funny women turn on the glam! Some have criticized the dress for being too boring, but I think it looks great! Sexy, elegant, and the black looks great against her fair hair and skin.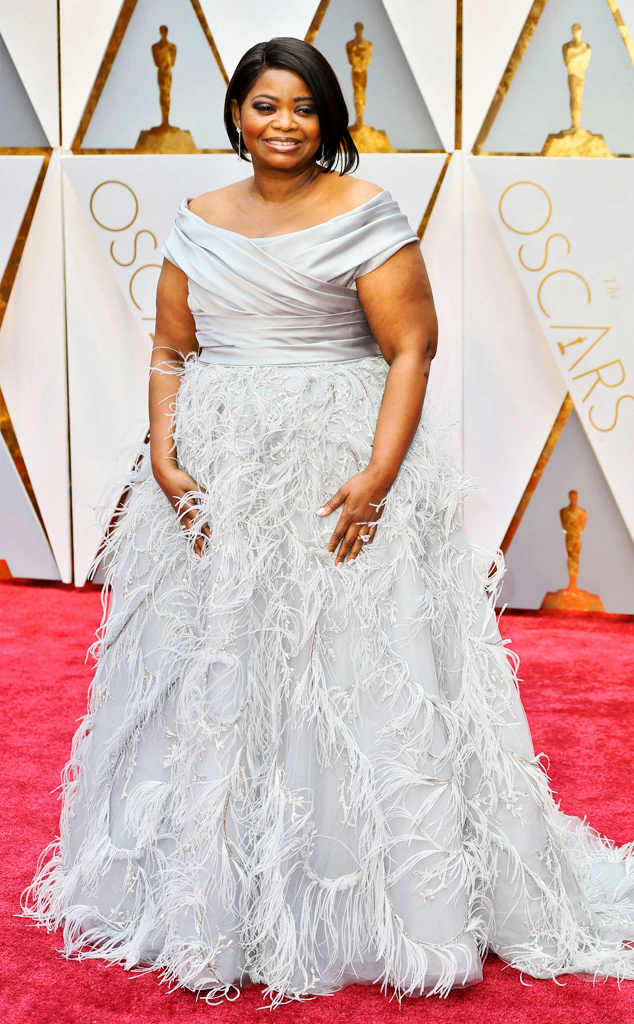 #8 – Octavia Spencer – Marchesa
LOVE this gown on her! The color, neckline and silhouette are perfect! I usually hate feather detail as it usually comes off a bit "too much", but I actually really like it here. The gown wouldn't look as lovely without them.

#9 – Viola Davis – Armani Privé
Adore her! She looks so strong and fierce in this bold, red number! I keep going back and forth on whether or not I like the capelet detail…as of writing this, I like it. She's also totally rocking that haircut.
#10 – Sofia Carson – Monique Lhuillier
I have no idea who she is, but I thought she looked lovely in this tiered gown with beautiful embroidery. Some might say it's a bit too simple or safe but, aesthetically, it's very up my alley. I think it's very sweet, pretty, and age appropriate for a young lady (oh boy, do I sound old?).
#11 – Michelle Williams – Louis Vuitton
Speaking of aesthetics, usually I'm not a fan of Michelle's red carpet style so I was genuinely happy to see this look from her. I think she looks very elegant and I love the contrast of the dark velvet top with her light hair and bottom of her dress.
Who was your Best Dressed?
Photo Credits: EOnline and Just Jared