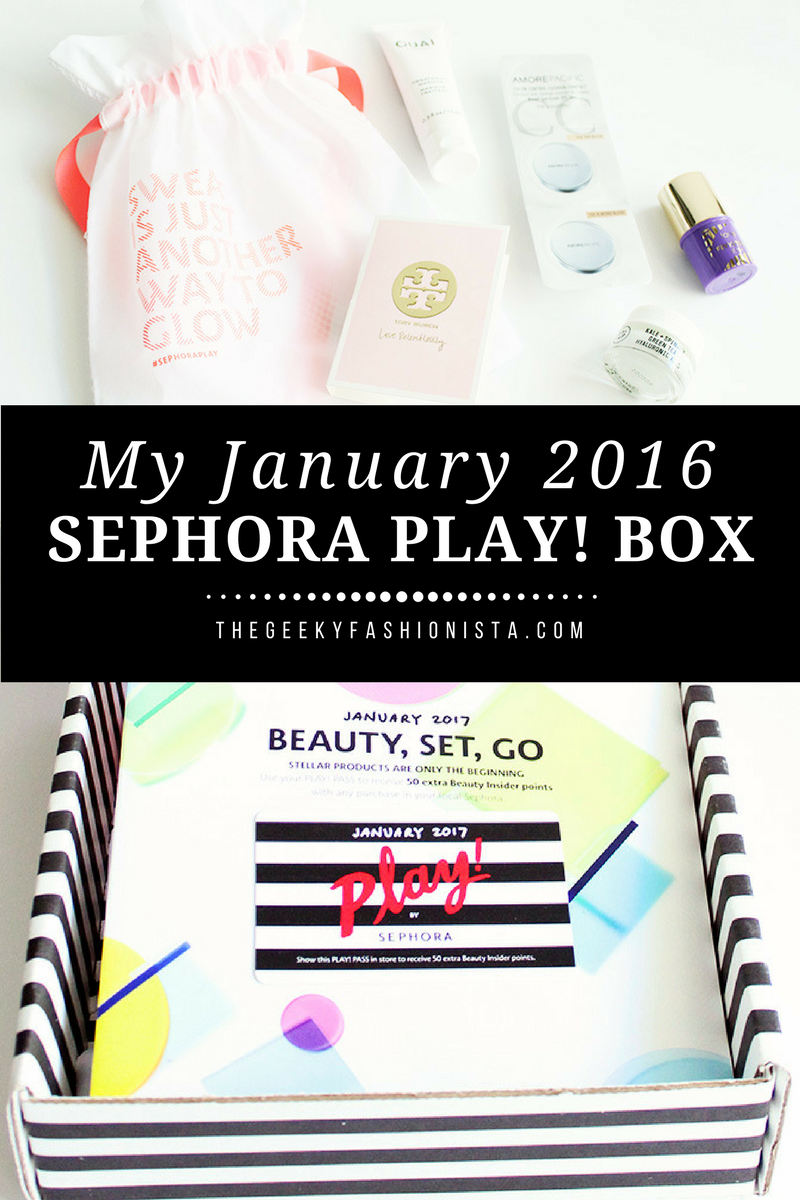 Sorry this post is up so late, but better late than never – right? This is my second Sephora Play box and the theme is "Beauty, Set, Go" featuring products that'll give your beauty routine a fresh start! Keep reading to see what was inside along with my first impressions!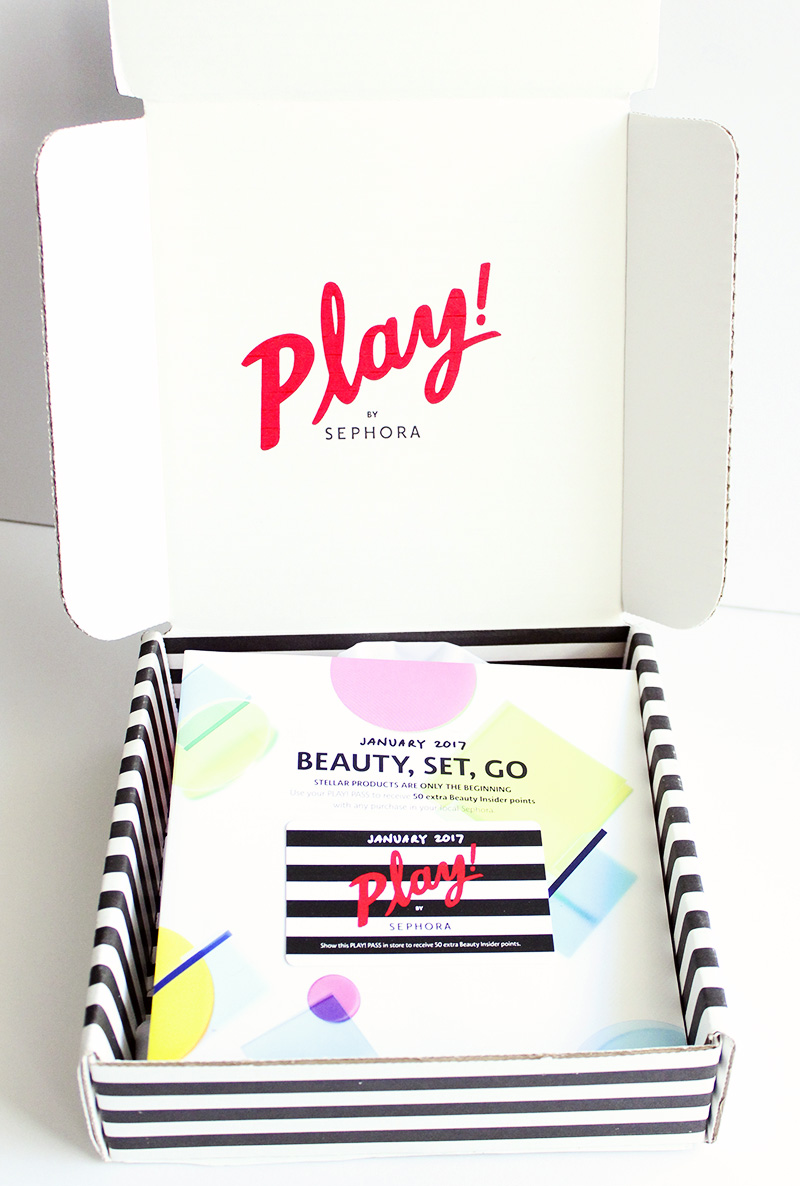 About PLAY! By Sephora
PLAY! is similar to Ipsy in that it is also a $10 monthly beauty subscription service that offers 5 deluxe samples. They also offer a bonus fragrance sample each month – I like that it'll always be a "bonus" and never a main item. They curate the products for you based off your answers in your Play! profile (can be found under "My Account") which asks mostly basic questions about your beauty concerns and of course things like your skin tone, hair type, eye color, etc. It's not quite as fun as the little "quiz" you do for Ipsy, but, hey, as long as it sends me the right products!
They are currently not taking any new subscribers, but you can do what I did and ask to be emailed when a spot is available. Once you get that email, take it from me, sign up ASAP before it fills up!

This Play! pass card entitles you to 50 extra Beauty Insider points with an in-store purchase of any items from the box.
What Do You Get Each Month?
Straight from Sephora's website, here's what you get with each Play! box (sorry it's a bit of a retread of above):
– Five deluxe skin care, makeup, and hair care samples (plus a fragrance bonus!) that are curated by our experts. Since beauty isn't one-size-fits-all, we send you a selection of products that we think are the best for you, based on the answers you provide in your PLAY! PROFILE.
– A collectible makeup bag that changes with each month's theme
– PLAY! BOOK with tips, tricks, how-tos and beauty advice
– PLAY! PASS to redeem in store for 50 bonus Beauty Insider points and a free one-on-one tutorial*
– PLAY! DATE, a monthly subscriber event for you and a friend to learn how to apply the products in your box—and more!
– Free shipping on all PLAY! by SEPHORA boxes

The Bag
I love how this month's bag is such a change from December's chic black velvet bag! It's a white-mesh-back bag with the words "Sweat is just another way to glow" printed on the front. Super cute and perfect for the gym!

Inside the Bag  

My favorite product in the box! I absolutely love this face cream! It's SUPER moisturizing and quickly absorbs into the skin. I love putting it on right before applying my makeup. The whipped texture is very lightweight and has a nice subtle fragrance! Made right here in California, this vegan, cruelty-free product is packed with superfoods like kale, spinach, and green tea along with hyaluronic acid to combat dryness and signs of aging like fine lines and wrinkles.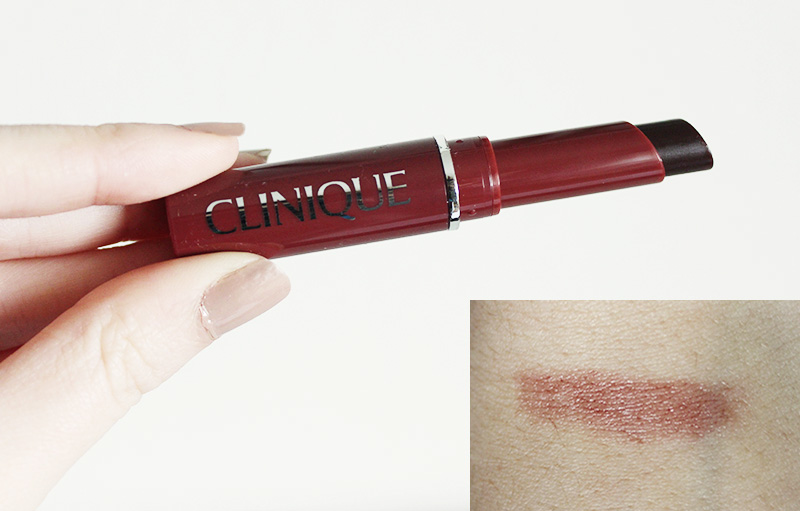 I really liked this lipstick/lip balm/lip gloss infusion – or at least that's what it seemed like to me. All the shine of a lip gloss but without the stickiness, this is super moisturizing like a tinted lip balm but with a bit more pigment (although still undoubtedly sheer). The color is very flattering and beautiful and differs from person to person depending on your natural lip color. It's definitely not as dark as you might think looking at it in the tube – it could definitely work for either day or night!

When I first saw this, I thought it was a blush stick in a VERY dark color. Upon reading up on it, it's actually a very unique product unlike anything I have! It is a 3-in-1 facial cleansing stick – what is that exactly? This little twist-up gel stick is an exfoliator, cleanser, and face mask all in one. As an exfoliator, it left my skin feeling super soft and smooth and was actually very gentle on my skin. I would say one could use this every day without worry of it being too harsh on the skin. As a cleanser, my face felt very clean and it was easy to rinse off. To use as a face mask, just leave it on for a few minutes to absorb toxins and give you a nice glow. All around, great skincare product! My favorite part though is how on-the-go and travel friendly it is! I definitely needed something like this in my travel essentials!

This paraben-free hair mask claims to be able to soften and smooth hair in just one treatment! Other benefits include repairing damaged hair and split ends as well as making hair more resistant to future damage. I haven't used this yet, but it does have a really lovely smell!
I've been very curious about trying out a cushion and Asian skincare products (where I first came across the word) as I've been looking to change up my skincare routine. This cruelty-free product is good for all skin types and contains no parabens, sulfates, or phthalates. It's geared towards those looking to improve dullness, dryness, and uneven texture. I love that it contains SPF 50+ but doesn't leave usual white cast that you see in a lot of products that contain high SPF. I received 104 Tan Blush and 106 Almond Blush.
Light, floral scents are my go to so, unsurprisingly, I quite liked this ultra-feminine smelling perfume.
Final Thoughts
This is my second Sephora Play box and I'm still very impressed! The wide variety of products here are all of great quality from great brands and once again are an incredible value! I'm very much looking forward to using them all and to seeing what will be in my next box! Keep it up, Sephora!
Be sure to check out my other unboxing posts!
What did you think of this month's Sephora Play! bag?