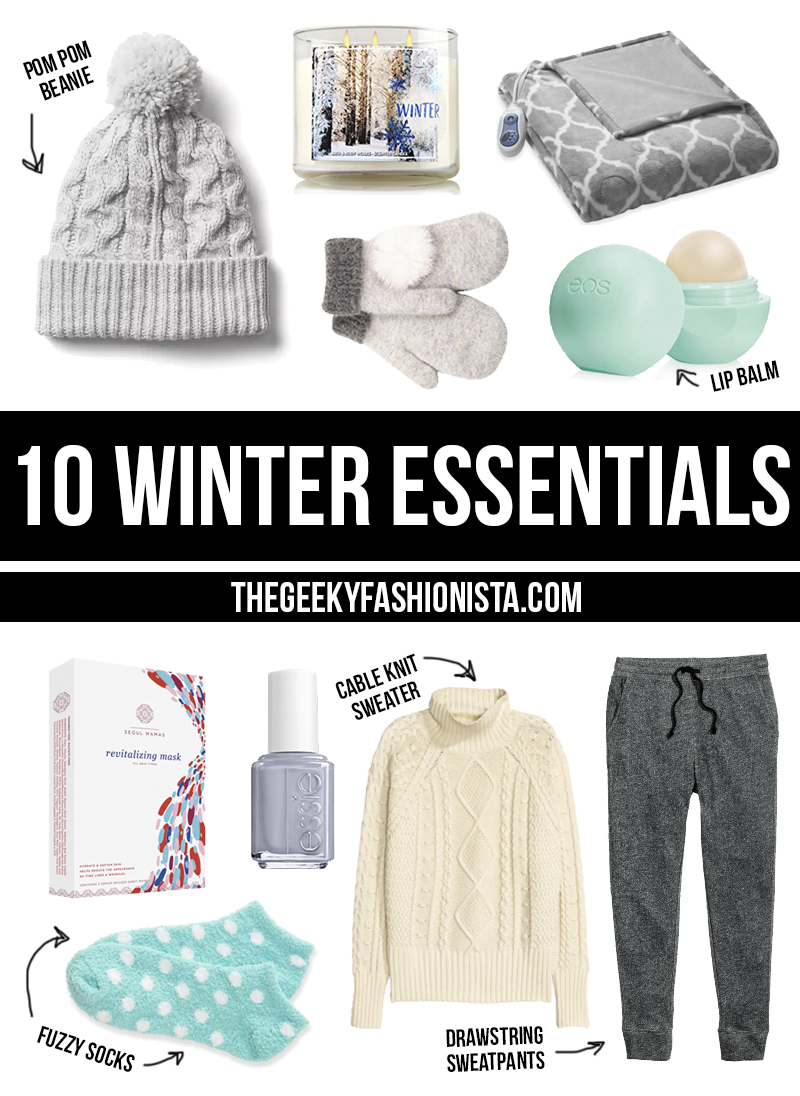 Having spent most of my life in Florida, I haven't really experienced a "true" winter complete with snow, ice, cold, and SNOW (did I say that twice?). Still, I always looked forward to "chilly" nights and getting to see my own breath in the air. I loved turning on the heat in the house, bundling up in blankets, and drinking hot beverages. I now live in Los Angeles and while the winters here are not much cooler than Florida, they are at least a lot less humid. This winter, however, I've been pretty excited by the unprecedented amount of rain in LA and the drop in temperatures (I'm talking low 40s). There's still no snow but it's "cold" enough that it actually feels like winter – at least for LA.
Today, I'm sharing with you my Top 10 Winter Essentials! Whether you live somewhere with just "chilly" weather or you're currently snowed in your house, these things should all make your winter a little cozier. 
1. Lip Balm
My lips are naturally very full and take up quite a bit of space on my face XD If they are dry, chapped, and cracked due to the harsh cold, you're going to notice – and that's so not attractive. Especially since I've started wearing ColourPop's liquid lipsticks almost everyday (which can be a bit drying), it's so important that I keep my lips nourished. I'm a lip balm junkie and have tried many, many products over the years. My go to isn't shown below but it's the Lush Honey Trap Lip Balm. I haven't personally tried it yet, but I've heard nothing but raves about Dior's Creme de Rose Lip Balm. It's a bit on the pricier side but many say it's worth it. If you don't feel like splurging though, there's Burt's Bees, eos, Nivea Lip Butter (another personal fave), and good ol' Vaseline that'll get the job done.
2. Sheet Masks
Not going to lie, my skin takes a beating during the winter months. Even though I moisturize every day, my skin nevertheless still feels super dry and dull. To help combat this, I like use a hydrating sheet mask every now and then. It's a great way to pamper yourself and nourish your skin at the same time! I use to like clay face masks but ever since I discovered sheet masks, I've been obsessed.
Two of my absolute favorite brands are LuLuLun and Seoul Mamas – they are both SO moisturizing! I also love the fun, themed sheet masks! There are animal faces, Hello Kitty, the Avengers – last months, I was in an Asian specialty store at the mall and found a 2 pack of the Colossal and Female Titan from Attack On Titan and, of course, I had to get it.
3. Gray Nails
So I am still rocking the dark nails that I mentioned in my Fall Essentials post, but I am also loving neutral gray nails this winter. They just feel clean, calming, and sophisticated. I love my newly purchased Essie Chinchilly which is a granite gray. One polish that is on my must list is one I've heard many good things about and that is  Essie's Cocktail Bling which is described as a "precious pale gray jewel". Finally, if you want a little subtle shine and maybe a little darker, there's the charcoal grey colored Cashmere Bathrobe also from Essie (sorry, I just love my Essie). I've included a few other lovely winter nail polishes (some are a bit more silver than grey) below.
4. Winter Candle
As much as I adore candles in the fall, I feel like they're just a warm up for winter because that's when I really go candle crazy. I can't think of "cozy" without the image of a burning candle and the next item… but before move on, let me just tell you that my all time favorite candles are from Bath & Body Works. I just love them. Two of my current favorite winter scents are Winter (what I'm burning right now) and Winter Candy Apple. But here are a few other non-B&BW winter candle alternatives you might want to check out.  
5. Fuzzy Socks or Slippers
To complete my thought above, I can't think of the word "cozy" without thinking of candles and…fuzzy socks!! Or slippers. What's important is that they are on your feet keeping them warm and feeling amazing! I am someone whose extremities get very, very cold. No matter what I do, my hands and most of all my feet are ALWAYS freezing! I look forward to buying a new pair of fuzzy socks every year – it's like a personal gift to my feet. This year, I got a pair from Forever 21 and they are heavenly! One of my favorite things about socks and slippers is all the cute/cool/fun colors and patterns and designs you can choose from! Just how great are these Chewbacca slippers?
6. Gloves
As I mentioned above, my hands also get very, very cold during the winter (well, they're actually cold year round but ESPECIALLY during the winter). Because I live in LA, I can usually get by without wearing gloves everyday but as soon as I hear we're going to have a cold front coming through or I have a camping trip up in the mountains, the first item I break out are my gloves so I don't forget them. I have a variety of gloves for different levels of cold including fingerless and the "tech" touch gloves that allow you to still use your phone without taking them off.
7. Beanies
I love a super cute beanie!! Not only are they an adorable hat but they keep your head nice and warm! I recently bought one from Forever 21 that I love. It's now sold out, but here's a close alternative along with some fun other options.
8. Cable Knit Sweaters
I've been loving cable knit sweaters! They're thick enough to keep you warm while also looking super cute and stylish! Plus they're super versatile – throw them over a pair of leggings, jeans, or sweatpants and you're good to go!
9. Sweatpants
During the winter, I LIVE in my sweatpants at home! They are so comfortable and perfect for lounging around! My favorite styles are loose, made of super soft material, and have a drawstring waistband. Here are some I love below.
10. Electric/Heated Blanket
I didn't know what my life was missing until I received an electric blanket. This thing is magical. My boyfriend gave me the most perfect gray ogee pattern heated blanket from Kohl's last year and it is one of my favorite things ever. 
What are some of your winter essentials?