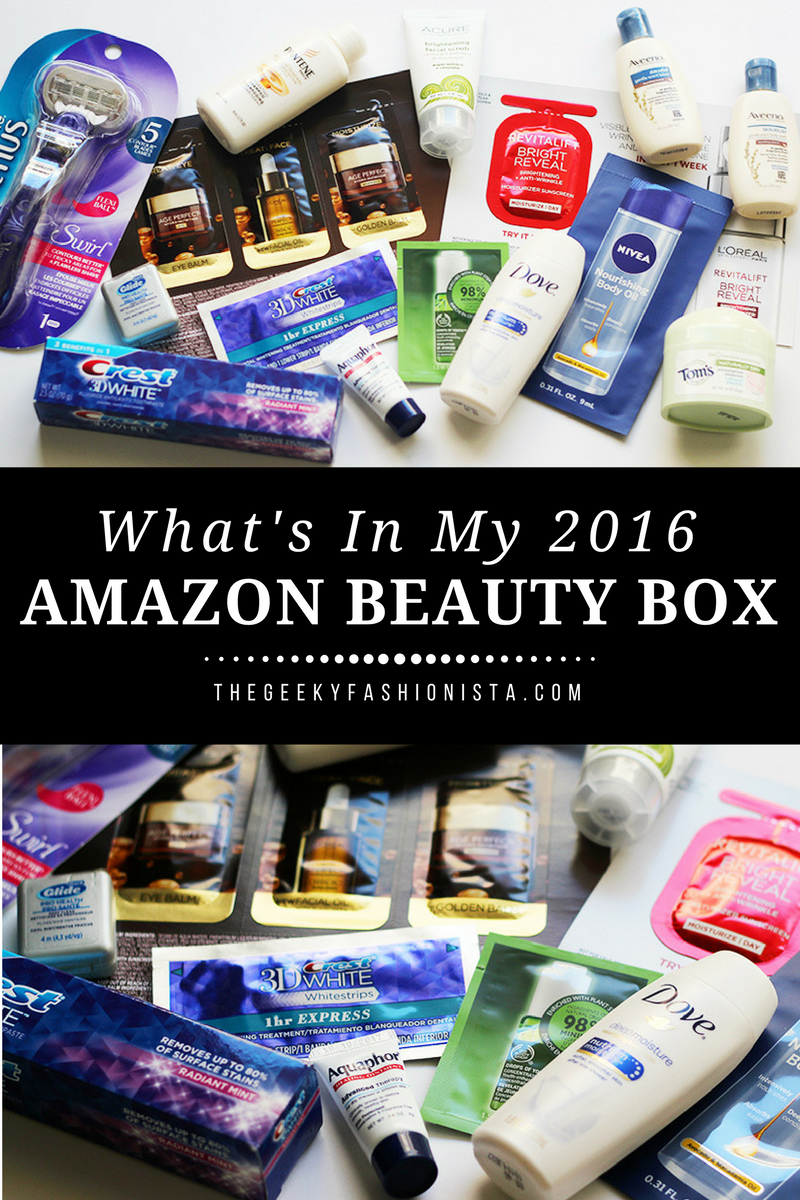 Today I'm going to be sharing what is inside my very first Amazon Beauty Sample Box! These boxes are available to Amazon Prime members only and are still available for purchase if you decided you like what you see! Keep reading to check out the samples galore!
This post contains affiliate links.
Amazon Sample Boxes
Did you know that Amazon did sample boxes?? I sure didn't! At least not until Cyber Monday when I discovered that they did not just have one sample box but three:
Luxury Beauty Box ($19.99)
Men's Grooming Sample Box ($9.99)
Beauty Sample Box ($11.99)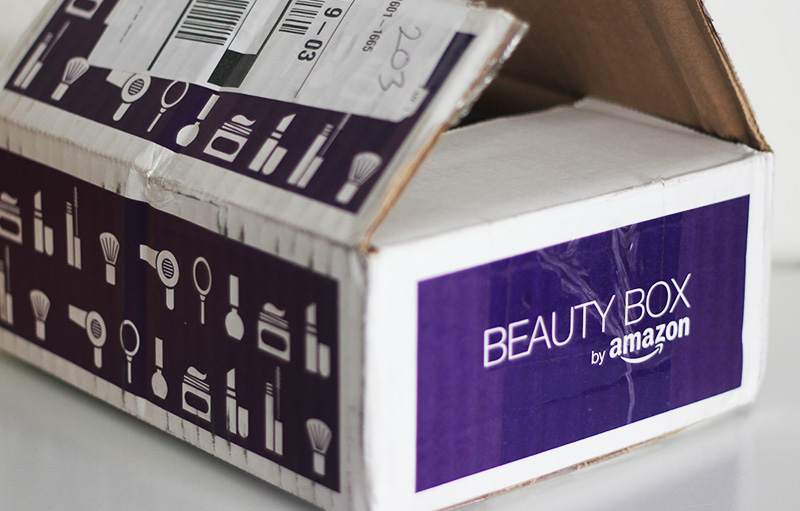 I decided to try out the Beauty Sample Box. It costs $11.99 and includes free shipping. Also, for a limited time, those who purchase the box will get an equivalent credit to use on select products sold on Amazon.
Here are the select 159 products that are eligible. With everyday essentials ranging from mascara, moisturizer, eyeliner, toothpaste, shampoo, deodorant, etc, I don't think you'll have any problem using that credit!
Basically, you're getting the box for FREE!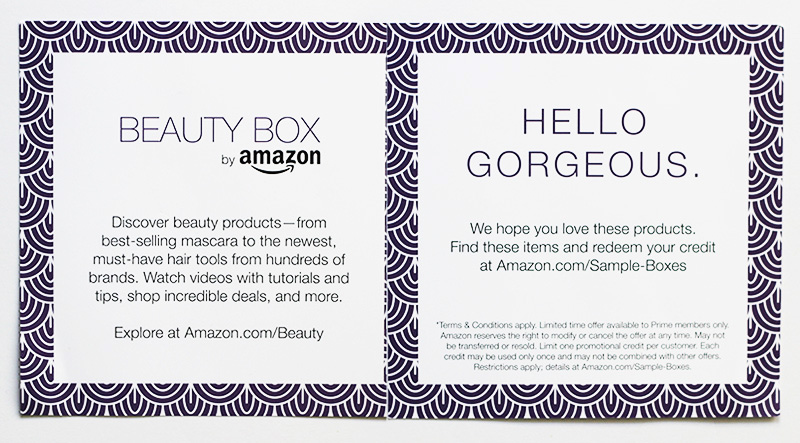 Once my purple box arrived, I quickly opened it to see what goodies lay inside. On top of the purple tissue paper was a card with a link to where I could find the items inside as well as redeem my credit.
Then the good stuff…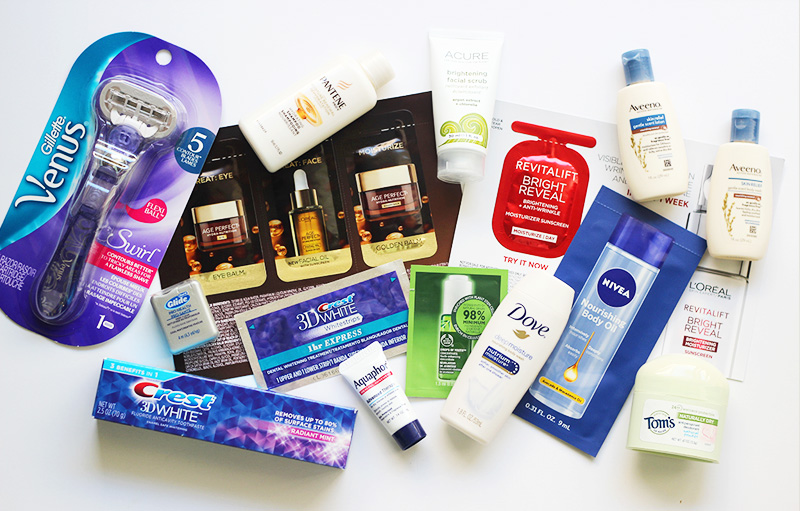 Inside the Box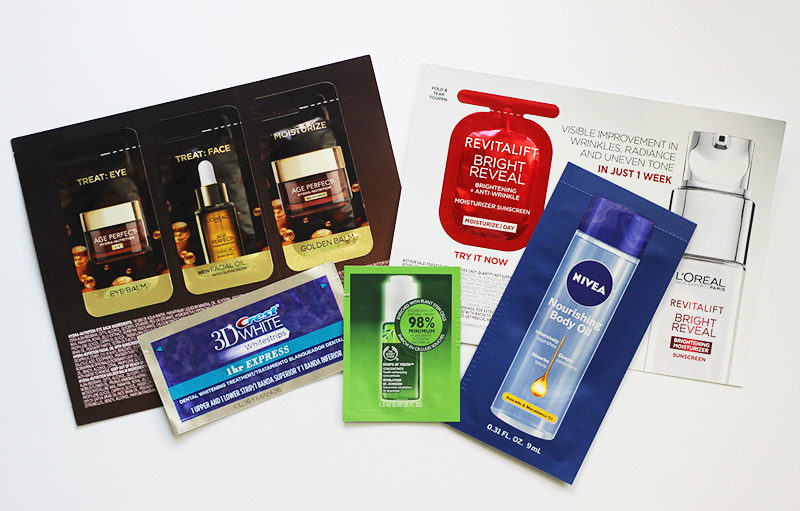 Foil samples are not usually my favorite, but I appreciated the variety here and am glad it didn't make up the majority of the box. I'm curious to give the Crest Whitestrips a try although I doubt I'll see much difference after just one use (you never know though!).
These travel-sized products will be perfect for trips and weekend getaways! Facial scrubs are probably my most used travel-sized product when I'm traveling so I'm always glad to receive a new one. I'm excited to try this Brightening Facial Scrub by ACURE in particular because it is vegan, cruelty-free, and free of parabens and sulfates. I would've preferred a conditioner to accompany the shampoo instead of two body washes, but I'll let it slide since I do enjoy both Dove and Aveeno products.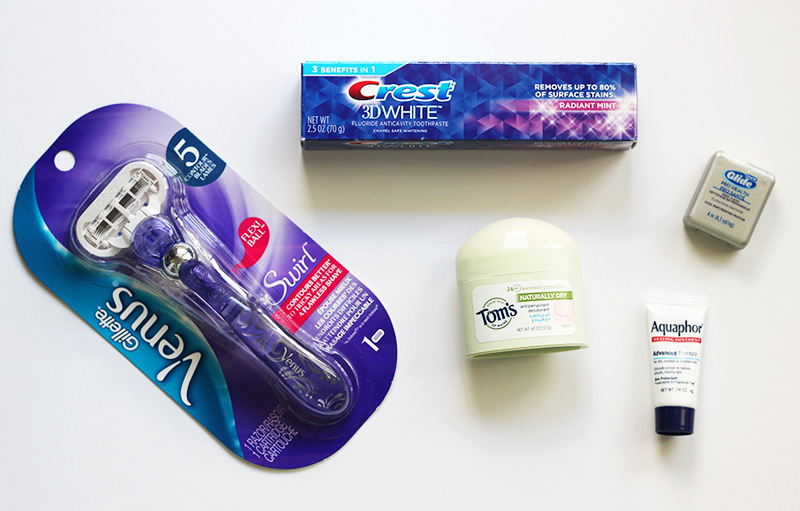 Some great essentials here! A girl can also always use a free razor especially when it's the Gillette Venus Swirl Razor with 5 contour blades designed to adjust to your body's curves. Also, I've actually been wanting a travel sized deodorant so I was very happy to see cute little guy by Tom's of Maine.
There is also a generous sized (2.5 oz vs the full sized 3.5 oz) sample tube of the Crest 3D White toothpaste in Radiant Mint, some floss by Oral-B that will be perfect for my purse as well as this tiny sample of Aquaphor Healing Ointment that will hopefully help my poor cracked lips.
That's everything in the box! I was hoping for some makeup products in the mix but hey, that's what that credit is for! 😉 Overall, this is a nice little box of various samples! Definitely worth the $11.99 if you're planning on already buying some shampoo or toothpaste! It's like a free bonus!
Remember, to receive this or any of the other sample boxes, you have to be an Amazon Prime member. If you're not one already, you can sign up for a 30-Day Free Trial
.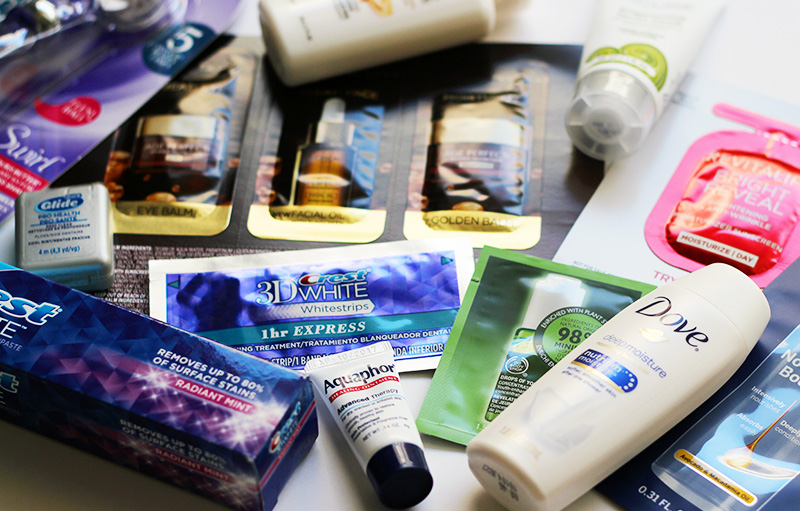 What did you think of the Amazon Beauty Sample Box?