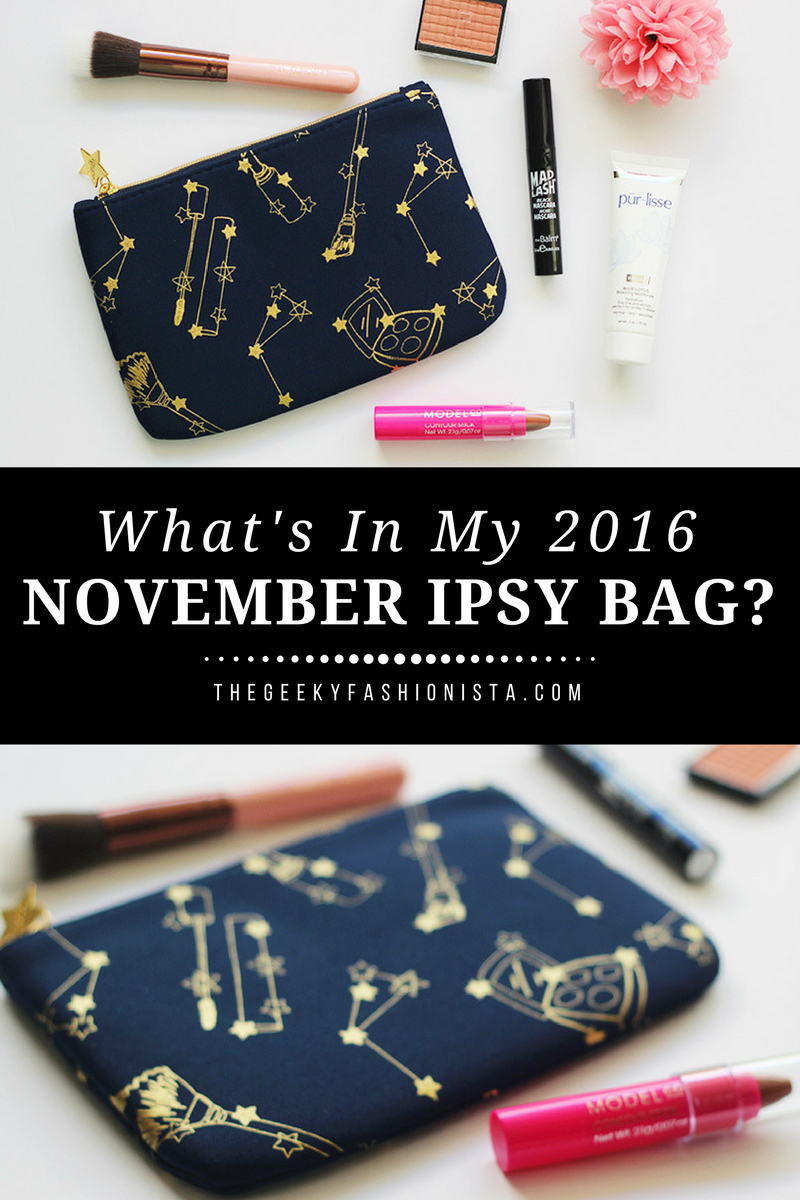 Hello, everyone! Today I'm going to be sharing what's inside my November Ipsy bag! This month's theme "Rockstarlet" and came with 5 products! Read on to see what they are and my first impressions!
About Ipsy

Ipsy is a beauty subscription service that was started by Youtube makeup guru Michelle Phan. Each month for just $10 you are sent a cute little "glam bag" filled with 5-6 full or deluxe/trial-sized products. The bags are catered to your preferences through a "beauty quiz" you take when you initially sign up and later how you review the products you receive so the products in the bags will vary from person to person.

I'm a long time, very satisfied Ipsy subscriber. I love being introduced to new beauty brands and getting to try out different products with each bag. It's like getting a surprise gift each month in your mailbox! If you're interested in getting your own Ipsy bag, feel free to use my referral link – I'll get points when you sign up 🙂

The Glam Bag
I thought this navy and gold constellation-themed bag was super cute! The print is simple and minimalist which I like as I do the "foam-y" material feel of the bag. It kind of helps keep it's flat shape. The inside has a nice gold lining and the star-shaped zipper pull is a cute detail.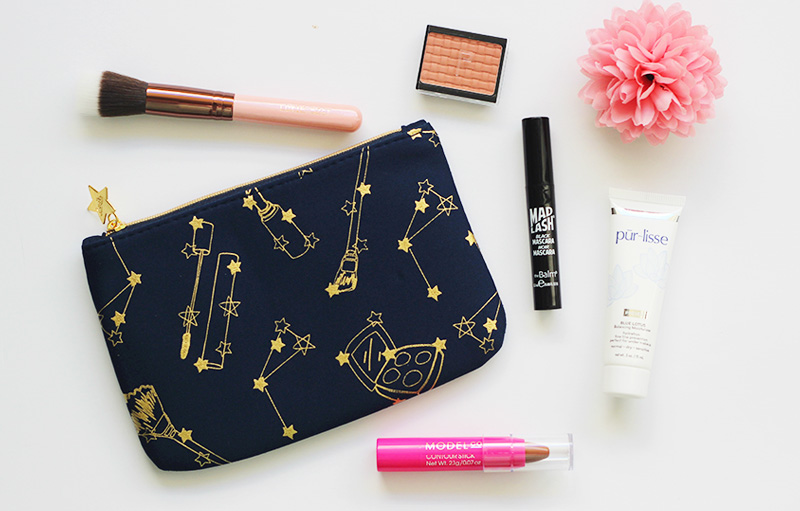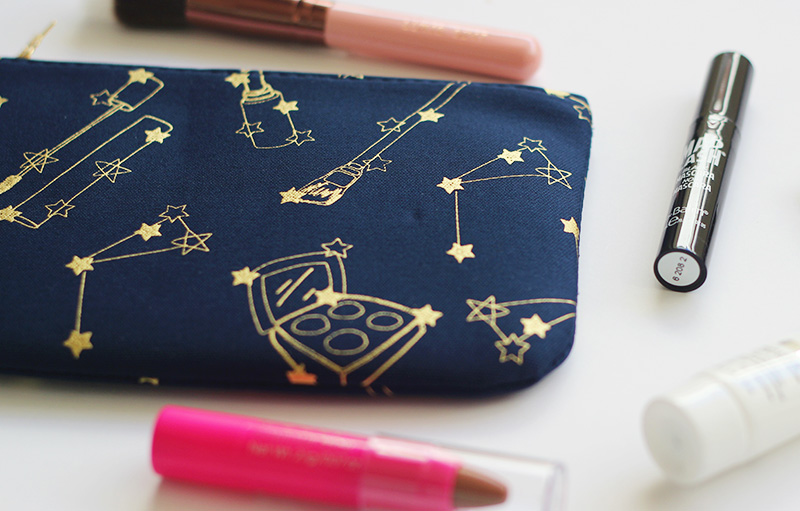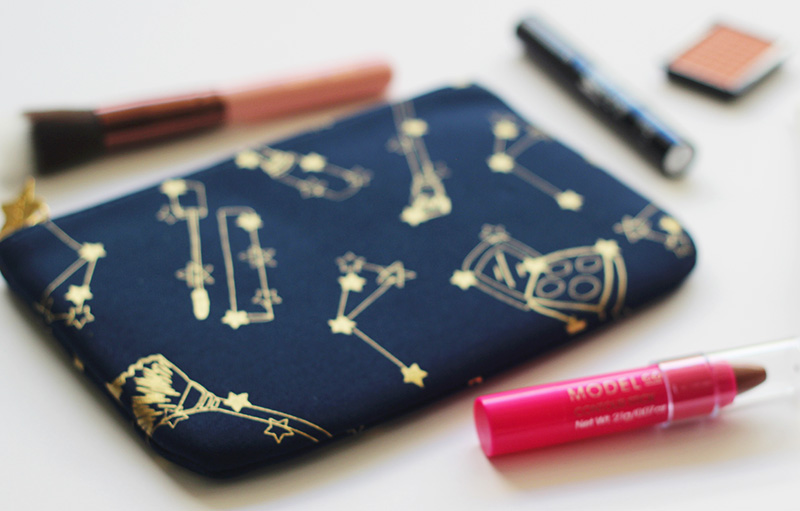 Inside the Bag


Luxie Rose Gold Small Duo Fiber Brush 524T
First item I received was this little travel-sized pink duo fiber brush. I like the pink and rose gold color of the handle – very cute and the size is perfect to keep in your purse for on the go touch ups. The bristles are firm but still soft although I do wish it was just a tiny bit denser – overall the quality is nice.
20% off Luxie brushes at luxiebeauty.com with code IPSYTRAVEL.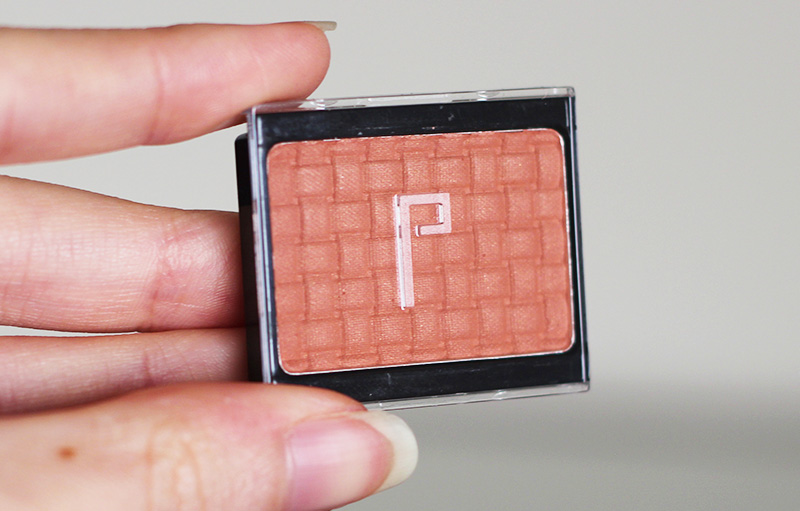 Doucce Freematic Blush in #49 Zen Orange
This is a peachy coral blush with a matte finish. It's a pretty color, very smooth, and buildable but not really a shade I wear so much during the fall or winter so I'll have to save it for spring/summer. Also I just realized that I'm holding it upside down in the photo above haha.
30% off at doucce.com with code BLUSH30.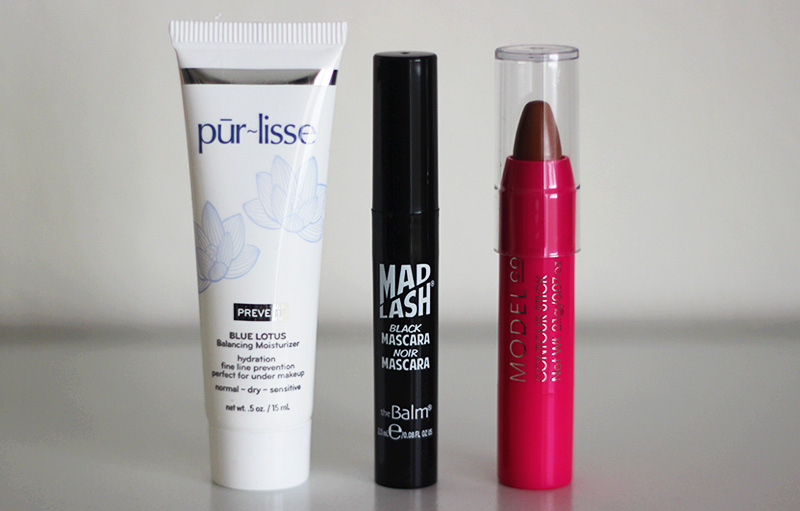 pūr~lisse Blue Lotus Balancing Moisturizer
A really nice, light non-greasy moisturizer with natural ingredients. Great size for travel too.
30% off at Purlisse.com with code IPSYNOV30.
thebalm Mad Lash Mascara
The product that I was most excited to see because I love thebalm's products but ended up being the most disappointed in. It has a unique curved brush what I didn't mind – I think it did help me out with getting all the little hard to reach lashes. The tube is interesting in that it's kind of inverted? Not sure if this was done on purpose to give you less product or something but it just made me waste product on the sides as I tried to pull it out. Oh yeah, instead of a screw top, it's more of a pop off top which can also get messy if you're not careful. As far as the formula, it gave nice long, natural lashes with no clumping. I was satisfied…about 15 minutes later I was getting ready to leave for work when I saw my face in the mirror and noticed HEAVY smudging underneath both of my eyes from the mascara. I was so glad I caught it before I left my apartment – I looked crazy! Not sure if I rubbed both my eyes or something but it was pretty bad.
20% off at thebalm.com with code IPSY20.
ModelCo Contour Stick
I definitely want to learn how to contour more! I have a contour set but it's all powder, and I think I would prefer to use creams or sticks like this where I can see exactly where I'm drawing my contour lines then blend them out. I liked this product, it's nice and creamy and blended well but the color was a bit too dark for my fair skin.
20% off all orders plus free shipping when you spend $49+ at modelcocosmetics.com with code IPSY20.
Final Thoughts
Really cute bag but I feel underwhelmed by the products. While I'll use everything eventually and nothing was terrible (although the mascara was pretty ehhh), nothing here makes me terribly excited or make me want to go out and purchase a full size. Like last month, my favorite item is probably the bag.
Be sure to check out my other unboxing posts!

What did you think of this month's bag?