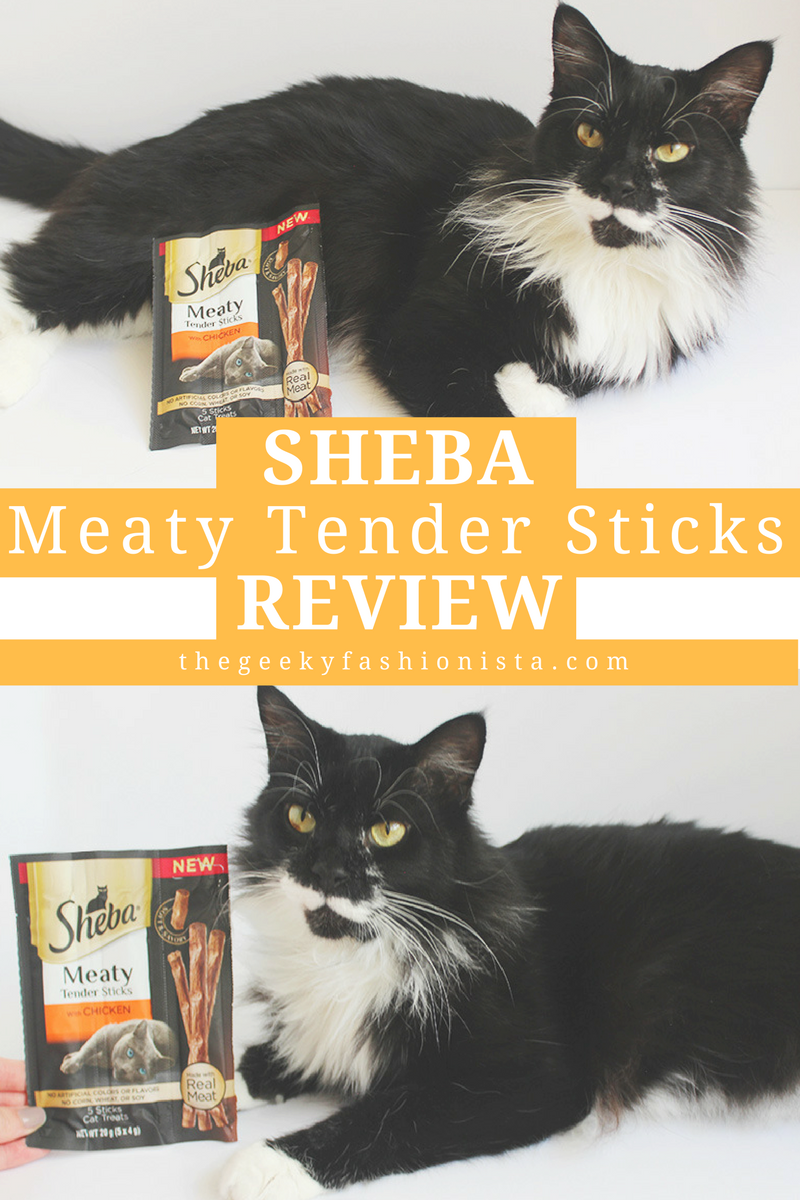 I love trying out and testing new products for my blog. Today, I got to switch things up a little as my wonderful kitty, Xander, helped me review a new cat treat: SHEBA Meaty Tender Sticks. Read on to see Xander's thoughts!
The SHEBA Meaty Tender Sticks came in a pack of 5. Each stick was individually packaged but all connected together. There are perforated lines to help you with tearing off each stick section but, unfortunately, it can still be easy to accidentally tear into the next stick if you're not careful. Above you can see on the side closest to Xander's face how even when I tear very carefully and slowly, it's still pretty jagged. You definitely do not want to just rip these off. I would even recommend using a pair of scissors just to make things simple.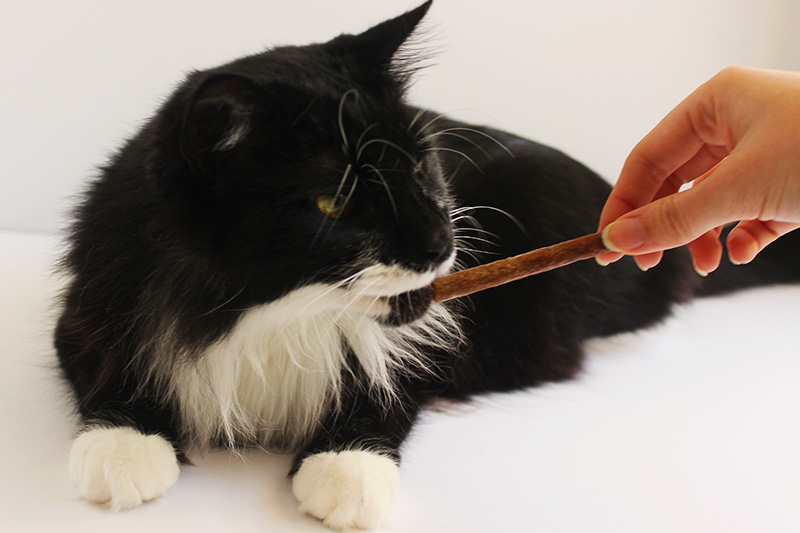 Once I opened up one of the sticks, I put it near Xander's face to let him smell it. He initially showed absolutely no interest in it, and I thought this review was doomed. Xander can be a little finicky with his food, but he LOVES treats. I knew he just needed a little encouraging. After walking away probably having no idea what I just stuck in his face, I broke off a small piece and, once again, let him sniff it. His ears immediately perked up, and he ate the small bit. Before I knew it, he was coming for the rest of the stick!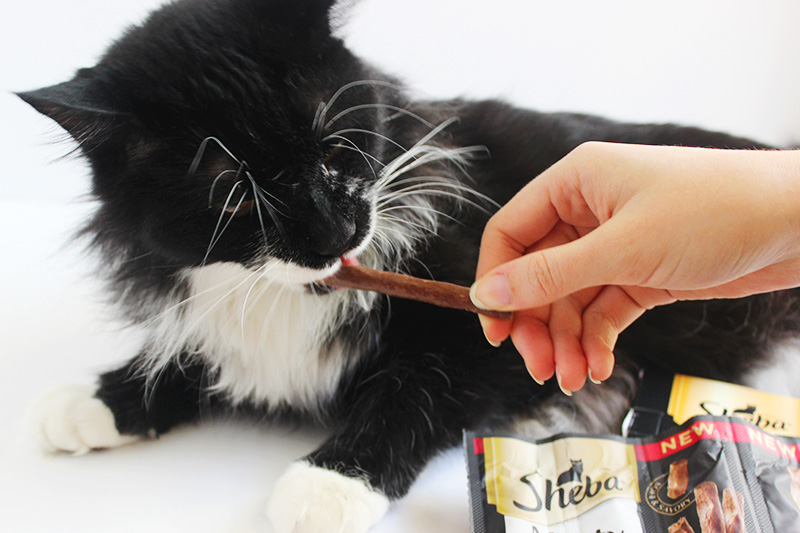 These SHEBA Meaty Tender Sticks remind me of Slim Jims (which I love) but softer and with no outer film/coating so it was very easy to break off small pieces if you're worried about your cat swallowing the thing whole – which Xander totally did! After finishing off the first stick, he grabbed the second one from my hand, chewed on it a little bit, then wolfed it down! I was worried that he was going to choke on it, but he showed no indication of swallowing difficulty. He just wanted another!
Xander is about 7 years old but has a lot of health issues including feline asthma and many dental problems. Last year, we had to remove several of his teeth including one of his upper canines. You might notice a little scar near his mouth where his bottom canine catches his lip because the other tooth isn't there. It'll sometimes make him look like he's snarling at you. Even though his vet says it's fine for him to eat hard food and treats, I do feel better knowing that these are soft and so easy for him chew, lick, and swallow.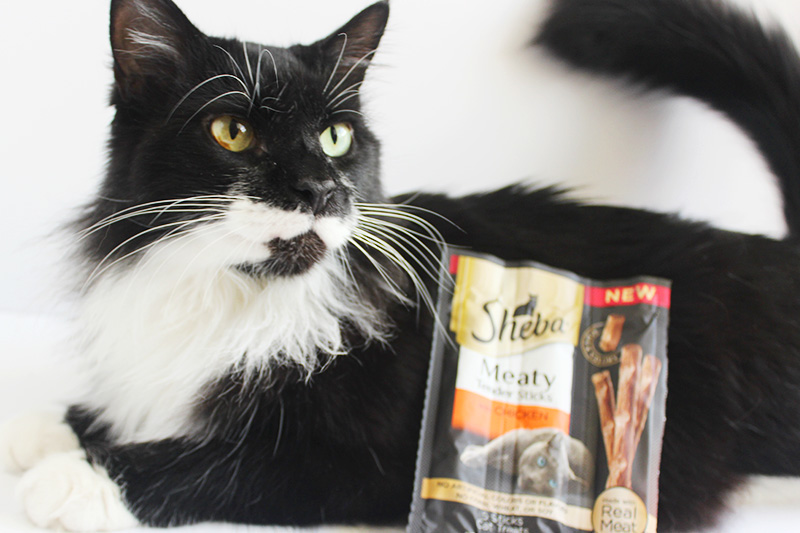 I also love that these treats are made with such good ingredients! Real chicken is the first ingredient and there are no artificial flavors or colors. No corn, wheat, or soy either – woot! Only the best for my baby!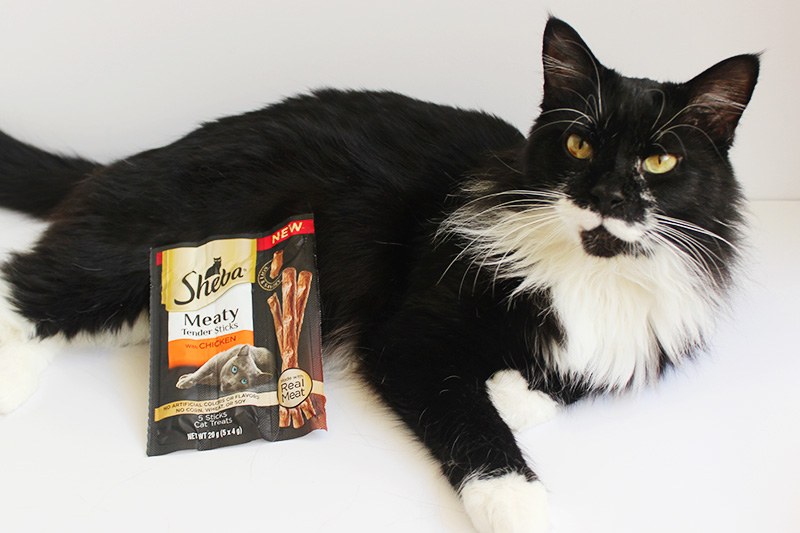 Overall, I would definitely recommend these treats for your kitty! Also comes in Tuna and Salmon.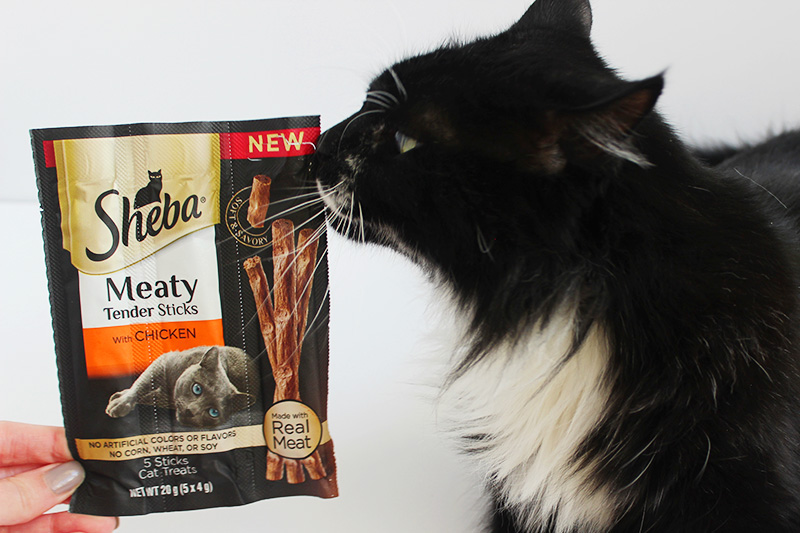 Xander wants me to open up another treat for him!
Disclaimer: Xander and I tested SHEBA® Meaty Tender Sticks for free, but all opinions are my/our own.
Has your kitty tried the SHEBA Meaty Tender Sticks?