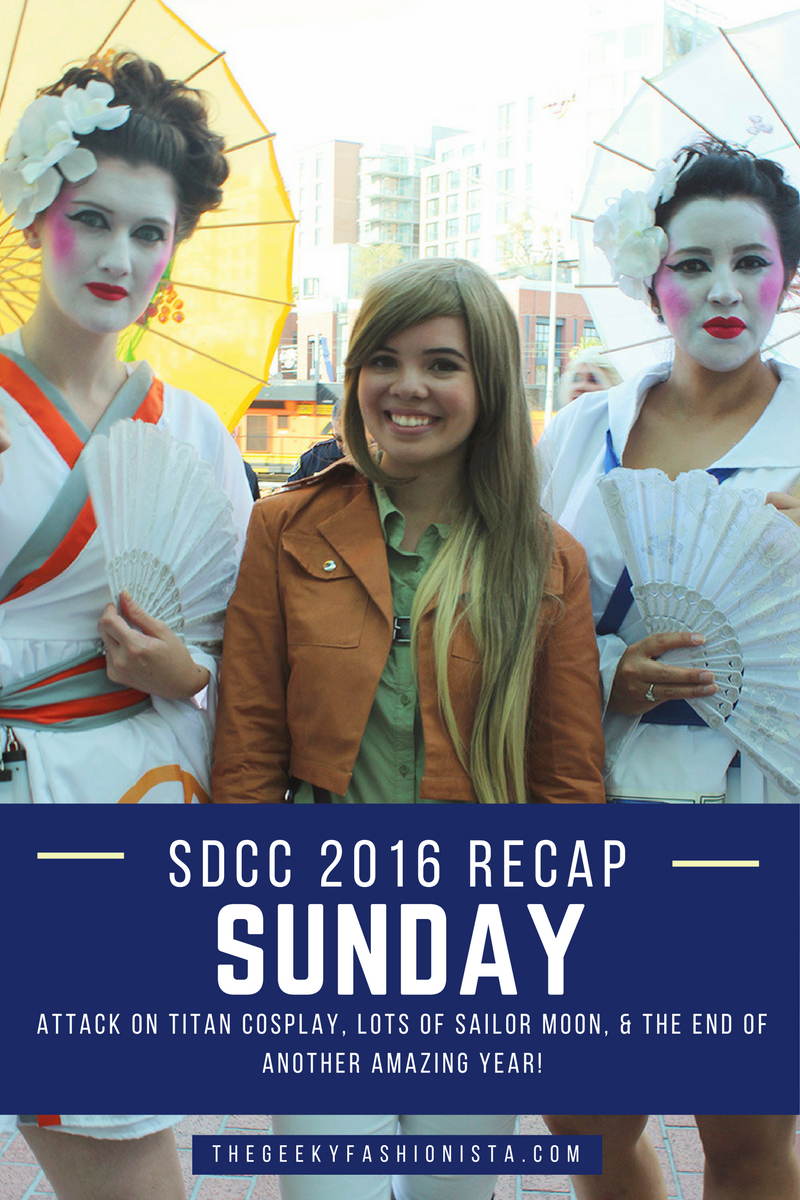 Sunday
Yayyy!!! The last of my 2016 San Diego Comic Con recaps is here!! Despite the fact that the con happened over two months ago, I still decided to do this post. Why? You might say it's pretty irrelevant at this point. Well, because in all my 10 years of attending Comic Con and almost 6 years of having this blog, I've never made it to writing about Sunday which is kind of sad. I always write about Preview Night and Thursday but then by the time Sunday rolls around, I'm all Comic Conn'ed out and Sunday is all but forgotten about. Not this year! With this post, I'll finally have a full set of Comic Con recaps. Despite the personal reasons for this post, I hope you'll still enjoy reading about the last day of my San Diego con adventure – it's short and sweet, I promise! After all my venting in my Saturday recap, I thought it be best 🙂
If you haven't already, be sure to check out my previous posts recapping Preview Night, Thursday, Friday and Saturday. Done? Alright, let's get this started! The beginning of the end – here we go!
After the Hall H craziness of the day before, I was looking forward to having a pretty chill last day of Comic Con. I was wearing my most involved cosplay outfit out of the three I had brought so I wasn't planning on sitting in any lines or waiting outside in any unbearable heat.
Attack On Titan Cosplay
As self-conscious as I was about leaving my hotel in my Han Solo cosplay on Friday, leaving in my "female-Jean Kirstein" Attack On Titan cosplay I was ten times more anxious. I had worn a wig the day before in my Dr. Ellie Sattler from Jurassic Park cosplay but only in line with friends and my outfit was "normal" people clothing. Going out in public with a *very* long haired wig and an outfit that was very clearly an anime costume was a bit different.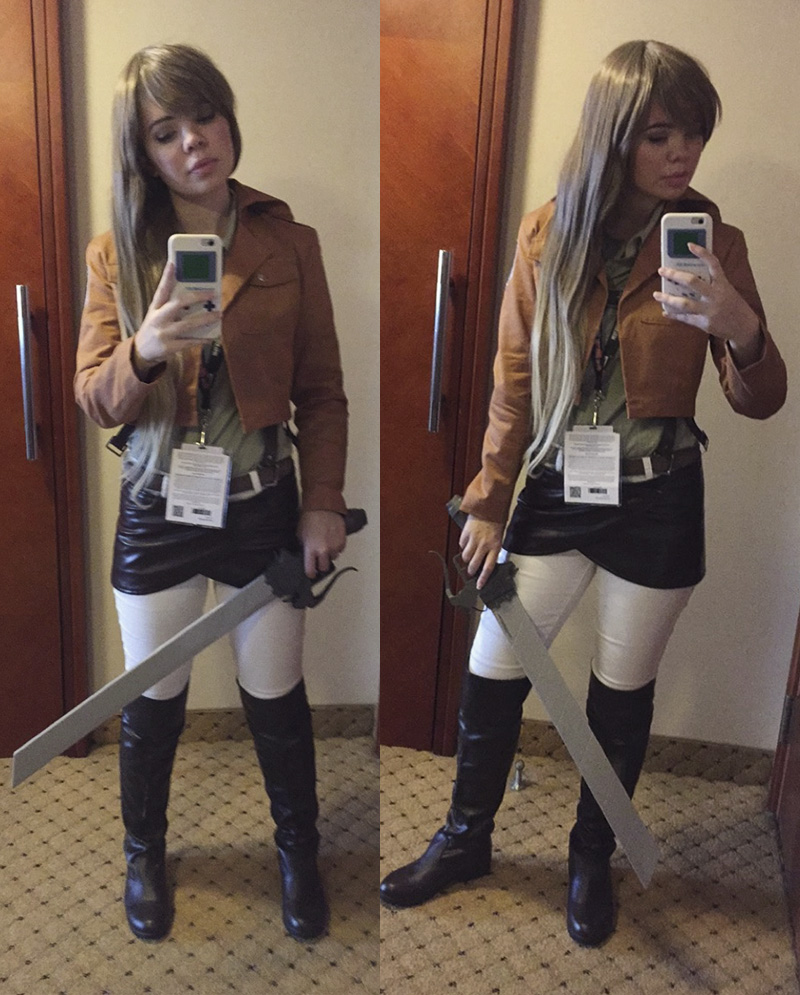 A few mirror selfies in costume with my prop swords that I had to leave in the hotel room.
It might have been easier the year before when there were tons of Attack On Titan cosplayers but the hype had died down… still I was very excited for my cosplay and sucked it up and wore it with pride as I walked out alone to the convention center.
I wasn't feeling well that morning so I had a late start and missed out on the Sherlock and Supernatural panels that my dad, sister, and boyfriend were all able to attend. I had a feeling that might happen so I wasn't too disappointed. For a great recap of those panels, check out my sister's blog.
My main panel of focus for the day was for Sailor Moon. My first anime and fandom as well as what first inspired me to draw, it will always hold a special place in my heart. I got to the room a bit early to make sure I wouldn't miss it and saw a line to get in for the current panel. Because I was alone, I was able to make it in right away and saw that it was a panel on voice acting. The panel was absolutely hilarious with various top notch voice actors like Dee Bradley Baker doing a variety of character voices as they told the story of Rapunzel. Afterwards, much of the room cleared and I was able to get a prime seat for the Sailor Moon panel.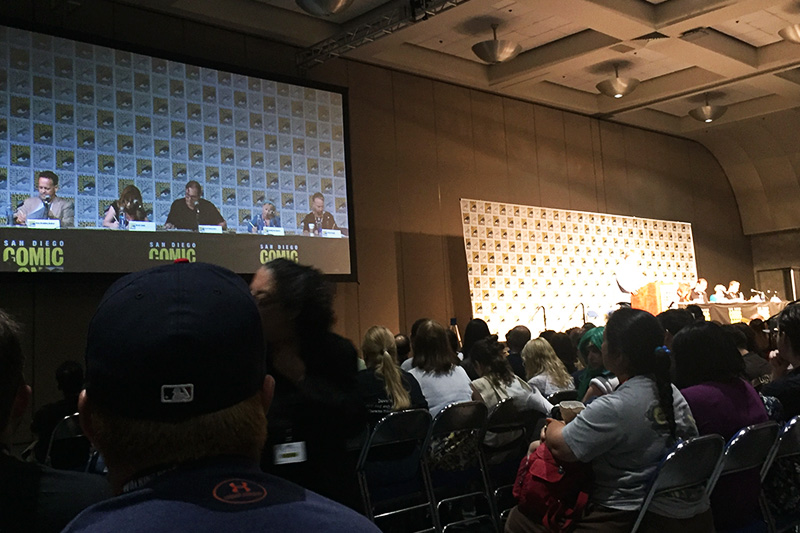 Sailor Moon Panel
Before the start of the panel, they handed all the panel attendees two awesome Sailor Moon posters.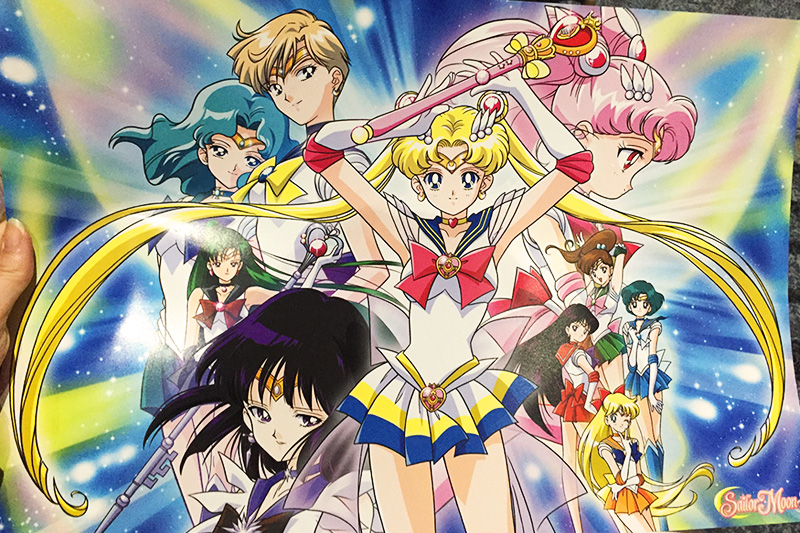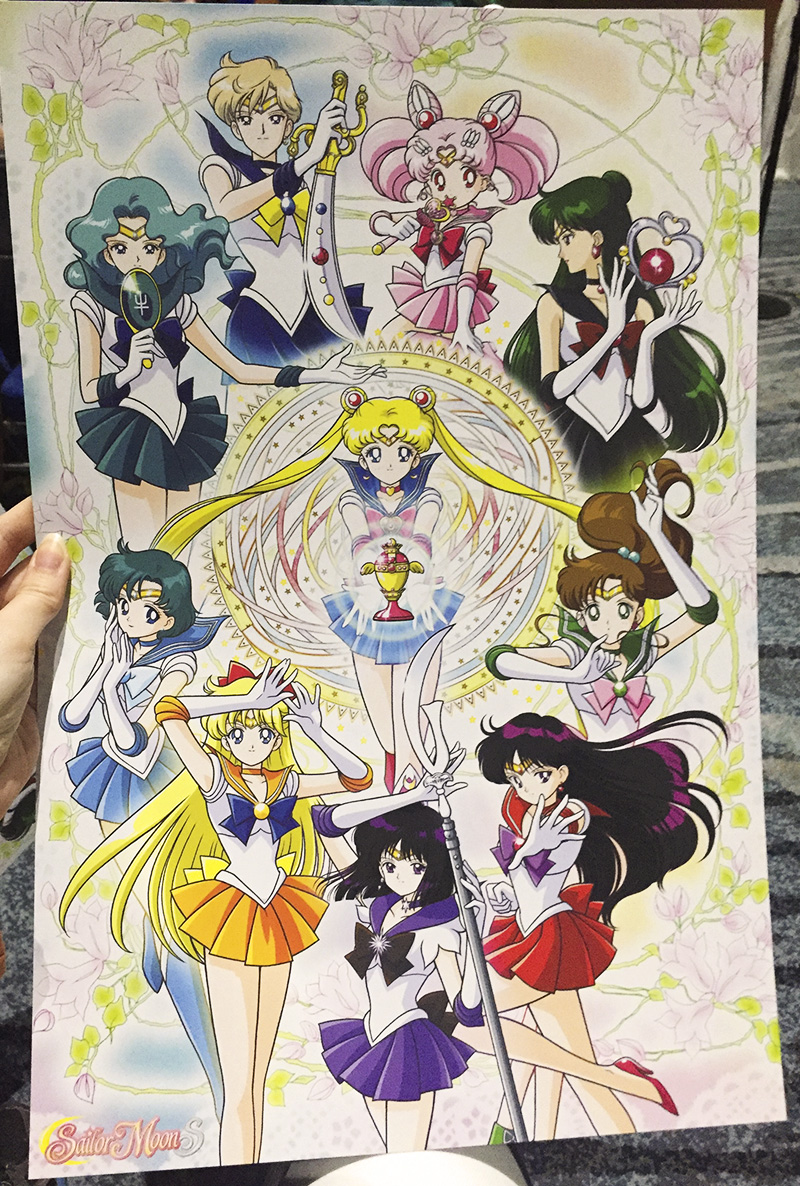 My dad was free and joined me for the panel. I owe him so much for indulging me in my Sailor Moon fandom growing up. He was one of those dads that went into hardcore Ebay bidding wars to make sure his daughter got that special Sailor Moon comforter just in time for Christmas, and I love him all the more for it.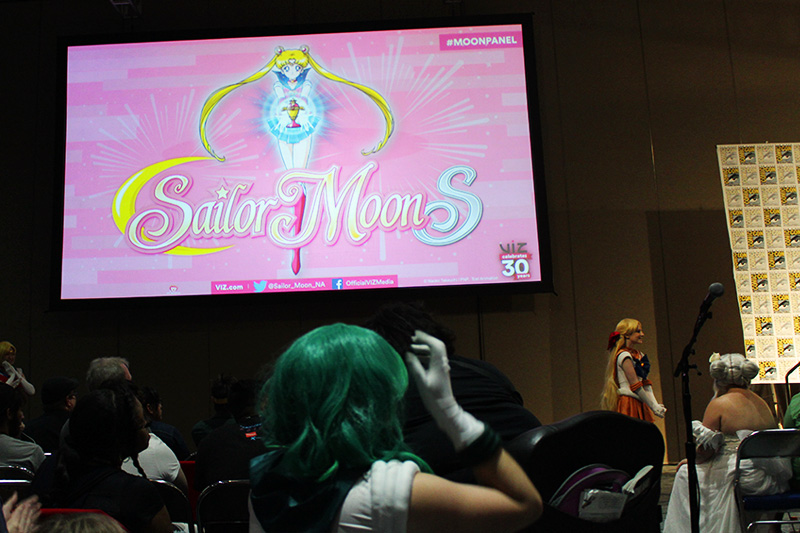 The panel started with a Japanese Sailor Moon sing-a-long of the theme "Moonlight Densetsu" which sounds cheesy, but I loved it. They also did some trivia which I probably only knew 2 answers for so applause to those hardcore fans. Afterwards, I got some photos of some lovely Sailor Moon cosplayers.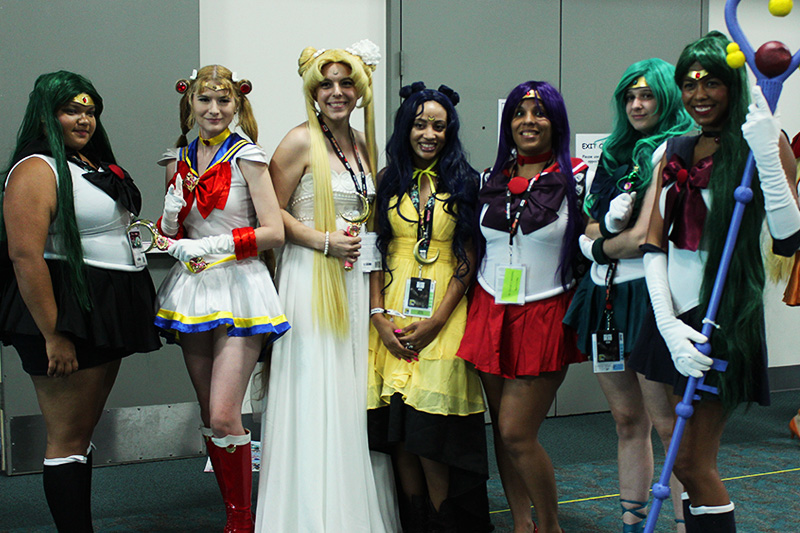 Rock on, ladies! You all look AMAZING!!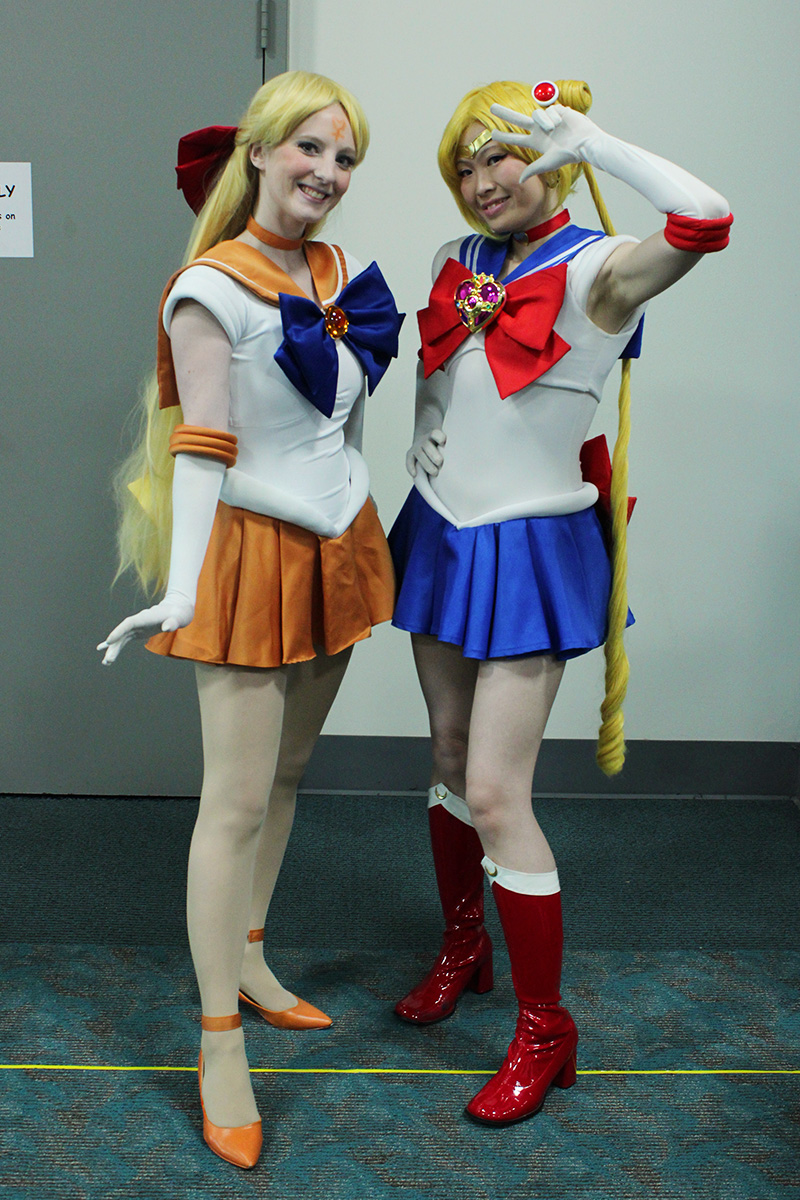 These lovely ladies were the helpers during the panel and their cosplay was on point!
As this was the first time during the con that I was with my dad, he took some photos of me in my costume, and I took some of him sitting in the Captain's chair from Star Trek. He was being so goofy in all the photos not knowing what to do being in front of the camera for once that this was the only normal shot I was able to get of him. At least I know where I get my awkwardness from!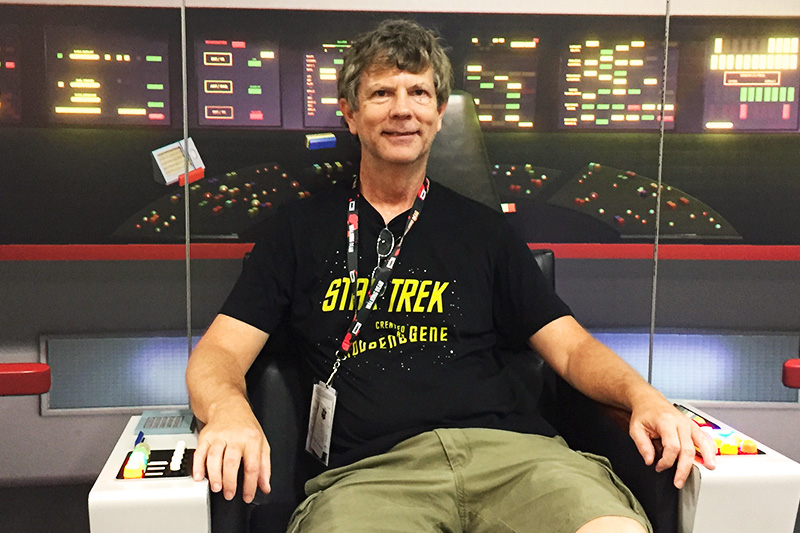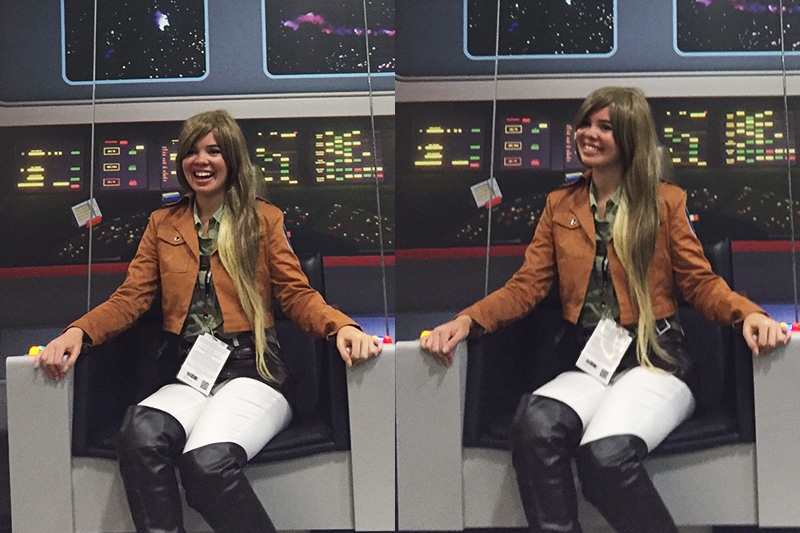 Attack On Titan/Star Trek crossover? I would say that'd be a strange combo but Attack On Space was pretty amazing!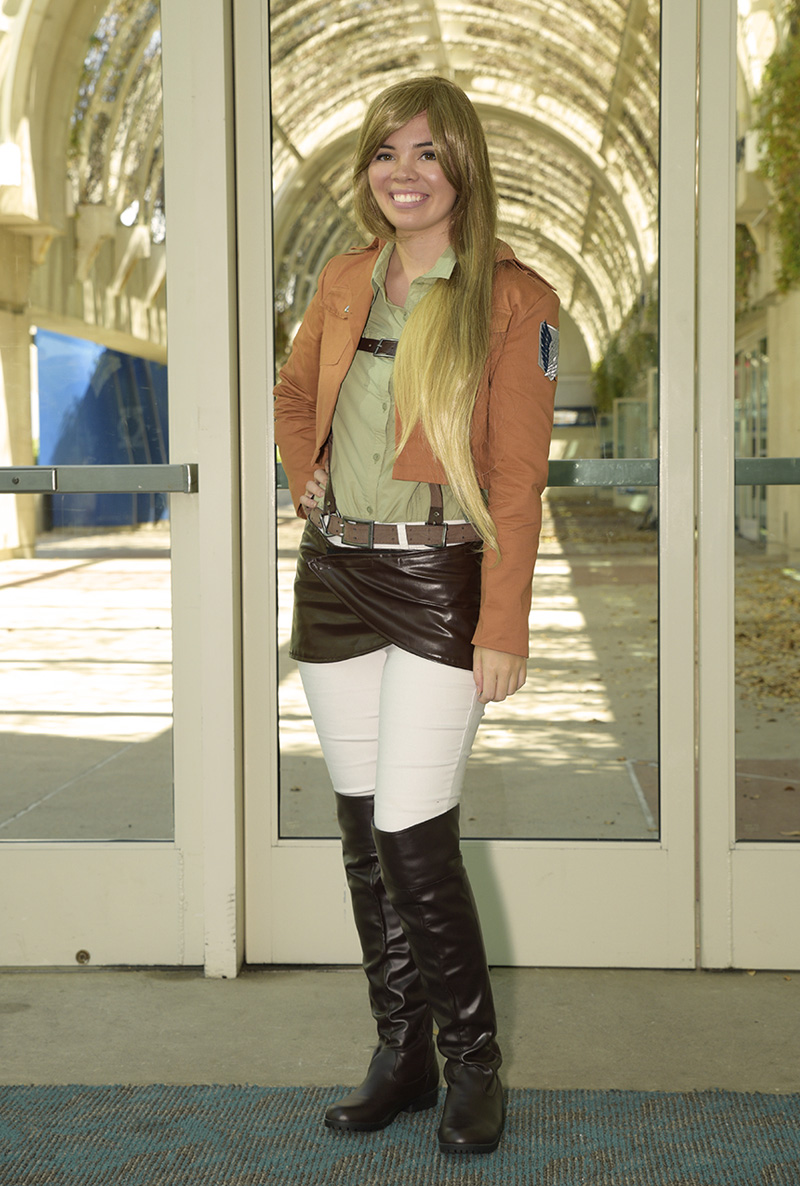 Right after taking this photo, a guy ran up to me and asked me where I got my boots lol.
I also wanted to get my own photos of cosplayers so my dad showed me some good spots. I'll have another post with some of my favorite cosplay shots that I took. I ran into my lovely friend Beryl, my first Comic Con friend, and we were able to catch up a bit which was great. Every couple minutes or so, someone would interrupt us and ask to take my picture which we both found funny and amusing. When you're standing out in the middle of the con hallways with all the other cosplayers and photographers, you gotta expect it a little.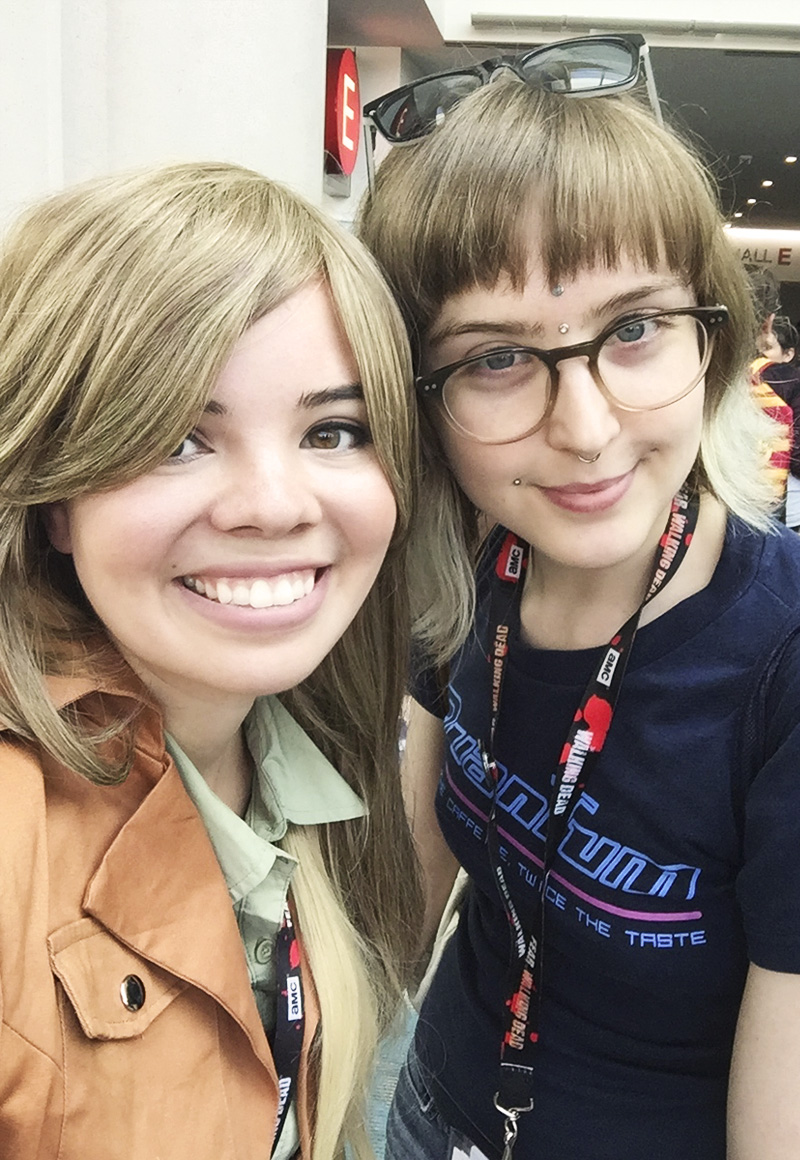 My cosplay definitely wasn't as recognizable as my Han Solo one, but the people who did know it, loved it and were very complimentary which made me feel pretty awesome.
Finishing up the day and San Diego Comic Con 2016, I joined Luke, his friend Eli, and my dad and sister to go over what end-of-con goodies we had received. Luke and Eli got some pretty nice stuff but my sister won hands down with her sweet Star Wars mat that she received for FREE.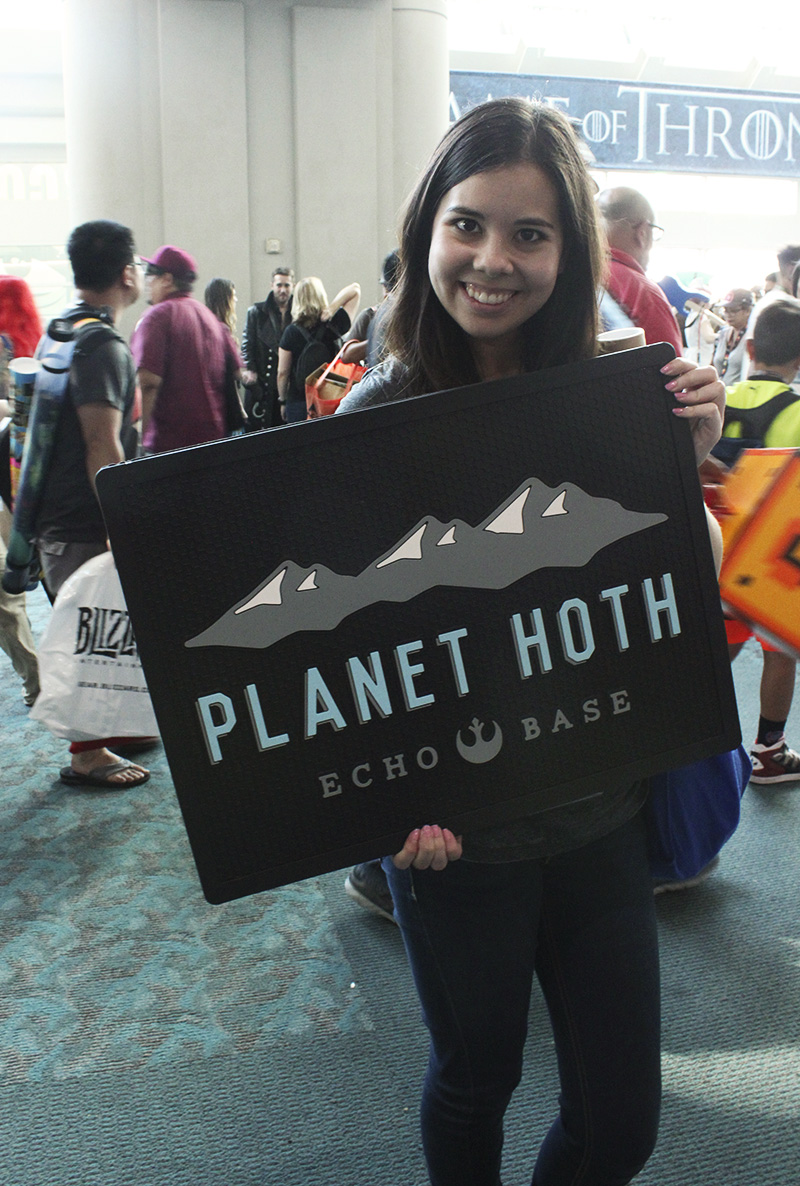 Yes, she got that for free. It's now outside our apartment door.
After that, we walked outside those convention doors and San Diego Comic Con 2016 had come to an end! Until next year! I can't wait to see what new cosplays I'll have then! Maybe I'll even get Luke to dress up with me next year…we'll see! Speaking of him, here are a few photos of us at the end of the day.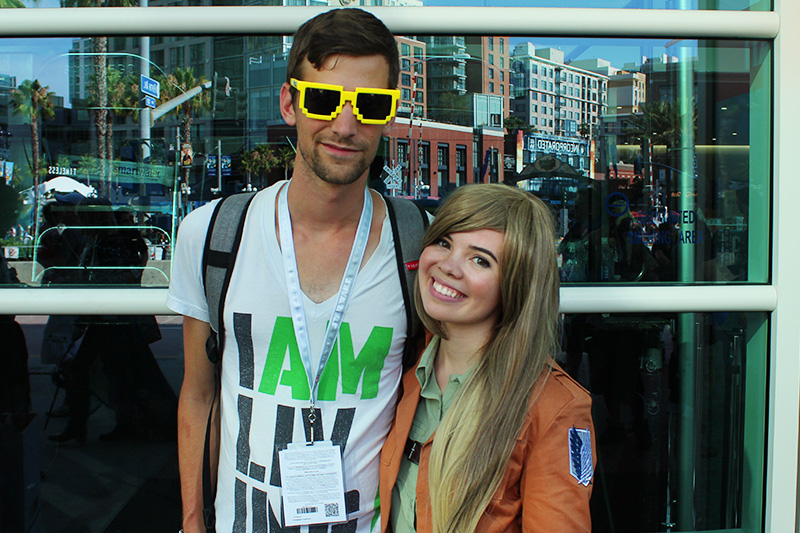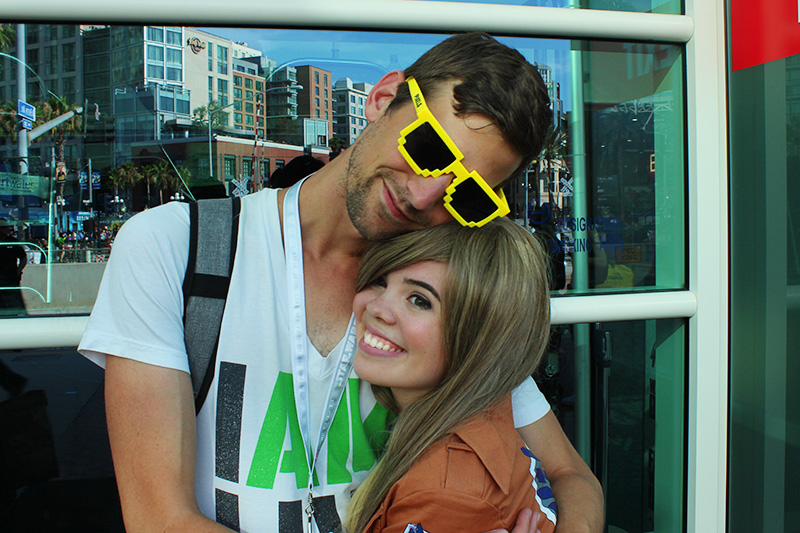 Okay, now I'm done. xD
Have you ever been to a nerdy convention?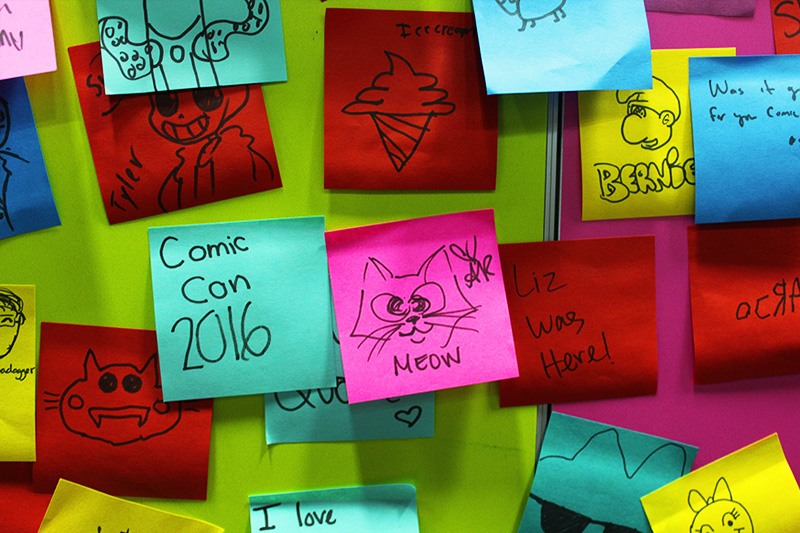 That's my signature cross-eyed kitty drawing – meow!