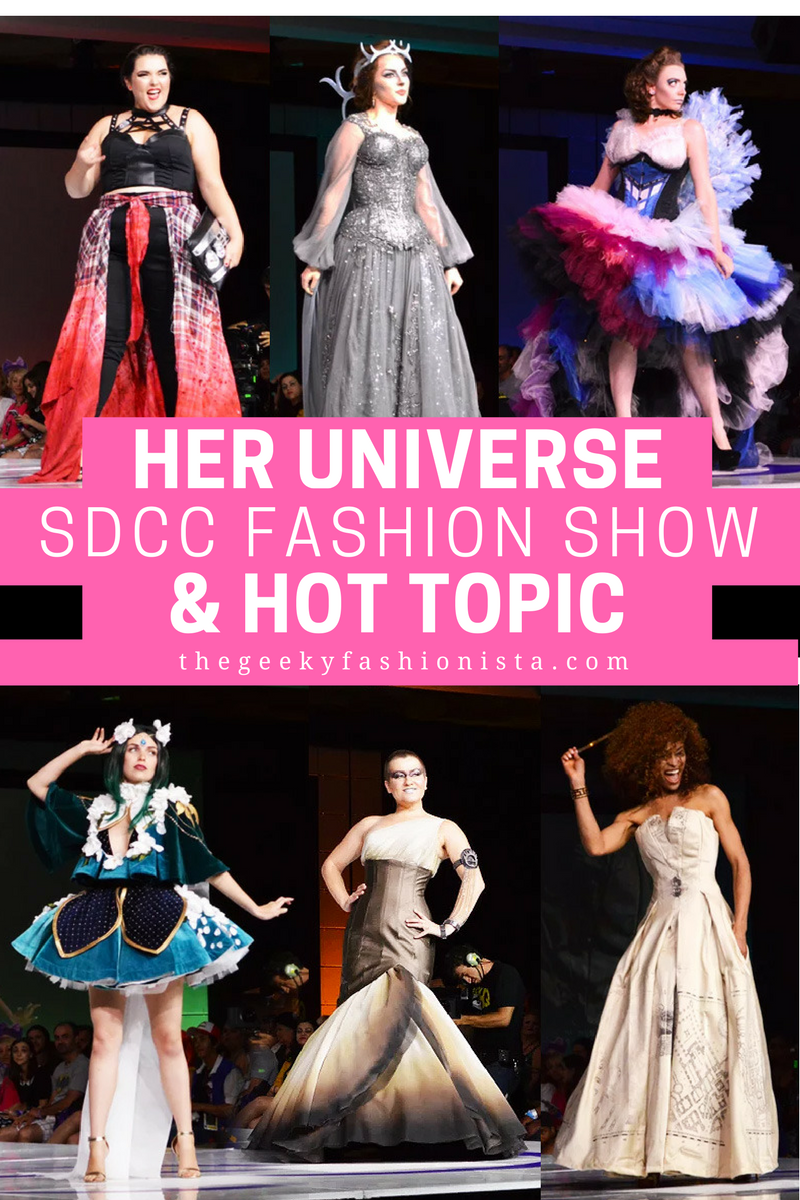 For the last three years, Hot Topic and Her Universe have put on an amazing "geek couture" fashion show featuring designs from some incredibly talented aspiring designers. Every year, I want to so badly attend the show and every year something comes up that night preventing me. This year, I FINALLY was able to make it!! Read on to see experience attending the Hot Topic and Her Universe Fashion Show at San Diego Comic Con 2016!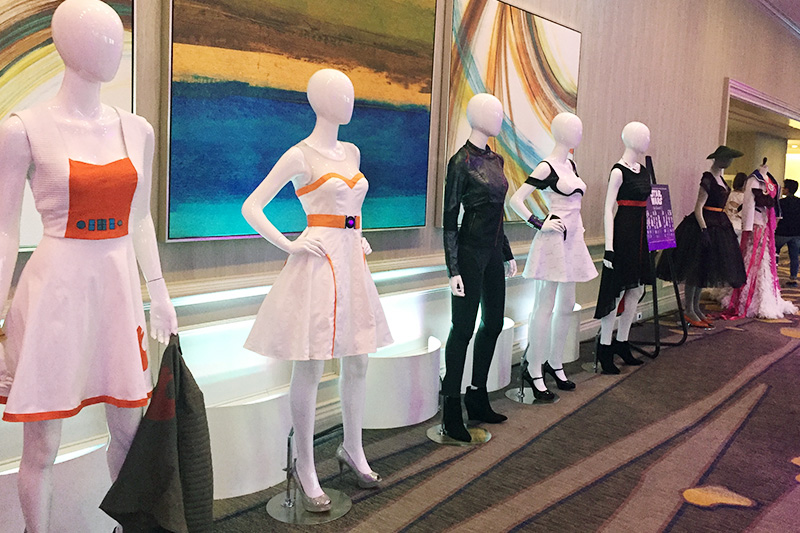 The Hot Topic Star Wars collection designed by last year's winners!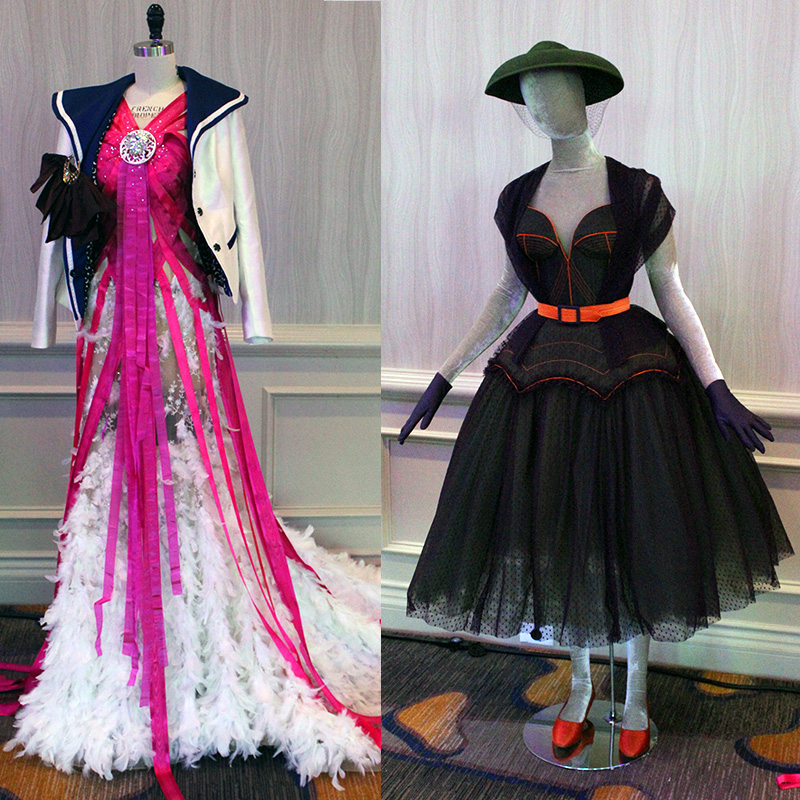 Last year's winning designs!
I arrived a little past the stated start time, but as in most fashion shows, the show was running a little behind so no worries there! As far as finding as seat, one of the perks of attending an event by yourself is that it's usually not too difficult to find a solo seat. I managed to snag one in the first row facing the stage although quite a bit off to the side of it. Definitely not as good as a seat along the runway, but it was nice to see the stage without anyone immediately obstructing my view (especially since I'm on the shorter side).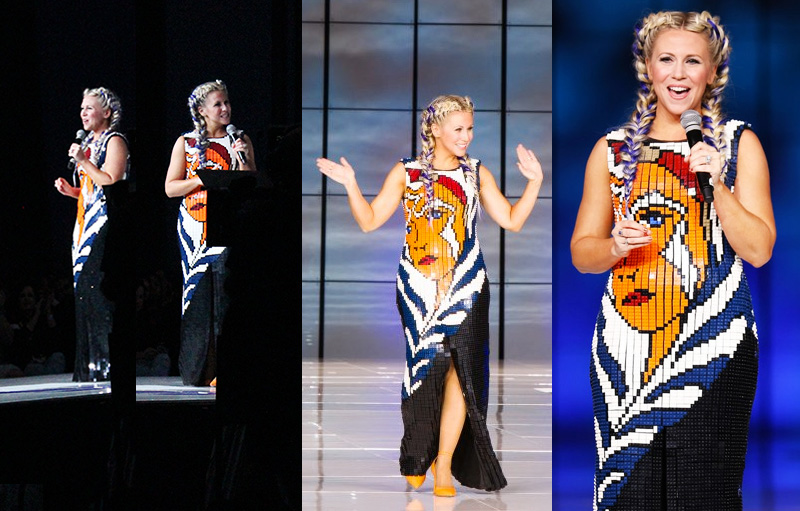 After showing off some of the pieces in the Hot Topic Star Wars: A Force Awakens collection, they showed a video on the creation of Her Universe founder Ashley Eckstein's geek couture LEGO gown featuring her Star Wars: The Clone Wars character Ahsoka Tano. At the end of the video, she came out in said dress, and it was definitely a head turner in the best way! It was made of over 10,000 LEGO bricks and weighed over 25 pounds – wow! The creators of the gown were fashion designer Andrew MacLaine and LEGO artist Nathan Sawaya (who also served as a judge for the fashion show). It was just a taste for the amazing designs to come!
Inspired by Wonder Woman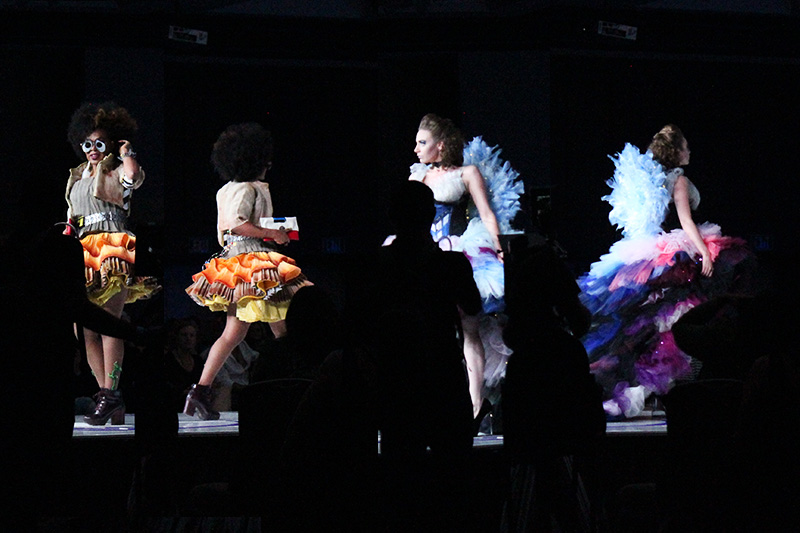 Wall-E and the TARDIS from Doctor Who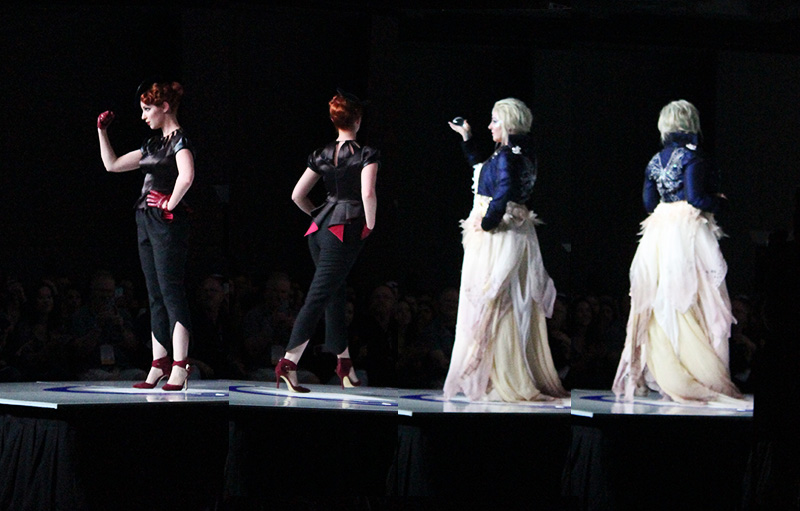 General Hux from The Force Awakens and Jareth from The Labyrinth
Soon, the show was on it's way! They divided the 27 designers up in groups then showed little behind the scenes videos for that group before having their chic gowns walk down the runway.
Every dress was inspired by some kind of nerdy fandom and it was so cool to see so many different fandoms represented! Right alongside the usual Star Wars and Harry Potter inspired designs, were ones representing RWBY, Supernatural, Pokemon, Labrinyth, and Sailor Moon!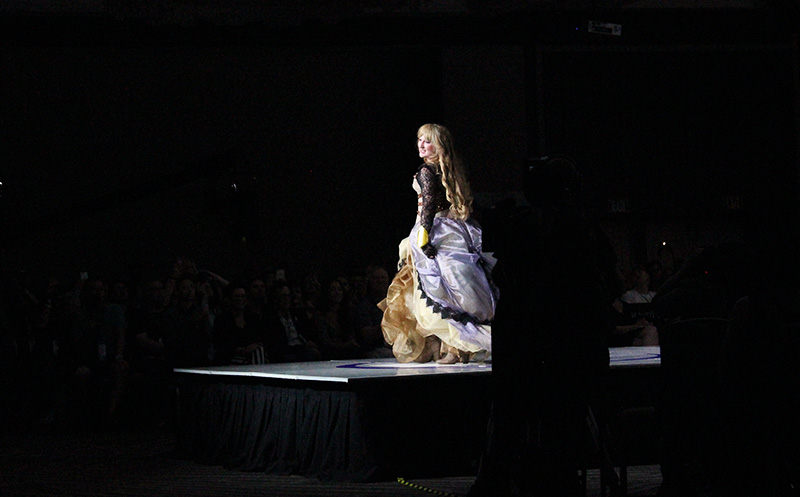 Inspired by Yang from RWBY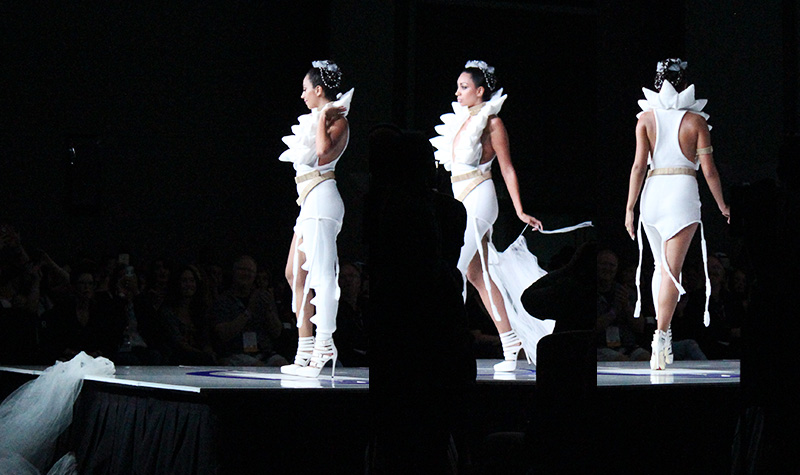 Reshiram from Pokemon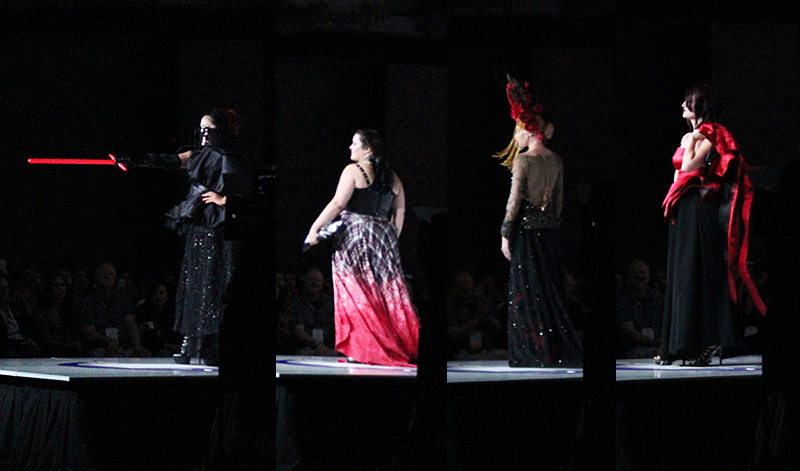 Kylo Ren, Supernatural, Hannibal, and Scarlet Witch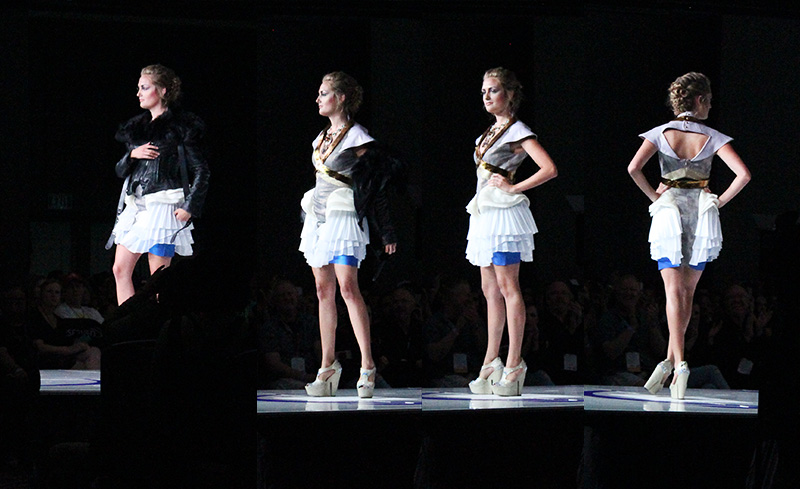 Jon Snow and Daenerys Targaryen from Game of Thrones
Unfortunately, my camera didn't have the best zoom so I apologize for not having better photos of these beautiful gowns. Then about half way through, my camera battery died so I had to resort to using my phone for the rest of the show. To give you a better look at some of the gowns, here are some photos taken by PopSugar.Com – gorgeous, right?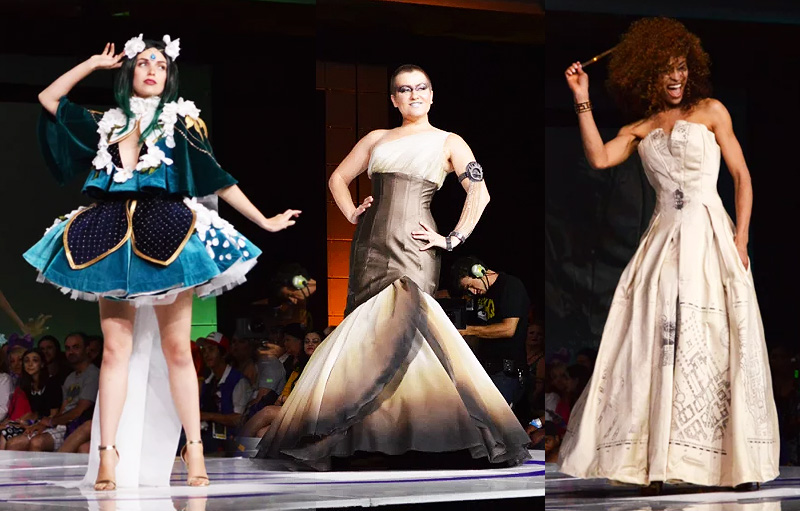 Inspired by Sailor Neptune, Mad Max: Fury Road, and the Marauder's Map from Harry Potter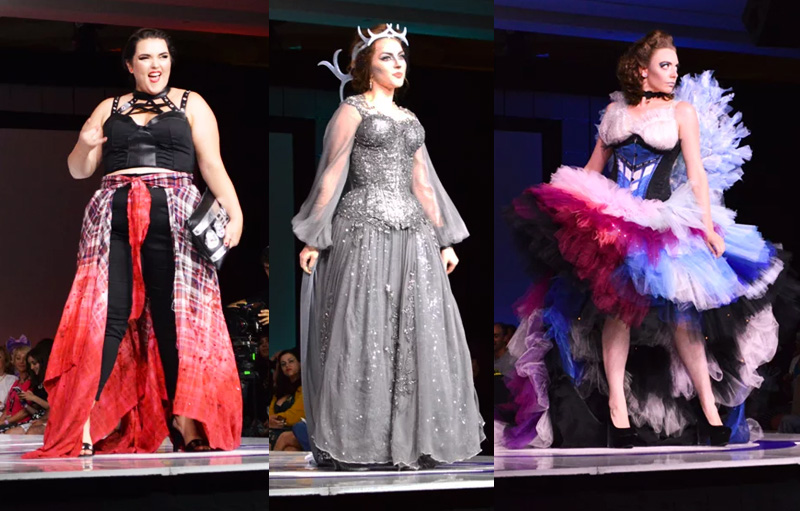 Supernatural's Dean Winchestor, the stag Patronus from Harry Potter, and the TARDIS from Doctor Who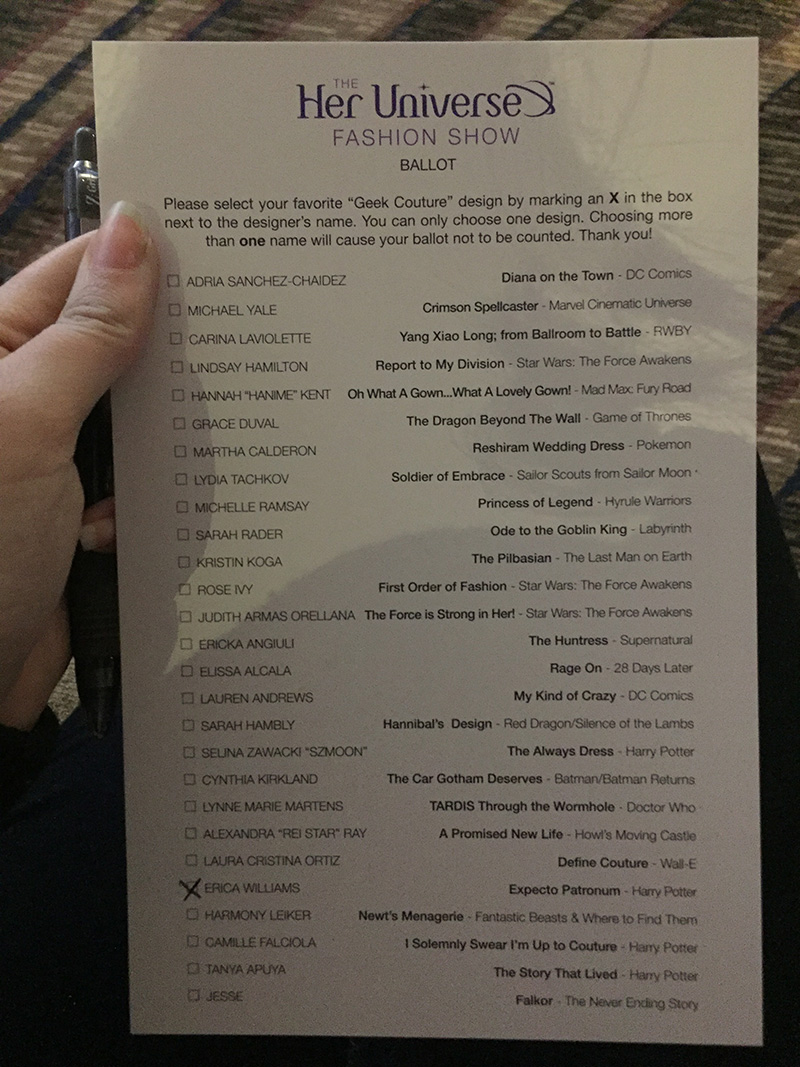 At the end of the show, they asked everyone to vote on the Audience's Choice winner. I had such a difficult time because I liked so many of the gowns! Also it was a bit difficult to judge because you didn't get a great look at the designs up close. Something that looks great far away could look completely different up close. In the end, I voted for the Harry Potter Patronus dress. Even though it may not be the most creative or innovative, it was just so pretty up on stage and I'm a sucker for pretty. The two that ended up winning were definitely up in my top choices though.
After a break to tally the votes during which they let audience members strut the runway in their stylish clothing or cosplay outfits, they announced the Judges' Winner: Hannah "Hanime" Kent's Imperator Furiosa (Mad Max: Fury Road) inspired gown and the Audience Winner, Camille Faciola's Marauder's Map dress. Both the Judges and Audience first runner up was Laura Christina Ortiz's innovative Wall-E design.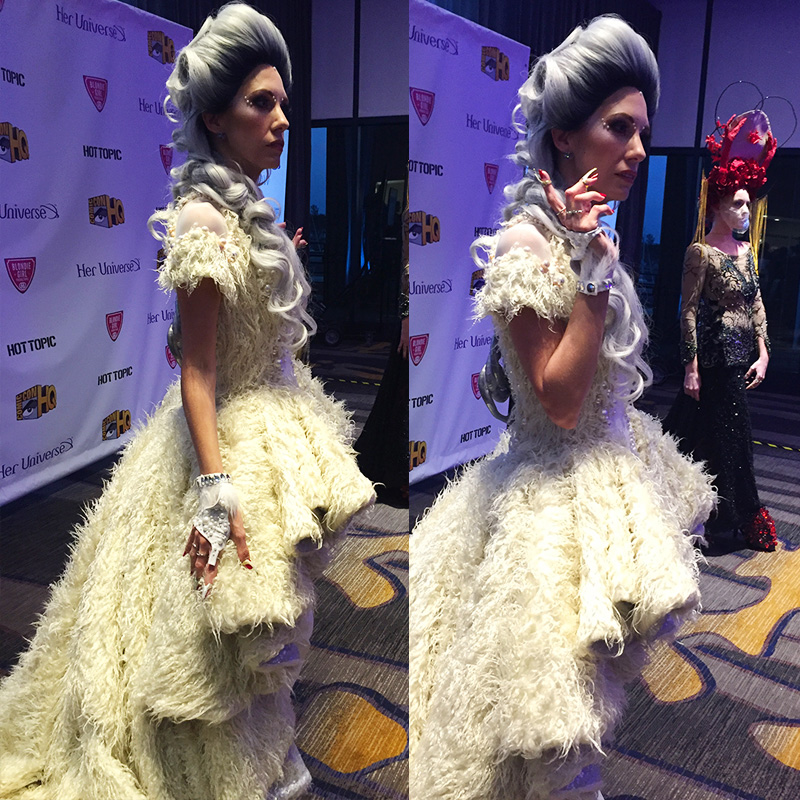 A Comic Con HQ Winner was later determined by online voting where Jesse Thaxton's The NeverEnding Story inspired design (above) won.
All in all, it was a ton of fun attending the Hot Topic and Her Universe Fashion Show! I've seen plenty of fashion shows over the years including ones at New York Fashion Week, and I definitely enjoyed this show more than any other one I've attended in the past.
At the end of the show, all the designers and their models came out for everyone to get a closer look at the gowns. It was the perfect opportunity for some great close up shots! If only my camera hadn't died, my phone pictures in the low light definitely did not do these pieces justice.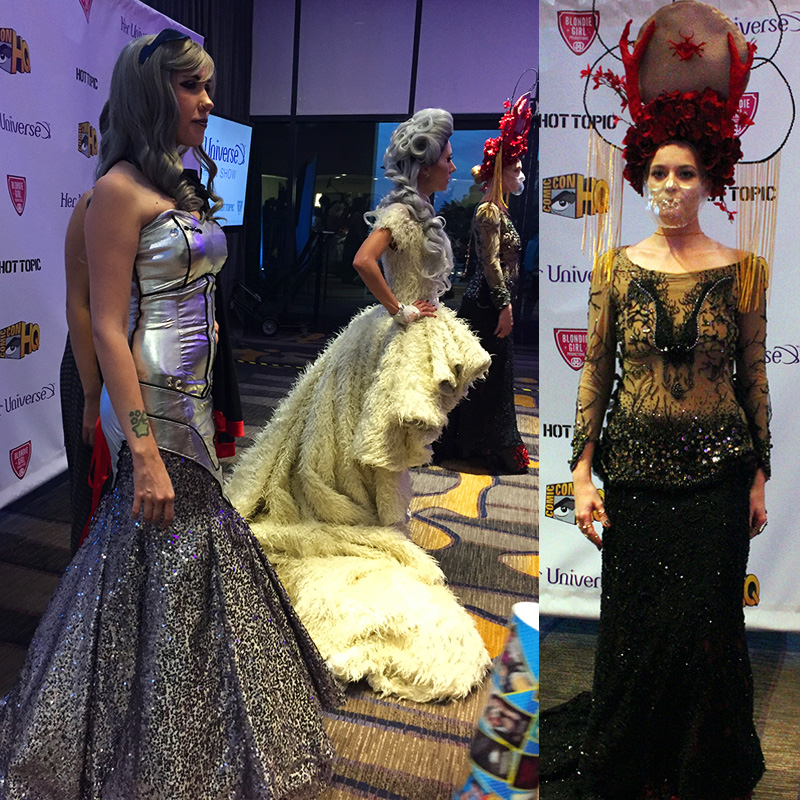 Inspired by Captain Phasma from The Force Awakens and Hannibal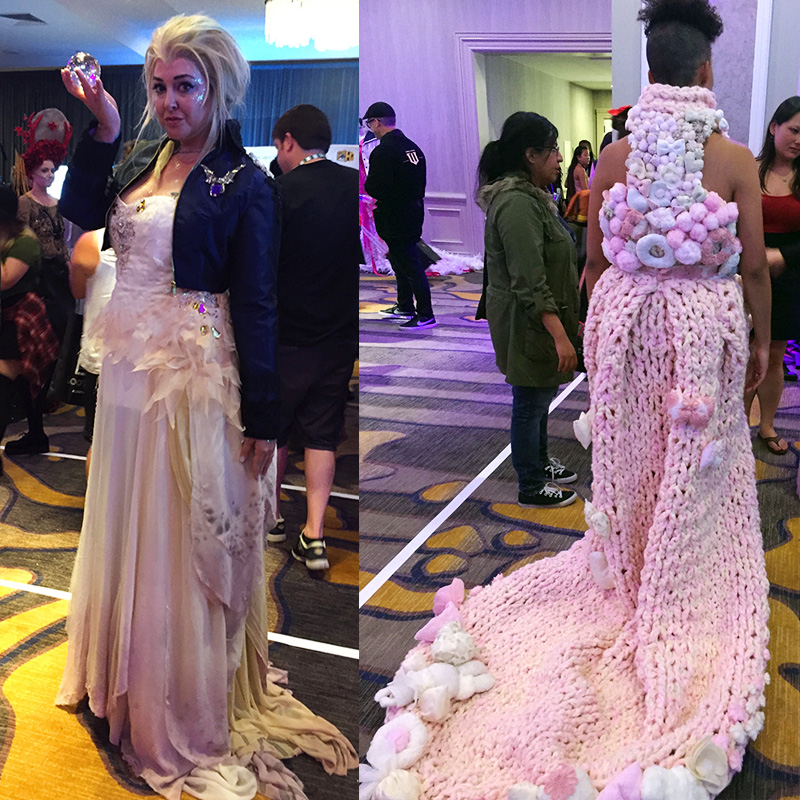 Jareth from The Labyrinth and Carol from The Last Man On Earth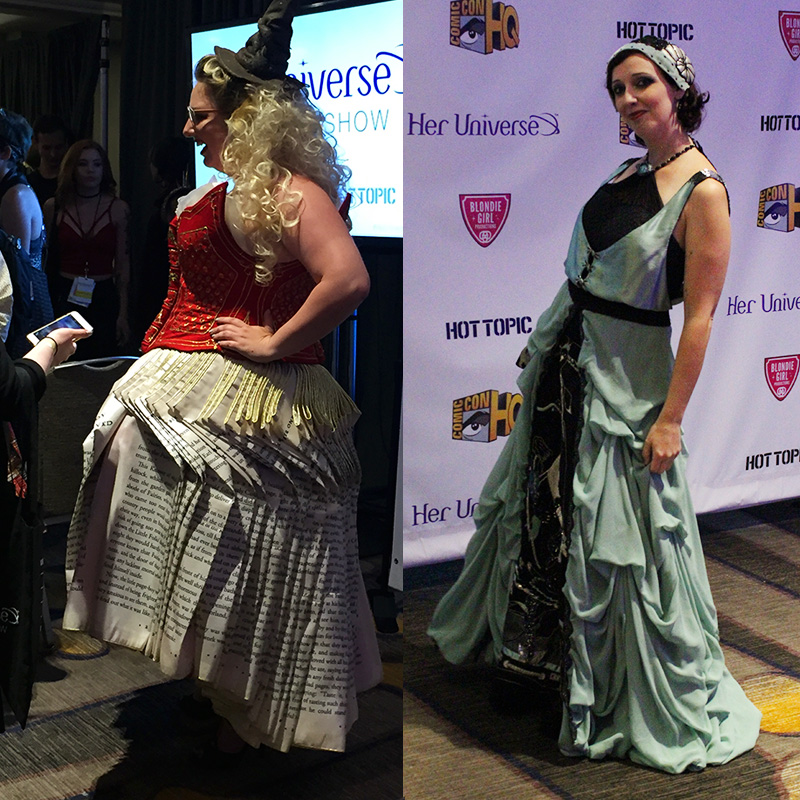 Inspired by the (literal) Harry Potter books and upcoming movie Fantastic Beasts.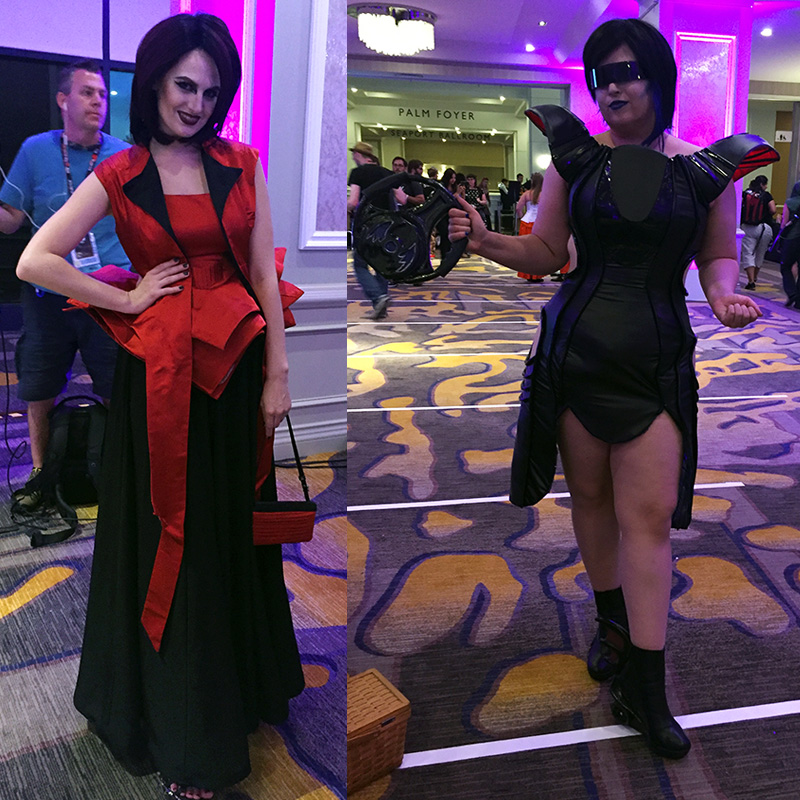 Inspired by Scarlet Witch and the Batmobile
Which design was your favorite? What fandom would you use as your design inspiration?