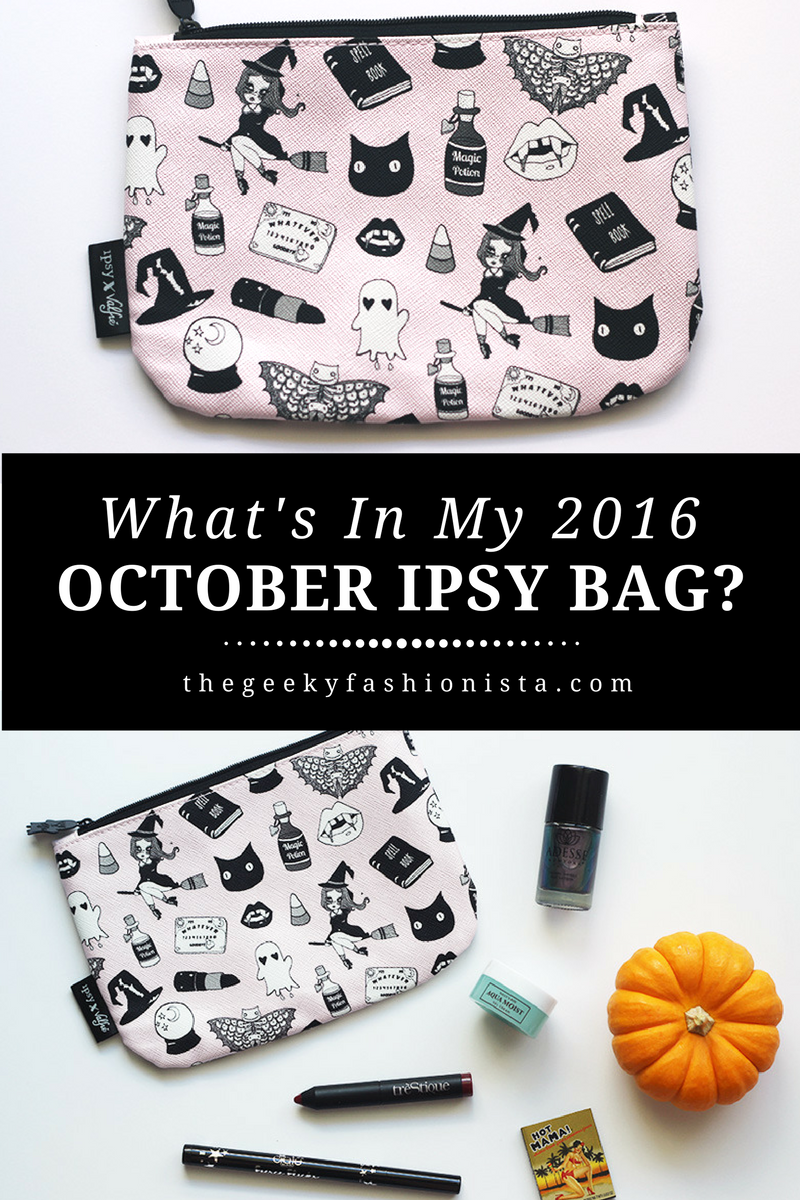 Yay! I'm breaking my string of late Ipsy unboxing posts and posting this just a day after receiving it in the mail – go me! This month's Halloween "Black Magic" themed bag is too cute! Read on to see what's inside!
About Ipsy

Ipsy is a beauty subscription service that was started by Youtube makeup guru Michelle Phan. Each month for just $10 you are sent a cute little "glam bag" filled with 5-6 full or deluxe/trial-sized products. The bags are catered to your preferences through a "beauty quiz" you take when you initially sign up and later how you review the products you receive so the products in the bags will vary from person to person.

I'm a long time, very satisfied Ipsy subscriber. I love being introduced to new beauty brands and getting to try out different products with each bag. It's like getting a surprise gift each month in your mailbox! If you're interested in getting your own Ipsy bag, feel free to use my referral link – I'll get points when you sign up 🙂
The Glam Bag
Ipsy NAILED the bag and theme this month!! I really, really love this bag!! The illustrations by Valfré's are so freaking cute and so PERFECT for Halloween! The bag also feels well-made, and I adore the cute little ghost zipper pull thing (I can't think of it's proper name right now lol). It even has little hearts in it's eyes – I love details like that! I could easily see this being sold on its own as a little makeup/toiletry bag in trendy stores like Forever 21.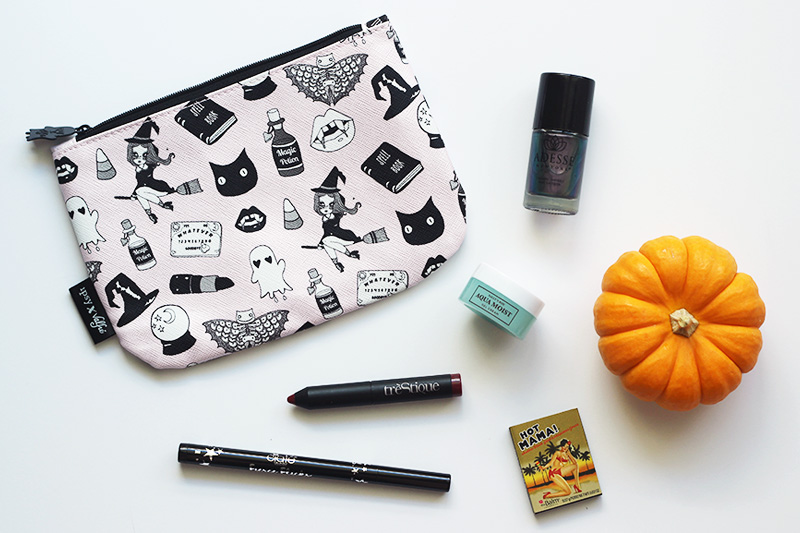 Inside the Bag


Sally's Box Aqua Moist Gel Cream
I've never heard of this brand, but this is a really nice hydrating gel cream! I love how instantly cool, refreshing, and soft it makes my skin feel. Very light, it doesn't leave my skin feeling greasy or oily. It also has a really nice subtle fragrance which makes sense since it's made from flower water from Provence roses, chamomile, and lavender. Other ingredients include deep sea water and aloe vera leaf – no wonder it's so moisturizing!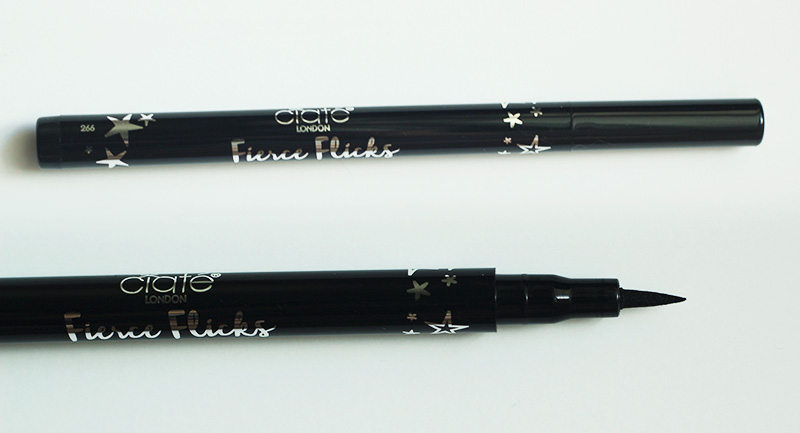 Ciate London Fierce Flicks Eyeliner
I haven't found an HG liquid eyeliner yet so I'm always happy when Ipsy includes one in their bags so I can try out different brands without having to invest too much money. I'm a fan of Ciate's nail polishes but didn't know they made other beauty products! Like their nail products, this eyeliner was of great quality. The felt tip made for very easy and smooth application for sharp lines and wings. It was also very pigmented even on top of eyeshadow, dried quickly, and lasted all day with no smudges. All around great product!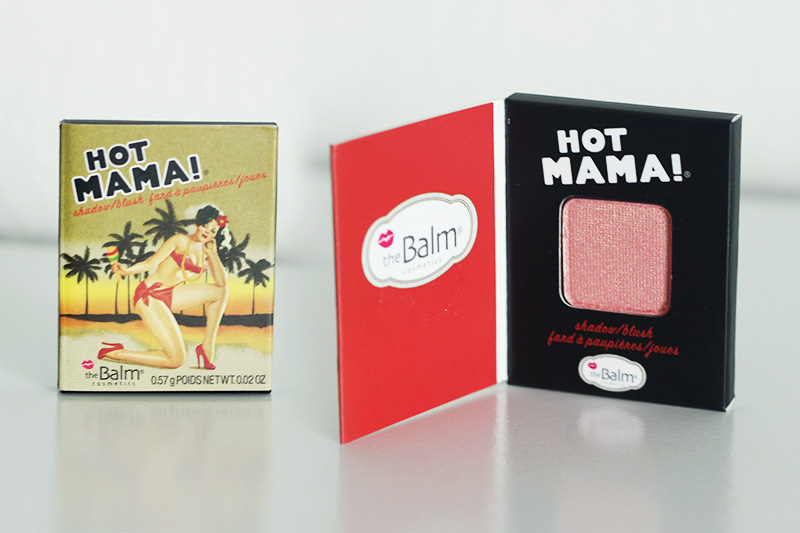 I love cruelty-free brand theBalm and own many of their products including two other blushes: Down Boy and Frat Boy. I recommend both! Hot Mama just might be my new favorite, however. It's a beautiful peachy pink color that would look great on pretty much all skin tones. There is shimmer, but it's not too overwhelming – instead giving you a lovely glow. I actually like a little shimmer in my blushes to give you that nice highlight look. The formula is also super smooth, silky, and lasts a long time.
The one con, and this really says nothing against the quality of the product, is the small size of the sample. The photo above is blown up to twice the actual size of the sample. While this size might work for an eyeshadow or be fine even for a highlighter (they used this same size for their Mary-Lou Manizer highlighter which I LOVE), but as for a blush it doesn't work. It's good for swatching a sample but the size is so small it's going to be very difficult to use this with any blush brush. Still despite the sample size of the product, I am still a big fan!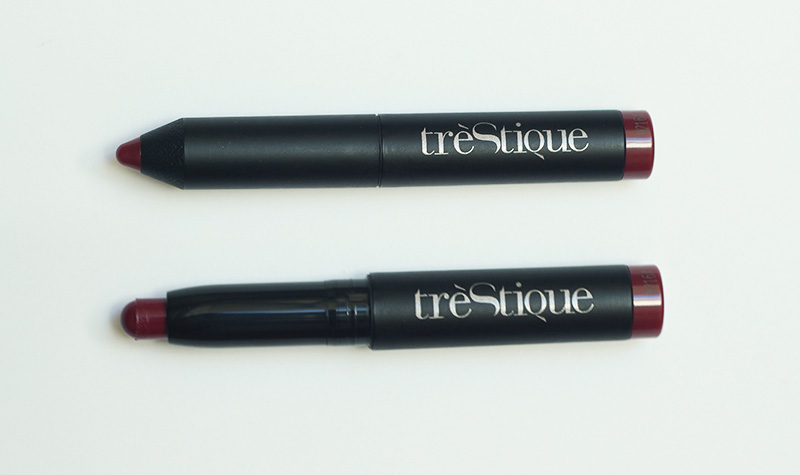 I just received a product from the same brand in last month's bag so I was a little disappointed to see a "repeat" already. To be fair though, the products are very different even if they do look similar. Apparently every product comes in this "crayon" format with the snap on caps. Last month, I got a highlighter stick, this month a lip product.
Right away, I did love the deep wine color – so on trend for fall and so me. I find many matte lipsticks to be very drying, but this was very creamy and glided on smoothly. Unfortunately, it was also VERY sheer although I was able to build it up a little. Reminded me more of a tinted lip balm, honestly. Definitely not as dark as I would've liked. The matte finish was decent. It wore off pretty easily though even without eating or drinking so I had to reapply often. Not terrible but not my favorite.
I guess Ipsy got my memo because after lamenting over my previous nail polish-free bag, they're back with a nice full sized bottle of a color that's perfect for Halloween – yay! The brand is another that I've never heard before, but I loved the beautiful gunmetal color and was very excited to try them on my nails.
I was quickly very disappointed, however. The formula is very sheer and took several coats to become opaque. I did read a tip though that it looks best with a base color underneath so maybe I'll try that next time. Even more disappointing than the sheer formula was how easily it chipped even with a top coat. Despite it's gorgeous purple/green shade-shifting color (the photos don't do it justice), I would be hesitant to purchase another polish from this brand 🙁 Even if this wasn't hit, I hope Ipsy keeps the nail polishes coming!
Final Thoughts
While I LOVED the Ipsy x Valfré collab designed bag, the products inside were a little lacking. My favorites were the Ciate eyeliner and theBalm blush (if only it wasn't so small!). Still, I liked how everything pretty much tied with the Halloween theme or was on trend for the fall. Also I love it when I get a full variety of products (eyes, lip, cheeks, nails, skin). I know it sounds like I was being a little harsh to some of these products, but I still consider this an improvement over last month's products.
Be sure to check out my other unboxing posts!

What did you think of this month's bag?