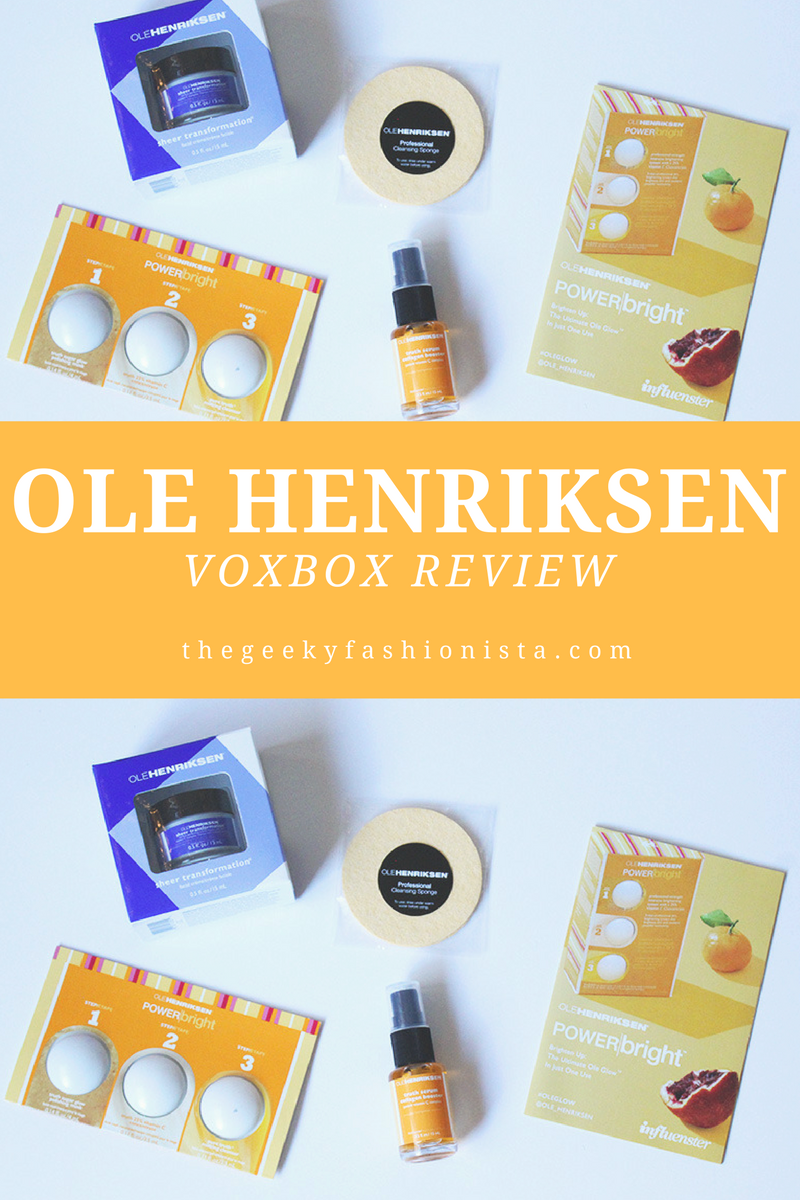 Today I am sharing my long overdue unboxing and review of the Ole Henriksen Influenster VoxBox!
I was super excited when I was found out that I'd be receiving this box as I've had my eye on some Ole Henriksen products for a while but have hesitated to purchase any due to not knowing if the products would be worth their high price tag. In my VoxBox, I received three deluxe samples to try out: the Truth Serum Collagen Booster, Sheer Transformation, and Power Bright. Are they worth purchasing? Read on to find out!
The box itself was yellow and orange and decorated with pictures of various fruit like pomegranates and oranges. Inside the box is a quote from Ole himself that says, "I love to empower skin to be the very best it can be. And that's what Power Bright is all about."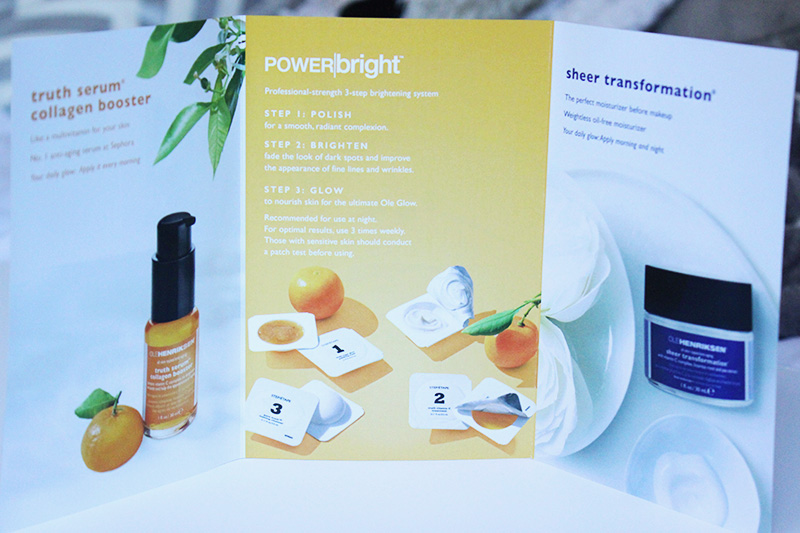 The box came with this little informational booklet that gave some facts about each product.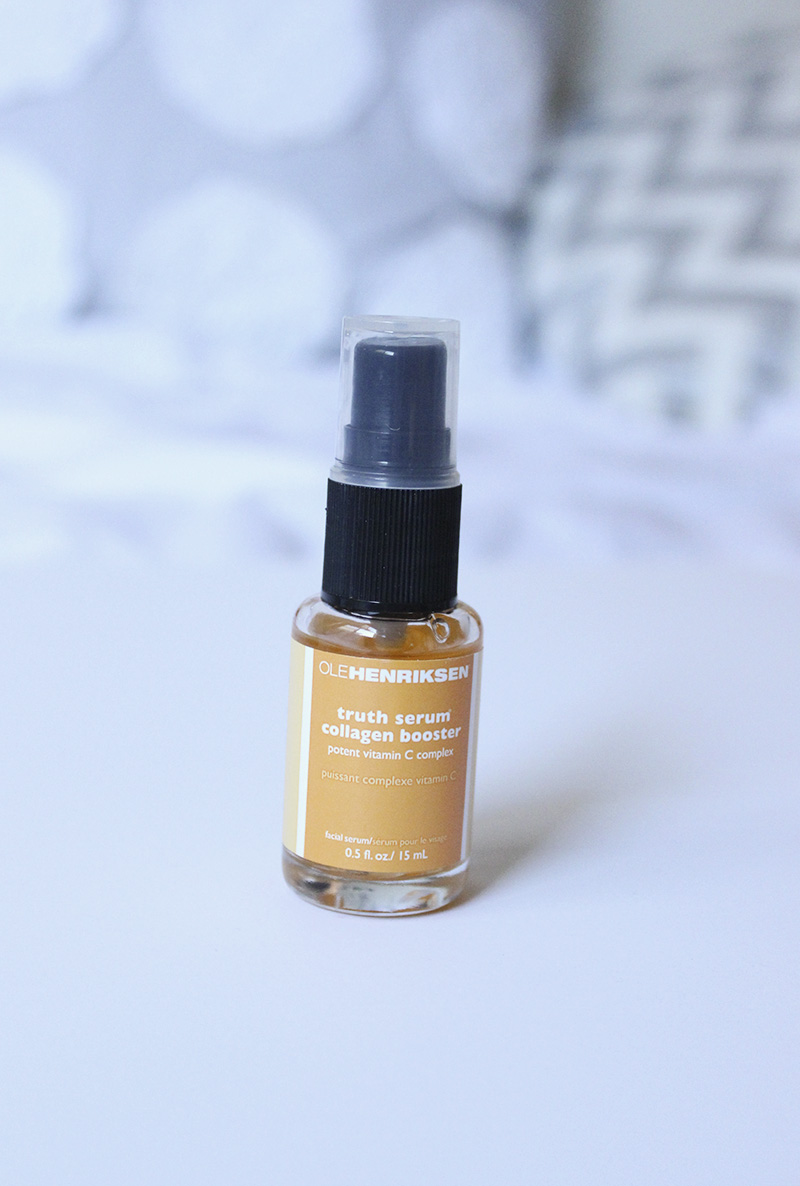 Description: "An antioxidant-rich brightening and nourishing serum enriched with vitamin C. Formulated with a proprietary five-source vitamin C complex to support natural collagen production, brighten, and minimize fine lines, this must-have serum defends from environmental aggressors and free radical damage, leaving skin healthy and protected."
Information In Booklet: Like a multivitamin for your skin. No. 1 anti-aging serum at Sephora. Your daily glow: Apply it every morning.
I love serums and how they make my skin feel. They're quite an investment, however. An ounce of Ole Henriksen's Truth Serum Collagen Booster will cost you $42 and 1.7 ounces goes for $72. Well… it looks like I might have to start saving up because this product is wonderful!
Luckily, a little goes a long way with this serum so a small bottle can last you a while. I applied two drops for my whole face each night, gently rubbing then patting it in for better absorption. There is a slight sticky feeling but it eventually goes away. Instantly, my skin felt smoother, softer, and seemed to "glow". After using it for a little over a week, I definitely noticed my skin looking brighter and will continue to use it until I'm out (at which point I can decide whether or not to make the splurge and purchase the full-size). Also, it has the most amazing orange-y scent!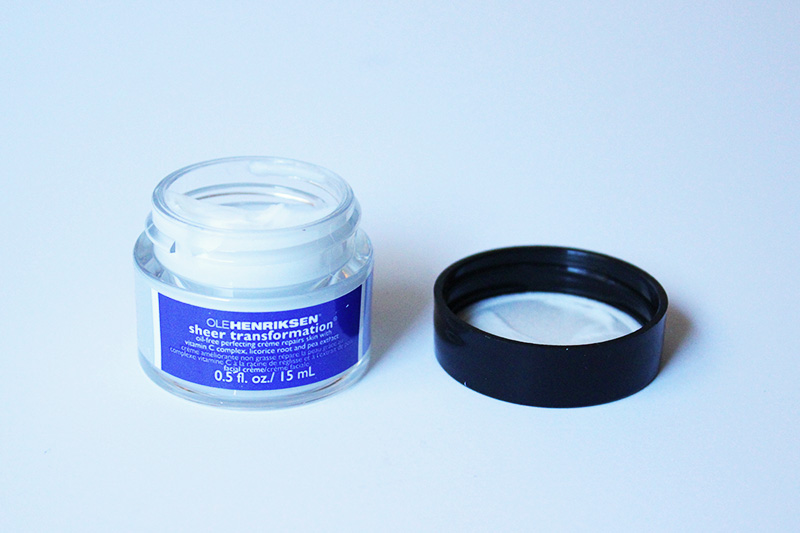 Description: "A lightweight, silky moisturizer that nourishes skin as it gently exfoliates and fades dark spots. This oil-free lightweight moisturizer features a silky whipped texture that melts into skin."
Information In Booklet: The perfect moisturizer before makeup. Weightless oil-free moisturizer. Your daily glow: Apply morning and night.
I absolutely loved this product! It's a lightweight moisturizer with a luxurious, creamy texture that can be used daily both morning and night. It made my skin feel so hydrated and isn't greasy or oily-feeling at all nor did it clog my pores.
Like the serum, it's definitely not cheap. This sample I received would have cost me $14 at Sephora. A 1.7oz costs $38 and a 3oz container $65 – oh, the prices we pay for good skin! I would love to continue using this product once I run out, but I might have to wait on some kind of sale or gift set.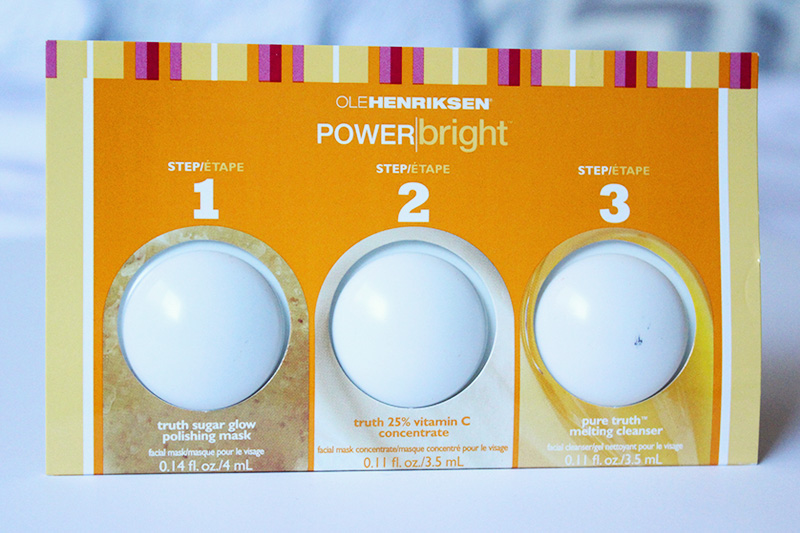 Online Description: "Experience the ultimate Ole Glow instantly with this professional-strength, three-step system featuring an unprecedented 25 percent vitamin C concentrate. In as little as one use, skin looks brighter and more radiant, and fine lines and wrinkles appear diminished."
Information In Booklet: Professional-strength 3-step brightening system. Recommended for use at night. For optimal results, use 3 times weekly. Those with sensitive skin should conduct a patch test before using.
Step 1 (Truth Sugar Glow Polish Mask): Polish – for a smooth, radiant complexion.
Step 2 (Truth 25% Vitamin C Concentrate): Brighten – fade the look of dark spots and improve the appearance of fine lines and wrinkles.
Step 3 (Pure Truth Melting Cleanser): Glow – to nourish skin for the ultimate Ole Glow.
I already have a somewhat lengthy nighttime skin care routine (remove makeup, cleanser, toner, moisturizer, serum, eye cream) so I was a little weary when I saw this 3-step system. Where was a I going to fit this in my routine? Do I just replace my current routine with this 3 times a week? I read the instructions and hoped it would be like my old Proactive system and it wouldn't be too complicated or time-consuming. While not per say complicated, it does take a little time to complete all 3 steps. And just when am I supposed to find time to complete this 30+ minute treatment 3 times a week?
I had some free time while watching my current guilty pleasure show, Bachelor In Paradise, last week and gave the whole system a try, and, my goodness, did my skin feel great afterwards! I mean, after all that work, it better, right? And it has that same amazing orange-y citrus scent as the serum. I didn't notice anything too radical after the first use like lines or dark spots suddenly disappearing (although I don't have many to begin with), however, I'm sure with continued use, results would only get better. Unfortunately, this system isn't for me. Even if it had the most amazing results, it's just too involved and time-consuming which doesn't realistically work with my busy schedule. Not to mention, at $65 for 6 treatments, the price is way too steep.
Even if my review of this sounds harsh, I did really like this product and think it can wonders for the skin with weekly use. I've heard great things from others. Just personally, I know I couldn't realistically fit this into my schedule no matter how much I want radiant skin.
I really enjoy the two cleansing sponges it came with! They're supposed to remove the cleanser product in the third step. Once dampened, they expand and act as an amazing and gentle exfoliator. I've been using them regularly in my skincare routine with other products.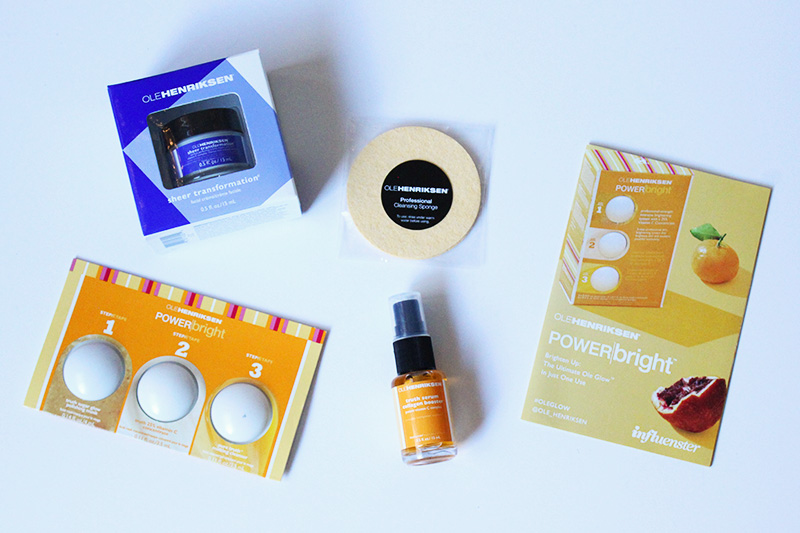 Overall, I really enjoyed these products. They are definitely of very high quality that reflects that high price tag. They all delivered in making my skin look and feel smoother and brighter and if I had the money (and time) I would certainly invest in all of these products.
Have you tried any of these Ole Henriksen products?
Disclaimer: This product was sent to me courtesy of Influenster for review.