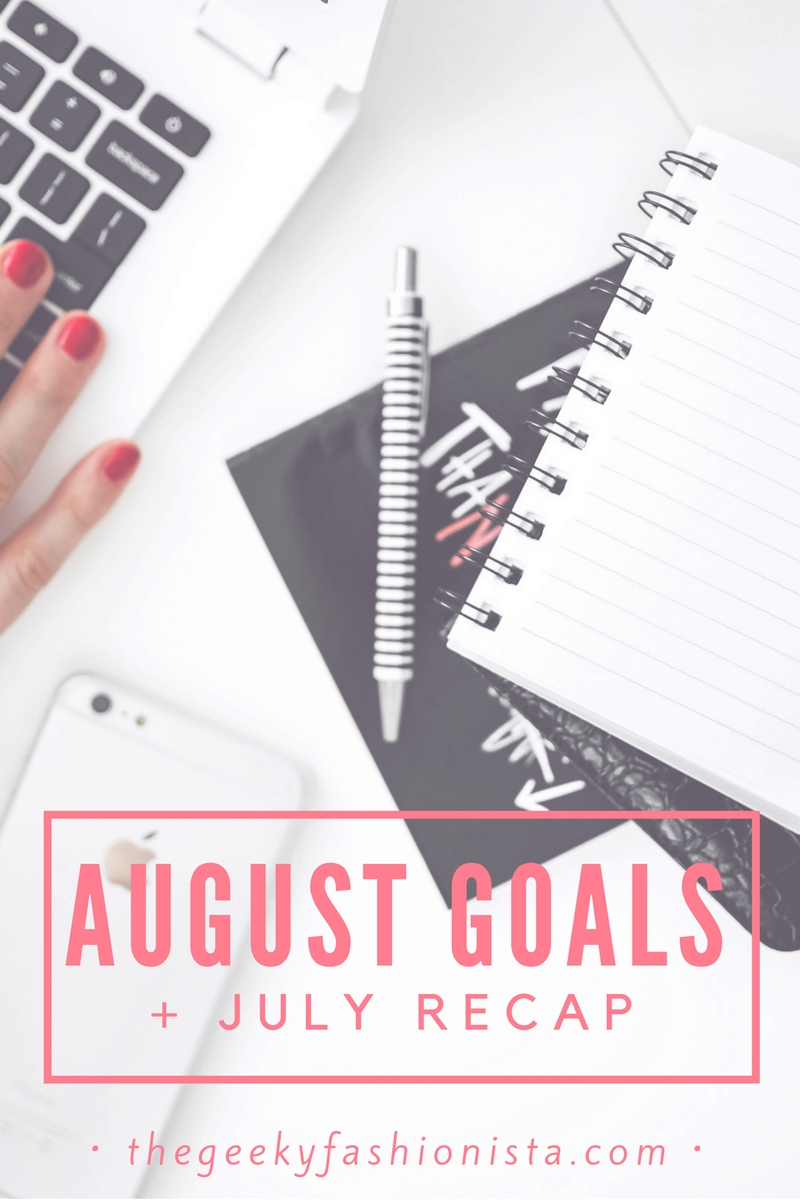 What, it's August already? Of course, it is. I can't even act surprised that July flew by because that's how it is every year thanks to San Diego Comic Con. It's been over a week since it ended and somehow I STILL feel exhausted. -__- July wasn't a great month for my goals, Comic Con really did take over, and I didn't get to tend to my blog (or life lol) as much as I'd hope. Here's hoping I can do a little catching up this month with my August goals.
July Goals Recap
Personal Goals
1. Cosplay at Comic Con for the first time – YES! I wore three different costumes on three different days and had a blast doing it! I can't wait to make more costumes and cosplay at other conventions! Look out for my Friday SDCC recap post to see my Han Solo cosplay!
2. Get my car to the auto shop – Fail. There just wasn't time in the month.
3. Mail a letter – I sent two letters last month, one of which was to my dad. Of course, I can just call my dad up at anytime to talk to him, but I thought it'd be nice to send him a handwritten card that he could physically hold and keep. Needless to say he loved it <3
4. Film a YouTube video – Fail again. Sigh. I really do want to start creating videos again, but I forgot how much prep goes into them and how time consuming they can be. I'm going to retire this goal for now as it's my last month of Paralegal classes and I'll be pretty busy with Comic Con posts.
Blog Goals
1. Reach 500 likes on Facebook or Pinterest – Didn't quite make it this month. I went from 337 to 419 on Facebook and 380 to 462 on Pinterest. That's exactly 82 likes for each – almost, but not quite there.
2. Make Pinterest graphics for old but popular posts – Another nope, turns out many of my older more popular posts didn't even have photos! -Which means I need to find some stock photos which really isn't one of my favorite things to do as it tends to be super time consuming for me >.< I'm going to retire this goal for now for some other Pinterest-related goals.
3. Write a full Comic Con recap – Since Comic Con was the third week of July, there hasn't been enough time for me to fully complete this yet. I've done 2 posts so far and have another going up this week so it's looking good!
4. Create a media kit – Yet again, this was an epic fail. HOW do I keep putting this off?
5.
Make business cards for my blog and hand some out at Comic Con
– Yes! I handed out a few at the
Game of Bloggers
blogger meet up and then later to cosplayers so they could check out the photos I took of them on the blog. I didn't start doing this until the last day of Comic Con, unfortunately, and also didn't think to hand them out to people as they took MY pictures until after the con. So many great opportunities to promote the blog but too late. Oh well, next con, I know exactly what I'm going to do and I'm going to hand out TONS of these pretty babies.
August Goals
Personal Goals
1.
Sell more
– In case you didn't know, I sell a lot of my clothing (both new and used), makeup, etc. on various apps like Poshmark (@geekfashionista), Vinted (@winesosirius), Mercari (I think it's just my name Amanda Rosson), and Ebay (
@ambitiousdreams
). I had some big sales last month but overall the number of sales have really slowed down during the summer. Over the weekend, I listed a bunch of new clothes, Comic Con swag, and merch from Anime Expo and will continue to add more throughout the month and hopefully get some sales goings!
2. Get my car to the auto shop – Gotta get this done!
3. Eat more veggies – Comic Con is never good for your eating habits. While we did do better this year by incorporating more fresh fruit into our diet, we still mostly got by on ramen and 2 for $5 hot dogs. I just bought a steamer and wok and am looking forward to all the fun new ways I can now cook my veggies.
Blog Goals
1. Reach 500 likes on Facebook or Pinterest – Going to aim for this again this month and hopefully reach it this time around! So close!
2. Re-organize my Pinterest boards – I really want to give my Pinterest account a complete makeover. I want to utilize it better to promote my blog and posts and am looking into Tailwind and Board Booster – but before I give those tools a try, I feel like my account needs stronger brand identity, and I'm hoping to do this by cleaning up my boards, adding more relevant categories, hiding irrelevant ones, etc.
3.
Join a Pinterest group board
– Piggybacking off the last goal, I'd love to join a Pinterest group board specifically for bloggers. If anyone knows any good ones accepting members, please comment and let me know!
4. Complete my Comic Con recap posts – I'm about halfway there already, might as well hold myself accountable to see it through to the end. Also hoping to do a Comic Con cosplay post with some of the amazing costumes I saw as well as one dedicated to the Her Universe Fashion Show.
5. Create a media kit – Third time's the charm!
What are your August Goals?