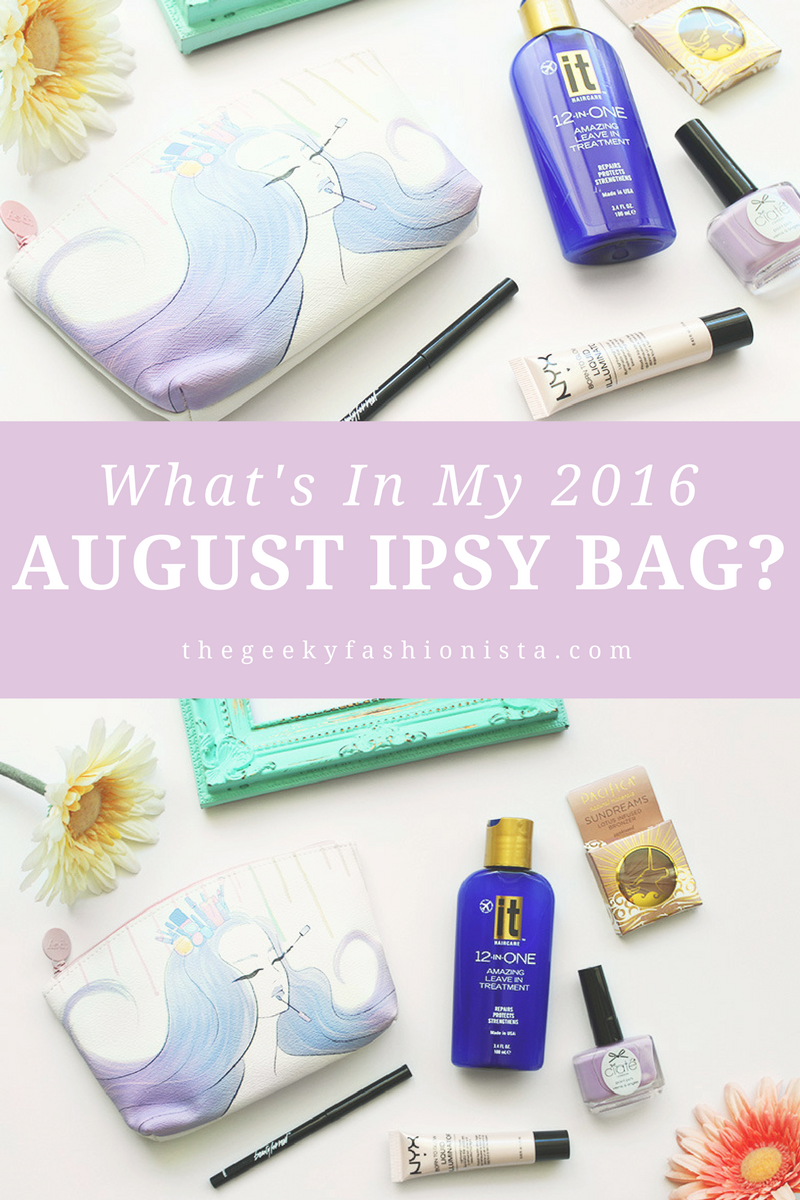 This is going up super late due to personal circumstances, but this bag was just too amazing not to post! The theme of this month's August Ipsy Glam Bag was "Sugar Highness." Read on to see what sweet goodies I received!
About Ipsy

Ipsy is a beauty subscription service that was started by Youtube makeup guru Michelle Phan. Each month for just $10 you are sent a cute little "glam bag" filled with 5-6 full or deluxe/trial-sized products. The bags are catered to your preferences through a "beauty quiz" you take when you initially sign up and later how you review the products you receive so the products in the bags will vary from person to person.

I'm a long time, very satisfied Ipsy subscriber. I love being introduced to new beauty brands and getting to try out different products with each bag. It's like getting a surprise gift each month in your mailbox! If you're interested in getting your own Ipsy bag, feel free to use my referral link – I'll get points when you sign up 🙂
The Glam Bag
This is more like it! Last month's bag design wasn't my favorite nor did I think it tied well with the theme. This month's bag, one of two manga-like designs illustrated by Ipsy founder Michelle Phan herself, is absolutely stunning. I don't even know what exactly "Sugar Highness" means, but with the sweet candy-like colors and a "crown" of makeup on the woman's head – this bag captures the phrase beautifully. I was so pleasantly surprised seeing such a lovely and artsy bag along with it's sturdy quality. I'm definitely looking forward to reusing this bag again and again!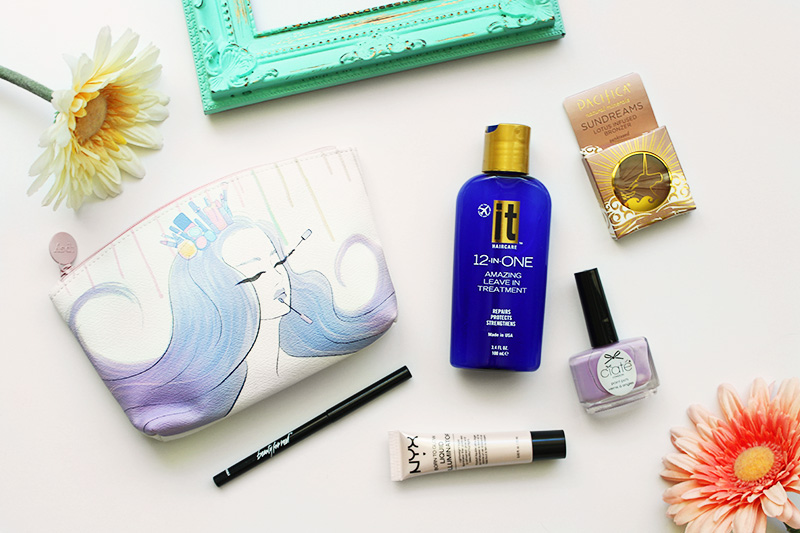 Inside the Bag
Yes!! I finally own a Ciate nail polish! I eye these polishes every time I go to Sephora but have never purchased one due to their high price tag (and the fact that I already own wayyy too many nail polishes). Seeing this in my glam bag reminded me exactly why I love Ipsy so much.
The nail polish is a pretty lavender creme color that might not scream "fall" but goes perfectly with the "Sugar Highness" theme. The thick brush which I loved is very similar to last month's Trust Fund Beauty's allowing me to coat each nail with just a few swipes. Unfortunately, the formula, while good and applied smoothly, was not quite up to Trust Fund's level. This was a little more sheer and took a few coats to get it fully opaque. That's really the only thing negative I have to say about it though. It dried rather quickly and, with a top coat, has yet to chip several days after applying. I'm definitely a fan and hope to one day own somem ore Ciate polishes!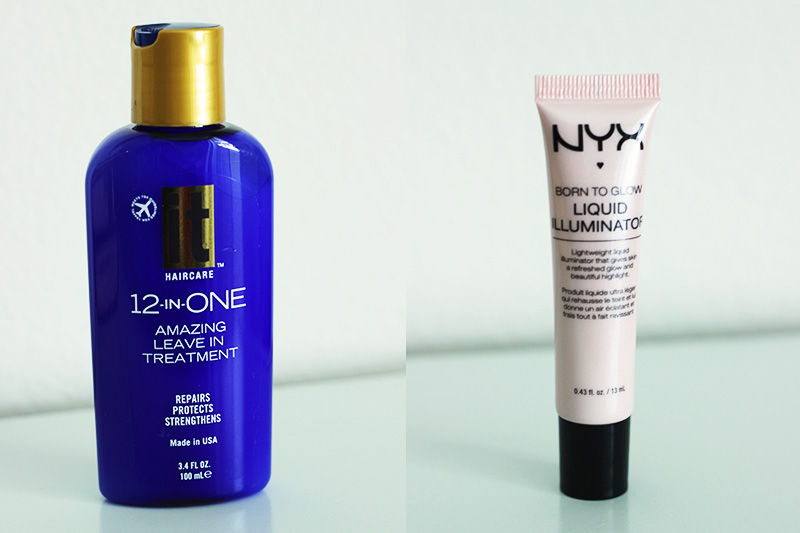 Whoa! It might not look it in the picture next to the close up of the NYX product, but at 3.4 fl oz. I think this is the biggest Ipsy product I've ever received in a bag! I have yet to use it, but according to Ipsy's website, the 12 things it does is: Gets rid of 1) Frizz, 2) Tangles 3) Brittle ends / Adds 4) Body, 5) Shine, 6) Health / Repairs 7) Dry hair, 8) Damaged hair / Protects 9) Color-treated hair, 10) Against heat, 11) Against split ends and 12) Against breakage. That's quite a claim! I'll be pretty impressed if it can do just half of those things! One thing I can say is that it does smell amazing!
I'm a huge fan of highlighters and the dewey skin look so I was very happy to see this in my bag (plus I love NYX). Two shades were sent to Ipsy subscribers: a golden peachy pearl and this one, the soft pink. I sometimes wish my skin was a bit more on the golden side, but they definitely sent me the right one. The liquid illuminator gave my fair skin a beautiful dewey glow I love. I like wearing it by itself as well as mixing it in with some of my foundation.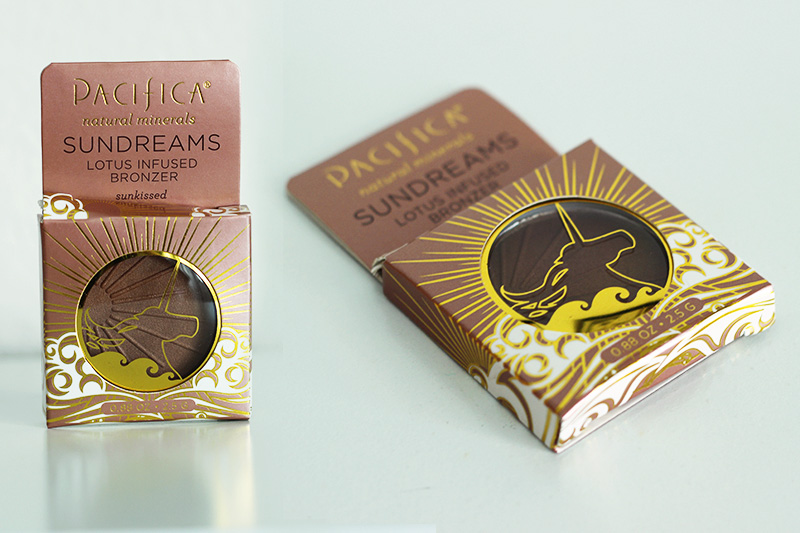 I've gotten quite a few products from Pacifica over the years, but they're always quality stuff so I'm not complaining! Also I love that the brand is 100% vegan and cruelty free! I wouldn't have minded if this bronzer was just a little bit bigger…I tend to use bigger brushes to apply my bronzer and it would just make it a bit easier. The little clear case it comes in is super cute with a unicorn silhouette on the lid. The bronzer itself is a nice natural color that I think would work well on most skin tones. The formula applies well and is very buildable. This could very easily double as a contour as well as bronzer.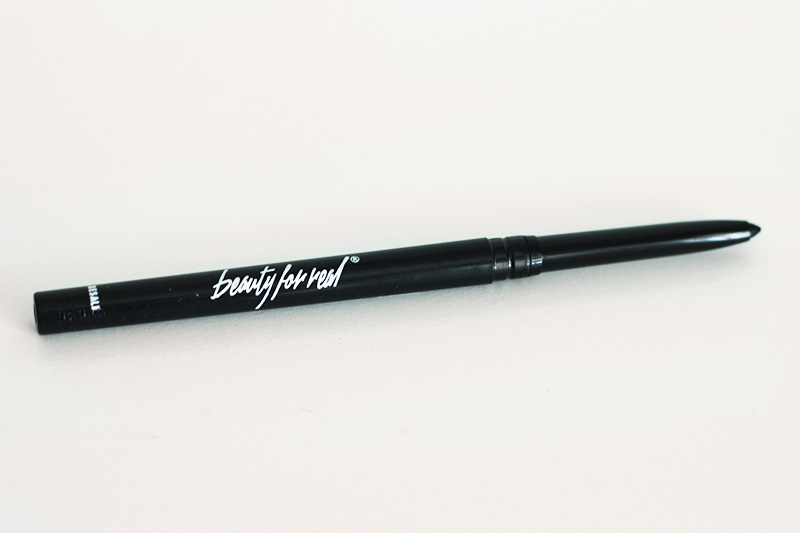 I'm always on the hunt for a good black pencil eyeliner. I was quite pleased with this as it was super dark and pigmented, applied smoothly gliding over my eyelids easily, and had great wear time. However, once the tip wore down, it was difficult to sharpen. I'll definitely be using this in my current makeup routine.
Final Thoughts
Overall, I am super thrilled with the August Ipsy Glam Bag! The bag itself is beautiful and the products inside all have me excited to use them and provide great value!
Be sure to check out my other unboxing posts!

What did you think of this month's bag?