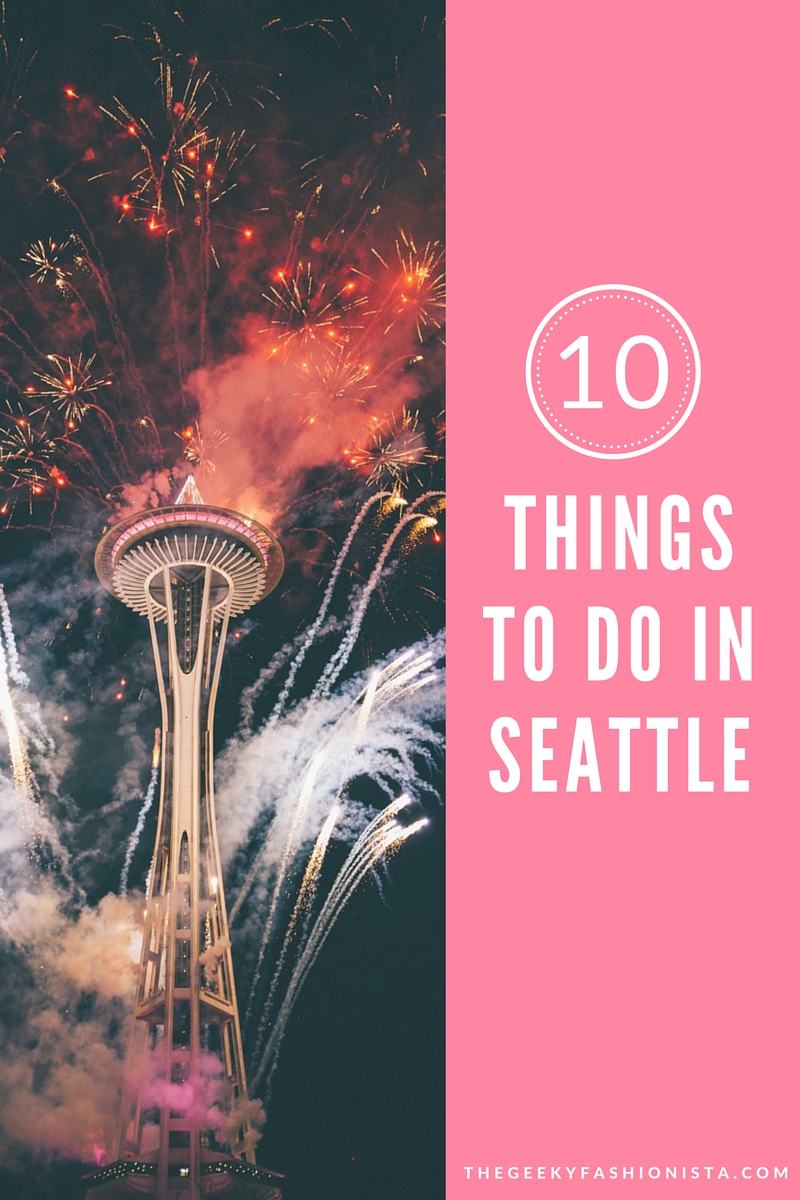 My boyfriend, Luke, and I flew up to Seattle to spend our Fourth of July weekend with his sister, Holly, and her husband, Matt, along with a few other friends of ours. We arrived late Friday night and were planning to go camping on Sunday/Monday for the Fourth before flying back super early Tuesday morning so we only had Saturday to do any touristy activities in the city. Luckily, Luke and Holly are great planners (even if Luke denies this) and had a full fun day planned for us. If you find yourself in Seattle and only have an afternoon or even a few hours, I highly recommend you check out each of these places! We did everything in less than a day and you can too!
P.S. Sorry for the quality of the photos! I brought my Canon T3i with me but then realized as I got out for our first stop that I had left the battery back at the house so I just had to make do with my trusty iPhone.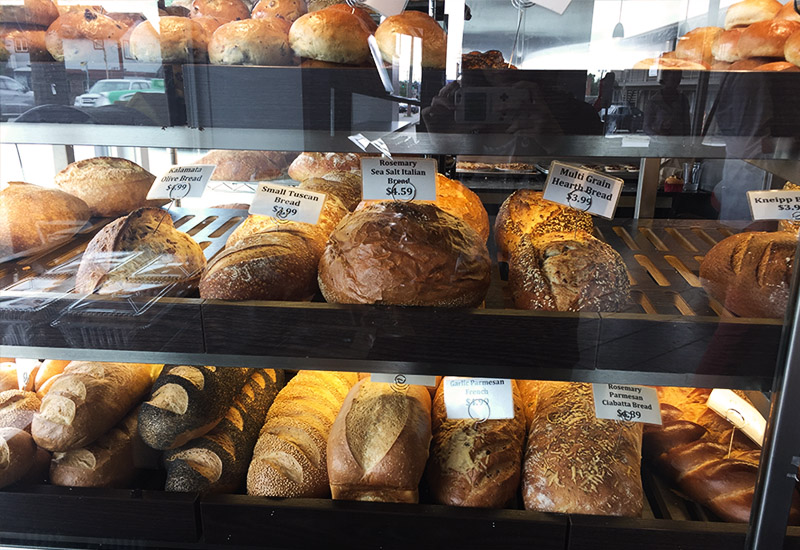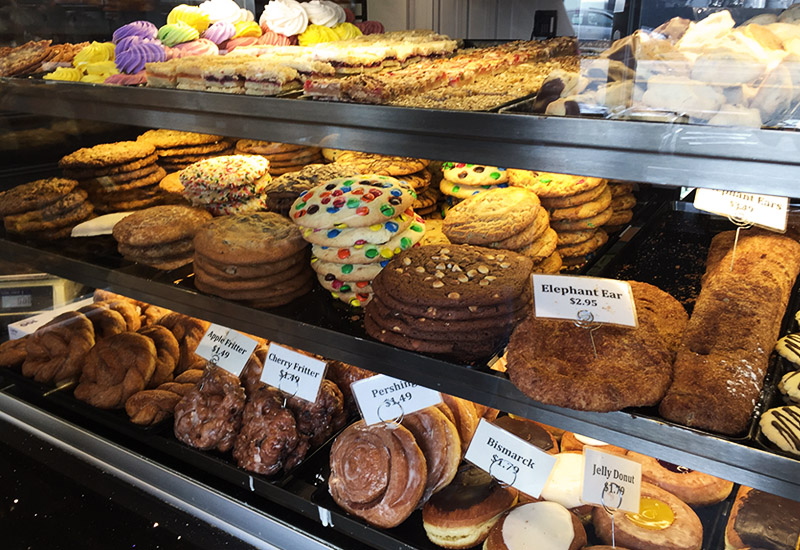 We started off the day at this cute traditional Danish bakery. As soon as you walk in, you are met with sweet, yummy smells and delicious-looking baked goods. Deciding what to choose between the giant cookies, danishes, donuts, croissants, eclairs, etc was a bit overwhelming for me so I initially chose something a little safe – an apple fritter. Luckily, Luke encouraged me to try something a bit more unique as there were lots of different pastries one could not find at your everyday bakery (for example: wienerbrød, princesstårta, kringles, and "snails"). I'm so glad he did – I decided to get something I've never had before – an apple-stuffed cinnamon elephant ear – and it was so good (and pretty big, see below)! Luke got one of their famous Danish kringles and let me try some – yumm! Highly recommend!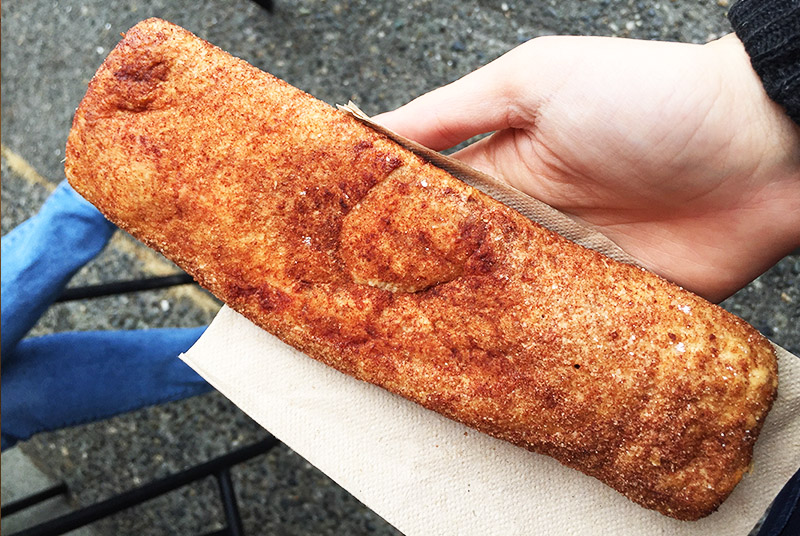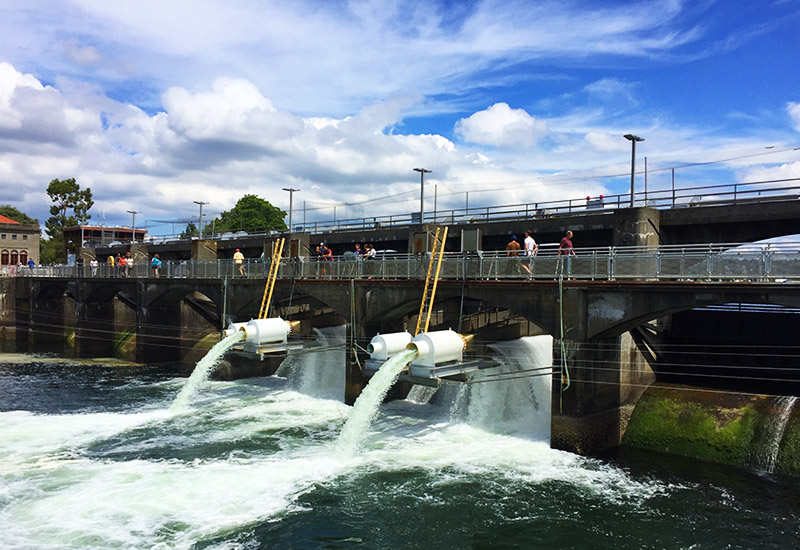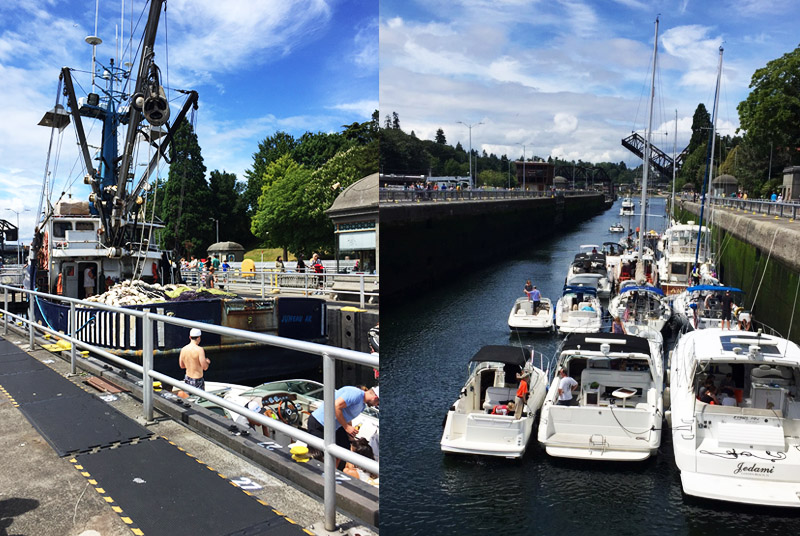 2. Ballard Locks
Having never been to a lock (where they can raise or lower the water level for boats) before, I was super interested to see this location that boasts the most boat traffic in the US. I also got to see my first ever fish ladder which was created to allow salmon to swim upstream to spawn. Our group had a lot of fun cheering and clapping every time we saw a fish jump up the ladder (it's pretty incredible to watch) which generated quite a crowd who were curious about what all the commotion was about. There was also an underwater viewing room below which lets you see all the fish up close. Walking back to our car, we passed through the attached park where there was a great live jazz band playing.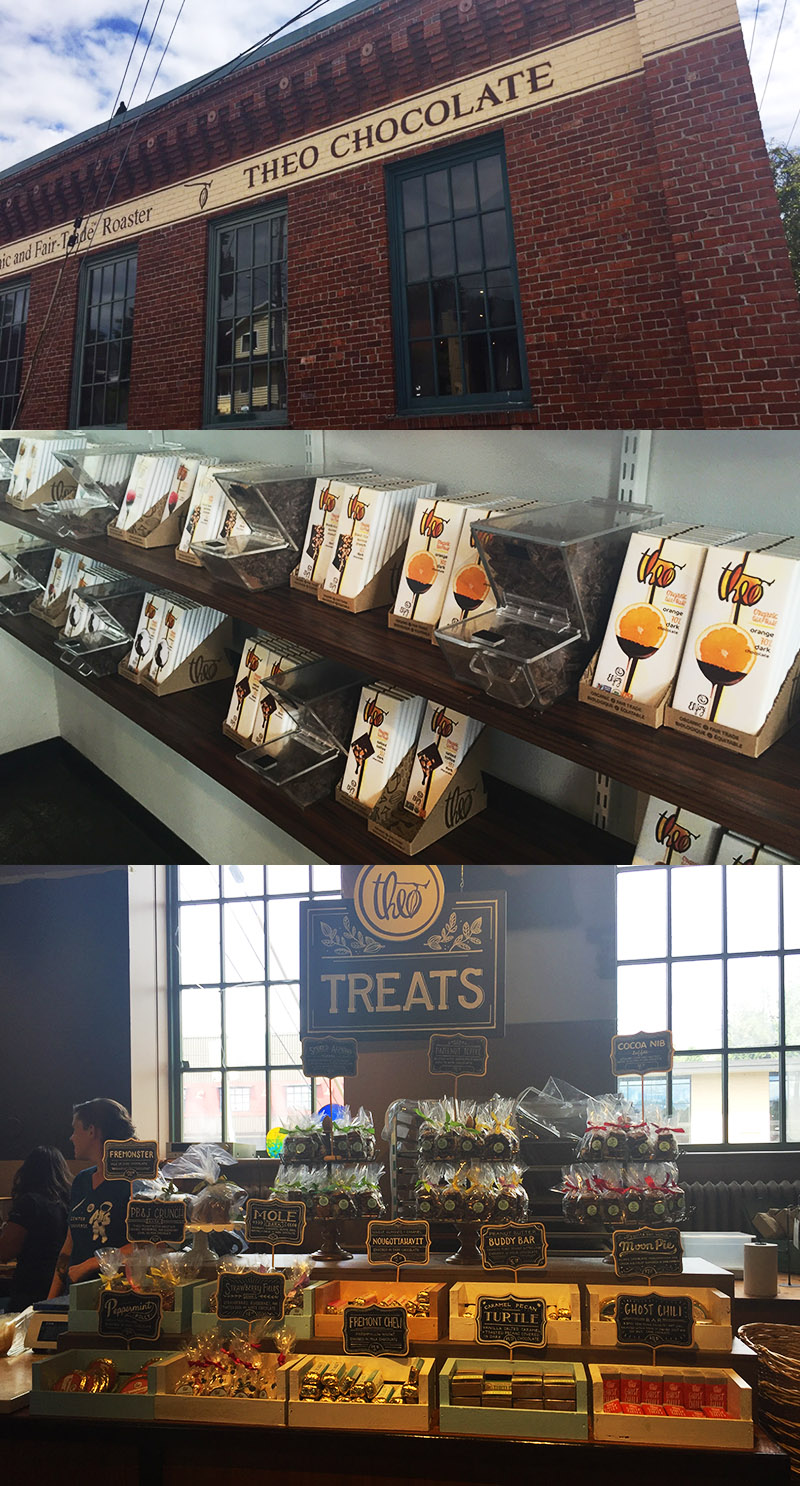 We made a quick stop at this adorable chocolate shop. I loved that they had lots of delicious all-you-can-eat free chocolate samples – their bars are about $4-5 each which, even for the highest quality chocolate, is a bit pricey so it's great they let you try them first. My favorite was probably the Milk Chocolate Salted Almond. While we did not do this on this trip, they offer a really great factory tour which I learned is the first and only fair trade and organic chocolate factory in the US.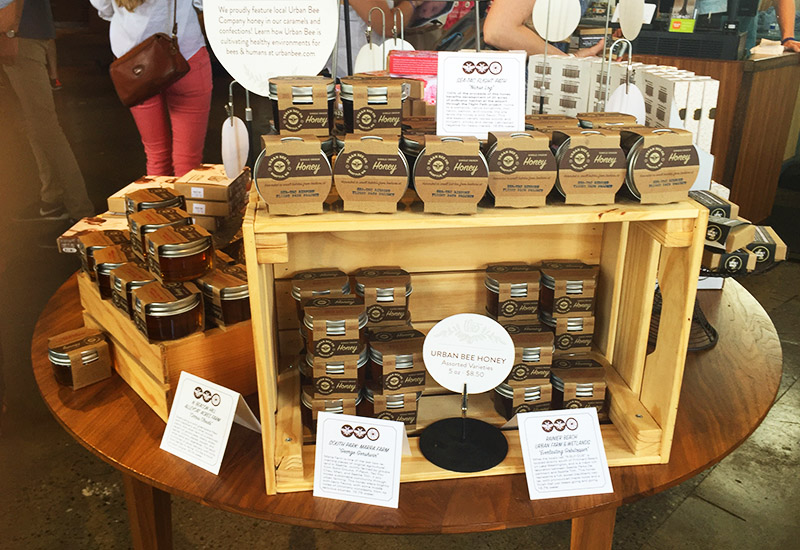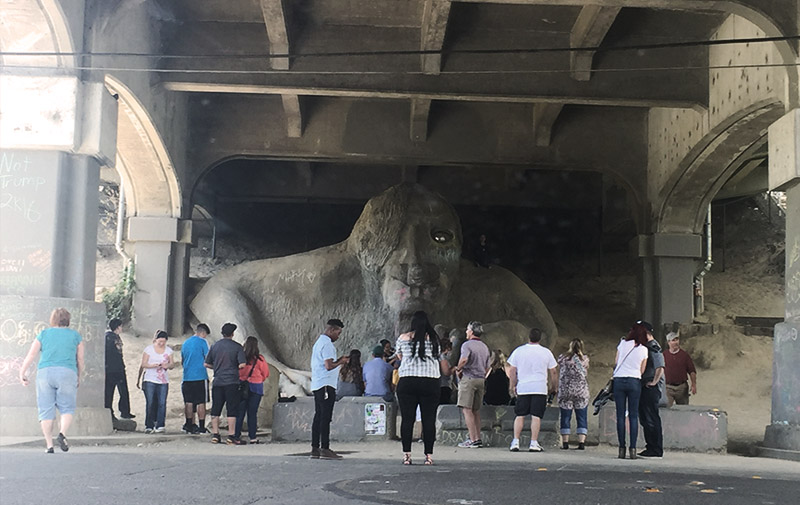 4. Fremont Troll
Also known as the Troll Under the Bridge because that's exactly what it is! We drove by this 18 foot attraction and saw lots of people (and, unfortunately, graffiti) all over it and taking photos. Something fun that I didn't notice right away with all the people surrounding it is that the troll is clutching a Volkswagen Beetle with a California license plate – like my car!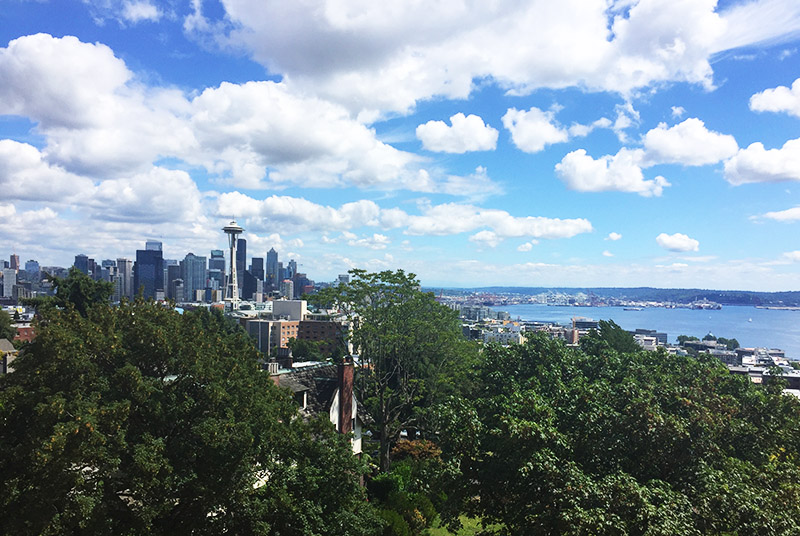 5. Kerry Park
What a view! We had originally planned to go sailing, but were unable due to a festival preventing the renting of boats. When we learned this, Holly quickly came up with a Plan B, and we headed to Kerry Park where you can see the most incredible 180 degree view of the iconic Seattle skyline. My iPhone photos certainly don't do it justice, but you can see the Space Needle, Mount Rainier, the harbor and the rest of the city.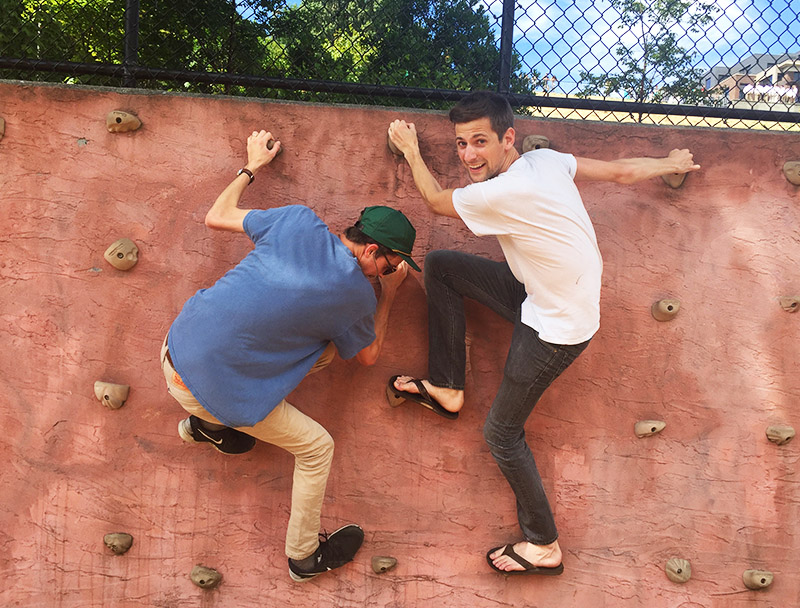 6. Bayview-Kinnear Park
After taking the obligatory panoramic shot at Kerry Park, we spotted what looked like a super fun playground down below. There were a bunch of innovative "spinning" rides that we all took turns going on as well as a rock climbing wall that's built into the side of the park and a double barreled slide – of course we had to do some slide races! I hadn't been on a playground in so long, but it was so much fun – I felt like a kid all over again!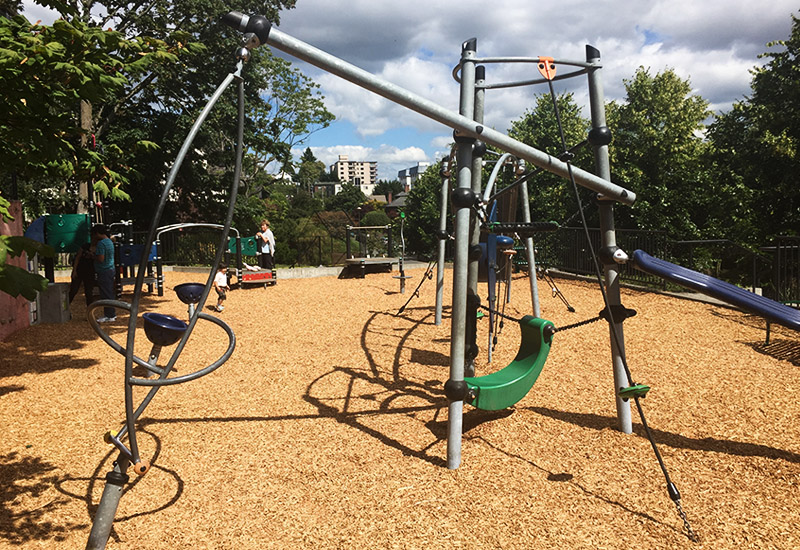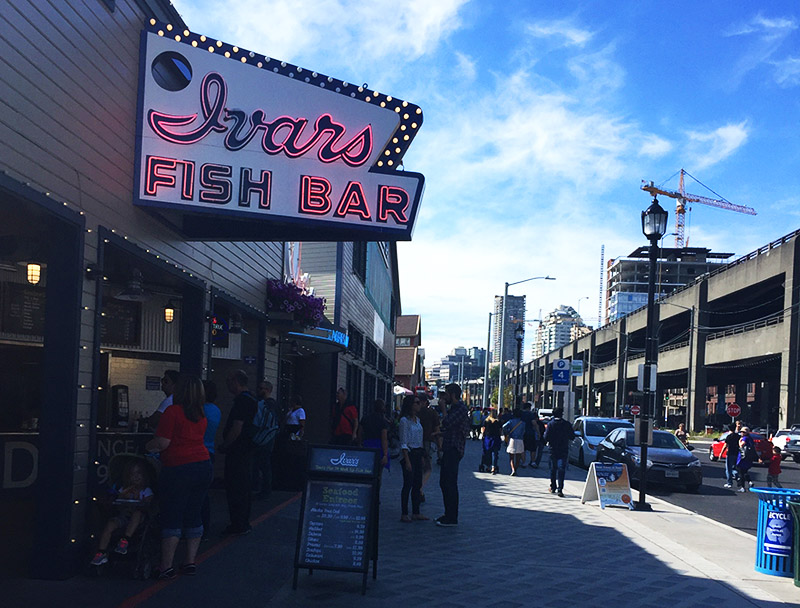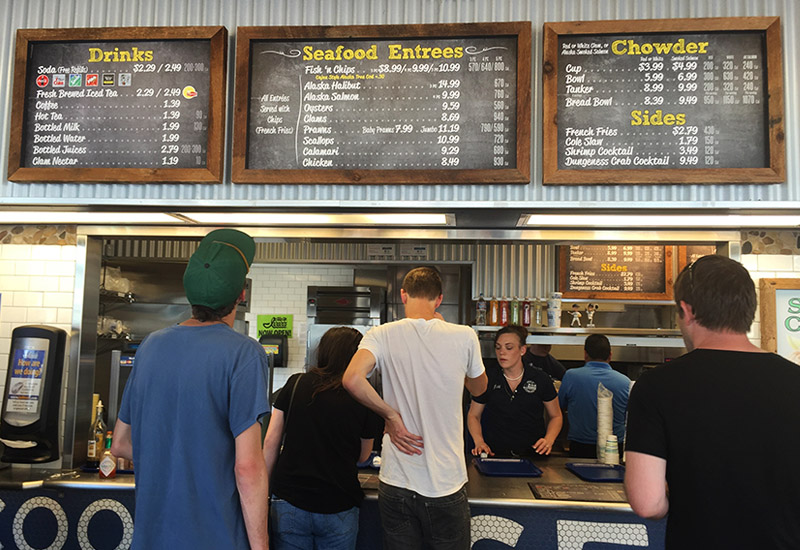 7. Lunch at Ivar's Fish Bar
Luke has said this is his favorite place to eat in Seattle so, of course, we had to stop here for lunch. He and I shared an order of both their award winning fish and chips and clam chowder. Gotta say, those awards are well deserved. Everything was delicious and super affordable to boot! Unlike the main restaurant, the Fish Bar is outdoor dining only so watch out for all the birds that will hover around you and try to steal your food! I don't blame them though, this place really did hit the spot with some great food, and I can't wait to go back! They also have a location inside the Sea-Tac airport.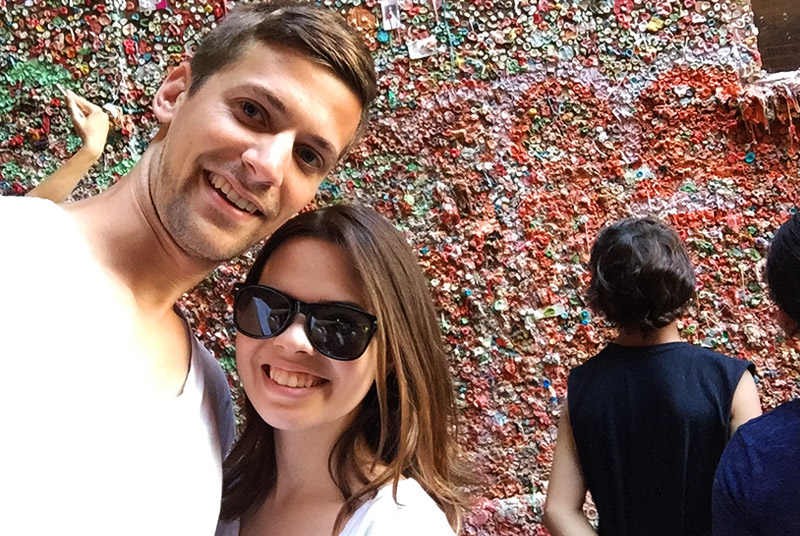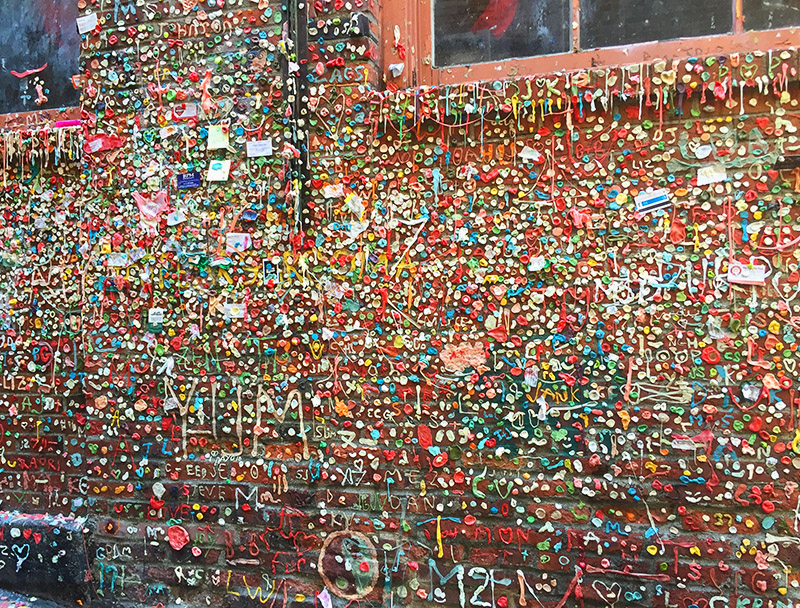 8. Gum Wall
If you have ever wanted to see something simultaneously awesomely beautiful and disgustingly gross, look no further. The brightly colored, gum-covered brick walls of Post Alley were created over the years by thousands of gum chewers – it's quite a sight to behold. What shocked me most was just how high the walls were covered (did they use a ladder?) and how far back down the alley it just kept going! The gum is piled several inches thick and spans an area of 15 feet high and 50 feet wide – pretty crazy! And that's still after it was recently super cleaned last year removing several inches of gum! Unsurprisingly it was named the second germiest tourist attractions next to the Blarney stone. If you're a germaphobe, you might want to keep your distance and admire from afar.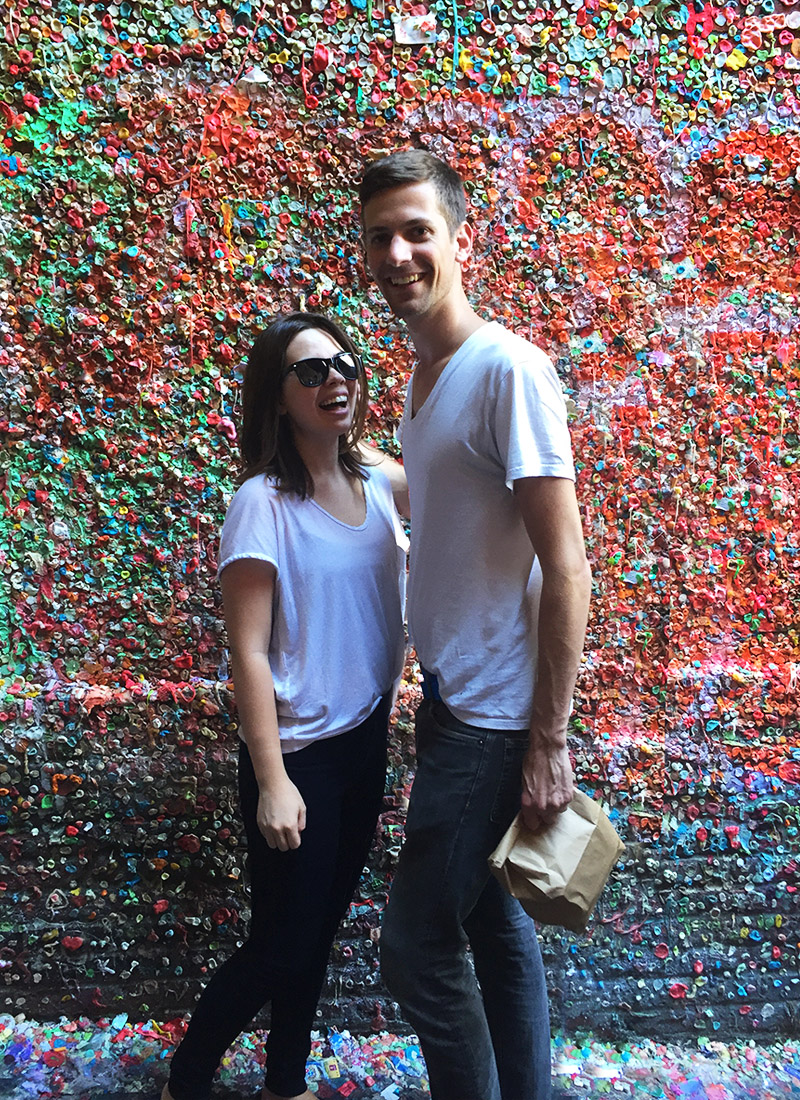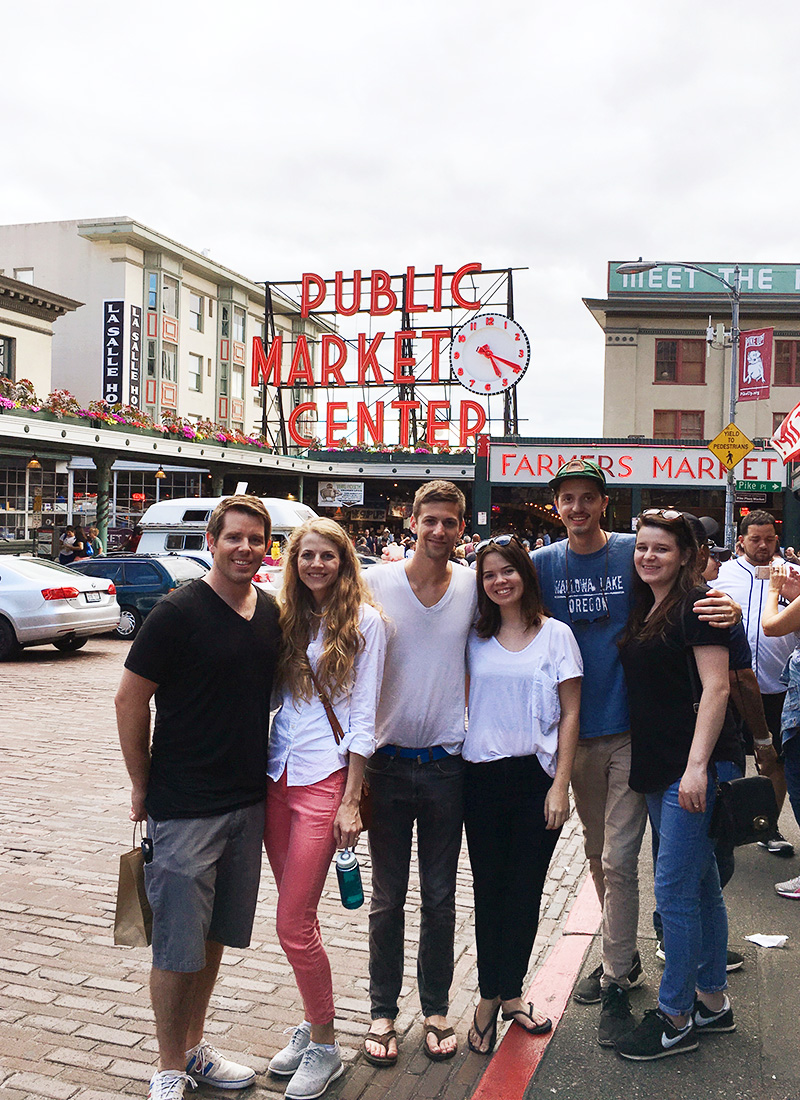 9. Pike Place Market
Probably just as famous an attraction as the Space Needle, I loved walking around the seemingly never ending public market. Opening in 1907, it is one of the oldest continuous farmer's markets in America. We came near the end of the day so many of the shops were tearing down, unfortunately, but there was still plenty to see and do. It's seriously an overload of the senses. Colorful flowers and produce abound; there is no shortage of live music; sweet scents of bouquets, smelly fish, and sweet baked goods; and loads of samples to try! I even got to try some chocolate pasta! It was probably a good thing we got there when we did because I could've easily spent the whole day there.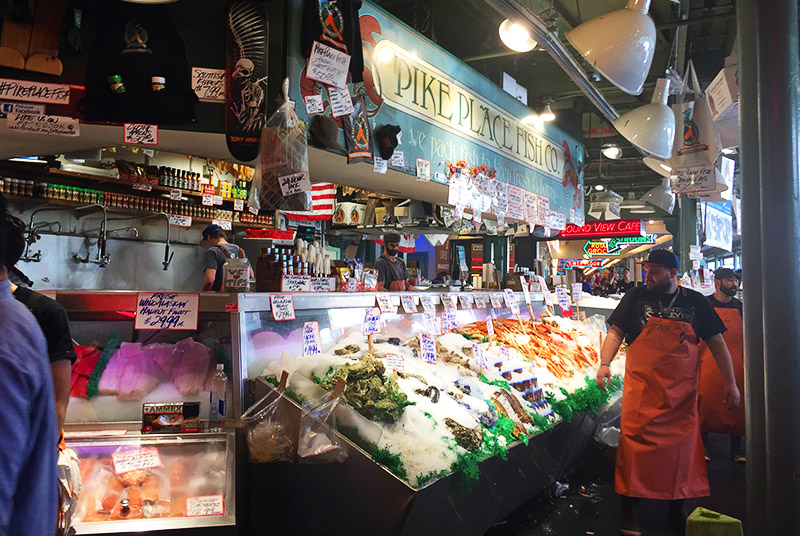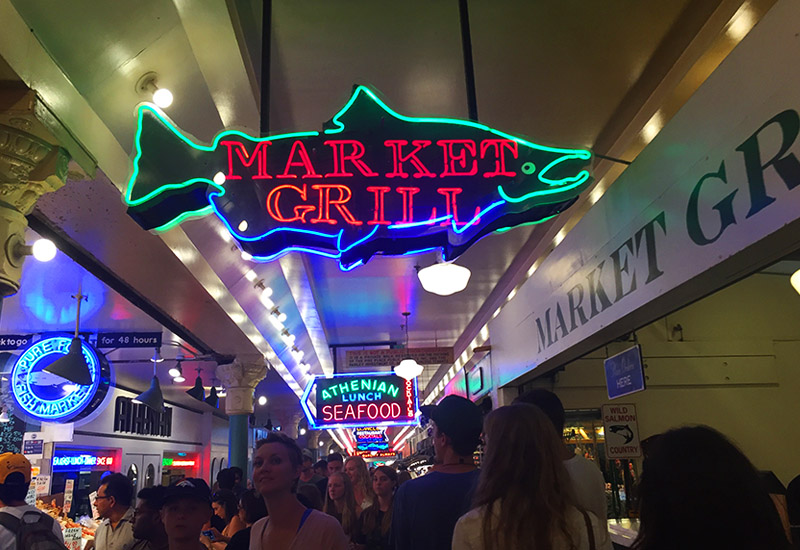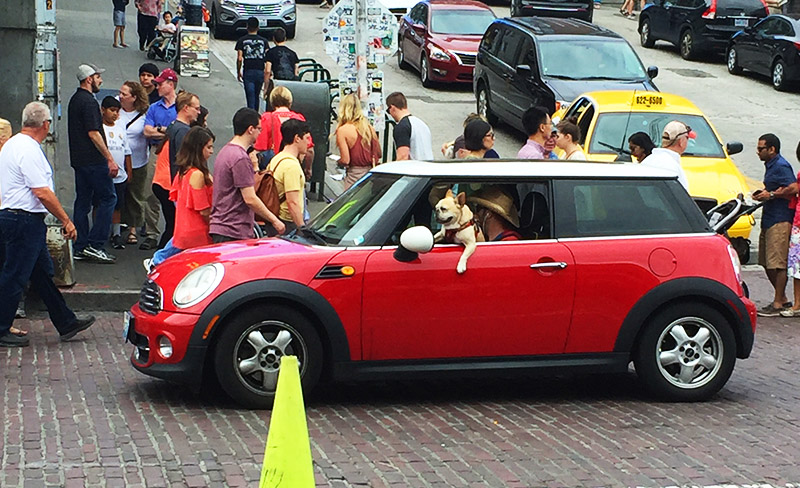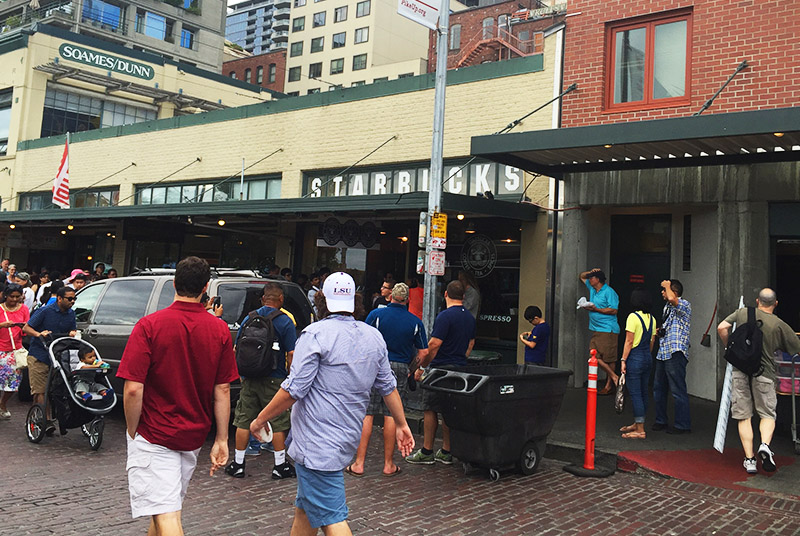 10. Original Starbucks
Before we ended our fun, touristy day, we swung by the "original Starbucks". We didn't actually brave the huge line and order anything, but it was still cool to see.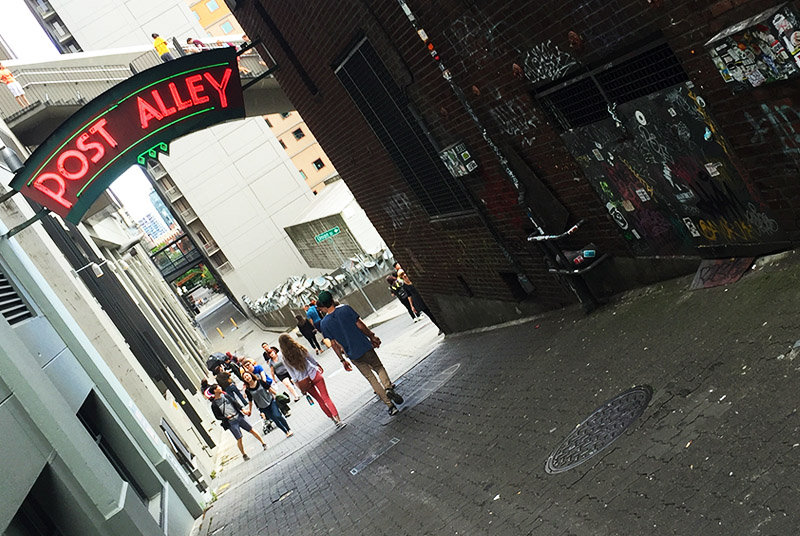 Have you ever been to Seattle and visited any of these places?