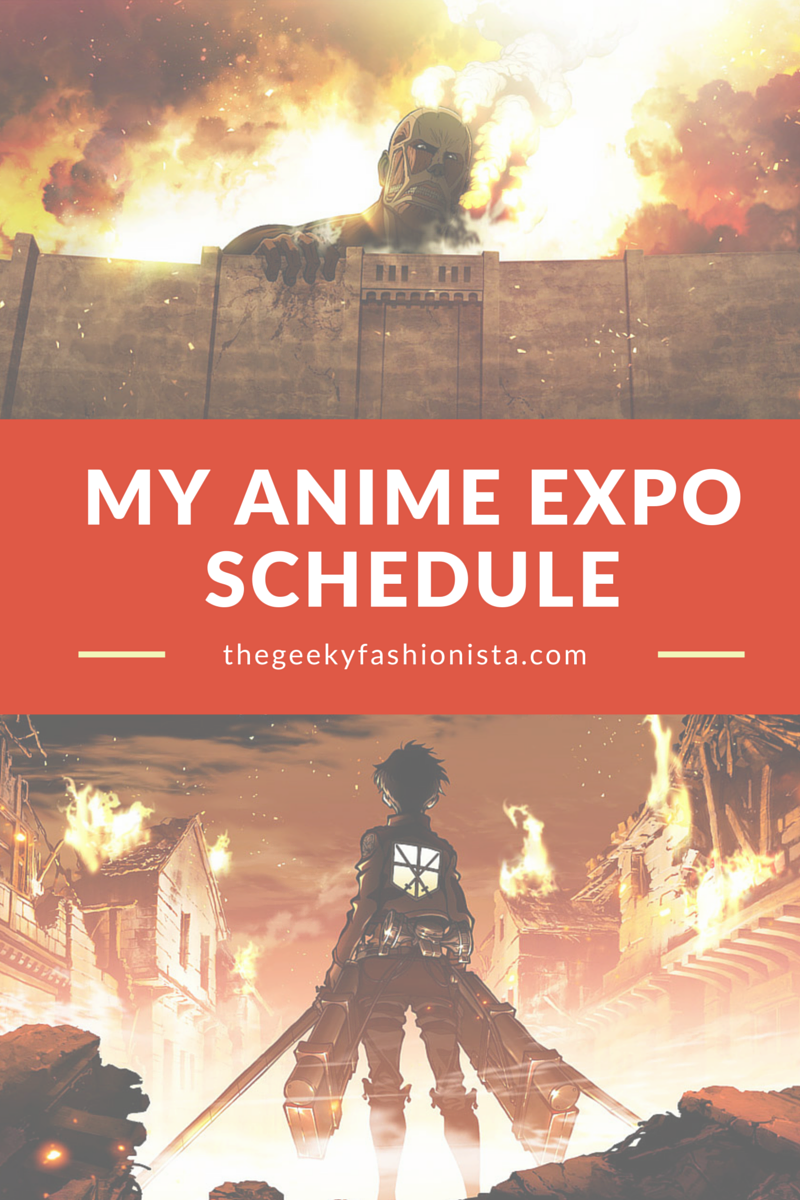 Tomorrow I will be going to Anime Expo!!
Since I have to catch an evening flight to Seattle, I can only go for half of Friday, but regardless this will be my first time attending, and I am super excited! Even with my limited time (and maybe even because of it), I really wanted to plan a solid schedule so I could make the most of my day.
Badge pick up for attendees has been open since noon today and is open until midnight which is pretty awesome. I was originally planning on going around 1pm but a quick look at Twitter with its photos of HUGE lines at the convention center of people who had CAMPED OUT quickly made me change my mind. To avoid both LA traffic and lines, I'll probably go for my badge a little closer to midnight. Good thing I'm a night owl!
Since I won't have to worry about picking up my badge tomorrow morning, I'll be able to jump right into the convention…so without further adieu, here is my (hopeful) Anime Expo schedule.
10am – Right from the start, I plan on making a beeline for the Voltage Inc. booth. They sold out of their exclusive merchandise and ran out of free goodies super quickly last year so I'm not taking any chances even if it means carrying my merch with me the rest of the day! I'll probably stalk the booth (which looks pretty amazing) for a while as well as other booths in the Exhibit Hall until my first planned panel…
1-2pm Attack On Titan Anthology – I am so happy that I'll be able to make this! I'd be so bummed if I didn't make at least one panel regarding my favorite anime!
3-4pm – Before my next planned panel will be a good time for me to have lunch and take outdoor photos of cosplayers.
4-5pm Aniplex of American Industry Panel and Sailor Moon Cosplay Gathering – I'm a big fan of Aniplex's Fate/Zero and Fate/Stay Night [Unlimited Blade Works] so I'd love to attend to see what they have in store. At the same time is the Sailor Moon Cosplay Gathering (something I would love to be a part of one day). While I'm not dressing up, I still would love to stop by and take photos of the cosplayers and admire their work. To make it, I'm just going to leave the panel early and rush over to the meeting spot.
5-6pm Everyone Starts Somewhere: Cosplay at Any Level – Unfortunately, with an 8:30 departure flight, I probably won't be able to stay for this panel's full duration. If it's already full by the time I make it over, I'll just do one more lap around the Exhibit Hall before heading out to LAX.
Panels I Would've Liked to Check Out
Unfortunately, since I'm only able to attend one day, I'm missing some out on some great panels. If I were able to attend the other 3 days, these are the panels I'd be checking out…
Saturday
Abridged Series: Mankind's Greatest Mistake w/ Octopimp – I'm a huge fan of Abridged series and Octopimp's 50% OFF parodying the anime Free! Iwotabi Swim Club was my first and still one of my favorites (I actually watched the abridged series before ever seeing the anime). This would probably be my top must see panel if I could attend Saturday.
Kodansha Comics Panel – I can never get enough Attack On Titan!
Attack of Titan Fan Gathering/Photoshoot – I would totally be a part of this if I were here Saturday!
Fashion Show – Well, this IS a geek fashion blog.
Sunday
Funimation Industry Panel – Another industry panel I'd love to check out.
Official SAILOR MOON Panel – Really bummed I'm going to miss this. I've been a Sailor Moon fan for as long as I can remember.
Monday
Learn to Sew your own Cosplay – I love these informative type of panels! As someone who really wants to learn how to sew cosplay costumes, this would've been right up my alley!
Cowboy Bebop Voice Actor Panel – Ughhhh this would be so amazing to attend. I love me some Cowboy Bebop. There's a reason why it's so iconic and considered a classic in the anime world. While I'd always been a fan of Sailor Moon, it wasn't until I was introduced to this series in college that I really started getting into anime. This series also spoiled me in my expectations of English dubs because the voice cast is SO good. You just don't get better than Steve Blum as Spike Spiegel.
Are you going to Anime Expo? What are you checking out?