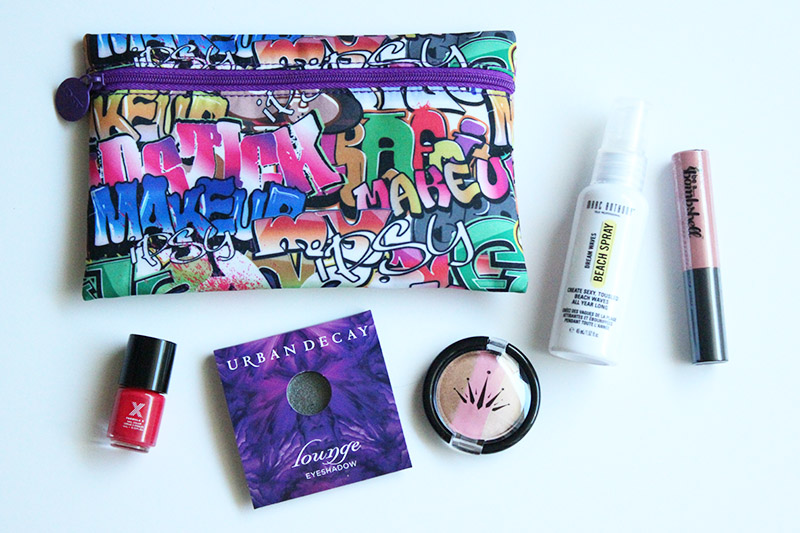 Another month, another Ipsy bag review! This month's theme is "Rebel Rebel!"
About Ipsy
Here's a little info if you're unfamiliar with Ipsy: it's a beauty subscription service that was started by Youtube makeup guru Michelle Phan. Each month for $10 you are sent a cute little "glam bag" filled with 5-6 full or deluxe-sized products. The bags are catered to your preferences through a "beauty quiz" you take when you initially sign up and later how you review the products you receive so the products in the bags will vary from person to person. I'm a long time, very satisfied Ipsy subscriber. I love being introduced to new makeup brands and getting to try out different makeup products each month. It's a like getting a surprise gift each month in your mailbox! If you're interested in getting your own Ipsy bag, now is a great time to sign up as there is currently NO waitlist (I know people who waited months for their first bag so this is pretty cool). Just click HERE (referral link).

The bag design with its graffiti print is very bright, colorful and fun. It's not my favorite, but it's cute and definitely fits the "Rebel" theme perfectly. 
Inside the Bag
Crown Brush 3 Tone Bronzer
I like the idea of combining bronzer, blush, and highlighter all in one (anyone else think of neapolitan ice cream?). However, the compact is very travel-sized aka too small. It's not very practical since it would be difficult to apply any one product without swirling all three together unless you used a pretty small brush. I could see myself using an eye brush to apply the highlighter, but I'm not sure what I would do with the blush and bronzer if I wanted to use them individually. A quick way to resolve everything would be to, of course, just go ahead and swirl them all together for a nice, pretty pinky blush. The bronzer isn't very pigmented but adds just enough to warm it up. Also I'm a sucker for packaging and found this a bit lacking. It felt plastic and cheap like something you'd get from the dollar store. A little disappointing. Use code CROWNIPSY30 at crown brush.com for 30% off your purchase.
Urban Decay Eyeshadow in "Lounge" (Buy HERE)
Urban Decay never lets me down with the incredible quality of their products! This beautiful highly-pigmented eyeshadow is described as a "decadent reddish-brown topped with teal-green shimmer." It claims to change its look in different lighting and, I must say, it's stunning. Long lasting and crease-free, this is perfect for a fun, glam night out. I don't do many of those so we'll see when/if I actually have an occasion to wear it!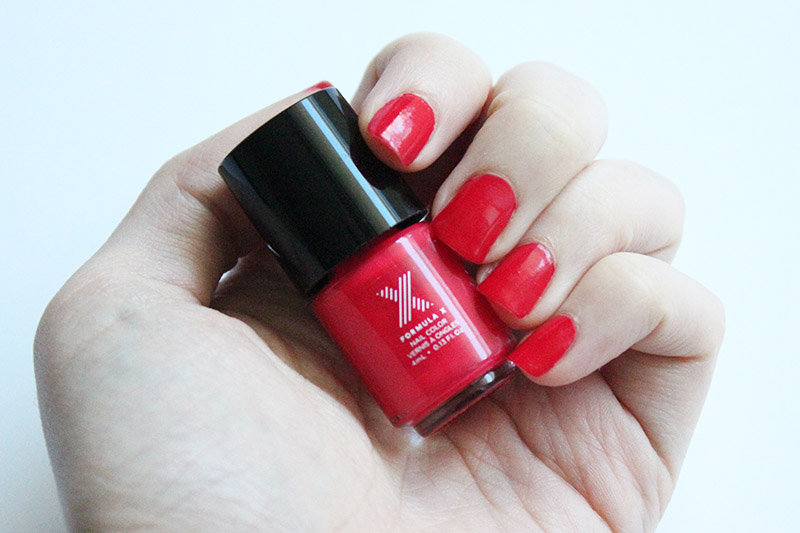 Formula X Nail Polish in "Wingwoman" (Buy HERE)
Formula X always delivers with their nail polishes! I love their fun shades and high quality, creamy formulas. This one was no different. The bright red color is spot on for summer and fits the "Rebel" theme to a T. Then there's the formula that applies so smoothly and very opaque. In the photo above I only used two coats (no top coat), and I probably could've gotten away with just one! It is also enriched with something called ShineXcel™—"a luminescent ingredient that makes the red color pop" – no wonder it looks so great!  Finally, the fact that it contains no parabens, sulfates or phthalates is the icing on the cake.
Be A Bombshell Cosmetics Pout Potion in "Secret" (Buy HERE)
I was actually very pleasantly surprised by this product! I didn't think much of it at first besides it being a nice neutral nude pink gloss, but oh my goodness, it's wonderful! It applies very nicely and isn't sticky or gooey at all. It is sheer but with just enough color – it's super flattering and looks great on it's own or over lip stick. It also last a good long while and smells super yummy!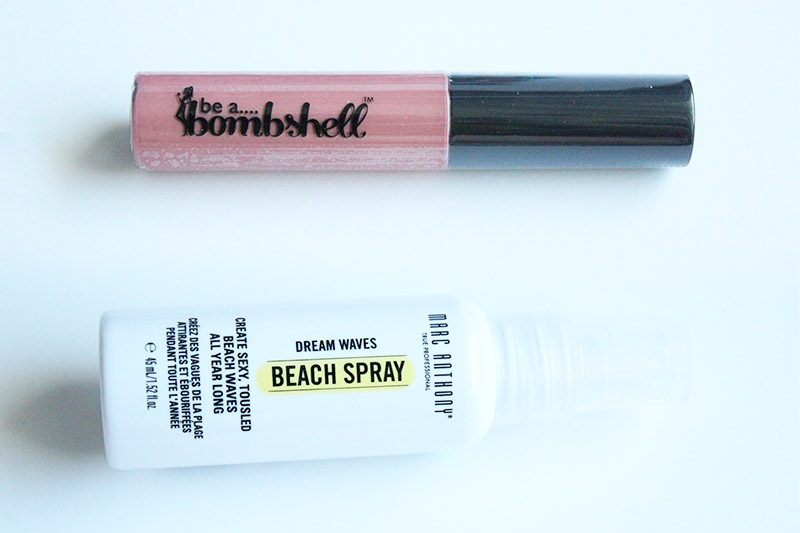 Marc Anthony Dream Waves Beach Spray (Buy HERE)
Every summer, I receive a beach spray from Ipsy and every time I'm totally okay with it because it means I never have to go and buy one from the store. It's not actually a product I would need full-sized anyway so these travel-sized samples are perfect. I was excited  to try out "beach waves" on my new shorter hair and while I thought it was cute, it definitely made me miss my old long "mermaid" hair. I already have natural waves so this just enhanced it and gave it that nice sexy "tousled" look. It also smells incredible! Very beachy!
Click HERE to check out my other unboxing posts and again HERE to subscribe to Ipsy.
Are you an Ipsy member? What did you think of this month's bag?
Linking up with these lovelies!